The global smart mirror market was valued at USD 2,773.49 million in 2022 and is expected to grow at a CAGR of 16.3% during the forecast period. Combination of convenience, connectivity, and entertainment offered by smart mirrors aligns with the increasing desire for connected and interactive home environments. As more consumers embrace smart home technology, the market for smart mirrors is poised to experience significant growth during the forecast period. The global market is influenced by the increasing adoption of smart home devices, with smart mirrors playing a significant role in the ecosystem. These mirrors seamlessly integrate with other smart devices and systems within a smart home, offering a range of functionalities. Serving as control centers, smart mirrors provide notifications, display information, and enable connectivity with other smart devices, making them an appealing addition to modern homes.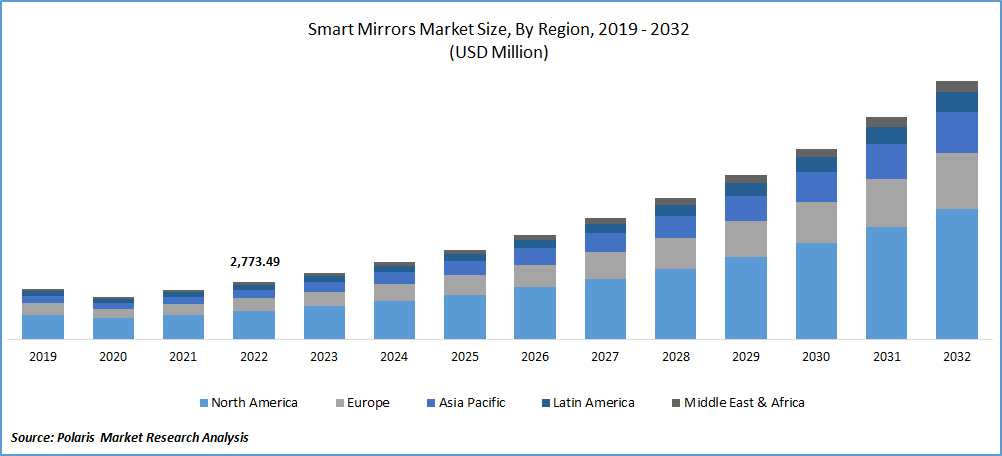 To Understand More About this Research: Request a Free Sample Report
The integration capabilities of smart mirrors extend to voice assistant technology such as Alexa or Google Assistant, allowing users to control their smart devices using voice commands. Additionally, these mirrors can integrate with popular music and entertainment streaming services like Netflix, Hulu, and others, providing an enhanced multimedia experience within the home. Companies like Evervue offer innovative magic mirrors that facilitate easy integration with streaming services, adding to the appeal of smart mirrors in the market. The growing demand for smart home products, coupled with the interest of manufacturers and technology companies in this segment, is expected to drive the smart mirror market's growth in the foreseeable future.
The demand for personalized and customized experiences in personal grooming and home decor has further driven the adoption of smart mirrors. These mirrors offer features that allow users to personalize display preferences, lighting, and receive customized recommendations for wellness, fashion, and beauty, catering to individual preferences and needs. Moreover, smart mirrors incorporate advanced technologies like computer vision, virtual reality (VR), and augmented reality (AR), enabling interactive features such as voice controls and touch controls. This integration of technology enhances the functionality and user experience of smart mirrors, making them more appealing to consumers.
Despite their numerous benefits, smart mirrors raise concerns about consumer security and privacy due to the integration of sensors, cameras, and connectivity features. The collection and processing of personal data can potentially lead to unauthorized access and privacy breaches if not handled securely. This creates a need for consumers to establish trust in these products, which may hinder their adoption. Additionally, the incorporation of advanced technologies, such as connectivity features, sensors, and integrated displays, contributes to higher production costs for smart mirrors. Manufacturers require significant initial investments to develop and manufacture these products. The resulting higher price points of smart mirrors can act as a deterrent for consumers, limiting their willingness to invest in such products and thus restraining market growth.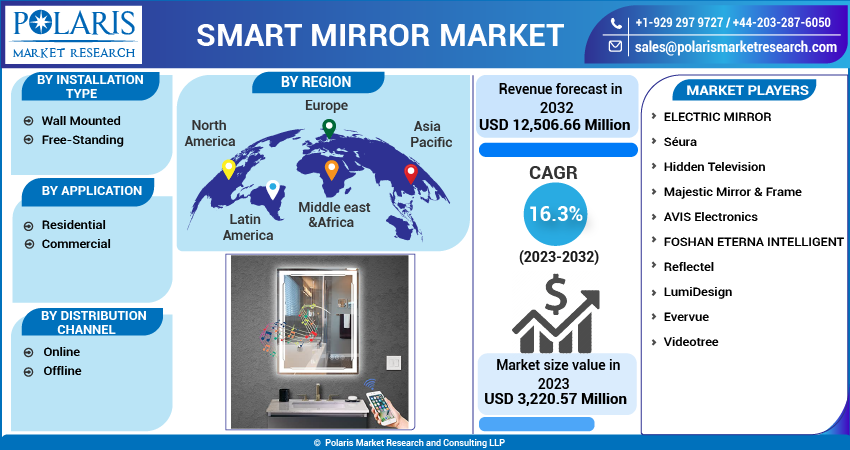 For Specific Research Requirements, Speak With a Resaerch Analyst
Industry Dynamics
Growth Drivers
Proliferation of e-commerce platforms enables easy online distribution of smart mirrors, opening new avenues for market players. To capitalize on this trend, manufacturers should leverage the popularity of e-commerce, especially among millennials and Gen Z consumers, by making their products available through online channels. Adopting an omnichannel strategy that integrates online and offline sales channels can further enhance market growth. Additionally, continuous innovation and the introduction of advanced technology-enabled smart mirrors across the distribution network will play a vital role in driving the market in the coming years.
Smart mirrors have found applications beyond residential spaces, finding utility in commercial settings such as hotels, fitness centers, and spas. Their ability to offer virtual experiences, personalized recommendations, and interactive features contributes to improved customer satisfaction and engagement. As consumer interest in grooming and wellness continues to grow, smart mirrors are poised to witness further expansion in the market. Smart mirrors have gained popularity in the retail space due to their ability to enable virtual try-on experiences for makeup, accessories, and clothing, providing an immersive shopping experience for customers. They also serve as interactive displays, showcasing product information, promotions, and targeted advertisements, enhancing consumer engagement and adoption.
Report Segmentation
The market is primarily segmented based on installation type, application, distribution channel, and region.
By Installation Type

By Application

By Distribution Channel

By Region

Wall Mounted

Free-Standing

North America (U.S., Canada)

Europe (France, Germany, UK, Italy, Netherlands, Spain, Russia)

Asia Pacific (Japan, China, India, Malaysia, Indonesia. South Korea)

Latin America (Brazil, Mexico, Argentina)

Middle East & Africa (Saudi Arabia, UAE, Israel, South Africa)
To Understand the Scope of this Report: Speak to Analyst
Wall mounted mirrors segment accounted for the largest market share in 2022
Wall mounted mirrors segment accounted for largest market share. This can be attributed to the growing preference among consumers for wall-mounted smart mirrors compared to free-standing ones. The main reason for this preference is the perceived safety and stability offered by wall-mounted mirrors, as they pose a lower risk of falling or toppling over. Additionally, considering the relatively high cost of smart mirrors, consumers tend to be more cautious and opt for the secure installation provided by wall-mounted options.
Free standing mirrors segment recorded the steady growth rate. These mirrors can be easily moved and repositioned according to the users' preferences or changing room layouts, providing a high level of adaptability. This characteristic makes them particularly popular in retail stores, fashion boutiques, and beauty salons where visual merchandising and product displays play a crucial role. Additionally, free-standing smart mirrors offer a visually appealing and contemporary design that enhances the overall aesthetic of a space. Their standalone nature adds a touch of elegance and sophistication to any environment. Furthermore, the convenience of not requiring wall installation makes them an attractive choice for consumers who prefer portable and easily customizable solutions.
Commercial segment garnered largest share in 2022
Commercial segment held the largest revenue share. the widespread adoption of smart mirrors in commercial spaces is driven by their ability to enhance customer experiences, increase engagement, and provide valuable data for businesses. By leveraging the functionalities of smart mirrors, businesses can create immersive environments, drive customer satisfaction, and gain a competitive edge in their respective industries.
Residential segment expected to witness steady growth. Smart mirrors have become an integral part of modern smart homes, offering a multitude of features that cater to the needs and preferences of homeowners. These mirrors are equipped with built-in lighting, touch controls, voice assistance, and seamless connectivity with other smart devices, making them an attractive addition to residential spaces. The convenience and advanced functionalities provided by smart mirrors align perfectly with the desire for a more technologically integrated and efficient living environment.
APAC region witnessed steady growth during the forecast period
APAC region dominated the global market with considerable market share. This growth is primarily attributed to the strong presence of key manufacturers and notable technological advancements in countries. These countries have established themselves as leaders in the electronics and technology sectors, fostering an environment conducive to the development and deployment of cutting-edge smart mirror solutions. China, Japan, and South Korea have consistently demonstrated their commitment to innovation, enabling the creation of sophisticated and high-quality smart mirrors. These nations boast a rich ecosystem of established manufacturers, research institutions, and technological pioneers, driving the rapid growth of the smart mirror market in the Asia Pacific region.
North America registered the robust growth rate. The region's strong market presence can be attributed to several factors, including the integration of smart speakers such as Alexa into these mirrors. This integration enhances the appeal and adoption of smart mirrors in households across the region. The growing interest and investments from prominent companies in the region, such as Lululemon and technology firms like Google, have also played a crucial role in driving awareness and adoption of smart mirrors. These companies are actively exploring the potential of AI advancements and its application in smart mirrors, further fueling customer curiosity, and understanding of the innovative capabilities these devices offer.
Competitive Insight
Some of the major players operating in the global market include ELECTRIC MIRROR, Séura, Hidden Television, Majestic Mirror & Frame, AVIS Electronics, FOSHAN ETERNA INTELLIGENT, Reflectel, LumiDesign, Evervue, and Videotree.
Recent Developments
In March 2022, Portl has introduced a customized smart mirror designed as a wellness and fitness device. This innovative smart mirror serves as a personal trainer, offering features such as posture correction and workout recommendations. Users can access a wide range of on-demand workout programs, including yoga, high-intensity interval training (HIIT), and strength training, all conveniently available through the mirror.

In February 2022, MySize has introduced "FirstLook," a smart mirror with a touch display that resembles a traditional mirror. This innovative smart mirror aims to enhance the shopping experience of consumers in brick-and-mortar stores by offering a contactless checkout process. With the mirror-like touch display, shoppers can conveniently complete their purchases without the need for physical contact, providing a seamless and hygienic shopping experience.
Smart Mirror Market Report Scope
| | |
| --- | --- |
| Report Attributes | Details |
| Market size value in 2023 | USD 3,220.57 million |
| Revenue forecast in 2032 | USD 12,506.66 million |
| CAGR | 16.3% from 2023 – 2032 |
| Base year | 2022 |
| Historical data | 2019 – 2021 |
| Forecast period | 2023 – 2032 |
| Quantitative units | Revenue in USD million/billion and CAGR from 2023 to 2032 |
| Segments covered | By Application, By Type, By Region |
| Regional scope | North America, Europe, Asia Pacific, Latin America; Middle East & Africa |
| Key companies | ELECTRIC MIRROR, Séura, Hidden Television, Majestic Mirror & Frame, AVIS Electronics, FOSHAN ETERNA INTELLIGENT, Reflectel, LumiDesign, Evervue, and Videotree. |