The global smart port market was valued at USD 1.59 billion in 2021 and is expected to grow at a CAGR of 24.44% during the forecast period.
The increasing need for port authorities to reduce operational costs, collect actual information, and contribute to making data-driven decisions is leading to the adoption of advanced technologies. The smart port has several advantages over traditional ports, including diminished human-related disruptions, lower operational costs, smart decision-making, and much more predictable performance. All the advantages provided lead to increased efficiency, setting the stage for a clear vision of Port 4.0.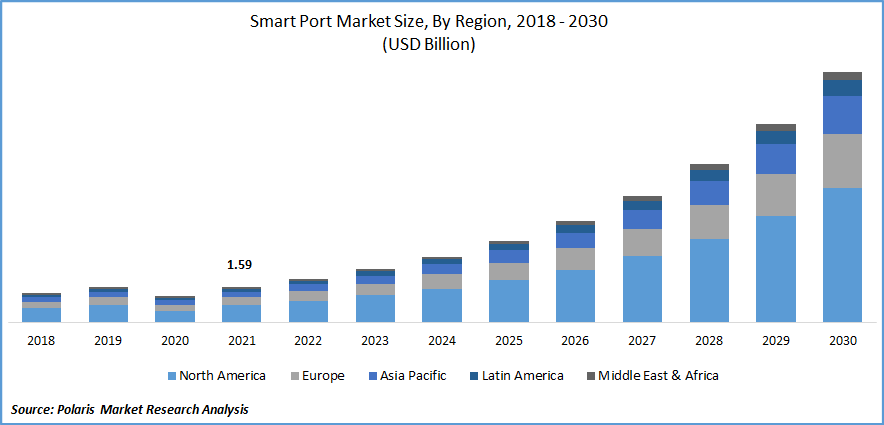 Know more about this report: Request for sample pages
A smart port is an automatically generated port that enhances performance by utilizing innovative technologies such as the Internet of Things (IoT), artificial intelligence (AI), and Blockchain. Because the trading volume is rapidly increasing, implementing novel technologies to enhance internal efficiency and operational processes has become critical. Even though smart ports integrate the aforementioned technologies, they could also improve sustainable development. Furthermore, they can maintain economic competitiveness, streamline workflow, and reduce costs.
Growing environmental issues are expected to drive global market expansion during the forecast period. The shipping industry has a huge carbon footprint around the world. Ports produced approximately 85% of carbon dioxide emissions, according to the International Transport Forum (ITF). In the baseline period, CO2 emissions from regional and global trade-related freight transport will increase by 290% by 2050, nearly tripling today's level. As a result, the carbon footprint has had to be reduced.
Advanced technologies, including cloud computing and artificial intelligence, can assist ports in meeting their objectives while saving energy consumed by those on infrastructure. As a result, these considerations are expected to drive the growth of the market over the forecast period.
The COVID-19 pandemic has had a negative impact on the global economy because governments have been forced to implement lockdown precautions to stop the virus from spreading. The COVID-19 pandemic's consequences, including measures undertaken by governments and companies to contain the virus's expansion, caused major delays in the distribution network activity, directly affecting the market. Several governments around the world, including India, Spain, and Italy, have implemented nationwide lockdowns to prevent the spread of COVID-19 disease. There is a labor shortage at the ports as a result of the lockdown. Ports are unable to transport products due to a lack of manpower.
Furthermore, manufacturers cannot ship their cargo due to a lack of transportation systems such as railways and heavy-duty vehicles. Because of the aforementioned factors, the COVID-19 global epidemic is expected to limit the expansion of the market in the coming years.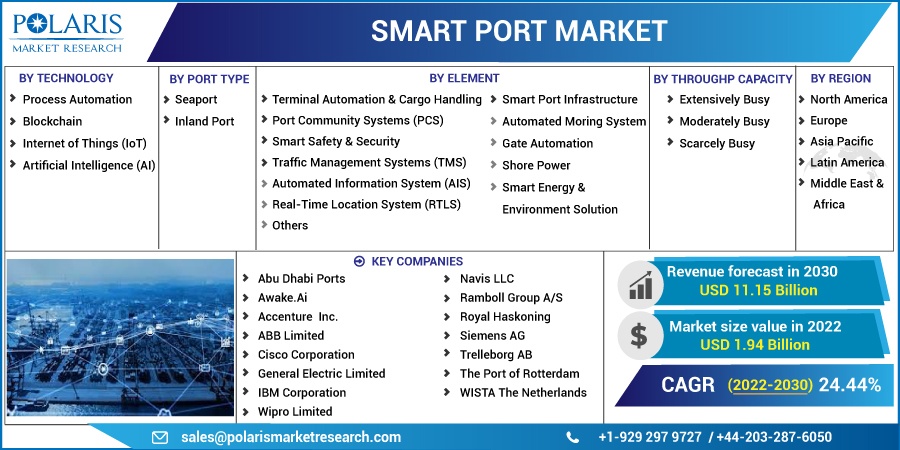 Know more about this report: Request for sample pages
Industry Dynamics
Growth Drivers
Many authorities have begun to take proactive steps towards adopting innovative technologies such as AI and IoT in port facilities. Smart ports are critical for a nation's economic development, and improving marine transportation effectiveness will only accelerate that growth. For instance, in October 2019, the Government of Andhra Pradesh, India, initiated the internet-based SMART PORT as part of the nation's facilitation of doing business reform efforts relating to trade and export advancement in all port facilities.
Also, in September 2022, Huawei unveiled its latest customs and port alternatives at HUAWEI CONNECT 2022. After establishing its Customs and Port Group, this is the company's newest tactical move to aid in digitalizing port facilities and customs. This Adoption of advanced technology in the ports is boosting the market growth.
Further, numerous nations have started to upgrade their ports to speed up maritime trade. For example, the Government of India invested approximately US$ 1.85 billion in main port infrastructure in 2019. In August 2021, Taiwan intended to invest $1.37 billion over the next years in upgrading the country's seven ports to encourage future economic expansion.
Furthermore, the Govt of Puducherry obtained CRZ clearance for small port advancement from the Expert Appraisal Committee (EAC) of India's Ministry of the Environment, Forest, and Climate Change in June 2020. Additionally, in March 2021, "Maritime India Vision-2030", a 10-year plan to redesign the maritime sector, calls for a 3 lac crore funding in port projects, which will create jobs for 20 lakh people. This upgradation of port investment among the nations is propelling the market growth over the forecast period.
Report Segmentation
The market is primarily segmented based on technology, element, throughput capacity, port type, and region.
By Technology

By Port Type

By Element

By Throughput Capacity

By Region

Process Automation
Blockchain
Internet of Things (IoT)
Artificial Intelligence (AI)

Terminal Automation & Cargo Handling
Port Community Systems (PCS)
Smart Safety & Security
Traffic Management Systems (TMS)

Automated Information System (AIS)
Real-Time Location System (RTLS)
Others

Smart Port Infrastructure

Automated Moring System
Gate Automation
Shore Power
Smart Energy & Environment Solution

Extensively Busy
Moderately Busy
Scarcely Busy

North America (U.S., Canada)
Europe (France, Germany, UK, Italy, Netherlands, Spain, Russia)
Asia Pacific (Japan, China, India, Malaysia, Indonesia, South Korea)
Latin America (Brazil, Mexico, Argentina)
Middle East & Africa (Saudi Arabia, UAE, Israel, South Africa)
Know more about this report: Request for sample pages
The IoT Technology segment is expected to witness fastest growth in 2021
The internet of things (IoT) is the latest technological revolution primarily used in smart buildings, smart cities, and smart ports worldwide. Every smart port is fully automated and includes an IoT smart port for all integrated devices like smart sensors, data centers, and wireless connections. Facilities that support the Internet of Things (IoT) and vessel management that promotes IoT adoption throughout the maritime industry Smart ports with loT could indeed simplify repair and maintenance in regards to performance monitoring devices assembled to pumps, electric motors, or gates to obtain actual information on speed and dependability of performance.
Furthermore, Sensors such as ultrasonic sensors, inertial measurement units, imaging sensors, radar systems, and RFID readers are widely used to gather information and convert the port into a smart port. A lot of ports can prevent future security vulnerabilities. Generating a cloud-connected warning system that can assist in effective loss prevention. To prevent data theft, electronic seals at each security level can be used to affirm data integrity.
Process automation segment industry accounted for the highest market share in 2021
The segment is also expected to grow rapidly during the forecast period. The use of cloud-based software to aid in the automated processes is gathering steam across ports. Port authorities are progressively deploying software-assisted robotic systems for redundant activities such as ship billing and terminal gate operational processes to limit human involvement and thus concentrate on important operational tasks. The use of advanced technologies will not only simplify dock operations but will also save money in the long run.
For example, by utilizing smart sensors, concerned organizations can evaluate the performance of every asset in a real-time scenario, implement maintenance activities measures as needed, and thus reduce their operating expenses. The level of automation varies depending on the tasks performed under the consideration, which might sometimes require integrating several technologies with process automation tools. However, process automation as a separate technology offers enormous growth prospects for dock operators.
Extensively Busy port is expected to hold the significant revenue share
This segment includes ports with a throughput capacity of more than 18 million TEU. The foremost reason for the increasing share of extremely busy ports is their potential and the number of operations processed, which have compelled authorities to incorporate some level of automation to achieve operational efficiency. Furthermore, these ports generate significant revenues, allowing them to invest in automation quickly.
The demand in Asia-Pacific is expected to witness significant growth
The region is distinguished by major ports with high-throughput sequencing capacity, which contributes to the region's largest share globally. Major countries recognized as prime trading points with high levels of trade activity The mentioned factors, combined with the accessibility of innovations at a lower cost, particularly from Taiwan and China, have guaranteed strong regional economic growth. The faster expansion of trade, especially among emerging economies, has resulted in increased adoption of smart ports to improve efficiency and productivity, which would drive the market's expansion.
Factors including increased government initiatives, cloud-based development domains, and technological advancement support the industry's growth.
Furthermore, the Asia Pacific region is predicted to hold the largest share and grow rapidly, due mainly to the region's growing industrial development, quickly changing emerging economies and strong development in trade business in countries such as Singapore and Hong Kong in recent years.
Moreover, the North American region is predicted to account for the largest share of the market's total revenues. The rapidly expanding port economy has resulted in greater adoption of smart ports to increase operational efficiency, driving business growth in this sector. The United States government is focusing on upgrading port infrastructure and developing data-driven solutions. As a result, the government is expected to invest significantly in ports shortly. For example, the United States Department of Transportation (DOT) announced in June 2019 that it would invest USD 292.7 billion in a major Port Infrastructure Development Initiative. Excessive government initiatives, the launch of cloud-based software installation, and technological breakthroughs are all helping to propel the sector forward. Furthermore, the expected growth in the number of mega-ports will advantage the industry over the forecast period.
Competitive Insight
Some of the major players operating in the global market include Abu Dhabi Ports, Awake.Ai, Accenture Inc., ABB Limited, Cisco Corporation, General Electric Limited, IBM Corporation, Ikusi Redes de Telecomunicaciones, S.L., Navis LLC, Ramboll Group A/S, Royal Haskoning, Siemens AG, Trelleborg AB, The Port of Rotterdam, Wipro Limited, and WISTA The Netherlands.
Recent Developments
In June 2022, ABB signed a contract with the Port of Toulon in France to interact with the country's largest coastline project. With this sufficient to meet the demand, the Port of Toulon, which also serves over 1.6 million ferry and cruise travelers each year, has committed to supporting ABB shore interaction technology to provide three ferries or one-speed boats with all of their energy requirements.
In April 2021, Abu Dhabi Maritime confirmed the launch of a new electronic slipway portal. It will make it easier for users of recreational boats and personal watercraft, including jet skis, to discover and access essential information.
Smart Port Market Report Scope
| | |
| --- | --- |
| Report Attributes | Details |
| Market size value in 2022 | USD 1.94 billion |
| Revenue forecast in 2030 | USD 11.15 billion |
| CAGR | 24.44% from 2022 - 2030 |
| Base year | 2021 |
| Historical data | 2018 - 2020 |
| Forecast period | 2022 - 2030 |
| Quantitative units | Revenue in USD billion and CAGR from 2022 to 2030 |
| Segments Covered | By Technology, By Port Type, By Element, By Throughput Capacity, By Region |
| Regional scope | North America, Europe, Asia Pacific, Latin America; Middle East & Africa |
| Key Companies | Abu Dhabi Ports, Awake.Ai, Accenture Inc., ABB Limited, Cisco Corporation, General Electric Limited, IBM Corporation, Ikusi Redes de Telecomunicaciones, S.L., Navis LLC, Ramboll Group A/S, Royal Haskoning, Siemens AG, Trelleborg AB, The Port of Rotterdam, Wipro Limited, and WISTA The Netherlands |