The global Sodium Trimetaphosphate market was valued at USD 39.18 million in 2022 and is expected to grow at a CAGR of 5.0% during the forecast period.
An inorganic substance called sodium tripolyphosphate (STPP) is widely utilized in various commercial products, including flame retardants, pet food, toothpaste, and ceramics. The increasing use of sodium tripolyphosphate for water treatment gives the prognosis for even more momentum to the market. Excellent buffering properties, dirt particulate dispersion, and fat emulsifiers are all essential factors in expanding product usage.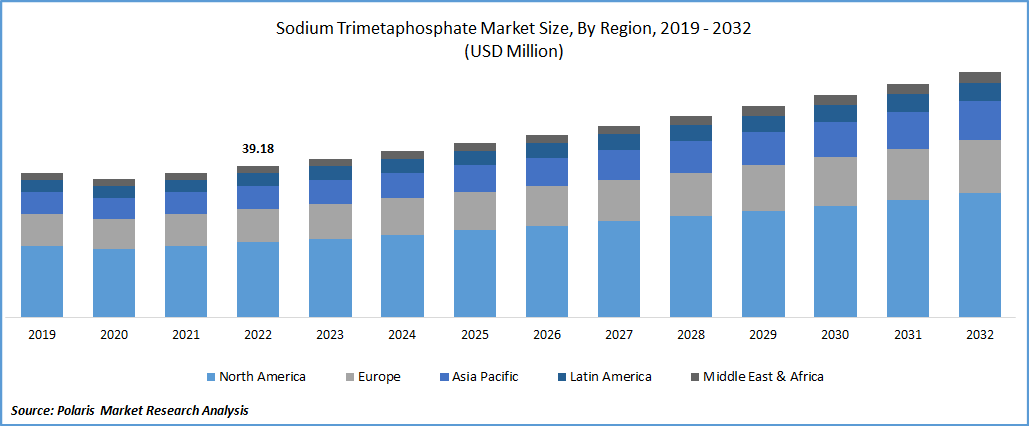 Know more about this report: Request for sample pages
The amount of phosphorous pentoxide used to generate sodium tripolyphosphate differs significantly between the two technological grades hydrate and anhydrous. Food Grade and Industrial Grade sodium tripolyphosphate are the two categories available worldwide. Items made for industrial use, such as those used in automation systems, gaming, and transportation, can withstand harsher circumstances than products made for commercial use.
A significant growth factor for the worldwide market is the increased use of STPP in various sectors. Food industries mostly use it as stabilizing ingredients and as a starch modification. Due to its outstanding pH-modifying properties, it is widely employed in water treatment facilities and in the creation of numerous personal and oral care products. In addition, they are employed by multiple industries as softening and buffering agents.
In addition, it aids in the reduction of the pH change that occurs in a solution when an acid or basic is introduced. The substance is used mainly by the market's producers to modify starches, but ICL solely sells it for construction as a gypsum additive to reinforce wall boards. Therefore, market diversification assures that the whole market prediction period has a lower risk ratio.
The COVID-19 epidemic negatively impacted the market. Industries were required to abide by strict social distancing laws and regulations and were forced to work only a portion of the day or shut down entirely. These rules reduced the demand for STPP products across several industries, which harmed the STPP market. By incorporating core COVID-19 issues and following potential stages, ongoing research has expanded the research framework. The majority of the STTP used overall is contributed by the detergent builder. Throughout the anticipated period, the demand for the worldwide Market will be driven by rising home detergent usage and advancements in advanced laundry technologies.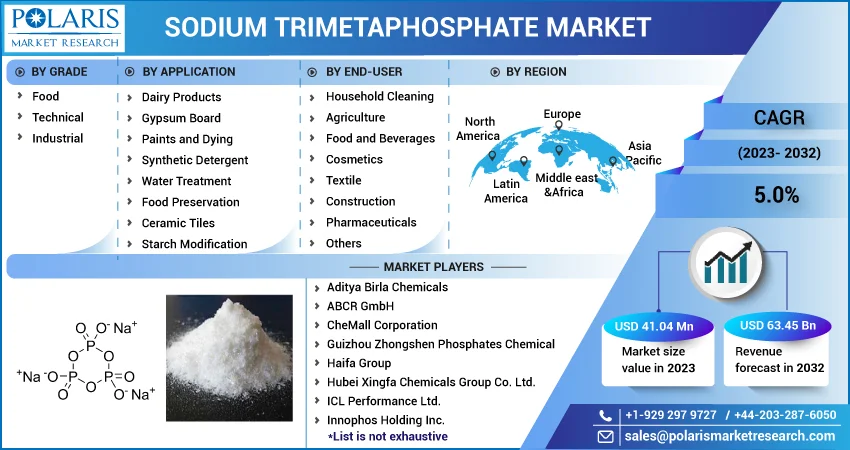 Know more about this report: Request for sample pages
Industry Dynamics
Growth Drivers
In many treatment facilities, sodium trimetaphosphate (STMP) regulates the pH factor. Water treatment is now more in demand than ever across various businesses and for multiple uses. Moreover, sodium tripolyphosphate is used as a water softener. The textile, leather, and laundry sectors are the ones where water softeners are most in demand. This contributed to the expanded market for sodium tripolyphosphate. As a result, the need for STMP is directly influenced by the rising demand for water treatment facilities, which is what is causing the market to grow.
The Increasing number of wastewater treatment plants around the globe due to the growing demand for fresh water is expected to offer opportunities for market growth. For instance, in October 2019, Clariant established a new waste water treatment site at Bonthapally, India. The plant at the zero liquid discharge site can treat 300 kiloliters of wastewater per day. Additionally, the Increasing demand for purified and clean water is creating opportunities for developing innovative water purification technologies.
Report Segmentation
The market is primarily segmented based on grade, application, end-user, and region.
By Grade

By Application

By End-User

By Region

Food

Technical

Industrial

Dairy Products

Gypsum Board

Paints and Dying

Synthetic Detergent

Water Treatment

Food Preservation

Ceramic Tiles

Starch Modification

Others

Household Cleaning

Agriculture

Food and Beverages

Cosmetics

Textile

Construction

Pharmaceuticals

Others

North America (U.S., Canada)

Europe (France, Germany, UK, Italy, Netherlands, Spain, Russia)

Asia Pacific (Japan, China, India, Malaysia, Indonesia. South Korea)

Latin America (Brazil, Mexico, Argentina)

Middle East & Africa (Saudi Arabia, UAE, Israel, South Africa)
Know more about this report: Request for sample pages
Food Grade segment is expected to witness the fastest growth
Food is protected from several ills with food grades, such as caustic environments, rust, and friction. For the removal of food contamination, the food grade is essential. The packaging and food transportation industries benefit from these grades. The standards and quality of the food are preserved owing to these grades. Food is shielded from illnesses like corrosion, rust, and friction using food grades. The elimination of food contamination depends on the food grade.
The packaging and food transportation sectors benefit from these grades. For instance, the FDA has guidelines that sodium triphosphate should not be present in oranges at more than 0.05%. Citrus Red No. 2 units may only be eliminated if these guidelines are followed. The standards and quality of the food offered are maintained owing to these grades. The rise in food standards has fueled the growth of the food packaging sector and, in turn, the market. Throughout the anticipated period, this rise in food safety norms has accelerated the expansion of the worldwide market.
The cosmetics segment industry accounted for the highest market share in 2022
Sodium Trimetaphosphate helps prevent harm to personal care and cosmetics goods by assisting in the absorption of metallic ions. It also helps reduce the pH change in a solution when an acid or base is introduced. The cosmetics and personal care business substantially positively impact worldwide social and economic development at the national and regional levels. Cosmetics significantly improve customers' quality of life and functional and emotional well-being. The market is expanding due to the expanding workforce and increased disposable income. Growing the men's grooming market, raising awareness, and expanding into rural markets are other significant growth-promoting elements. The growth in sales of cosmetic items, particularly those containing sodium trimetaphosphate, is caused by a combination of these causes.
The demand in Asia-Pacific is expected to witness significant growth
The rising incidence of diseases and the increased number of poultry farms in the region will likely bring in considerable profits for APAC. Heavy industrial investments have been made possible by rising consumer household incomes. Additionally, China's expanding number of manufacturing facilities will boost regional prosperity. The rising population is expected to increase the demand for clear water, so the STMP is also used in wastewater treatment plants. Rising regulation for cleaning water in the nation is also driving the market's growth over the forecast period.
Apart from this, Cleantech Water provides single-window decentralized solutions for wastewater treatment, catering to industrial and domestic needs. Thus, the increase in water treatment plants and innovations in water purification technologies create market opportunities. Germany invests in and makes significant profits from its wastewater management infrastructure. In Germany, an adequate amount of wastewater produced by private foundations and residential areas was treated. North America has also contributed to the growth in demand due to the region's expanding manufacturing sector.
Competitive Insight
Some of the major players operating in the global market include Aditya Birla Chemicals, ABCR GmbH, CheMall Corporation, Guizhou Zhongshen Phosphates, Haifa Group, Hubei Xingfa Chemicals Group, ICL Performance, Innophos Holding, Prayon S.A., ParChem, Sumitomo Chemicals, Merck Group, Tata Chemicals, TongVo Chemicals, Tianyuan Group, Wengfu Group, Wuhan Inorganic, Yunnan Nanlin, and Yuntianhua Group.
Recent Developments
In June 2021, Russian chess grandmaster Ian Nepomniachtchi and PhosAgro have partnered to promote the product while endorsing the world champion.
Sodium Trimetaphosphate Market Report Scope
| | |
| --- | --- |
| Report Attributes | Details |
| Market size value in 2023 | USD 41.04 million |
| Revenue forecast in 2032 | USD 63.45 million |
| CAGR | 5.0% from 2023 - 2032 |
| Base year | 2022 |
| Historical data | 2019 - 2021 |
| Forecast period | 2023 - 2032 |
| Quantitative units | Revenue in USD million and CAGR from 2023 to 2032 |
| Segments Covered | By Grade, By Application, By End Use, By Region |
| Regional scope | North America, Europe, Asia Pacific, Latin America; Middle East & Africa |
| Key Companies | Aditya Birla Chemicals, ABCR GmbH, CheMall Corporation, Guizhou Zhongshen Phosphates Chemical, Haifa Group, Hubei Xingfa Chemicals Group Co. Ltd., ICL Performance Ltd., Innophos Holding Inc., Prayon S.A., ParChem Inc., Sumitomo Chemicals Co. Ltd., Sigma-Aldrich (Merck Group), Tata Chemicals Ltd., TongVo Chemicals Limited, Tianyuan Group, and Yuntianhua Group |