The global soft tissue repair market was valued at USD 13.36 billion in 2021 and is expected to grow at a CAGR of 4.88% during the forecast period.
The number of orthopedic procedures and trauma patients is expected to rise, and this will be a major factor influencing revenue growth in the next few years. Factors like the increasing number of sports injuries, the aging population, the obesity rate, the intensive emphasis on R&D that led to the creation of technologically improved products, etc., are all key growth drivers in this market. The market's expansion is, however, principally being hampered by the unfavorable reimbursement environment for devices for soft tissue repair.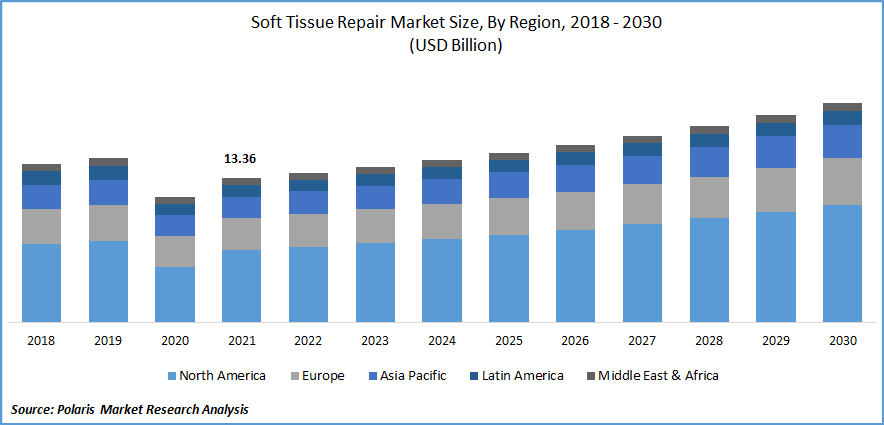 Know more about this report: Request for sample pages
Any material used in the repair and maintenance of muscle, fibrous tissue, blood vessels, and supporting connective tissues is considered soft tissue repair product. While various soft tissues are involved in the cause and treatment of back pain, only a few are frequently connected to spinal rehabilitation. These delicate tissues must have time to recuperate or heal from any unanticipated trauma.
The global lockdown brought on by the COVID-19 epidemic has had a significant impact on the healthcare system. The covid-19 epidemic had an impact on the market for soft tissue healing as well. Medical appointments and surgical procedures have been postponed. Following the lockdowns and shutdowns, the number of injuries also decreased, negatively affecting the growth of the market under study. According to a study published in 2022 by Chia-Hao Hsu, emergency or outpatient visits decreased from 18% to 58.6%.
In contrast to elective procedures, which saw a 43.5–100% fall in rate, all surgeries, including emergency surgeries, saw a 15.6-49.4% decline. The rate of work loading varied from 33% to 66%. A change in practice was made by 50%to 100% of surgeons. The overall percentage of orthopedic surgeons who reported mild psychological pressure was 40.5%. As a result, the covid-19 epidemic had a detrimental impact on the market under investigation. However, the market is expanding steadily because of the large worldwide geriatric population and the rise in sports injuries.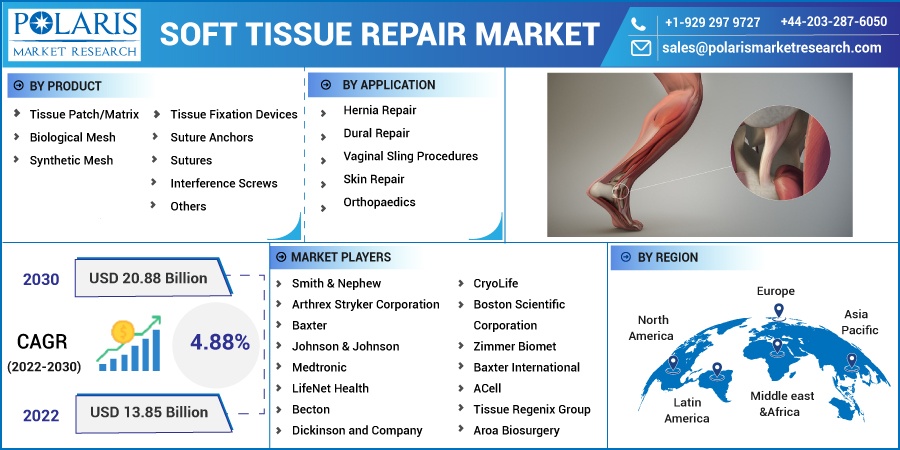 Know more about this report: Request for sample pages
Industry Dynamics
Growth Drivers
Chronic diseases such as cystic fibrosis, hepatitis, cardiovascular disease, and cancer are frequently caused by age-related physiological changes and metabolic inefficiencies. In 2020, there were 900 million people worldwide who were 65 or older. Women make up the bulk of older people, especially at advanced ages, as they typically outlive men. A person is more vulnerable to some soft tissue injuries as they get older. For instance, 1.71 billion people worldwide suffer from musculoskeletal disorders, according to WHO data from July 2022. High-income countries are the most affected globally, with 441 million individuals affected.
Most musculoskeletal disorders are brought on by low back discomfort (570 million prevalent cases worldwide). Neck pain (222 million people), osteoarthritis (528 million people), fractures (440 million people worldwide), amputations (180 million people), and rheumatoid arthritis are other factors that contribute to the overall burden of musculoskeletal diseases (18 million people). The market for soft tissue healing is anticipated to grow significantly over the next ten years due to this considerable increase in soft tissue injuries.
Report Segmentation
The market is primarily segmented based on product, application, and region.
By Product

By Application

By Region

Tissue Patch/Matrix

Biological Mesh
Synthetic Mesh

Tissue Fixation Devices

Suture Anchors
Sutures
Interference Screws
Others

Hernia Repair
Dural Repair
Vaginal Sling Procedures
Skin Repair
Orthopaedics
Dental
Breast Reconstruction Repair
Other applications

North America (U.S., Canada)
Europe (France, Germany, UK, Italy, Netherlands, Spain, Russia)
Asia Pacific (Japan, China, India, Malaysia, Indonesia, South Korea)
Latin America (Brazil, Mexico, Argentina)
Middle East & Africa (Saudi Arabia, UAE, Israel, South Africa)
Know more about this report: Request for sample pages
Tissue Patch/Matrix is the industry's leading market segment.
Tissue patch/mesh was the market's largest segment in 2021. Synthetic mesh is increasingly employed throughout various sorts of orthopedic surgeries due to its capacity to reduce surgical times, which accounts for its sizeable market share.
The companies are also putting their efforts into creating an extracellular matrix for soft tissue restoration. For instance, Myriad, a novel product for soft tissue repair and rebuilding, was introduced to the US market by Aroa Biosurgery in February 2020. For a range of plastic and reconstructive surgical procedures, including plastic surgery, limb salvage, burns, and trauma, that need the repair or strengthening of soft tissue, Myriad can be utilized. As a result of the aforementioned reasons, the market is anticipated to experience expansion over the given time frame.
Hernia repair segment will account for a higher share of the market.
One of the main reasons for the increase in soft tissue repair surgeries carried out globally is the rise in sports injuries, hernia cases, and lifestyle concerns like obesity, osteoporosis, and arthritis. Furthermore, the market for hernia repair is developing as a consequence of several additional variables, such as the global prevalence of hernias, the rise in demand for improved mesh, the expansion of the use of robotic operations, and the desire for improved mesh.
According to a report by Chunhui Cao published in May 2022, transabdominal preperitoneal (TAPP) repair and completely extraperitoneal (TEP) repair are safe and successful surgical methods for treating adult inguinal hernias. However, compared to TAPP, TEP can significantly shorten the procedure's duration, minimize intraoperative trauma, and lessen postoperative pain when treating adult inguinal hernias. Additionally, because it lowers the risk of issues or recurrence, raising awareness is crucial.
The demand in North America is expected to witness significant growth
North America had the greatest market share. One of the reasons that North America dominates the market study is the rise in sports injuries and product launches by significant companies. Due to the presence of highly developed medical facilities and constantly high healthcare spending fueling the industry's growth in the country, the United States now owns the greatest market share in the area.
The rising number of new product launches in the nation is predicted to promote the growth of the studied industry. For instance, B.D. bought Tepha, Inc. July 2021, a renowned manufacturer and researcher of distinctive resorbable polymer technology. Tepha's poly 4-hydroxybutyric acid, a proprietary resorbable polymer, offers enormous innovation opportunities for B.D.'s surgical mesh portfolio, enabling it to grow into new fields of soft tissue repair, reconstruction, and regeneration.
As a result, the United States increases demand for the market under study in the North American area, which is likely to aid in the market's expansion throughout the course of the forecast period.
Competitive Insight
Some of the major players operating in the global market include Smith & Nephew, Arthrex, Stryker Corporation, Baxter, Johnson & Johnson, Medtronic, LifeNet Health, Becton, Dickinson and Company, Integra Life Sciences Corporation, CryoLife, Boston Scientific Corporation, Zimmer Biomet, Baxter International, ACell, Tissue Regenix Group, and Aroa Biosurgery.
Recent Developments
Avita Medical, a US-based start-up, released the final findings of research it had undertaken in patients with soft tissue injuries utilizing its recently released RECELL System in August 2022. According to the trial findings, some of the most lethal flesh-eating illnesses, surgical wounds, and severe skin injuries have been effectively treated by the RECELL System.
Soft Tissue Repair Market Report Scope
| | |
| --- | --- |
| Report Attributes | Details |
| Market size value in 2022 | USD 13.85 billion |
| Revenue forecast in 2030 | USD 20.28 billion |
| CAGR | 4.88% from 2022 - 2030 |
| Base year | 2021 |
| Historical data | 2018 - 2020 |
| Forecast period | 2022 - 2030 |
| Quantitative units | Revenue in USD billion and CAGR from 2022 to 2030 |
| Segments Covered | By Product, By Application, By Region |
| Regional scope | North America, Europe, Asia Pacific, Latin America; Middle East & Africa |
| Key Companies | Some of the major players operating in the global market include Smith & Nephew, Arthrex, Stryker Corporation, Baxter, Johnson & Johnson, Medtronic, LifeNet Health, Becton, Dickinson and Company, Integra Life Sciences Corporation, CryoLife, Boston Scientific Corporation, Zimmer Biomet, Baxter International, ACell , Tissue Regenix Group, and Aroa Biosurgery. |