The global solar inverters / PV inverters market is anticipated to grow at a CAGR of 16.1% from 2018 to 2026. Developments in the solar power stations is expected to transform the market for solar inverters. Traditional inverters are not sufficient to establish an overriding profile on the inverter market thus, there is an increasing demand for the solar inverters or PV inverters. With the burgeoning demand for electric vehicle charging infrastructure, virtual power plants, battery storage, grid services and solar PV solutions, solar inverters market or PV inverters market should match the rapid pace of its ancillary industries. In the present scenario, the market for solar inverters is highly competitive with some major players emerging in the Asia Pacific sub-continent as well as suppliers operating in the western region are continuously broadening their product variety and range. However, it is expected that the price of solar inverters to decrease at a marginal rate during the forecast period from 2018 to 2026 according to our analysis. The total addressable market for solar inverters is expected to increase during 2018 with a forecast of around US$ 25.86 billion revenue by the year 2026.
The future prospect of solar inverter looks promising due to the factors such as government initiatives to reduce carbon footprint by increasing the installation of solar power plants to take over the thermal power plants. Additionally, trends to introduce solar power plants in remote areas is estimated to add up to the global solar inverter market. However, certain restraining factors such as exorbitant price of solar inverters coupled with higher maintenance costs are expected to hinder the market growth of the solar inverter market during the forecast period.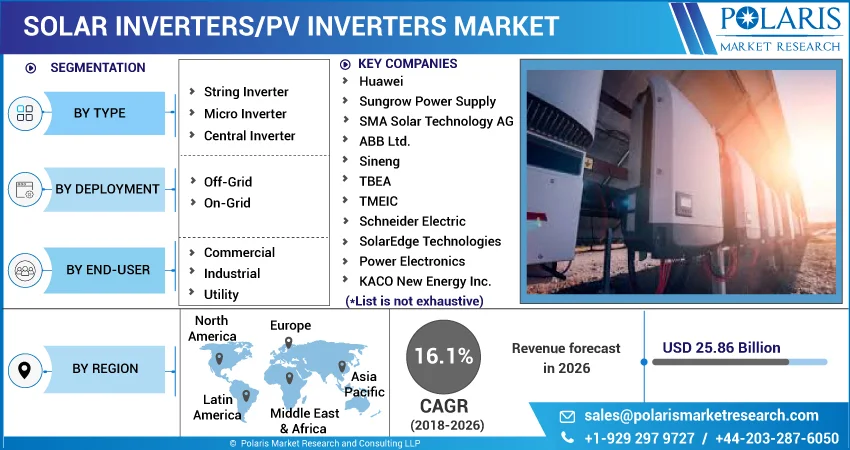 Segment Analysis
The global solar inverter market has been segmented based on type, deployment and end-user. On basis of type the solar/ PV inverter market is segmented into central, micro and string inverters. Central type solar inverter is expected to hold a prime share of the market followed by string type inverters. On the other hand, the solar inverter is additionally segmented into deployment type into off-grid and on-grid. The on-grid deployment type is expected to account for a major share in the market as they perform the role of power storage systems rather depending upon battery bank. Furthermore, the market is further segmented by end-use into utilities, commercial and industrial. According to Polaris Market Research analysis, utilities segment is expected to dominate the solar inverter market owing to its application in power grids as well as to supply electricity to remote areas. Additionally, the commercial segment is expected to be the prime CAGR holder because of rise in construction of commercial and residential complexes across the globe with integrated solar panels to power the building.
Regional Analysis
Asia Pacific accounted for the largest share in 2017 in terms of installation of solar inverters market. Japan and China will be the primary support for the region's increasing demand. These are also the fastest growing solar power generation setup market worldwide. Moreover, an improved outlook for product demand in India is yet another potential factor for the growth.
Europe and North America with its favorable government policies and rising energy prices is another prime market for solar inverters. Rise in electric vehicle charging infrastructure in these regions is further aiding the market for installation of solar inverters.
Competitive Analysis
Some of leading industry participants in the solar inverters market include Huawei, Sungrow Power Supply, SMA Solar Technology AG, ABB Ltd., Sineng, TBEA, TMEIC, Schneider Electric, SolarEdge Technologies, Power Electronics, KACO New Energy Inc., Fronius, Wuxi Sineng, SunPower Corporation, Delta Electronics, Inc., Hitachi Hi-Rel Power Electronics Pvt. Ltd. and Siemens AG among others.