The global space heating boilers market was valued at USD 27.50 billion in 2022 and is expected to grow at a CAGR of 3.4% during the forecast period.

To Understand More About this Research: Request a Free Sample Report
Growing recognition of environmental concerns and the imperative to curtail greenhouse gas emissions have underscored a robust focus on space-heating boiler solutions prioritizing energy efficiency and eco-friendliness. Governments worldwide are enacting regulations and offering incentives to promote the uptake of cleaner and more efficient technologies for space heating boilers.
Space heating boilers are vital in indoor temperature regulation for residential and commercial structures. Serving as integral components of heating systems, these boilers are responsible for generating and disseminating warmth throughout buildings. They harness various fuel sources, including natural gas, oil, propane, electricity, and biomass, using fuel combustion or electrical resistance to generate heat. Contemporary iterations of space heating boilers are equipped with advanced control mechanisms, which manage the boiler's performance and uphold desired indoor temperatures. These controls are designed to optimize energy efficiency, ensuring safety and reliability.
Sustainable buildings stem from their ability to curtail operational expenses through diminished energy usage and optimized designs. Investors keenly acknowledge the prospects of enduring financial benefits, such as reduced costs over time and elevated property valuation. The presence of options like green bonds and diverse forms of sustainable financing has effectively streamlined investments in projects dedicated to environmental preservation, encompassing the realm of sustainable buildings.
Energy-efficient space heating boilers present many advantages when contrasted with conventional, less efficient boiler systems. Engineered to maximize heat extraction from the fuel they utilize, these boilers yield diminished energy wastage and a consequent reduction in overall energy usage. This translates into notably lowered operating expenditures for both commercial establishments and residential occupants, owing to the curtailed energy consumption. From a holistic perspective, opting for an energy-efficient space heating boiler yields financial savings and positive ecological impacts and elevates comfort, dependability, and property valuation. When selecting an energy-efficient boiler, it is pivotal to deliberate on variables such as property dimensions, heating requirements, and the array of available fuel sources.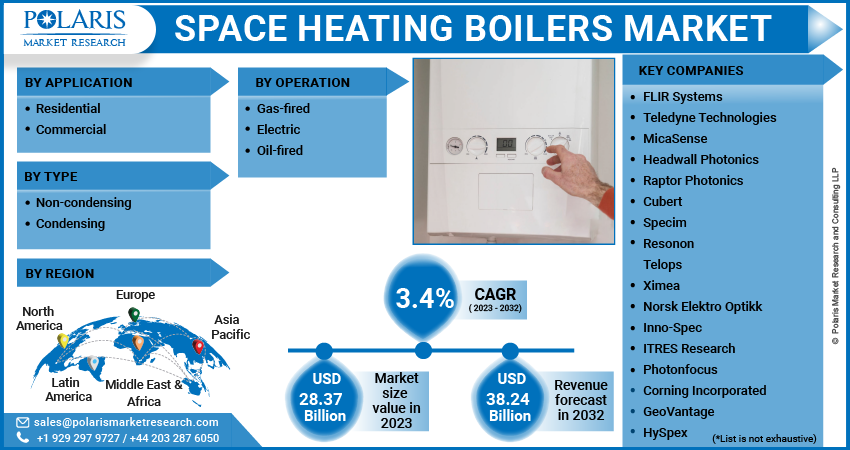 For Specific Research Requirements, Request for a Customized Report
Industry Dynamics
Growth Drivers
Rising interest for sustainable buildings
Increasing interest in sustainable buildings and the growing adoption of high-efficiency space heating systems. This demand is notably influenced by the prevalence of green building certifications, exemplified by LEED (Leadership in Energy and Environmental Design) and Energy Star, which have garnered substantial recognition in the U.S. These certifications acknowledge structures that adhere to elevated energy efficiency benchmarks and sustainable architectural design. As a result, developers and investors are incentivized to channel their resources into projects that align with these principles.
Governments have taken active measures to promote and support sustainable building practices at all levels, including federal, state, and local tiers. These initiatives encompass a range of incentives and regulatory measures designed to drive the adoption of environmentally conscious construction. Such incentives can encompass tax credits, grants, and rebates, effectively enhancing the financial appeal of investments in sustainable building endeavors.
Report Segmentation
The market is primarily segmented based on operation, application, type, and regions.
By Operation

By Application

By Type

By Region

Gas-fired

Electric

Oil-fired

Non-condensing

Condensing

North America (U.S., Canada)

Europe (France, Germany, UK, Italy, Netherlands, Spain, Russia)

Asia Pacific (Japan, China, India, Malaysia, Indonesia. South Korea)

Latin America (Brazil, Mexico, Argentina)

Middle East & Africa (Saudi Arabia, UAE, Israel, South Africa)
To Understand the Scope of this Report: Speak to Analyst
By Operation Analysis
Gas-fired segment held the largest share in 2022
The gas-fired segment held the largest revenue share. Various considerations, including the utilization patterns and the extent of adoption across these industries, significantly impact the segment's growth. Additionally, the market's propulsion is reinforced by stringent energy efficiency regulations and environmental benchmarks established by governmental entities. This regulatory framework is anticipated to bolster the ongoing demand within the market.
The electric boilers segment will grow at a substantial pace. Primarily sought as an auxiliary heat source for solar applications and instances necessitating precise temperature regulations, electric boilers seamlessly integrate with radiant systems. For instance, consider the AT Series electric boiler, which boasts an advanced microprocessor control system and a load-managing controller. This small, wall-mounted boiler attains a remarkable efficiency of 100%. Notably, the AT Series is equipped with a reliable one piece cast-iron heat exchanger, accompanied by an impressive 20 yr warranty.
By Application Analysis
Commercial is expected to hold the significant revenue share during forecast period
The commercial is holding a significant share of the market. This supremacy can be attributed to the inherent energy efficiency of commercial space heating boilers, facilitated by the rapid thermal energy transmission and prolonged heat retention capacity of water compared to air. Moreover, commercial boilers present a diminished risk of system leaks, courtesy of relying on piping infrastructure instead of ductwork, which consumes less energy. The effectiveness of heat distribution is further amplified by applying thermal radiation methods, ensuring efficient warmth dispersion throughout the designated area.
The AAON BL Series Packaged Boiler Outdoor Mechanical Room is meticulously crafted with pre-engineered pumping, piping, and controls seamlessly integrated into a single quick-connect package. This innovative approach streamlines installation and yields substantial time and cost savings at the construction site.
The residential segment is expected to grow at the fastest pace. Space heating boilers play a pivotal role within residential contexts, constituting integral components of home heating systems. Engineered to deliver hot water and central heating, these boilers cater to diverse residential properties, including houses and apartments. These compelling attributes collectively underscore the surge in demand for space heating boilers tailored to residential applications, establishing a trajectory for growth in the forthcoming years.
By Type Analysis
Condensing boilers is expected to hold the significant revenue share during forecast period
The commercial holds a significant share of the market. Renowned for their enhanced energy efficiency, condensing space heating boilers outshine their non-condensing counterparts. In the era preceding the advent of condensing space heating boilers, a significant portion of a boiler's heat, up to 30%, was essentially lost, being expelled directly into the flue pipe. The innovation of condensing space heating boilers rectified this inefficiency. These boilers incorporate a Flue Gas Heat Recovery System, which ingeniously recycles waste heat extracted from the flue. This recovered heat is then employed to warm the cold water entering the boiler, culminating in heightened operational efficiency levels.
Non-condensing boilers are expected to grow at the fastest rate. These boilers are often associated with lower repair costs, yielding immediate financial benefits upon maintenance interventions. In contrast, condensing space heating boilers exhibit superior long-term advantages due to their extended operational lifespans and heightened fuel efficiency. While the initial investment for condensing space heating boilers may be higher, their cost-effectiveness becomes apparent over time.
By Regional Analysis
Europe held the largest revenue share in 2022
Europe is expected to dominate the market. Renowned for its proactive stance in advancing energy efficiency across commercial and residential domains, Europe has consistently led the way. The region's formidable commitment is exemplified by implementing stringent regulations and directives, prominently including the Energy Efficiency Directive (EED) and the Energy Performance of Buildings Directive (EPBD). These mandates have compelled businesses to allocate resources toward high-efficiency boiler systems.
APAC will grow at the fastest pace. This upward trajectory is attributed to the region's ongoing urbanization and concurrent infrastructure expansion. The robust pace of development has spurred the creation of diverse establishments, including commercial buildings, shopping complexes, and other commercial facilities. These newly erected structures demand contemporary and effective heating systems that align with modern efficiency standards. This evolving landscape is notably propelling the demand for space heating boilers tailored for regional commercial applications.
Competitive Insight
The space heating boilers market is fragmented and is anticipated to witness competition due to several players' presence. Major key players in the market are constantly upgrading their technologies to stay ahead of the competition and to ensure efficiency, integrity, and safety. These players focus on partnership, product upgrades, and collaboration to gain a competitive edge over their peers and capture a significant market share.
Some of the major players operating in the global market include:
AAON

Ariston Thermo

Baxi

Biasi

Daikin Industries

ECR International

Ideal Heating

Ingersoll-Rand

Lennox International

Lochinvar

Mitsubishi Electric

Navien

Rheem Manufacturing

Superior Boiler

Vaillant Group

Viessmann
Recent Developments
In April 2022, Bosch introduced the Condens 7000 WP series of commercial boilers. This innovative lineup boasts a contemporary design aimed at streamlining and expediting the installation process. Notably, when benchmarked against similar models, this series has demonstrated the capability to slash installation times by an average of around 60%.
Space Heating Boilers Market Report Scope
| | |
| --- | --- |
| Report Attributes | Details |
| Market size value in 2023 | USD 28.37 billion |
| Revenue Forecast in 2032 | USD 38.24 billion |
| CAGR | 3.4% from 2023 – 2032 |
| Base year | 2022 |
| Historical data | 2019 - 2021 |
| Forecast period | 2023 - 2032 |
| Quantitative units | Revenue in USD billion and CAGR from 2023 to 2032 |
| Segments Covered | By Operation, By Application, By Type, By Region |
| Regional scope | North America, Europe, Asia Pacific, Latin America; Middle East & Africa |
| Customization | Report customization as per your requirements with respect to countries, region and segmentation |