The sports mouthguard market was valued at USD 3.71 billion in 2021 and is expected to grow at a CAGR of 5.8% during the forecast period. Mouthguards are dental devices that cover and protect the teeth, tongue, gums, arches, and cheeks from trauma caused by teeth grinding. It's usually used in sports, including boxing, football, lacrosse, ice hockey, fencing sports, wrestling, water polo, basketball, skiing, and others.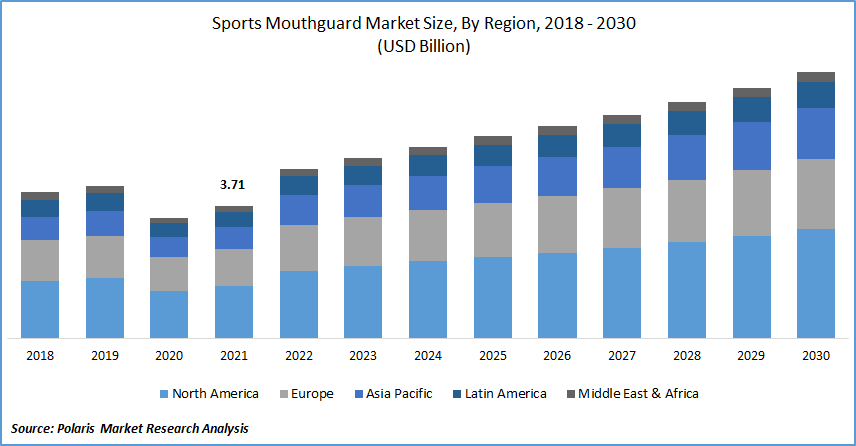 Know more about this report: Request for sample pages
Mouthguard perception is increased as referees, coaches, and dentists play a crucial role in influencing the athletes' safety. Referees and coaches help confirm the athletes wear that mouthguard during practices and competition, and dentists' trains coaches, athletes, trainers, parents, and others about several products and their applications and also provide them with custom-made mouthguards.
It is used by athletes participating in both contact and non-contact sports. It protects against tooth fractures, knocking out of the tooth, tooth displacement, soft tissue injuries, concussions, and others. The increasing number of athletes and fitness addicts have driven the sports mouthguards market as it's a necessary ornament for sports and gyms.
The lockdown hindered the market due to the ban on the organization of sports and events, reducing the sales and production of the sports mouthguards. Also, the gyms and yoga centers were closed during the Covid-19 pandemic leading to a downslide for the sports mouthguards market. People working out at home also put on mouthguards, but due to restrictions in the supply chain, the market during the pandemic declined.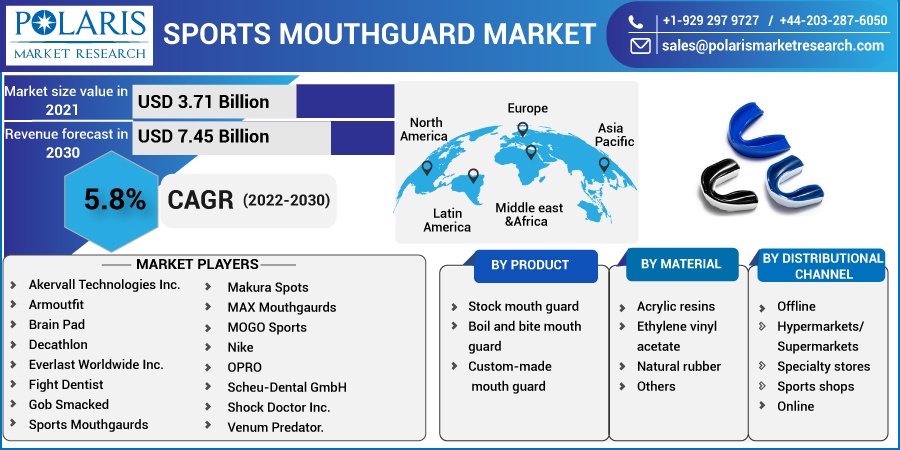 Know more about this report: Request for sample pages
Industry Dynamics
Growth Drivers
The increasing perception of the mental and physical advantages of sports and physical activities motivates the youth to participate in sports events worldwide, which is an essential factor for the growth of the sports mouthguards market. Increased advancement and new products related to safety and protection of the mouth have also driven market growth.
Companies are now offering anti-microbial mouthguards, which help prevent the risk of bacterial accumulation and suppress the growth of hazardous germs, including antibiotic-resistant MRSA. Additionally, advancements such as inserting sensors in mouthguards help detect, transmit, and display insightful information regarding every head impact on a player. At the same time, training and competitive matches to their professionals have increased sales and production, driving market growth.
As it is a leading resource for athletes, several ease advancements have been made for wearing and owning. The difficulty of speaking, lacking in its fit and size, after attiring a mouth guard was discomfort for a player. They are enhancing it to be smaller, durable, and flexible, allowing the athlete to talk and play correctly and increasing the adoption of mouthguards.
Also, mouth guards with shock absorbers have been introduced, which helps protect from the impact on the mouth, jaw, or head area, increasing the spacing between the upper and lower teeth. Damprotech is used in mouth guards to dispel energy and protect the wearer's mouth from high-velocity strikes occurring in the oral region while playing. All this advancement has increased the sale and production of mouthguards, rising the market's growth.
Report Segmentation
The market is primarily segmented based on product, material, distribution channel, and region.
By Product

By Material

By Distributional channel

By Region

Stock mouth guard
Boil and bite mouth guard
Custom-made mouth guard

Acrylic resins
Ethylene vinyl acetate
Natural rubber
Others

Offline

Hypermarkets/Supermarkets
Specialty stores
Sports shops

Online

North America (U.S., Canada)
Europe (France, Germany, UK, Italy, Netherlands, Spain, Russia)
Asia Pacific (Japan, China, India, Malaysia, Indonesia. South Korea)
Latin America (Brazil, Mexico, Argentina)
Middle East & Africa (Saudi Arabia, UAE, Israel, South Africa)
Know more about this report: Request for sample pages
Boil and Bite mouth guard accounted for the largest market share in 2021
Based on product, the sports mouthguard market is categorized into stock, boil and bite, and custom-made, in which boil and bite mouth guards accounted most significant market share in 2021 due to their increasing advantages of protecting against orofacial damages and injuries.
Boil and Bite mouthguards are thermoplastic materials that can be shaped to fit the teeth. It can be softened by placing it in hot water and can be fixed easily once softened. Its softening and reusable property of it makes it different and unique from other mouthguards. Therefore, it is quickly adopted by everyone and plays a crucial role in the sports sector, which drives the market's growth.
These mouthguards are readily available at many sports stores, and their cost is comparatively lower than others. Its comforts ease the consumers leading to an increase in sale and manufacturing of it and accounting most significant market share.
The custom-made mouthguard is expected to grow due to its molding property over the forecast period. Dentists use a mold impression of teeth to make a custom mouthguard that comfortably fits the teeth and mouth. Custom-fitted mouth guards are costly but give a perfect fit and protection. Additionally, it can be used at night to prevent grinding teeth.
Ethylene vinyl acetate is expected to grow at the highest rate during the forecast period
Based on material type, the market has been segmented into acrylic resins, ethylene vinyl acetate, and natural rubber. The ethylene vinyl acetate segment accounted for the largest market share in 2021. It is also estimated to be the fastest-growing segment during the forecast period.
The growth for this segment is assigned to its non-toxic property. Ethylene vinyl acetate allows the formation of hard and soft layers within the mouthguard. In mouthguards, the thickness is necessary because energy absorption capacity increases with material thickness. Less thickness reduces the time and energy for force application.
Additionally, ethylene vinyl acetate is a readily available and significantly used material for preparing mouthguards. After heating, EVA is a thermoplastic copolymer that can be easily manipulated. Most sports mouthguards are made up of EVA material, providing applications such as high-impact energy absorption, which increases after exposure to body temperature. These applications have increased the sale and production of EVA mouthguards, driving the growth of the sports mouthguard market.
Offline distribution channel is accounted for the largest market share in 2021
Based on distribution channels, the market is segmented into online and offline distribution channels. The offline distribution channel accounts for the largest market share and is expected to grow fastest over the forecast period. Due to the various selection of different brands and products at retail sporting goods stores and more prominent emphasis on the use of custom-fitted mouth guards has increased the demand for the offline distribution channel is dominating all over.
The offline segment is divided into specialty stores, sports shops, and hypermarkets or supermarkets. The sports shops account for the largest market share of the other distribution channels. The specialty stores offer more than the sports shops due to low cost and variables for choosing consumers to visit sports shops rather than other distribution channels.
Additionally, several manufacturers offer their products online and offline, or some have shopping portals for purchasing them, which consumes customers' traveling time and makes the product readily available. Therefore, the online distribution channel is expected to grow over the forecast period.
North America is accounted for the largest market share in 2021
The market in North America accounted for the largest market share in the sports mouthguard market during the forecast period due to the presence of sports and dental associations demanding high use of mouthguards. The increasing population in the countries, including U.S. and Canada, have increased the demand for sports, increasing the market growth in this region.
All over, schools and colleges, continuing to favor sports and other physical activities, leading to the adoption of orofacial protection, has increased the demand for the sports mouthguards market. Expanded bike racing due to changing trends has increased the demand for mouthguards in this region.
Competitive Insight
Some of the major players operating in the global market include Akervall Technologies Inc., Armoutfit, Brain Pad, Decathlon, Everlast Worldwide Inc., Fight Dentist, Gob Smacked Sports Mouthgaurds, Makura Spots, MAX Mouthgaurds, MOGO Sports, Nike, OPRO, Scheu-Dental GmbH, Shock Doctor Inc., Venum Predator.
Sports Mouthguard Market Report Scope
| | |
| --- | --- |
| Report Attributes | Details |
| Market size value in 2021 | USD 3.71 billion |
| Revenue forecast in 2030 | USD 7.45 billion |
| CAGR | 5.8% from 2022 - 2030 |
| Base year | 2021 |
| Historical data | 2018 - 2020 |
| Forecast period | 2022 - 2030 |
| Quantitative units | Revenue in USD billion and CAGR from 2022 to 2030 |
| Segments covered | By Product, By Material, By Distribution Channel, By Region |
| Regional scope | North America, Europe, Asia Pacific, Latin America; Middle East & Africa |
| Key companies | Akervall Technologies Inc., Armoutfit, Brain Pad, Decathlon, Everlast Worldwide Inc., Fight Dentist, Gob Smacked Sports Mouthgaurds, Makura Spots, MAX Mouthgaurds, MOGO Sports, Nike, OPRO, Scheu-Dental GmbH, Shock Doctor Inc., Venum Predator. |