The global superconducting wire market was valued at USD 1.19 billion in 2022 and is expected to grow at a CAGR of 9.6% during the forecast period. The primary factor propelling the market for superconducting wire is the growing adoption of superconducting wire over conventional wires and the expansion of offshore wind farms employing superconducting technologies. Superconductivity has been demonstrated to diminish energy misfortunes for communicating a lot of energy over significant distances with more modest framework improvement than traditional wire arrangements. Because high-temperature superconducting wires are place on or below ground, Additionally, unlike conventional wires, superconductors do not require electromagnetic interferences or the capital investments required to construct overhead transmission systems.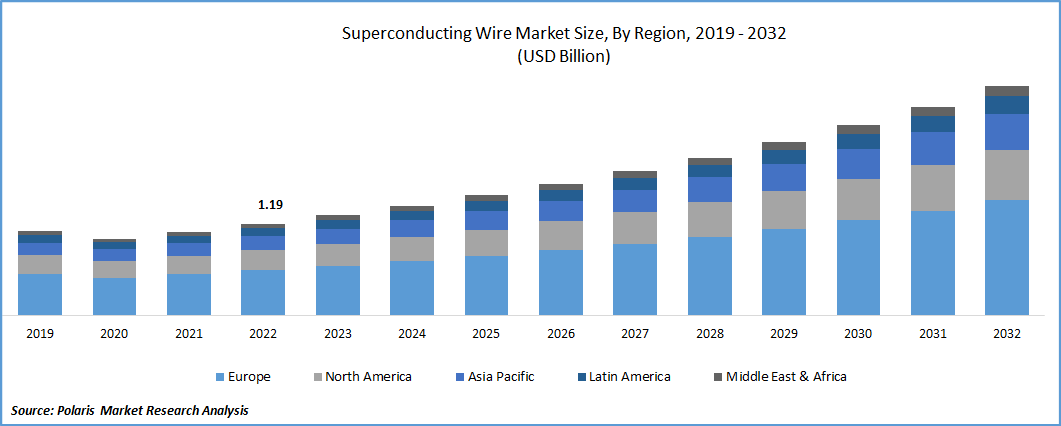 For Specific Research Requirements: Request for Customized Report
Countries are wanting to update their power transmission foundations with superconducting links to limit energy and money related misfortunes during influence transmission by regular wires. In addition, compare to their conventional counterparts, the higher field strength of low-temperature superconductors in NMR and MRI systems is anticipated to enhance image clarity.
With the rising populace, the prerequisite for energy-productive and quick open methods of transportation has seen sound development. Around the world, numerous initiatives have been launched to investigate and develop superconducting wires for various uses.
Right now, high-temperature superconductors, for example, yttrium barium copper oxide (YBCO) will often offer more prominent benefits over copper and aluminum like higher most extreme current densities and zero power scattering.
However, superconducting wire possess several disadvantages such as the cost of refrigeration of the wires to superconducting temperatures, problems associated with quenching of wire, and cost of wire materials and construction. Superconducting wire is widely utilized as superconducting magnets among scientific and medical equipment, where effects of high magnetic fields are necessary. High temperature superconductors (one of the types of superconducting wire) are composed of ceramic materials and majorly produced by two approaches such as First Generation (1G HTS) and Second Generation (2G HTS).
Market operation has been hindered by national lockdowns, which has increased supply chain disruption. Production and distribution delays are costing facilities money. Moreover, the pandemic emergency has confined speculation limit, influencing market development.
Industry Dynamics
Growth Drivers
The superconducting wire market expansion is driven by an increase in demand for computer chip design technology and superconductor-based MRI systems. Superconductor cables and other superconductor-based auxiliary electrical equipment are expected to be in higher demand as a result of synergies between high voltage transmission applications and high efficiencies.
Moreover, increase in need for superconducting wires among research, and electronics & communication, transportation, medical, industrial processing, act as an emerging opportunity for the market growth. However, lack standard testing facilities and high manufacturing cost of superconductors is expected to hinder the market growth.
As these wires produce less heat loss, the temperature of the wire is lower than that of a normal conductor. The increased cooling capability enables the use of thinner wires and, as a result, smaller conductors while also increasing the maximum power rating. To continue expanding interest for sending power with negligible misfortunes, better approaches for influence transmission are being used all over the planet.
Report Segmentation
The market is primarily segmented based on type, end-use, and region.
By Type

By End-use

By Region

Low-temperature superconductor (LTS)

Medium-temperature superconductor (MTS)

High-temperature superconductor (HTS)

Medical

Energy

Transportation

Research

Others

North America (U.S., Canada)

Europe (France, Germany, UK, Italy, Netherlands, Spain, Russia)

Asia Pacific (Japan, China, India, Malaysia, Indonesia, South Korea)

Latin America (Brazil, Mexico, Argentina)

Middle East & Africa (Saudi Arabia, UAE, Israel, South Africa)
To Understand More About this Research: Request a Free Sample Report
Low-temperature superconductor segment is expected to be the largest market during the forecast period
During the forecast period, the low-temperature superconductor market is anticipated to be the largest. Low-temperature superconducting (LTS) wires are significant in high-field magnet applications. Thus, rising demand for magnetic resonance imaging (MRI) systems based on superconductivity lead the growth of low temperature superconductor
The energy segment is expected to be the fastest during the forecast period
During the forecast period, the energy segment is anticipated to grow at the fastest rate. The market for the energy segment is anticipated to be driven by the expansion of offshore wind farms using superconducting technologies.
Europe had the largest revenue share in 2022
The growth of the region is due to increasing investments in nuclear fusion-based research and expanding efforts to reduce transportation's carbon footprint, especially in Europe region is driving the market for this region. The rising demand for immensely efficient electric motors, as well as growing investments in designing cost-effective products have also facilitated the emergence of innovative use cases of the wire. All factors are responsible for regional growth.
Competitive Insight
Some of the major players operating in the global superconducting wire market include American Superconductor Corporation, Bruker Corporation, Furukawa Electric Co., Ltd., Fujikura Ltd., Superconductor Technologies Inc., Eaton Corporation PLC, Theva GmbH, Japan Superconductor Technology Inc., Fuji Electric Co., Ltd., Phoenix Contact.
Recent Developments
I

n December 2022, The Bruker Energy & Supercon Technologies (BEST) division of Bruker and RI Research Instruments GmbH (RI) received multi-year sales contracts to supply technology components for fusion projects in Europe and Asia. Bruker, through its BEST division, will provide its high-current density RRP superconductors for a tokamak fusion project in Asia.

In January 2022, American Superconductor announced that it has completed the delivery of its high-temperature superconductor (HTS)-based ship protection system to be deployed on the San Antonio class of amphibious transport dock ship USS Fort Lauderdale (LPD-28).
Superconducting Wire Market Report Scope
| | |
| --- | --- |
| Report Attributes | Details |
| Market size value in 2023 | USD 1.30 billion |
| Revenue forecast in 2032 | USD 2.97 billion |
| CAGR | 9.6% from 2023 – 2032 |
| Base year | 2022 |
| Historical data | 2019 - 2021 |
| Forecast period | 2023 - 2032 |
| Quantitative units | Revenue in USD billion and CAGR from 2023 to 2032 |
| Segments covered | By Type, By End-use, By Region |
| Regional scope | North America, Europe, Asia Pacific, Latin America; Middle East & Africa |
| Key companies | American Superconductor Corporation, Bruker Corporation, Furukawa Electric Co., Ltd., Fujikura Ltd., Superconductor Technologies Inc., Eaton Corporation PLC, Theva GmbH, Japan Superconductor Technology Inc., Fuji Electric Co., Ltd., Phoenix Contact |