The global synoptophore market was valued at USD 206.1 million in 2019 and is expected to grow at a CAGR of 4.6% during the forecast period. The synoptophore market growth can be attributed to the rising demand of non-invasive processes. Furthermore, increasing technological advancements specifically in ophthalmic care is also likely to complement demand for synoptophore devices. Rising incidences of issues with visual acuity such as diplopia, amblyopia, strabismus, and other eye convergence disorders are few factors favoring market growth.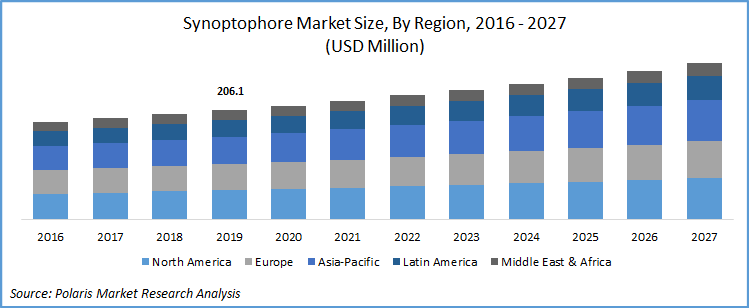 Know more about this report: request for sample pages
Industry Dynamics
Growth Drivers
The synoptophore market is drive by rising prevalence of strabismus and squint majorly in minors and adult population. Additionally, growing occurrence of cataract in adults and rising awareness for non-invasive techniques is expected to drive synoptophore demand. Moreover, surging shift in focus from surgical methods to non-surgical processes in ophthalmic care is anticipated to provide lucrative growth opportunities for the demand of synoptophore devices. Furthermore, rising technological advancements and research & development activities by the major market players coupled with strong product pipelines is expected to drive market growth over the forecast period.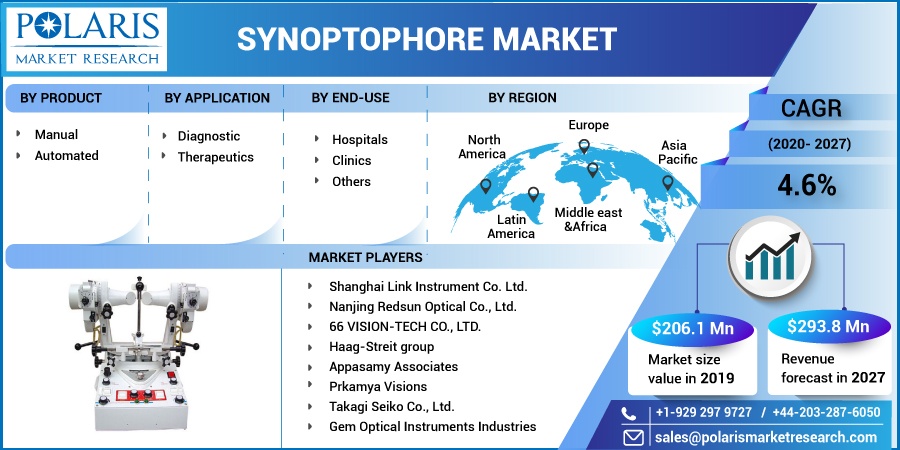 Know more about this report: request for sample pages
Synoptophore Market Report Scope
The market is primarily segmented on the basis of product, application, end-use, and region.
By Product

By Application

By End-Use

By Region

North America (U.S., Canada)
Europe (France, Germany, UK, Italy, Spain, Netherlands, Austria)
Asia Pacific (Japan, China, India, Malaysia, Indonesia, South Korea)
Latin America (Brazil, Mexico, Argentina)
Middle East & Africa (Saudi Arabia, UAE, Israel, South Africa)
Know more about this report: request for sample pages
Insight by Product
On basis of product the market is bifurcated into manual and automated. Manual segmented accounted for the highest revenue share in 2019 on account of low maintenance cost and easy and commercial availability of majority of the manual synoptophore device. Automated devices are expected to witness substantial growth over the forecast period owing to high accuracy and ability to provide quick results.
Insight by Application
On basis of application, the market is segmented into diagnostics and therapeutics. Among the two, diagnostics segment is anticipated to account for the highest revenue share by the end of 2027. Synoptophore is generally used in the diagnosis of ocular muscular imbalance through sensory, simultaneous perception and motor fusion, and stereopsis tests.
Insight by End-Use
The end-use segment is divided into hospitals, clinics, and others. Hospitals segment accounted for the highest revenue share. The rising figures of emergency patient visits suffering from traumatic brain injury, stroke, and cerebral palsy are predicted to surge the demand for synoptophore in hospitals segment.
For instance, as per the American Optometric Association, it is being reported that convergence in-sufficiency is accounted to 32% of the patients suffering from traumatic brain injury. In these cases, synoptophore are used in performing various sort of purposes from vision therapy at the active rehabilitation level, to follow-up visual acuity monitoring at the post-rehabilitation stage.
Geographic Overview
North America accounted for the highest share owing to the rising number of incidences related to eyes in the region. U.S. held the largest market share owing to presence of synoptophore producers in the region. Additionally, increasing incidence of strabismus and amblyopia and rising inclination towards non-surgical treatment procedures have propelled the growth of synoptophore devices in the US.
For instance, as per the JCHR, Joint Committee on Human Rights, around 12.2 million of the U.S. population are affected by amblyopia. Additionally, North America is one of the major regions with advanced healthcare facilities and infrastructure hence, increasing healthcare innovations, infrastructure, and investment by the government bodies and private institutions contributes significantly to the market growth.
Furthermore, Europe holds a significant share in the market and is predicted to grow at a remarkable rate throughout the forecast period. The rising local manufacturers of the ophthalmic diagnostic instruments coupled with surging awareness regarding advanced technologies in ophthalmic care are some of the major factors predicted to boost growth in the region.
Moreover, Asia Pacific is also a rapid-growing market for Synoptophore owing to rising demand for eye care devices and increasing occurrence of strabismus and ocular mortality in the nations like India, Japan, and China. Additionally, rising government spending and investments by major private and government bodies in healthcare sector surge the market share of the region.
Competitive Insight
The key market players are focused on various attractive and effective approaches such as new product innovations, product expansions, joint ventures, partnerships, collaborations, research & developments, and merger and acquisitions (M&A) in order to increase their market share and build effective product portfolio in the market throughout the forecast period. Such initiatives by the key market players helps them to build effective portfolio and significant market share in the competitive scenario.
Some of the major players of the synoptophore devices industry include, Shanghai Link Instrument Co. Ltd., Nanjing Redsun Optical Co., Ltd.; 66 VISION-TECH CO., LTD.; Haag-Streit group; Appasamy Associates; Prkamya Visions; Takagi Seiko Co., Ltd.; Gem Optical Instruments Industries.