The global synthetic biology market was valued at USD 13.07 billion in 2022 and is expected to grow at a CAGR of 18.5% during the forecast period. The demand for synthetic biology will increase due to the expanding range of uses for multiplexed diagnostics & cellular recording, as well as therapeutic genome editing. The application of organisms and goods created through synthetic biology techniques in other industries, such as energy and chemicals, is also likely to have an effect on the market's overall growth.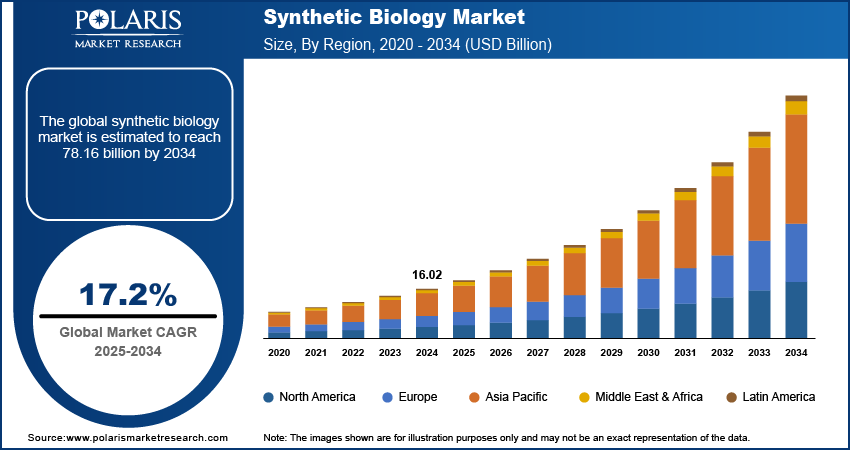 Know more about this report: Request for sample pages
The use of synthetic biology products has grown over the last two years as a result of the COVID-19 outbreak. By implementing new methods for creating test kits, treatments, and vaccines for COVID-19, many major pharmaceutical and biotechnology companies as well as synthetic biology industry players have increased their research efforts worldwide. Synthetic biology is one of the emerging technologies, according to a report from the European Parliament. It can be applied to the fight against COVID-19 infection. The National Institute of Health in the United States has also highlighted the use of synthetic biology as a way to hasten the creation of vaccines.
The expansion of research and development efforts across numerous fields is anticipated to lead to an increase in the global market. Players are applying synthetic biology techniques to improve performance and increase the utilization of inexpensive inputs like waste in order to improve conventional biofuel production. For instance, biotechnology is being used by fashion businesses like Modern Meadow, Bolt Threads, and Vitro Labs to create sustainable materials.
Strong investments from corporate and public partnerships were seen in the industry. The startups in the synthetic biology sector raised 7.8 billion in investment in 2020 and 18.0 billion in 2021, according to data released by SynBioBeta. Companies like DNA Script and Arbor Biotechnologies raised about 215 million and 167.2 million dollars, respectively. The significant expenditure promotes the flow of money through the market and aids in the expansion of businesses along the supply chain.
The development of biofoundries, advancements in genome editing, the availability of natural materials, and sizable markets are also emphasised as worldwide strengths in synthetic biology for the creation of a biobased economy. Discussions of potential obstacles to the field's long-term growth, such as inadequate policies and infrastructure, are presented along with suggestions for solutions that include public-private partnerships, improved multilateral cooperation, and a strong governance framework.
The newest technologies are also being introduced by market participants to meet the rising demand and seize unexplored market opportunities. For instance, Creative Biogene launched its broad shRNA products in November 2021 to advance RNAi research. The business possesses a wide range of knowledge and experience to provide premium RNAi products, such as shRNA clones and siRNA libraries, with the goal of delivering efficient, practical, and dependable instruments to advance RNAi research.
For the clarification of biological phenomena and the accomplishment of specific design goals in synthetic biology, artificial intelligence (AI)/machine learning has recently surfaced as a viable alternative to systems biology. The current advancement of machine learning (ML) and artificial intelligence (AI) tools and techniques in the biological and biotechnological realms can be seen as a similar effort to improve and automate analysis and decision-making in these fields. For examining system behaviours and enhancing the output of interest in synthetic biology applications, AI/ML continues to be a viable option.
Industry Dynamics
Growth Drivers
Synthetic biology is a rapidly growing field combining engineering, biology, and computer science principles to create new biological systems and modify existing ones. Several key factors, including the increasing demand for renewable energy sources, the development of gene editing technologies, and the growing focus on precision medicine, drive the market for synthetic biology.
One of the major driving factors for the synthetic biology market is the need for renewable energy sources. With concerns over climate change and the depletion of traditional energy sources, there is a growing demand for alternative energy sources such as biofuels. Synthetic biology offers a way to engineer microorganisms to produce biofuels more efficiently and sustainably, leading to increased investment and research in the field.
Another driving factor for the synthetic biology market is the development of gene editing technologies such as CRISPR/Cas9. These technologies allow for precise modifications to be made to an organism's genome, which can be used to create new functions or traits. It led to increased interest in gene therapy and genetic engineering, with the potential for synthetic biology to revolutionize medicine and biotechnology.
Precision medicine is also a driving factor for the synthetic biology market, as the field offers the potential to develop personalized disease treatments. By engineering biological systems to target specific cells or tissues, synthetic biology can help create more effective and targeted therapies with fewer side effects.
Report Segmentation
The market is primarily segmented based on Technology, Product, Application and region.
By Product

By Technology

By Application

By Region

Oligonucleotide/Oligo Pools and Synthetic DNA

Enzymes

Cloning Technologies Kits

Xeno-Nucleic Acids

Chassis Organism

NGS Technology

PCR Technology

Genome Editing Technology

Bioprocessing Technology

Other Technologies

Healthcare

Non-Healthcare

North America (U.S., Canada)

Europe (France, Germany, UK, Italy, Netherlands, Spain, Russia)

Asia Pacific (Japan, China, India, Malaysia, Indonesia. South Korea)

Latin America (Brazil, Mexico, Argentina)

Middle East & Africa (Saudi Arabia, UAE, Israel, South Africa)
Know more about this report: Request for sample pages
In 2022, the oligonucleotide/oligo segment dominated the market
The main component in many molecular and synthetic biology uses is oligonucleotides. The main market movers for the same are the expanding use of targeted NGS, mutagenesis studies, DNA computing, and CRISPR gene editing. For instance, OligoMix is a cutting-edge and custom tool for genomic research. It produces a huge number of oligonucleotide sequences in simultaneously. The price is less than 0.8 cents per base for the same.
The PCR segment accounted for highest market share of the market in 2022
In 2022, the PCR market segment accounted for highest market share. PCR is an important tool for the identification and analysis of particular gene sequences is the Polymerase Chain Reaction (PCR). Since real-time PCR assays have great sensitivity and specificity, they are frequently used in PCR-based genomic studies. In many fields, including forensic science, DNA cloning, molecular diagnostics, and genomics, this method is widely used.
Healthcare is expected to hold the significant revenue share during forecast period
Synthetic biology-based diagnostics offer a highly accurate, quick, non-invasive, and real-time method for identifying pathogens, cancer cells, and medicines. Researchers use rational engineering methods to create novel, dynamic biosensing devices made up of a processor, sensor, and reporter. A rise in neurological diseases like multiple sclerosis is also fueling this market.
The synthetic biology market also benefits from advancements in computer science and artificial intelligence. These technologies allow for the design and simulation of biological systems, accelerating the development and testing of new products and solutions.
Furthermore, the rise of synthetic biology has also created opportunities for new businesses and startups to enter the market. With the increasing availability of resources and tools, more entrepreneurs can enter the field and bring their innovative ideas to market.
North America dominated the synthetic biology market in 2022
In 2022, North America dominated the synthetic biology market due to rising private company investment, advantageous laws, and government support. In order to fuel the development of the synthetic biology market, the U.S. primarily focuses on research in the fields of proteomics, drug screening and discovery, and genomic structure prediction. The synthetic biology market is expected to grow at the fastest rate in the Asia Pacific region, which is expected to be fueled by factors such as rising investments in Asia Pacific nations, expanding partnerships & funding in the Chinese market, and expanding collaborations in the field of synthetic biology.
Competitive Insight
Some of the major players operating in the global market include Biosciences Inc.; Codexis, Inc.; Creative Biogene; CREATIVE ENZYMES; Enbiotix, Inc.; Illumina, Inc.; Merck Kgaa (Sigma-Aldrich Co. LLC); New England Biolabs; Euro fins Scientific; Novozymes; Pareto Bio, Inc.
Recent Developments
Novozymes released Frontia GlutenEx in January 2021 that aimed wheat manufacturers in improving the recovery of the gluten protein while reducing the amount of energy used.

Merck and BioNTech (Germany) joined forces in February 2021 to furnish lipids for the creation of the Pfizer-BioNTech COVID-19 Vaccine. (BNT162b2).
Synthetic Biology Market Report Scope
| | |
| --- | --- |
| Report Attributes | Details |
| Market size value in 2023 | USD 15.47 billion |
| Revenue forecast in 2032 | USD 71.51 billion |
| CAGR | 18.5% from 2023 - 2032 |
| Base year | 2022 |
| Historical data | 2019 - 2021 |
| Forecast period | 2023 - 2032 |
| Quantitative units | Revenue in USD billion and CAGR from 2023 to 2032 |
| Segments covered | By Product, By Technology, By Application, By Region |
| Regional scope | North America, Europe, Asia Pacific, Latin America, Middle East & Africa |
| Key companies | Biosciences Inc.; Codexis, Inc.; Creative Biogene; CREATIVE ENZYMES; Enbiotix, Inc.; Illumina, Inc.; Merck Kgaa (Sigma-Aldrich Co. LLC); New England Biolabs; Euro fins Scientific; Novozymes; Pareto Bio, Inc. |