The global tamarind extract market was valued at USD 408.06 million in 2022 and is expected to grow at a CAGR of 6.5% during the forecast period. Tamarind is a fruit with a unique acidic, sweet, and sour flavor. It is used to create tamarind concentrate, used to create products like fruit juice, pickles, & sauces. Tamarind extract is a natural ingredient and flavor enhancer in food products due to its antifungal, anti-bacterial, antioxidant, & antiseptic properties. Additionally, it is used as a skin-whitening and moisturizing element in cosmetic products. Common colds, fevers, digestive problems, conjunctivitis, and other illnesses can all be treated with tamarind extract.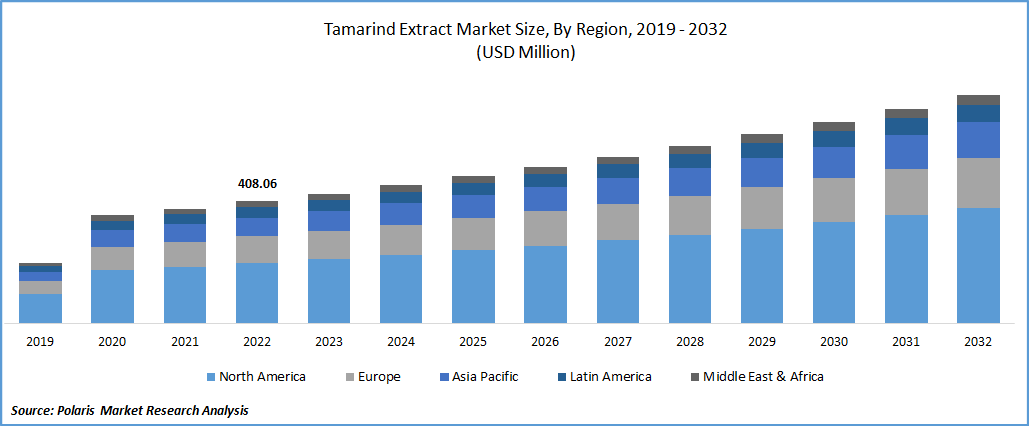 Know more about this report: Request for sample pages
Tamarind trees are frequently cultivated in gardens, by the sides of roads, and in commercial plantations. The only nation that commercially produces tamarind is India. West Asia, Europe, and America are the three main markets for India's tamarind exports, which are used to make specialty foods like Worcestershire sauce. This spice is also available as pulp and juice concentrate, mostly used in creating icy drinks, seafood, and various upscale dishes. Tamarinds are tropical American natives that are widely utilized throughout Asia. Because they are employed as acid flavors in the culinary industry, they have earned the popular term asam, which translates to simply "acid."
Tamarind can be available in numerous forms, such as concentrated pulp with seeds, canned paste, dried pods, or powdered form. It is readily available in India and a few Asian markets. They consist of tamarind paste, tamarind concentrate, syrup, tamarind drink concentrate, sauce, chutney, dipping sauce, gelatin, and candy. It is also used as a base in cooked chutneys. Its fruity nature nicely blends with the sugar, chili, & other flavors. Moreover, tamarind concentrates are frequently utilized as a component and substitute for vinegar, tomatoes, & lemon juice.
Further, tamarind paste is used in cooking in various ways, including as a flavor for curries, chutneys, & refreshment drinks. In Asian countries, tamarind-based chutney is used as a condiment in snacks. For instance, in February 2023, The five-star retreat Pimalai Resort & Spa on the island of Koh Lanta in southern Thailand unveiled a new menu that includes some of the most well-known and genuine delicacies from that region.
These dishes, prepared using local, fresh ingredients, further the resort's dedication to the environment and the community and provide its discerning guests with truly distinctive experiences. The Chigali lollipop, rasam, several types of masala tea, and curries and rice in south Indian cuisine all benefit from adding tamarind pulp. Tamarind is become widely used by restaurants in various recipes and dishes due to its benefits.
The sector has been harmed by COVID-19's mayhem and declining market curve. The outbreak hampered supply and demand, resulting in significant financial losses for manufacturing companies. The expansion of businesses has been constrained by several government prohibitions on exchanging goods and services, which have weakened consumer demand. Examining sales methods in severely affected areas is one of the preventative measures the administration has implemented to stop the virus from spreading further. However, tamarind extract is in high demand because of its high fiber and vitamin C content, which doctors recommend to COVID-19 patients. Greater medical use has caused the market to expand considerably.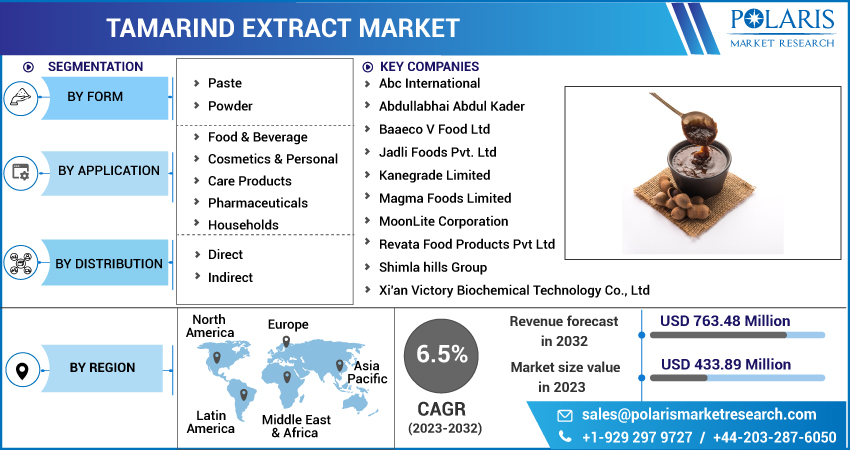 Know more about this report: Request for sample pages
Industry Dynamics
Growth Drivers
The governments are focusing on preparing and storing tamarind extract, which drives the tamarind extract market growth. Even though it has a wide range of applications over the globe, attempts have yet to be made to manufacture carbonated beverages utilizing concentrate as a base. As per the F.A.O., an appropriate method for making tamarind extract was established. It was discovered that soaking Aradaib fruits at a ratio of 1:4 for 10 hours was the best extraction technique. An extract with a total soluble solids content (T.S.S.) of 60% was chosen for this. When combined with soda water, a 20% concentration of this extract provided the most palatable carbonated beverage.
In addition, the trained panelists recognized the prepared beverage as a carbonated beverage. The created Aradaib carbonated beverage passed a microbial inspection, which revealed no microbial contamination even during storage. According to the storage study, the prepared carbonated beverage can be kept unchanged for six months at both ambient temperatures (35°C to 5°C) and in the refrigerator (4°C to 6°C).
Further, in November 2018, the research team at I.I.T. Roorkee is working to create tamarind-based treatment agents for chikungunya after filing a patent for an antiviral composition incorporating this tamarind antiviral protein. These factors are bolstering the growth of the market over the forecast period.
Report Segmentation
The market is primarily segmented based on form, application, distribution, and region.
By Form

By Application

By Distribution

By Region

Food & Beverage

Cosmetics & Personal Care Products

Pharmaceuticals

Households

North America (U.S., Canada)

Europe (France, Germany, UK, Italy, Netherlands, Spain, Russia)

Asia Pacific (Japan, China, India, Malaysia, Indonesia. South Korea)

Latin America (Brazil, Mexico, Argentina)

Middle East & Africa (Saudi Arabia, UAE, Israel, South Africa)
Know more about this report: Request for sample pages
Food & beverage segment is expected to witness the fastest growth in 2022
One of the best vegetable products, tamarind, is frequently used at home and in hotels, dhabas, and restaurants to give meals a sour flavor. This has a very pleasant acidic taste. There is a byproduct of tamarind seed when the pulps from tamarind are extracted. The production of inexpensive tamarind seed flour mostly uses tamarind seed.
Tamarinds are an extremely sour fruit that grows on large trees throughout India. Tamarind cultivation is done to extract the fruit pulp and juice. The main flavoring ingredient in curries, sauces, chutneys, and other beverages is tamarind pulp, which is kept for commercialization in various ways. In addition to the ones listed above, tamarind juice concentrates have numerous other uses. The tartaric acid is isolated from the tamarind concentrate, and sugar is fermented to produce valuable byproducts such as ethanol, lactic acid, and citric acid. The pulp is advised to be used as a poultice on inflammatory swelling because it is also said to have antibacterial characteristics.
Cosmetic and personal care segment accounted for the largest share during the forecast period
Tamarind has a lot of AHAs or alpha hydroxy acids. AHAs are excellent for exfoliating skin, unclogging pores, and reducing breakouts. Additionally, they assist us in getting clear skin and lightening scars, age spots, and acne marks. Tamarind contains vitamins A and C, known for their ability to lighten and brighten skin. Vitamin A benefits in the reduction of blemishes and imperfections by healing cell renewal. Antioxidant vitamin C aids in increasing collagen production in the skin, which is essential for fading scars and marks. Amino acids found in collagen help to lessen the appearance of spots, blemishes, and scars caused by acne or other skin disorders. Antioxidant vitamin C protects our skin from free radicals caused by UV exposure.
Additionally, this vitamin aids in lowering the amount of melanin produced by our skin, which lightens hyperpigmentation, and brown spots and creates a beautiful complexion. Additionally, it causes hyperpigmentation. Tamarind, which is rich in flavonoids and antioxidants, not only does wonders for our skin's appearance but also helps heal damage brought on by premature aging of the skin.
The demand in North America is expected to witness significant growth in 2022
The market for tamarind extract in North America is anticipated to grow due to the rapidly expanding veganism trend in the United States. In addition, rising immune and nutritional inadequacies in the United States are expected to support the use of tamarind extracts in the pharmaceutical business. Also, Asia Pacific significantly holds higher revenue due to factors including India being the major producer of tamarind in the world. Tamarind is a common ingredient in many recipes and traditional drinks in the tropics, but industrial production of the crop only recently began. Every element of the tree, notably the fruit, has a purpose. The fruit's pulp, which is sweetish acidic, is sold commercially.
Tamarind extract is mostly produced and exported by India. The region's tamarind extract market is anticipated to increase due to rising healthcare industry investment and ayurvedic medicine use. A sizeable portion of the world market for tamarind extract comprises North America and Europe. The developed food processing industry in these areas is to blame for this. Due to its cooling properties, tamarind extract is a key component of fruit juices in the Middle Eastern desert regions. Products made from tamarind have a strong export potential. Even though conventional processing is common, its commercial applications must be more utilized. Therefore, the regional demand for tamarind extract is driving growth during the forecast period.
Competitive Insight
Some of the major players operating in the global market include Abc International, Abdullabhai Abdul Kader, Baaeco V Food, Jadli Foods, Kanegrade Limited, Magma Foods, MoonLite Corporation, Revata Food Products, Shimla Hills, & Xi'an Victory Biochemical.
Recent Developments
In October 2020, Smirnoff Vodka was reintroducing its Spicy Tamarind just in time for Da de los Muertos, but in a special package that captures the spirit and vibrancy of the ceremonies. The vividly colored bottle glows in the dark and, when cooled, reads "solo y frio" under a blacklight.
Tamarind Extract Market Report Scope
| | |
| --- | --- |
| Report Attributes | Details |
| Market size value in 2023 | USD 433.89 million |
| Revenue forecast in 2032 | USD 763.48 million |
| CAGR | 6.5% from 2023- 2032 |
| Base year | 2022 |
| Historical data | 2019- 2021 |
| Forecast period | 2023- 2032 |
| Quantitative units | Revenue in USD million and CAGR from 2023 to 2032 |
| Segments Covered | By Form, By Application, By Distribution, By Region |
| Regional scope | North America, Europe, Asia Pacific, Latin America; Middle East & Africa |
| Key Companies | Abc International, Abdullabhai Abdul Kader, Baaeco V Food Ltd, Jadli Foods Pvt. Ltd, Kanegrade Limited, Magma Foods Limited, MoonLite Corporation, Revata Food Products Pvt Ltd, Shimla hills Group, and Xi'an Victory Biochemical Technology Co., Ltd |