The global Taste Masking and Taste Assessment Services and Technologies market was valued at USD 78.4 billion in 2021 and is expected to grow at a CAGR of 6.7% during the forecast period.
One of the key factors influencing patient compliance is taste. An unpleasant flavor is one of the major formulation issues that are present with some medications. A major concern for healthcare professionals is the oral delivery of bitter medications with an acceptable level of palatability, particularly for the hospitalized population. Numerous food and drink items, bulking agents, and oral medications all contain unpleasant or bitter-tasting ingredients.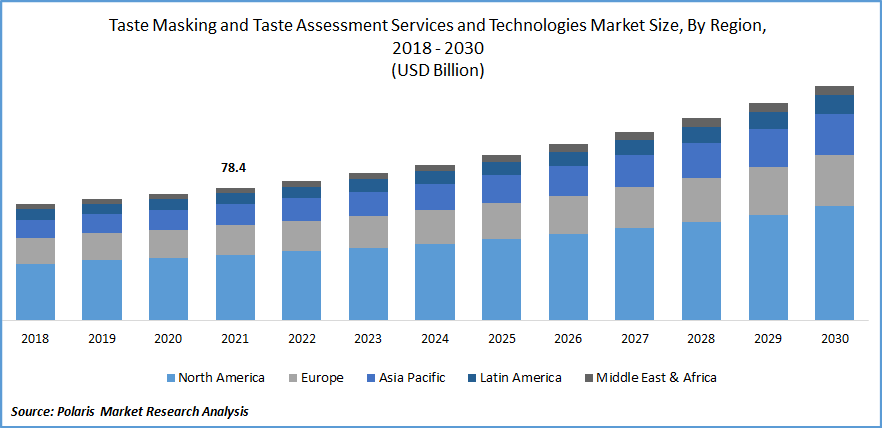 Know more about this report: Request for sample pages
Therefore, any pharmaceutical formulation with a taste would be favored over a rival's offering, resulting in higher patient compliance and therapeutic benefit as well as increased sales and profits for the manufacturer. Numerous formulations with increased performance and acceptance have been created as a result of increased consumer demand for these products to improve palatability.
The active pharmaceutical ingredients (APIs) used in oral dosage forms have a pungent taste and odour by nature, which is one of the major challenges related to this industry. It has been demonstrated that the presence of such a flavor in medicine formulations has a detrimental effect on patient compliance, especially in the population of adolescent and geriatric patients. Presence of a large number of taste receptors on the tongue, it is challenging pharmacologically to inhibit the flavor of such medications.
Therefore, a variety of traditional and cutting-edge techniques for masking are being used by pharmaceutical players to disguise the bitter taste of medications. These techniques include adding sweeteners, coating, microencapsulation, and hot melt extruded. Thus, using these technologies in oral medications may boost patient compliance.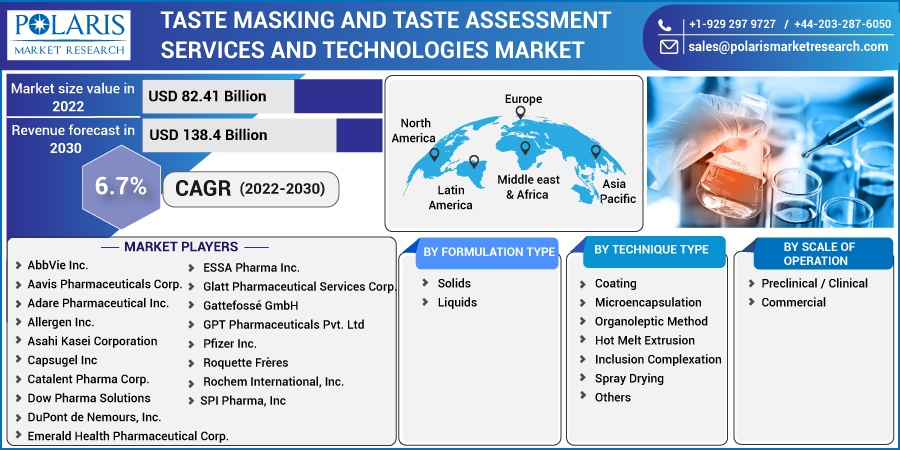 Know more about this report: Request for sample pages
Industry Dynamics
Growth Drivers
The rising taste masking technologies for removing the bitterness of drugs is driving the market growth over the forecast period. The bitter taste of drugs can be concealed using a variety of methods, such as flavoring, sweeteners, amino acids, polymer coating, conventional granulation, ion-exchange coatings, spray polymerizing with lipids, inclusion complexation with cyclodextrins, freeze-drying, multiple emulsification, and other methods. The most effective method for flavor masking is the Taste Masking with Flavors, Sweeteners, and Amino Acids technique, particularly when it comes to pediatric formulations, capsules, and liquid formulations. However, this strategy does not work well for medications that are extremely bitter and water-soluble.
Typically, artificial sweeteners and flavors are combined with other taste-masking techniques to increase the effectiveness of these products. By adding fenchone, borneol, or isoborneol, the flavor of some formulations, such as mouthwashes and cough drop products containing bitter-tasting ingredients like eucalyptus oil, can be covered. Further, the coating serves as a physical barrier to the drug particles, reducing the likelihood that the medication will interact with taste receptors. When chewable tablets are coated, the taste is effectively hidden yet the bioavailability is still satisfactory. To disguise the flavor of powders, chewable pills, and liquid suspensions, a specific approach known as micro-emulsion technology is used. Thus, driving the growth of the market.
Report Segmentation
The market is primarily segmented based on formulation type, technique type, scale of operation, and region.
By Formulation Type

By Technique Type

By Scale of Operation

By Region

Coating
Microencapsulation
Organoleptic Method
Hot Melt Extrusion
Inclusion Complexation
Spray Drying
Others

Preclinical / Clinical
Commercial

North America (U.S., Canada)
Europe (France, Germany, UK, Italy, Netherlands, Spain, Russia)
Asia Pacific (Japan, China, India, Malaysia, Indonesia, South Korea)
Latin America (Brazil, Mexico, Argentina)
Middle East & Africa (Saudi Arabia, UAE, Israel, South Africa)
Know more about this report: Request for sample pages
Spray Drying segment is expected to witness the fastest growth
The market is driven by the increasing use of the spray-drying technique in the production of APIs. Some drugs can have multiple APIs to treat various symptoms. The efficacy and safety of medications are significantly dependent on the quality of APIs. Pharmaceutical companies must follow stringent regulations in the drug development process. For instance, API manufacturing plants have to go through an inspection by the US FDA.
Spray drying is an engineering technique for improving the solubility of oral, inhalation, and topical medications. It involves atomizing a fluid substance into a hot drying gas medium, generally air or nitrogen, to create dry powders. Its main advantage is its ability to run continuously, allowing process analytical technologies to be used to ensure highly reproducible drug manufacturing. Spray drying is also more cost-effective, simpler to handle, and scalable than many other particle engineering methods, especially in the hands of an experienced API CDMO. Thus, this technique is majorly used in the APIs which is the core part of any drug, which is driving the demand for masking.
The microencapsulation segment industry accounted for the highest market share in 2021
Microencapsulation employs a variety of methods, including coacervation, polymerization, and spray drying. For instance, there are several taste-masking technologies, that are used in the pharmaceutical sector, with new platforms being developed on a routine basis.
Recent improvements in taste-masking technologies, including microencapsulation and organoleptic techniques, have enabled pharmaceutical companies to offer commercial material with excellent therapeutic communication and compliance, particularly in pediatric and geriatric populations, as well as increased flexibility for patients on the go.
The demand in North America is expected to witness significant growth
Increased technological advancement and innovation from food and beverage component producers are fueling the growth of the taste masking industry in North America. The government across the nation is also focusing on investment so the major players can use this technology which is driving the market growth. As per the Canadian Government announcement, it is putting $2.8 million into Appili Therapeutics Inc. to help with taste-masking liquid reformulation and marketing efforts to get the antibiotic through clinical trials. By covering up Metronidazole's unpleasant taste, the new antibiotic addresses a problem with patient non-compliance.
Moreover, Asia Pacific market for taste masking agents is growing significantly during the projected year due to rising consumer emphasis on leading healthy lifestyles. The rising trend of natural and organic foods, rising consumer preferences for healthy eating, and rising convenience food demand are all cited as reasons for the growth. Since exercising and leading a healthy lifestyle are popular worldwide, an ergogenic diet is in demand. Electrolyte-rich liquids, protein shakes, and other sports nutrition products frequently have a bitter flavor. The market for taste masking is expected to increase due to increasing disposable income and overconsumption of sports nutrition.
In addition, an ergogenic diet is highly sought after because of the strain and competition in sports, as well as the increased disposable income. Some of the most popular sports drinks are just flavored electrolyte-rich waters. Fluids help to regulate blood volume while supplying necessary salts and lowering core body temperature because sweating during exercise may lead to dehydration and electrolyte imbalances. These beverages come in a range of fruit flavors that cover the taste of electrolytes and give a bland water-based beverage a flavor boost. Thus, these major factors are boosting the growth of the market.
Competitive Insight
Key players in the market include AbbVie, Aavis Pharmaceuticals, Adare Pharmaceutical, Allergen, Biohaven Pharmaceutical, Capsugel, Catalent Pharma, Dow Pharma Solutions, DuPont, Emerald Health, ESSA Pharma, Glatt Pharmaceutical, Gattefosse, GPT Pharmaceuticals, Pfizer Inc., Roquette Freres, Rochem International, SPI Pharma, Thermo Fisher Scientific, and Vertex Pharmaceuticals.
Recent Developments
In January 2020, FONA International has announced the development of Optify-Taste Modification Technology as a branding for its well-known taste modification platform. Optify solutions make use of FONA's decades of expertise in specialized taste modulation and altering techniques. Optify presents the masking, filtering, and custom aroma and flavor solutions that food and beverage experts need to address problems with taste, mouthfeel, and consumer acceptability.
Taste Masking and Taste Assessment Services and Technologies Market Report Scope
| | |
| --- | --- |
| Report Attributes | Details |
| Market size value in 2022 | USD 82.41 billion |
| Revenue forecast in 2030 | USD 138.4 billion |
| CAGR | 6.7% from 2022 - 2030 |
| Base year | 2021 |
| Historical data | 2018 - 2020 |
| Forecast period | 2022 - 2030 |
| Quantitative units | Revenue in USD billion and CAGR from 2022 to 2030 |
| Segments Covered | By Formulation Type, By Technique Type, By Scale of Operation, By Region |
| Regional scope | North America, Europe, Asia Pacific, Latin America; Middle East & Africa |
| Key Companies | AbbVie Inc., Aavis Pharmaceuticals Corp., Adare Pharmaceutical Inc., Allergen Inc., Asahi Kasei Corporation, Biohaven Pharmaceutical Holding Company, Capsugel Inc., Catalent Pharma Corp., Dow Pharma Solutions, DuPont de Nemours, Inc., Emerald Health Pharmaceutical Corp., ESSA Pharma Inc., Glatt Pharmaceutical Services Corp., Gattefossé GmbH, GPT Pharmaceuticals Pvt. Ltd, Pfizer Inc., Roquette Frères, Rochem International, Inc., SPI Pharma, Inc., Thermo Fisher Scientific Inc., and Vertex Pharmaceuticals Inc |