The global telepsychiatry market was valued at USD 6.83 billion in 2020 and is expected to grow at a CAGR of 24.9% during the forecast period. The rising patient pool suffering from mental disorders, anxiety, and stress is primarily responsible for such market growth. As per CDC, in 2017, in the U.S., suicide was the second leading cause of death among individuals aged between 10-34 years. Moreover, rapid advancements in technology also favoring market growth for telepsychiatry.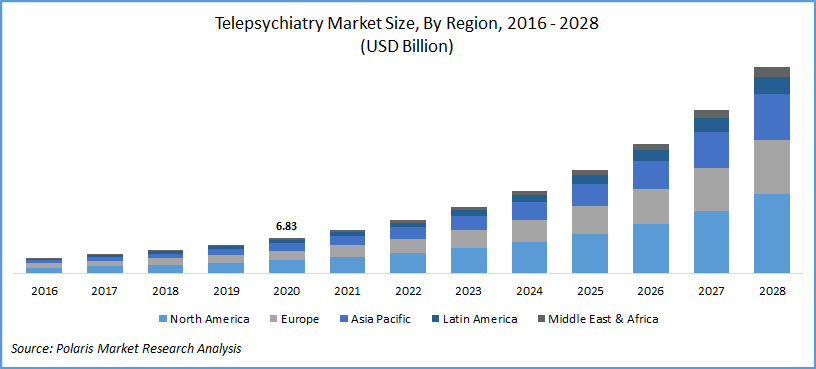 Know more about this report: request for sample pages
Industry Dynamics
Growth Drivers
The shortage of psychiatry beds all over the world has further increased the need for virtual consultation services. As per the Psychiatric Services, in 2018, in the U.S. alone there were around 14 beds per 100,000 individuals, which is much lower than increasing demand. Lack of proactive care and high treatment cost lead to a dangerous scenario, which could be reduced by constant monitoring. Such services help in tackling crisis responses and patients get consistent treatment via video calls, and telephonic conversation, which reduces the overburden of in-person appointments.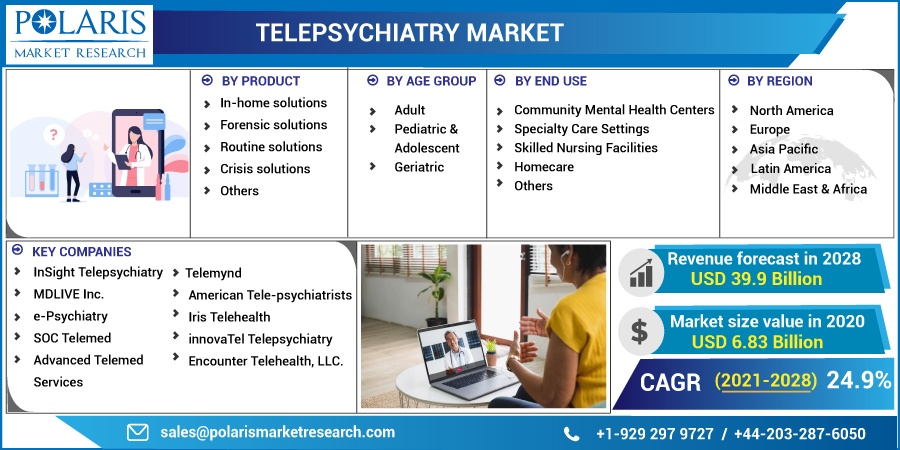 Know more about this report: request for sample pages
These services help in providing convenient, affordable, and accessible mental health services. According to the American Psychiatric Association, psychiatrists adopted such services for better patient care. Moreover, during the COVID-19 pandemic, HHS has waived HIPPA penalties for using the non-HIPPA compliant conferencing software to increase its adoption. License requirements have also been waived so that patients can easily access concerning services.
Telepsychiatry Market Report Scope
The market is primarily segmented on the basis of product, age group, end use, and geographic region.
By Product

By Age Group

By End Use

By Region

In-home solutions
Forensic solutions
Routine solutions
Crisis solutions
Others

Adult
Pediatric & Adolescent
Geriatric

Community Mental Health Centers
Specialty Care Settings
Skilled Nursing Facilities
Homecare
Others

North America (U.S., Canada)
Europe (France, Germany, UK, Italy, Spain, Netherlands, Austria)
Asia Pacific (Japan, China, India, Malaysia, Indonesia, South Korea)
Latin America (Brazil, Mexico, Argentina)
MEA (Saudi Arabia, UAE, Israel, South Africa)
Know more about this report: request for sample pages
Insight by Product
Based on product, the global telepsychiatry market is categorized into in-home solutions, forensic solutions, routine solutions, crisis solutions, and others. Of all, the in-home solutions segment held the largest share in the global market in 2020, owing to the increasing preference for telepsychiatry solutions at home. It saves traveling time and consultation becomes easy for psychiatrists. Moreover, rapidly changing regulatory guidelines improve privacy and increases patient's confidence in virtual consultations. Thus, owing to such rapid adoption, the telepsychiatry industry segment's prospects look bright.
The forensic segment of telepsychiatry is anticipated to register a lucrative market growth rate over the for period. Such high growth is attributed to rising offerings to prison inmates. Moreover, it also cuts down un-necessary healthcare costs and the time required to escort them. The crisis market segment is also witnessing high growth, owing to rising cases of COVID-19. In order to contain the infection, telepsychiatry offers a feasible option.
Insight by Age Group
On the basis of age group, the adult segment held a significant telepsychiatry market share, in 2020. Such a high share is attributed to rising cases of depression cases in the age group. Adults are accustomed to the use of smartphones which further supplements its market growth for telepsychiatry.
The upsurge in virtual consultation induces the demand for mental health conditions. People with mental disorders are easily drifted towards faulty lifestyles. Need for the continuous monitoring to tackle loneliness is also expected to fuel the adoption of telepsychiatry services over the forecast period.
Insight by End-Use
On the basis of end-use, the mental health market segment held a significant share, in 2020. The high demand for telepsychiatry services is due to the shortage of a large skilled workforce in healthcare facilities. Moreover, cost-effective service with rising patient satisfaction is boosting the segment's market growth.
The homecare market segment for telepsychiatry industry is projected to witness the highest growth rate over the assessment period. Market growth is attributed to the ease of use, rising penetration of smartphones, and supportive government initiatives. Moreover, rising awareness regarding its benefits also favoring its adoption.
Geographic Overview
North America market accounted for the largest revenue share of the telepsychiatry industry. The region's market growth is attributed to rising smartphone penetration, favorable regulatory guidelines, and the presence of large technology players.
Moreover, the adoption of teleservices has risen exponentially in the ongoing COVID-19 pandemic. Both CMS and FDA consider teleservices as a full-proof strategy to counter growing cases. Thus, the adoption of favorable government policies boosting the region's market growth prospects.
Asia Pacific market for telepsychiatry is anticipated to witness a lucrative market growth rate over the assessment period. Favorable digital initiatives by the government and rising cases of mental illness among the young population due to faulty lifestyles are the primary factors responsible for the region's telepsychiatry growth.
In this direction, in March 2020, The Japanese Ministry of Economy, Trade, and Industry (METI) introduced free teleservices for its citizens in collaboration with a technology firm, Line and Medpeer. Moreover, the Indian government drafted new guidelines to promote teleservices, amid nationwide lockdowns.
Competitive Insight
Some of the major players operating the global market for telepsychiatry include InSight Telepsychiatry, MDLIVE Inc., e-Psychiatry, SOC Telemed, Advanced Telemed Services, Telemynd, American Tele-psychiatrists, Iris Telehealth, innovaTel Telepsychiatry, and Encounter Telehealth, LLC.