The global textile dyes market was valued at USD 10.68 billion in 2021 and is expected to grow at a CAGR 4.7% during the forecast period. The dye is a coloring substance utilized for the dyeing of cloths such as cotton, nylon, wool, silk, and other fabrics. These dyes incur chemical substances which are used to attain the required color.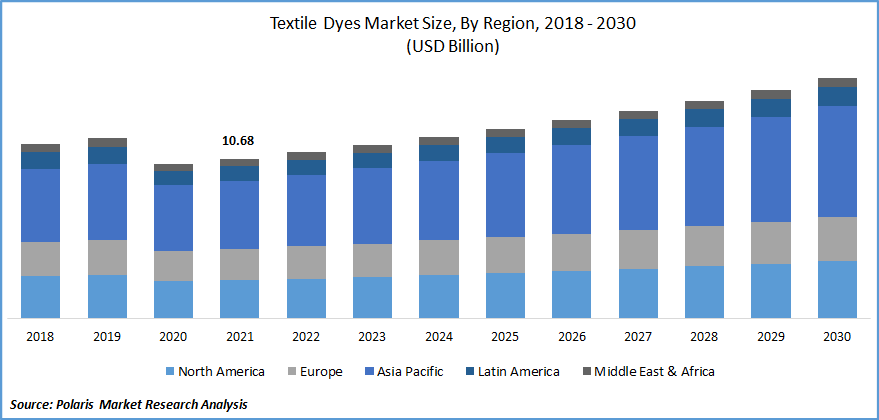 Know more about this report: Request for sample pages
The increasing use of 3D printing technology in the industrial textile market is expected to offer growth to the industry. In North America, 3D printing is widely preferred in the textile sector, making 3D printing a successful commercial technology. Fashion designers are experimenting with 3D-printed t-shirts, shoes, and dresses. Thus, the growth of 3D printing technology and increase in advancements in the use of dye in 3D printing is anticipated to fuel the industry growth in the near future.
The impact of government regulations on the global textile dyes market is negative. Dye utilized in textile finishing has complex chemical structures. Uncontrolled exposure to some of the dye stuff can be harmful to health.
However, there are several dyes that have not been associated with adverse effects. There also exist a few regulations that need to be followed during the manufacturing of textiles. These regulations include National Emissions Standards for Hazardous Air Pollutants (NESHAP) for fabric printing, coating & dyeing, leather tanning, and finishing operations, among others.
The COVID-19 pandemic had an overall impact on the global textile dyes market and its opportunities owing to the less or decreased supply of dyes and colors due to the lockdown. There has been a shortage of labor, and the supply chain of such related goods is impacting the global market.
Travel restrictions and limited import-export activities also hampered the industry growth during the forecast period. However, with relaxation in lockdown rules across the world and growth in e-commerce platforms, the industry is expected to gain traction in the coming years.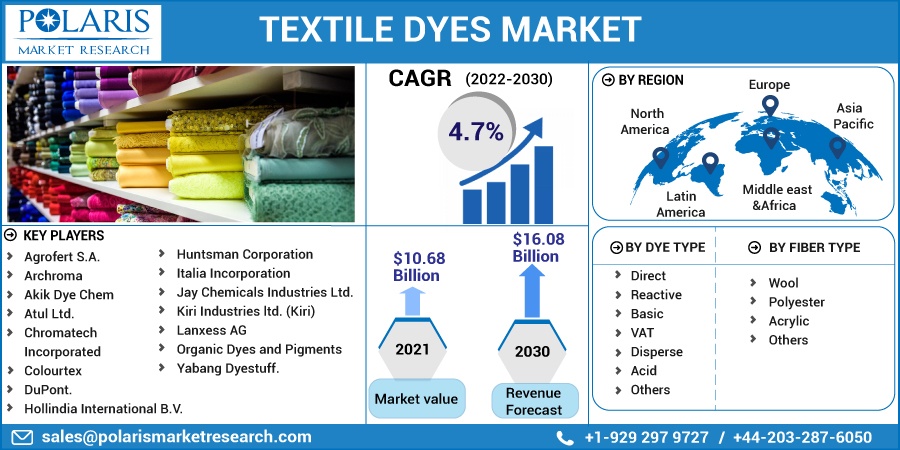 Know more about this report: Request for sample pages
Industry Dynamics
Growth Drivers
There is a significant increase in the demand for non-woven fabrics in the healthcare end-use industry, owing to the rise in health concerns among consumers. Moreover, the rise in product use in the automotive end-use industry is expected to increase product demand.
Non-woven fabrics are produced in a pattern under the combination of heat and pressure in confined environmental situations and can be manufactured as per the client's requirement by considering specific applications. The appearance, strength, and texture of these fabrics are highly similar to woven fabric but with thick padding.
These fabrics can absorb different types of fluids and also exhibit high elasticity. Moreover, they also have high filtration capacity, which makes them viable to use in various end-use applications, such as InduTech and MediTech. Some of the technologies used for the production of non-woven fabrics include wetland, spunlaid, and dryland.
However, formaldehyde resin, chlorinated solvents, chlorophenols, short-chain chlorinated paraffin, perfluorinated chemicals, and azo dyes, brominated and chlorinated flame retardants are some of the harmful chemicals that are used in the production of dyes. Chlorinated solvents such as trichloroethane are ozone-depleting substances; azo dye is capable of causing cancer due to the release of aromatic amines upon breakdown.
The use of chemicals in the production of dye with large amounts of water required for various operations is the main concern for the textile industries. The major waste generated includes fiber wastes, which comprises soft fiber wastes, yarn spinning (hard fiber) wastes, beaming wastes, off-cuts, packaging, and spools. Hence, this factor is expected to restrain the growth of the market.
Report Segmentation
The market is primarily segmented based on dye type, fiber type, and region.
By Dye Type

By Fiber Type

By Region

Direct
Reactive
Basic
VAT
Disperse
Acid
Others

Wool
Polyester
Acrylic
Others

North America (U.S., Canada)
Europe (France, Germany, UK, Italy, Netherlands, Spain, Russia)
Asia Pacific (Japan, China, India, Malaysia, Indonesia. South Korea)
Latin America (Brazil, Mexico, Argentina)
Middle East & Africa (Saudi Arabia, UAE, Israel, South Africa)
Know more about this report: Request for sample pages
Direct dye segment is expected to hold a significant share in 2021
By dye type, the market is segmented into direct, reactive, basic, VAT, disperse, acid, and others. The industry for the direct dye segment is expected to hold a significant share in 2021. Direct dye has molecules that adhere to the fabrics without the utilization of other chemicals. The printing process with direct dyes is simple; the process is generally carried out in a neutral or slightly alkaline dyebath.
Direct dye is applied to substrates such as cotton, wool, silk, and others. Direct dye is cheap and can be easily applied. In addition, it yields bright colors, and its ability to clean fast is poor; however, it may be improved by after treatment. Several packaged dyes for personal use fall under this category.
Acrylic segment expected to experience growth during the forecast period
By fiber type, the textile dyes market is segmented into wool, polyester, acrylic, and others. The other fiber type consists of cotton, nylon, and viscose, among others. The acrylic segment is expected to experience growth during the forecast period.
Acrylic fibers come under the category of artificial fibers produced from a polymer known as polyacrylonitrile. Acrylic fabrics offer characteristics such as durability, high performance, lower specific gravity, ability to manage moisture, and others.
Asia-Pacific region will lead the global market by 2030
Asia-Pacific is expected to be the largest market in the future, especially in India and China, where the demand is projected to be more as these are the fastest growing economies in the world. They have witnessed steady economic development in the last decade and are one of the global powerhouses. The most populous countries are in the Asia-Pacific region, such as China and India. With a growing population, there is an increase in the demand for textiles.
The rise in consumer demand for textiles for various applications such as apparel making, home textiles industrial/technical textiles has contributed to the growth of the market. Moreover, the lower cost of manufacturing owing to accessibility of raw material and labor at lower prices also drives the textile dyes market growth. The increased demand from the Asia-Pacific region overall drives the market growth.
Moreover, the Middle East is adopting textile dyes with considerable growth. For instance, UAE incorporates a range of textiles such as woven and non-woven clothes. Dubai and Sharjah have over 100 ready-made clothing manufacturers. The textile industry in the UAE is supported by favorable government initiatives in terms of development. With the development of the textiles industry, it is expected that the demand for dyes to color textiles will increase notably.
Competitive Insight
Some of the major players operating in the global market include Agrofert S.A., Archroma, Akik Dye Chem, Atul Ltd., Chromatech Incorporated, Colourtex, DuPont., Hollindia International B.V., Huntsman Corporation, Italia Incorporation, Jay Chemicals Industries Ltd., Kiri Industries ltd. (Kiri), Lanxess AG, Organic Dyes and Pigments, and Yabang Dyestuff.
The companies operating in the global market are introducing new and affordable solutions in the market to strengthen their position. Expansion into developing nations enables these companies to enhance their offerings in the market and cater to a wider customer base.
Recent Developments
In March 2022, Atul Ltd. expanded its sulfur black manufacturing facility to enhance its production of liquid and powder formulations. The company offers a wide range of vat, reactive, disperse, acid and direct dyes for use across various industries.
In September 2019 Huntsman introduced a new product HIGH IQ Cool Comfort. With this launch, the company extended its HIGH IQ series.
Textile Dyes Market Report Scope
| | |
| --- | --- |
| Report Attributes | Details |
| Market size value in 2021 | USD 10.68 billion |
| Revenue forecast in 2030 | USD 16.08 billion |
| CAGR | 4.7% from 2022 - 2030 |
| Base year | 2021 |
| Historical data | 2018 - 2020 |
| Forecast period | 2022 - 2030 |
| Quantitative units | Revenue in USD billion and CAGR from 2022 to 2030 |
| Segments covered | By Dye Type, By Fiber Type, By Region |
| Regional scope | North America, Europe, Asia Pacific, Latin America; Middle East & Africa |
| Key companies | Agrofert S.A., Archroma, Akik Dye Chem, Atul Ltd., Chromatech Incorporated, Colourtex, DuPont., Hollindia International B.V., Huntsman Corporation, Italia Incorporation, Jay Chemicals Industries Ltd., Kiri Industries ltd. (Kiri), Lanxess AG, Organic Dyes and Pigments, and Yabang Dyestuff. |