The global thermal barrier coatings market was valued at USD 15.97 billion in 2021 and is expected to grow at a CAGR of 4.6% during the forecast period. The thermal barrier coatings demand from the oil and mining industry boosts growth due to its benefits. Wear, which leads to physical phase separation, and corrosion, which causes chemical deterioration, are the two principal surface degradation processes in the mining and oil and gas industries.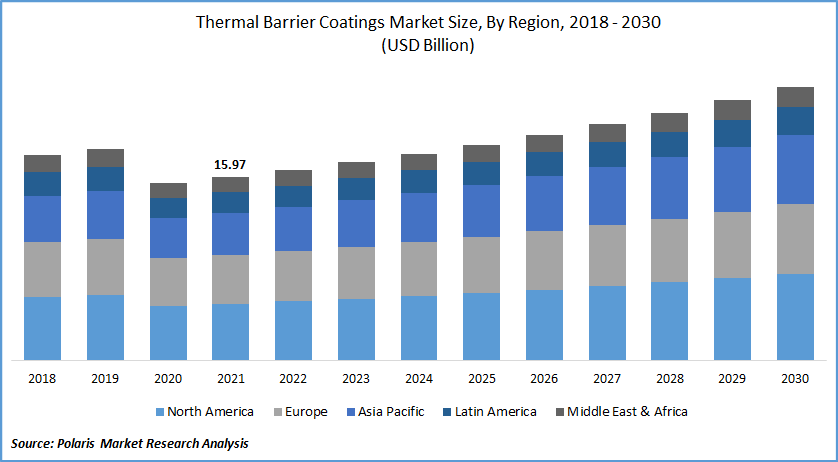 Know more about this report: request for sample pages
The depositing of hard-faced barrier coatings has proven to be a useful approach for mitigating the consequences of these procedures. HVOF spraying is commonly used to deposit these materials. The flame spraying technique can also be utilized to create WC-based barrier coatings. In this case, WC-12Co is mixed with self-fluxing nickel (Ni), and flame sprayed. As a result, after deposition, the torch is being used to melt the coating to fuse it, lowering coating porosity and redistributing the nanoparticles in the coating to homogenize this. Plasma-transfer arc (PTA) welding is widely utilized in the mining and oil & gas industry to create thick tungsten carbide overlaying barrier coatings for durability.
Additionally, the global market is expected to grow significantly during the estimated period because of the growing demand for engines' regulated combustion temperatures. The necessity for continuous development and production of rotating and moving aircraft engines with excellent thermal barrier management features and the capacity to tolerate severe temperatures inside the engine is developing among OEMs and aftermarket suppliers.
This is mostly due to growing worries about the severe wear and tear of such replacement components and their incapacity to endure high temperatures. The thermal barrier coating insulation layer reduces parasitic mass accumulation in these components and increases part lifetime by decreasing oxidation and heat exhaustion. However, volatile raw material prices, fluctuating expenses, and high startup costs are expected to limit worldwide thermal barrier coatings' overall growth over the estimated year.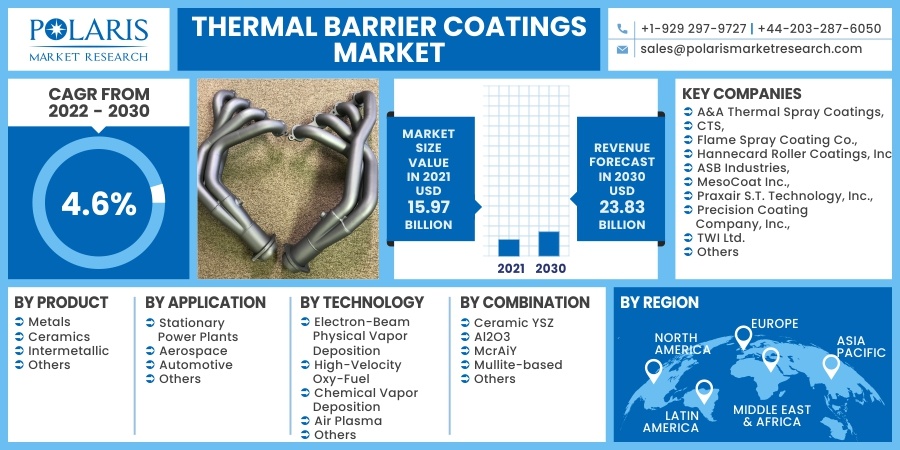 Know more about this report: request for sample pages
Industry Dynamics
Growth Drivers
Expanding the scope of applications in gas turbines, which are commonly used in the energy sector, and the growing number of stationary power plant facilities in emerging economies is expected to boost demand even higher. Thermal Barrier Coatings (TBCS) are sophisticated ceramic coatings used on metal particles such as gas turbine blades and aviation engines.
TBCs, made out of metal and ceramic monolayers, shield turbine and combustor engine parts from the hot gas, increasing the engines' longevity and energy efficiency. TBCs constructed of low-thermal barrier conductivity ceramics are currently being utilized in gasoline engines used for aircraft propulsion, power production, and marine propulsion to offer thermal insulation to metal materials from the hot gas stream.
Furthermore, the growth is highly driven by increased power plants in emerging markets where gas turbines are commonly used. For instance, in April 2021, The Samawa Power Plant in Iraq's Al Muthanna province has officially opened, according to GE Gas Power. GE Gas Power constructed and completed four 9E power plants at the facility in its first phase, allowing it to produce up to 500MW in simple cycle activities.
The energy plant generated is distributed to Samawa and the nearby region via the 132kV grid. Also, in February 2021, with the commissioning of the world's first functional 9HA.02 heavy-duty gas turbine power plant in Pasir Gudang, GE Gas Power is boosting Malaysia's decarbonizing efforts.
Track 4A power plant, with a 1,440-megawatt natural gas-fired power, will assist the region's ambitions for shifting towards a more sustainable energy system, supplying up to three million Malaysians. Thus, the development of these power plants is expected to boost the worldwide thermal barrier coatings market during the forecast period and present several possible growth possibilities for leading industry players.
Report Segmentation
The market is primarily segmented based on product, application, technology, combination, and region.
By Product

By Application

By Technology

By Combination

By Region

Metals
Ceramics
Intermetallic
Others

Stationary Power Plants
Aerospace
Automotive
Others

Electron-Beam Physical Vapor Deposition
High-Velocity Oxy-Fuel
Chemical Vapor Deposition
Air Plasma
Others

Ceramic YSZ
Al2O3
McrAiY
Mullite-based
Others

North America (U.S., Canada)
Europe (France, Germany, UK, Italy, Spain, Netherlands, Russia)
Asia Pacific (Japan, China, India, Malaysia, Indonesia, South Korea)
Latin America (Brazil, Mexico, Argentina)
Middle East & Africa (Saudi Arabia, UAE, Israel, South Africa)
Know more about this report: request for sample pages
Insight by Application
Based on the application segment, the aerospace segment is expected to be the most significant revenue contributor in the global thermal barrier coating market. In recent years, consumers' rising spending power has resulted in higher air passenger travel. As a result, there is a growing demand for innovative and highly efficient aero-engine technology to meet the industry's fast-increasing demand. This is anticipated to impact thermal barrier coatings market growth during the projected timeline substantially.
Geographic Overview
North America had the largest revenue share. The region dominates the thermal barrier coatings market because of the considerable demands from various end-user sectors such as aerospace, electricity, oil and gas, and others. Furthermore, the United States holds the largest market proportion under consideration. Aside from the U.S., Canada and Mexico have a sizable market share in thermal barrier coatings. The U.S. possesses the nation's biggest aerospace industry. Due to the obvious increase in air freight, the total commercial aircraft fleet is estimated to reach 8,270 in 2037, according to the Federal Aviation Administration (FAA).
Between 2016 and 2037, the active light aircraft fleet is expected to grow by 0.1 percent each year, resulting in a 3,400-unit growth. In addition, strong aviation element exports to nations like France, China, and Germany and healthy consumer purchasing power in the United States have been boosting manufacturing operations in the aerospace industry, generating great momentum for the thermal barrier coating market.
Moreover, Asia Pacific is expected to witness a high CAGR in the global market. This is due to the rising demand for global power and cleaner alternatives and expanding the region's industrial and automotive industries. Countries like India and China are likely to contribute considerably to market growth because of the expanding quantity of power generation projects and the need for vapor deposition technology.
Competitive Insight
Major players operating in the global market include A&A Thermal Spray Coatings, CTS, Flame Spray Coating Co., Hannecard Roller Coatings, Inc - ASB Industries, MesoCoat Inc., Praxair S.T. Technology, Inc., Precision Coating Company, Inc., and TWI Ltd. among others.
Thermal Barrier Coatings Market Report Scope
| | |
| --- | --- |
| Report Attributes | Details |
| Market size value in 2021 | USD 15.97 Billion |
| Revenue forecast in 2030 | USD 23.83 Billion |
| CAGR | 4.6% from 2022 - 2030 |
| Base year | 2021 |
| Historical data | 2018 - 2020 |
| Forecast period | 2022 - 2030 |
| Quantitative units | Revenue in USD Million/Billion and CAGR from 2022 to 2030 |
| Segments covered | By Product, By Application, By Technology, By Combination, By Region |
| Regional scope | North America, Europe, Asia Pacific, Latin America, Middle East & Africa |
| Key companies | A&A Thermal Spray Coatings, CTS, Flame Spray Coating Co., Hannecard Roller Coatings, Inc - ASB Industries, MesoCoat Inc., Praxair S.T. Technology, Inc., Precision Coating Company, Inc., and TWI Ltd. among others |