The global thermochromic materials market size was estimated to be worth USD 5,404.9 million in 2018 and is anticipated to grow at a CAGR of 5.5% during the forecast period. Thermochromic materials possess an uncanny ability to convert thermal radiation into a chromatic effect, thus changing the viewed color. The transition between displayed colors is generally transient and is dependent on the temperature. This color-changing property of Thermochromic materials is a conducive factor for driving market growth.
Thermochromic materials are increasingly used in production of coatings, inks, polymers and paper sheets to manufacture products of convenience and amusement value. A forehead strip thermometer that uses printed liquid crystals which change color indicate change in body temperature and found useful during surgeries.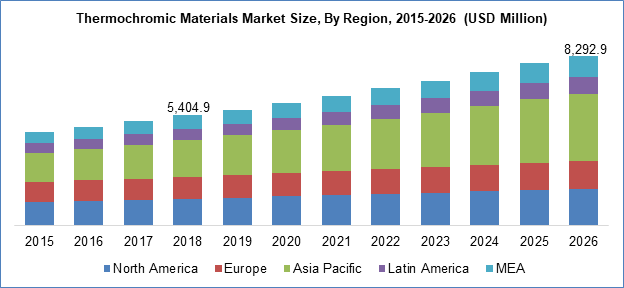 Know more about this report: request for sample pages
The major driving forces of Thermochromic materials include rising applications in ink, paints and coatings. The increasing demand for thermochromic materials in food quality indicators also propels market growth. Furthermore, increasing adoption of smart and intelligent packaging is expected to fuel market growth during forecast period. The product is increasingly being used in smart textiles or fashion and house-hold furnishings thus boosting market growth. A growing market for baby diapers, toys, battery gauges with an increasing need for thermochromic materials facilitates the product run. An increasing growth opportunity in emerging economies with technological advancements would boost market during forecast period.

A point of concern is that these thermochromic substances degrade in the presence of ultraviolet rays. Another point of contention is that they are priced higher than conventional ink owing to lengthy manufacturing process. But this restraint can easily be overcome by rising growth in smart textile industry.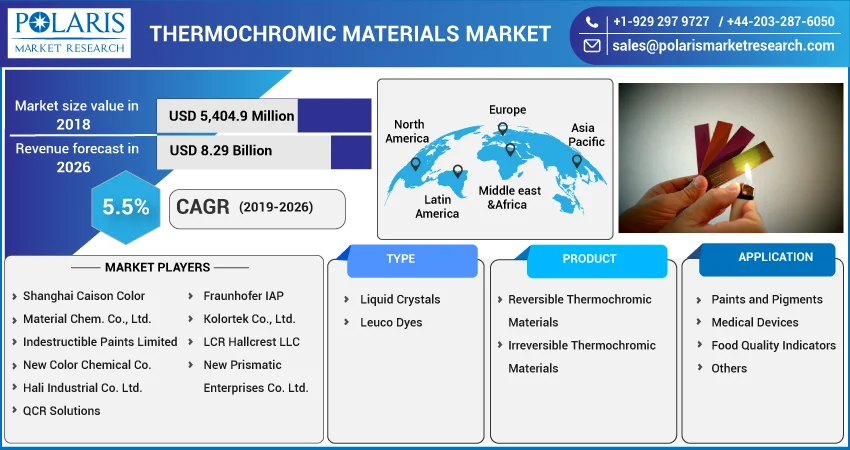 Know more about this report: request for sample pages
Thermochromic Materials Market Scope
Type

Product

Application

Region

Liquid Crystals
Leuco Dyes

Reversible Thermochromic Materials
Irreversible Thermochromic Materials

Paints and Pigments
Medical Devices
Food Quality Indicators
Others

North America
(U.S., Canada)
Europe
(Germany, UK, France, Italy, Spain, Belgium, Russia, Netherlands)
Asia Pacific
(China, Japan, India, Australia, Korea, Singapore, Malaysia, Indonesia, Thailand, Philippines)
Latin America
(Mexico, Brazil, Argentina)
MEA (UAE, Saudi Arabia, South Africa)
Know more about this report: request for sample pages
The global market is segmented on the basis of type, product, application and region. The type segments is categorized into liquid crystals and leuco dyes. The demand for liquid crystals is increasing unabatedly owing to rising applications in textiles, thermometers and LCD screens among others.
Type Analysis
The market is classified into liquid crystals and leuco dyes. Liquid crystals are put to use in thermometers, LCD screens and jewelry where high precision is needed. Leuco dyes use a wide range of colors, however, offer reduced accuracy in terms of temperature range. They are dye-based, tough and less expensive. The properties of changing colors are generously seen in liquid crystals and leuco dyes which is used in the industry.
Product Analysis
The product segment is classified into reversible thermochromic materials and irreversible thermochromic materials. The reversible thermochromic materials prevailed over other classes in 2017. Irreversible product type do not have the ability to return to their original state and hence are not preferred over reversible product types.
Application Analysis
The application sector of thermochromic materials includes paints and pigments, medical devices, food quality indicators and others. The paint and pigments industry dominated the market segment in 2018 owing to its rising application in consumer goods.
There has been diligent use of product in applications such as toys, baby diapers and battery gauges which are on an increasing drive worldwide. A growing demand from developing economies, striving applications and technological advancements are factors expected to boost the industry growth during forecast period.
The growing use of product in food quality indicators to ascertain the quality of frozen meat and dairy products in coordination with use of thermochromic materials in inks, paints and coatings is forecasted to drive growth.
Thermochromic materials are also finding use in security and camouflaging operations and sensors in functional operations. They are printed on plastic films over conventional dyes amid greater longevity and consistency. Technological advancements have ushered in energy management films, OLED devices and flexible electronics. This proves to be an impetus to market growth.
Regional Analysis
Geographically, the thermochromic material is classified into North America, Europe, Asia Pacific, Latin America and MEA. North America is further segmented into U.S. and Canada. North America is expected to do booming growth by acute interest in use of pigments in printing.
Thermochromic pigments usage in inks for screen printing and flexographic printing is forestalled to be a primary factor for an upswing in the market. Europe accounted for the largest share in the global market in 2018 owing to a spiraling demand from food and beverages sector to ascertain the quality of frozen meat and dairy products. Smart textiles are also a primary factor for growth in European Industry.
The players functionally merge with other players to come up with new product launches in order to meet consumer expectations. Outweighing all this, Asia Pacific is proving to be the highest growing region in thermochromic materials market. This is due to application of product in textiles, footwear, decorative and consumables which have proven to be the salient factors especially in Japan and China.
Competitive Analysis
The vendors in the market are launching new products to meet the growing customer needs. In addition, the leaders in the market are acquiring and collaborating with top companies in the market to enhance their offerings in the market and expand their customer base. The leading players in the thermochromic materials market include Shanghai Caison Color Material Chem. Co., Ltd., Indestructible Paints Limited, New Color Chemical Co., Hali Industrial Co. Ltd., QCR Solutions, Fraunhofer IAP, Kolortek Co., Ltd., LCR Hallcrest LLC, and New Prismatic Enterprises Co. Ltd.