The global thermometer market was valued at USD 1.12 billion in 2020 and is expected to reach grow at a CAGR of 7.0% during the forecast period. The demand is expected to be driven by a rise in the prevalence of infectious diseases and other medical conditions, such as malaria and dengue fever, as well as an increased understanding of the importance of body temperature control.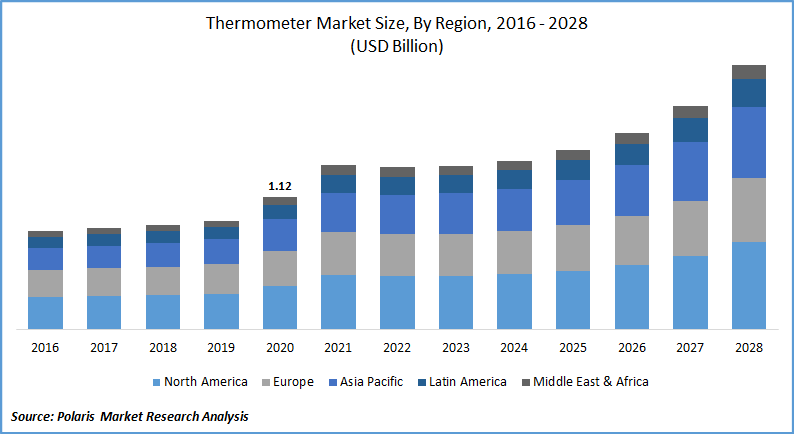 Know more about this report: request for sample pages
Furthermore, the market is growing due to the rising use of such devices in temperature monitoring for manufacturing, medical, laboratory, and imaging purposes. The rise in the number of medical conditions requiring accurate body temperature readings to assess treatment options, such as malaria, dengue fever, and swine flu, is a major driver of market growth for thermometers.
Industry Dynamics
Growth Drivers
According to the Centers for Disease Control and Prevention (CDC), about 2,000 cases of malaria are diagnosed in the United States each year. Furthermore, according to the same source, infectious and bacterial diseases was the main diagnosis in over 15.5 million hospital visits in the United States. Malaria affected an estimated 229 million people worldwide, in 2019.
The WHO African Region is responsible for a relatively large proportion of the global malaria burden. Malaria cases and deaths accounted for 94 percent of all malaria cases and deaths, in 2019. Unmet medical needs, a lack of hygiene, and a consequent increase in the target population in these areas are expected to push up thermometer demand.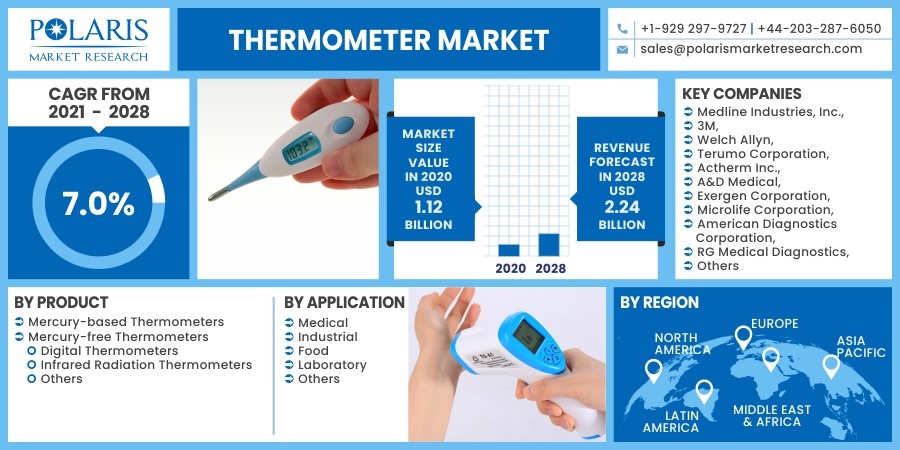 Know more about this report: request for sample pages
Thermometer Market Report Scope
The market is primarily segmented on the basis of product, by application, and geographic region.
By Product

By Application

By Region

Mercury-based Thermometers
Mercury-free Thermometers

Digital Thermometers
Infrared Radiation Thermometers
Others

Medical
Industrial
Food
Laboratory
Others

North America (U.S., Canada)
Europe (France, Germany, UK, Italy, Spain, Netherlands, Austria)
Asia Pacific (Japan, China, India, Malaysia, Indonesia, South Korea)
Latin America (Brazil, Mexico, Argentina)
Middle East & Africa (Saudi Arabia, UAE, Israel, South Africa)
Know more about this report: request for sample pages
Insight by Application
In 2020, hospitals, clinics, and primary healthcare centers led the industry with a majority of the market. This is due to the well-developed healthcare system and the high prevalence of diseases that necessitate body temperature monitoring. Technological advances in thermometers are one of the main reasons for this market segment's development.
Geographic Overview
In terms of region, North America thermometer market had the highest revenue share in 2020. The rising geriatric population and increasing healthcare costs are two major drivers of demand growth. Healthcare camps and campaigns by government agencies, such as the WHO and the NIH, aimed at raising awareness about infectious diseases and assisting in the maintenance of better health are expected to fuel the market growth for thermometers.
For example, before a vaccine is available, body temperature monitoring is the current standard for coronavirus infection screening. As community spreads in most countries around the world, including the United States, over-the-counter thermometer sales in the consumer market are increasing. Furthermore, the market is expected to be driven by North America's well-established healthcare system and rising demand for disposable thermometers.
Asia Pacific thermometer market is expected to have the highest growth. High unmet medical needs, the prevalence of target diseases such as malaria, dengue fever, and swine flu, and the patient awareness about these diseases in the area are all contributing to the lucrative growth of the thermometer industry.
Furthermore, market growth for thermometers is expected to be fueled by economic growth in Asia Pacific countries, especially Japan and China. Over the forecast period, the market for thermometers is expected to be driven by rising market demand for self-health care products and healthcare establishments that cater to the elderly.
Due to the high prevalence rate of infectious diseases, such as the current COVID-19 pandemic, the use of thermometers is growing in countries such as the United States, the United Kingdom, Italy, and India. Since a rise in body temperature is the first indication that the body is preparing to battle infection, physicians all over the world base their first diagnosis on thermometer readings.
As a result of the spread of highly infectious diseases, thermometers are in high demand in medical settings all over the world. According to the CDC, about 35.5 million people were diagnosed with influenza during the 2018-2019 season, with 16.5 million people visiting doctors and 490,600 people being hospitalized. As a result, these factors are expected to fuel the market growth during the forecast period.
Infectious diseases such as influenza, scrub typhus, malaria, dengue, and the Kyasanur Forest Disease (KFD) virus, as well as the latest coronavirus pandemic, are all prevalent in India. According to the CDC, these diseases account for over 80% of illnesses that begin with a high fever. These are the major factors that are expected to drive market growth for thermometers over the forecast period.
Competitive Insight
Key players in the market for thermometers are concentrating their energies on strategic acquisitions in order to boost their research & development capabilities, which will help them provide creative solutions to users and gain a competitive edge.
Some of the major players operating the global market for thermometers include Medline Industries, Inc., 3M, Welch Allyn, Terumo Corporation, Actherm Inc., A&D Medical, Exergen Corporation, Microlife Corporation, American Diagnostics Corporation, RG Medical Diagnostics, Medtronic, Briggs Healthcare, OMRON Healthcare Inc., and Fairhaven Health.