The global thermochromic pigments market was valued at USD 1,792.93 million in 2022 and is expected to grow at a CAGR of 4.3% during the forecast period.
The drastically increased use of thermochromic dyes that are specialized colorants and that help in exhibiting the property of thermochromism effectively results in a change in color in response to temperature fluctuations along with the surging applications of these dyes in industries such as packaging, textile, fashion, and printing among others are the leading factors propelling the growth of the market. Additionally, the growing adoption of thermochromic pigments in smart packaging solutions, particularly for food & beverage products, as they allow for real-time temperature indications, provide tamper-evident features, and monitor freshness, is also escalating the product demand at a significant pace.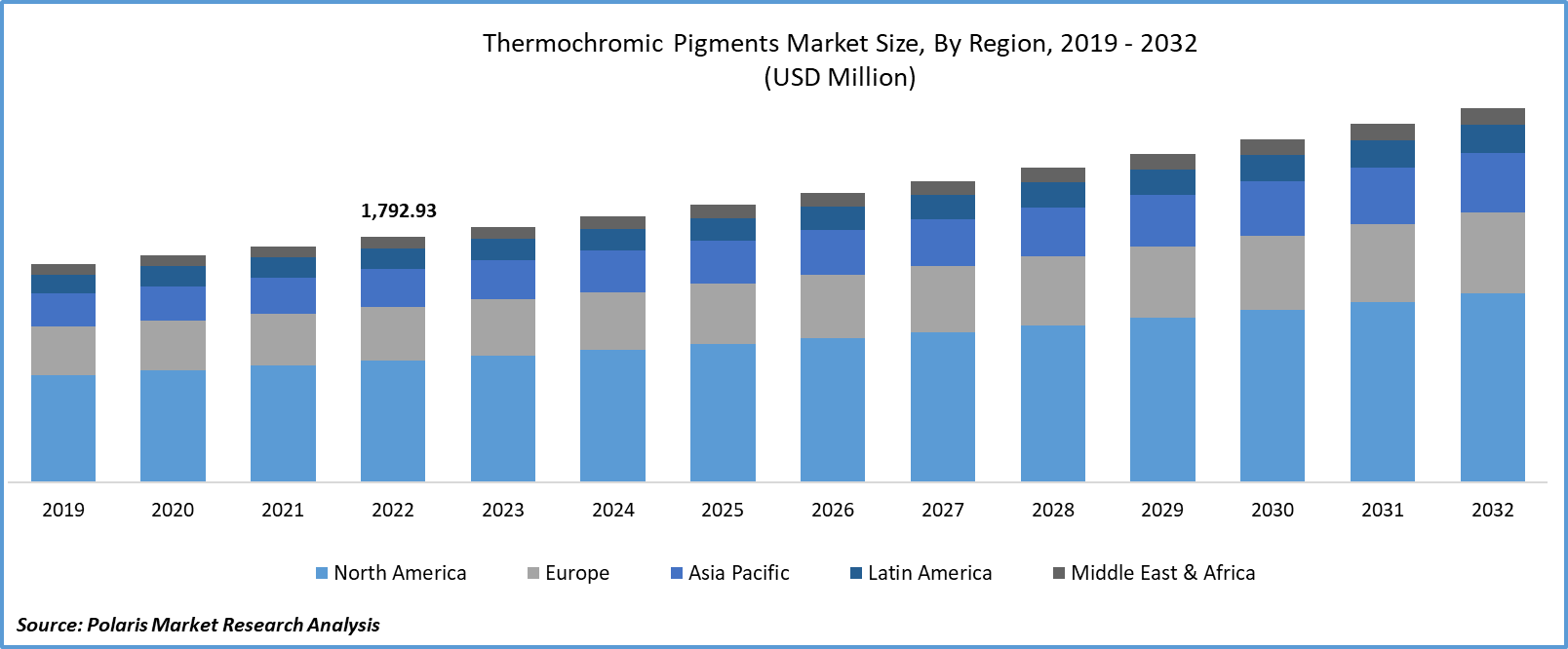 To Understand More About this Research: Request a Free Sample Report
For instance, in July 2022, Daehyun announced the expansion of its business across the globe. The company expands its manufacturing facility of thermochromic products and the reach of the area they cover worldwide.
Moreover, there has been a rising trend for thermochromic pigments to be used in temperature-sensitive paints for various industrial applications. Thereby, growing innovations in this area, including more durable and precise paints for monitoring temperature changes in machinery, aerospace, and automotive industries, are likely to have a positive impact on global market growth in the near future.
However, the high cost associated with thermochromic pigments as compared to other traditional pigments available in the market and a large number of regulatory requirements that need to be followed or adequate for product manufacturing are among the major restraints for the market growth.
Deadly coronavirus across the globe led to huge disruptions in global supply chains and the closure of various manufacturing and processing facilities from various industries, including thermochromic pigments, as a result of imposed trade restrictions and lockdown measures all over the world.
Industry Dynamics
Growth Drivers
The rising use of specialty pigments in flexible packaging is driving the market growth.
The continuous increase in the need and demand for specialty pigments from the flexible packaging industry for efficient and attractive advertising and product promotion mainly because of the ability of thermochromic pigments to maintain the effectiveness and quality of design and text printed on the packaged goods are the primary factors influencing the overall thermochromic pigments market growth at an exponential pace.
There has been a drastic growth in the number of favorable government initiatives promoting the textile industry across both developed and developing economies. Since thermochromic pigments are being largely used in this industry to create color-changing clothing and garments like swimwear, jackets, and t-shirts, among many others, the product market is also likely to have a positive impact in the coming years.
Report Segmentation
The market is primarily segmented based on type, application, end-user, and region.
By Type

By Application

By End Use

By Region

Plastics & Polymers

Paints & Coating

Fabrics

Inks

Cosmetics

Textiles

Electronics

Automotive

Aerospace

Packaging

Consumer Goods

Building & Construction

North America (U.S., Canada)

Europe (France, Germany, UK, Italy, Netherlands, Spain, Russia)

Asia Pacific (Japan, China, India, Malaysia, Indonesia. South Korea)

Latin America (Brazil, Mexico, Argentina)

Middle East & Africa (Saudi Arabia, UAE, Israel, South Africa)
To Understand the Scope of this Report: Speak to Analyst
By Type Analysis
Reversible segment accounted for the largest market share in 2022
The reversible segment accounted for the largest market share, owing to significant product use in novelty decorations and various other applications where temperature warming is required, like batteries, emergency signs, firefighting equipment, and test strips. Apart from this, the printing industry has also been widely utilizing reversible thermochromic inks for a wide range of applications, including security printing and educational materials, that have significantly contributed to product demand.
The irreversible segment is anticipated to grow at the highest growth rate over the coming years, which is mainly attributable to growing use in anti-counterfeiting applications like crucial documents and high-value consumer products due to their ability to permanently change the color and provide an effective way to detect tempering and prevent counterfeiting.
By Application Analysis
Inks segment held a significant market share in 2022
The inks segment held the majority market share in terms of revenue in 2022, which is mainly driven by the significant usage of thermochromic pigments in printing inks, as these pigments offer extensive temperature-sensitive features on documents, labels, and packaging and also create lucrative opportunities for interactive marketing campaigns for companies from all industries. Additionally, growing advances in printing technologies, such as UV printing and digital printing, have made it easier to incorporate thermochromic inks into several printing processes and generate huge growth potential for the segment market.
The textiles segment is projected to gain a substantial growth rate during the projected period, mainly due to the rapidly growing popularity of clothing and accessories with color-changing properties and an increasing number of consumers worldwide seeking personalized products according to their specific needs and requirements that can be done through thermochromic pigments.
By End-Use Analysis
The packaging segment is expected to witness the highest growth over the forecasted period.
The packaging segment is expected to witness the highest growth rate throughout the study period, owing to an increase in the number of companies in the packaging industry seeking thermochromic pigments to develop eye-catching and unique designs that help their products attract consumers and stand out in the stores. Also, thermochromic pigments are being widely used to indicate the freshness of perishable products, as these indicators change color when a product has been exposed to undesirable temperatures, alerting consumers to potential spoilage and helping them to make decisions about whether to buy a product or not.
Regional Insights
North America region dominated the global market in 2022
The North American region dominated the global market. The regional market growth is majorly driven by the presence of well-established and developed consumer goods and packaging industry and the surge in the number of experiments in the fashion & textile industry in countries like the United States & Canada to develop clothing that effectively changes color with temperature fluctuations. Besides this, as consumers and industries in the region are constantly becoming more environmentally conscious, there is a rising interest in sustainable materials that has led to growth in the number of innovations in eco-friendly thermochromic pigments and their applications across various industries while aligning with sustainability goals.
The Asia Pacific region is anticipated to emerge as a growing region with a healthy CAGR over the next coming years on account of growing investments by both private and government organizations in different industries, including textiles, shipbuilding, construction, automobile, and consumer goods, among others, who are the leading consumers of thermochromic pigments. Thus, with the rise in these industries and their higher consumption, especially in emerging economies, the demand for thermochromic pigments also increases.
Key Market Players & Competitive Insights
The thermochromic pigments market is highly competitive, with the presence of several leading global or regional market players. The key product manufacturers in the market are significantly focusing on the expansion of their product offerings in order to cater to widespread application areas, which include not only a variety of options but also several other forms of pigments like coatings, powders, and inks.
Some of the major players operating in the global market include:
3M

Clariant

CTI and Flint Group

Devine Chemicals Ltd.

Hali Pigment Co. Ltd.

Hammer Packaging Corporation

LCR Hallcrest LLC

Matsui Color

NanoMatrix International Limited

New Color Chemical Limited

Olikrom

QCR Solutions Corporation

RPM International Inc.

Smarol Industry Co. Ltd.

Special Effects and Coatings
Recent Developments
In July 2021, Kandui Industries announced the launch of its new thermochromic masterbatch, which is an additive masterbatch enabling reversible color-changing properties. The newly developed masterbatches have an activation temperature that helps to toggle the end product color effectively.

In February 2022, DVM Pigments & Additives introduced a Hydrotint Seed Color Range. These dispersions contain a high amount of pigment content and are being widely used for the coloration of seed dressings. It can also be incorporated into a variety of applications.
Thermochromic Pigments Market Report Scope
| | |
| --- | --- |
| Report Attributes | Details |
| Market size value in 2023 | USD 1,865.72 million |
| Revenue Forecast in 2032 | USD 2,727.58 million |
| CAGR | 4.3% from 2023 – 2032 |
| Base year | 2022 |
| Historical data | 2019 – 2021 |
| Forecast period | 2023 – 2032 |
| Quantitative units | Revenue in USD million and CAGR from 2023 to 2032 |
| Segments Covered | By Type, By Application, By End-Use, By Region |
| Regional scope | North America, Europe, Asia Pacific, Latin America; Middle East & Africa |
| Customization | Report customization as per your requirements with respect to countries, regions, and segmentation. |