The global thyroid cancer diagnostics market was valued at USD 2.50 billion in 2020 and is expected to grow at a CAGR of 5.7% during the forecast period. The increasing prevalence of thyroid cancer with a strong focus on early diagnosis coupled with an aging population across the globe are the prominent factors responsible for the market growth.
Thyroid cancer is a common form of malignant endocrine glands. Papillary and follicular cancers comprise up to 90 percent of thyroid cancer. It is being estimated that the prevalence rate of thyroid cancer is 4.5 percent in females and 2 percent in males. The condition is more prevalent in Caucasian women aged between 20-34 years. Moreover, rising government initiatives and an increase in funding towards early diagnosis of the condition also favoring the concerned diagnostics market growth.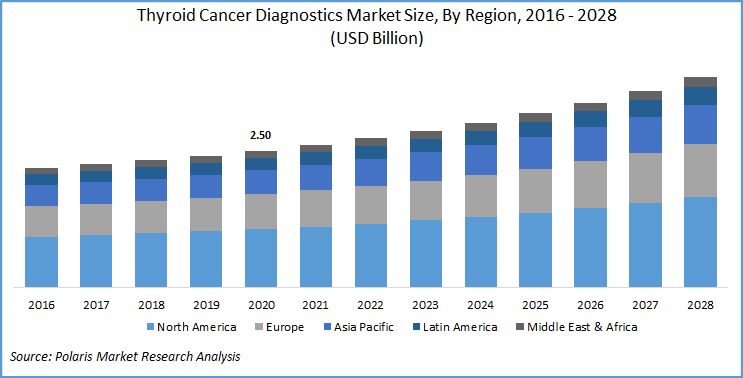 Know more about this report: request for sample pages
Industry Dynamics
Growth Drivers
Most of the associations and academic institutions are involved in research and development to develop new products and services for better treatment, diagnosis, and prevention of thyroid cancer. For instance, American Thyroid Organization and Thyroid Cancer Survivor Association are involved in activities such as a deeper understanding of molecular mechanisms, identifying key genes for targeted diagnosis and treatment methods. In 2018, National Cancer Institute's (NCI), My Pediatric and Adult Rare Tumor network has established a rare tumor facility for people suffering from medullary thyroid cancer, who have not received standard treatment.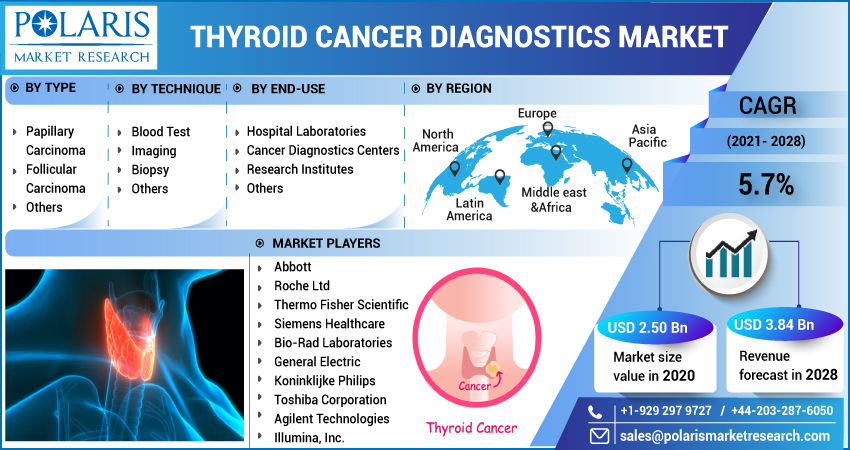 For Specific Research Requirements, Request for a Customized Report
Researchers used these tissue samples to understand the genetics behind it, to create an effective treatment manual. Moreover, in the same year, FDA approved the combination therapy in the market involving two drugs dabrafenib mesylate and trametinib for the treatment of anaplastic thyroid cancers, having a mutation in the BRAF gene. It is being estimated that more than a quarter of anaplastic thyroid cancers have this kind of mutation.
Thyroid Cancer Diagnostics Market Report Scope
The market is primarily segmented on the basis of type, technique, end-use, and region.
By Type

By Technique

By End-Use

By Region

Papillary Carcinoma
Follicular Carcinoma
Others

Blood Test
Imaging
Biopsy
Others

Hospital Laboratories
Cancer Diagnostics Centers
Research Institutes
Others

North America (U.S., Canada)
Europe (France, Germany, UK, Italy, Spain, Netherlands, Austria)
Asia Pacific (Japan, China, India, Malaysia, Indonesia, South Korea)
Latin America (Brazil, Mexico, Argentina)
Middle East & Africa (Saudi Arabia, UAE, Israel, South Africa)
Know more about this report: request for sample pages
Insight by Type
Based on the type, the global thyroid cancer diagnostics market is categorized into papillary, follicular carcinoma, and others. In 2020, the papillary carcinoma segment accounted for the largest market revenue share. The concerned condition had the highest cure rate among all the cancers, with a 5-year survival rate of nearly 98 percent.
Follicular carcinomas are expected to witness lucrative market growth over the assessment period. These are the most common form, including anaplastic, medullary, Hurthle carcinomas. Follicular carcinomas have worst prognosis rate as it metastasizes to the several lymph nodes at a very early stage, thereby requiring complicated surgery.
Insight by Technique
Based on the technique, the global thyroid cancer diagnostics market is bifurcated into blood tests, imaging, biopsy, and others. In 2020, the imaging segment accounted for the largest share. Such a high share is due to the fact that imaging tests are the primary requirements for disease diagnosis. Thyroid ultrasounds evaluate structural anomalies, while blood tests measure Thyroxine, T3, and T4 levels to examine functional differences.
Moreover, the diagnostics market landscape in thyroid cancer is fueled by genetic prognosis and molecular tests. Neck ultrasounds are the most common tools for cancer diagnosis. Other imaging tests include chest X-ray, PET scan, and bone scans to identify metastasis. Moreover, concerning diagnostics technology investments and high procedure cost also contributing to the segment's growth.
Insight by End-Use
Based on the end-use, the global market is bifurcated into hospital laboratories, cancer diagnostics centers, research institutes, and others. In 2020, the hospital labs segment accounted for the largest share. Concerned diagnostics market growth is attributed to a rising patient suffering from thyroid cancers, patient awareness regarding early diagnosis, and rising investments in healthcare infrastructure.
However, the research institutes market segment is projected to witness the highest growth rate over the assessment period. This is due to rising research funding towards cancer research, for instance, American Thyroid Association (ATA) has funded over 105 research grants, valuing around USD 2.8 million.
Geographic Overview
Geographically, the global diagnostics market is bifurcated into North America, Asia Pacific, Europe, Latin America, and Middle East & Africa. North America is the largest revenue contributor followed by Europe and the Asia Pacific region. In 2020, the North America region accounted for over 42 percent of the global market.
Regional factors responsible for the diagnostics market growth include strong industry-academia collaboration, the presence of suitable research infrastructure, the presence of key companies, and the high disposable income of people who can afford such high-cost drugs.
Asia Pacific is projected to witness the highest growth in the concerned diagnostics market over the assessment period. High prevalence of thyroid cancer, improving healthcare infrastructure in both India and China, and patient's awareness regarding its ill effects.
Competitive Insight
The prominent players operating in the market are Abbott, Roche Ltd, Thermo Fisher Scientific, Siemens Healthcare, Bio-Rad Laboratories, General Electric, Koninklijke Philips, Toshiba Corporation, Agilent Technologies, and Illumina, Inc.