The global traffic sensor market was valued at USD 566.5 million in 2021 and is expected to grow at a CAGR of 7.5% during the forecast period. The growing demand for real-time information systems and government initiatives to enhance transportation infrastructure propel the market forward. Similarly, increased cycling infrastructure is likely to lead to increased adoption of bicycle counting beams in the traffic sensor market, providing attractive prospects for companies in the market.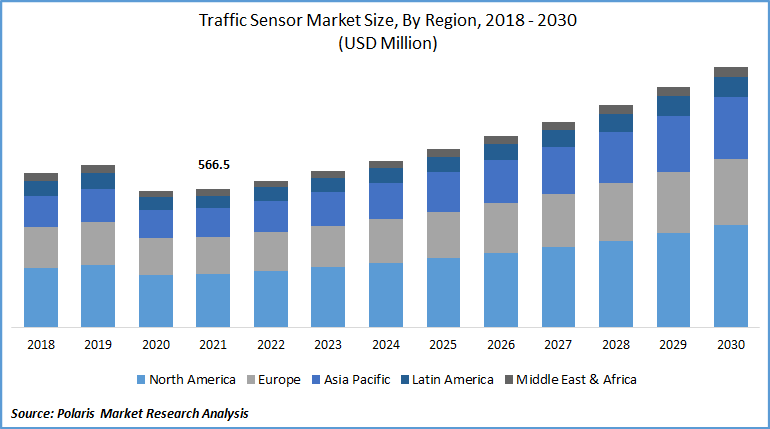 Know more about this report: request for sample pages
Growing transportation volume is one of the primary reasons projected to propel the market forward. Additionally, governments from many nations have taken steps to improve city infrastructure, which has aided the market's growth. The European Commission is experimenting with new ways to fund Europe's transportation infrastructure.
Also, the government must step up efforts to raise awareness about several aspects of supply chain safety the economic and social consequences of road accidents, and that would have to be done to address the rising threat of road accidents. It would also enable and encourage various stakeholders to play a significant role in enhancing road safety. Through the same National Road Safety Policy, the Government of India expresses its determination to reduce road accident mortality and morbidity significantly.
Furthermore, in growing economies such as India, China, and Brazil, a lack of effective highways in urban, intercity, and rural areas is a key cause of excessive road congestion. This necessitates the product to manage road jams and reduce congestion. As a result, these devices can ensure that existing roads are used to their full potential.
Moreover, the ever-increasing urban population is driving the demand for effective traffic control solutions, propelling the traffic sensor market. Congestion in cities such as New York, Shanghai, and Mumbai, among others, has become a major source of anxiety for residents. Congestion lowers the city's overall efficiency and increases economic losses. These components aid in analyzing characteristics such as the number of vehicles passing through a region at a certain time as well as vehicle length, weight, and speed. As a result, the authorities can alleviate excessive congestion on the highways.
However, non-intrusive sensors, such as image, microwave, and sound beams, do not significantly impact traffic and are connected with significant safety problems. However, since the product requires substantial vertical and horizontal clearances, the efficiency of such sensors is dependent on facing angles and mounting positions.
Infrared sensors require flat ground since sloped roadways and speed bumps might cause mistakes. Non-intrusive are very expensive compared to cutting-edge road systems like inductive loops, which provide detailed transportation flow data measurements. High prices prevent widespread adoption and limit non-intrusive sensors in traffic data collection.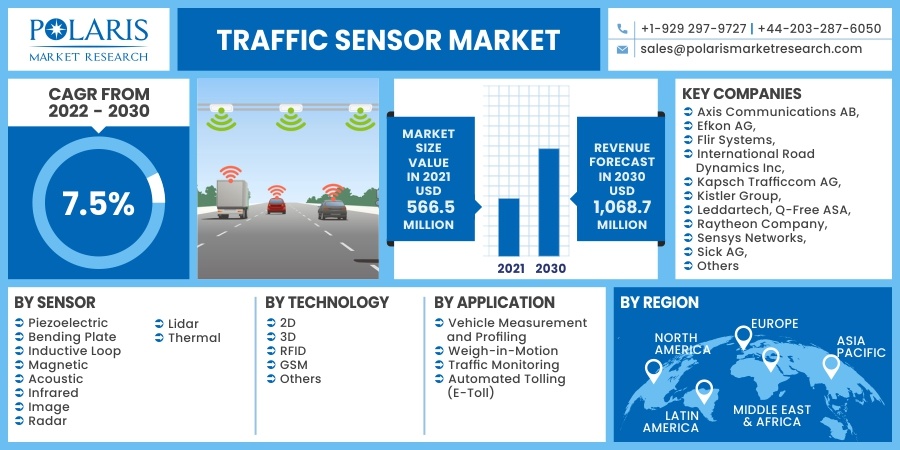 Know more about this report: request for sample pages
Industry Dynamics
Growth Drivers
Only 46.72% of the world's population lived in cities previously; now, more than half (50.14%) of the world's population resided in cities. In metropolitan locations, personal and professional mobility poses major problems. Increased urbanization and population have increased traffic density levels, making commuting difficult for the general public. In addition, as the urban population expands, so will the volume of business have conducted within cities and with business partners outside of cities.
Furthermore, major corporations and researchers are putting the latest emerging technologies to the test in traffic monitoring. The Texas Advanced Computing Center (TACC) researchers have begun testing traffic monitoring using AI, which will likely to boost the market growth in the future. Additionally, these are employed to determine if automobiles have entered turn lanes or intersections to improve infrastructure in country roads and areas with less steady traffic flow.
The device monitors the number of cars traveling through a region at a given moment by giving real-time data to reduce road congestion, hence boosting a city's overall efficiency and lowering economic losses. Due to their tough character and resistance to lightning, radar sensors are employed in travel-time calculation and bottleneck identification in any weather situation such as haze and rain.
Report Segmentation
The market is primarily segmented based on sensor, technology, application, and region.
By Sensor

By Technology

By Application

By Region

Piezoelectric
Bending Plate
Inductive Loop
Magnetic
Acoustic
Infrared
Image
Radar
Lidar
Thermal

Vehicle Measurement and Profiling
Weigh-in-Motion
Traffic Monitoring
Automated Tolling (E-Toll)

North America (U.S., Canada)
Europe (France, Germany, UK, Italy, Spain, Netherlands, Austria)
Asia Pacific (Japan, China, India, Malaysia, Indonesia, South Korea)
Latin America (Brazil, Mexico, Argentina)
Middle East & Africa (Saudi Arabia, UAE, Israel, South Africa)
Know more about this report: request for sample pages
Insight by Technology
Based on the technology segment, the 2D sensor market segment is projected to be the most significant revenue contributor and is expected to retain its dominance over the forecast period. Apart from the significant advantages of 3D technology for high-quality monitoring applications, many traffic control authorities rely primarily on 2D technology for quality control. While effective in a limited number of circumstances, the 2D capacity to accomplish 100 percent quality control is a big worry, especially in the case of multi-lane and heavy congestions, where near-perfect quality control is a must.
Geographic Overview
North America had the highest share in the global traffic sensor market. North America, which includes industrialized economies such as the United States and Canada, has been one of the most generous spenders on road infrastructure. The United States' investments in road transportation infrastructure increased by 46.19 percent, a significant increase. Another element contributing to market growth in this region is that it has been an early adoption of new technology.
Moreover, Asia Pacific is expected to witness a high CAGR in the global market in 2021. The Asia-Pacific area, which encompasses China, Japan, India, Australia, and South Korea, is rapidly expanding due to increased infrastructure development. Because there are so many developing countries in these areas, the market has a lot of room to grow. The region is home to a slew of ecologically friendly campaigns.
Competitive Insight
Some of the major players operating in the global market include Axis Communications AB, Efkon AG, Flir Systems, International Road Dynamics Inc, Kapsch Trafficcom AG, Kistler Group, Leddartech, Q-Free ASA, Raytheon Company, Sensys Networks, Sick AG, Siemens, Swarco AG, TE Connectivity Ltd., and Transcore.
Traffic Sensor Market Report Scope
| | |
| --- | --- |
| Report Attributes | Details |
| Market size value in 2021 | USD 566.5 million |
| Revenue forecast in 2030 | USD 1,068.7 million |
| CAGR | 7.5% from 2022 - 2030 |
| Base year | 2021 |
| Historical data | 2018 - 2020 |
| Forecast period | 2022 - 2030 |
| Quantitative units | Revenue in USD million/billion and CAGR from 2022 to 2030 |
| Segments covered | By Sensor, By Technology, By Application, By Region |
| Regional scope | North America, Europe, Asia Pacific, Latin America, Middle East & Africa |
| Key companies | Axis Communications AB, Efkon AG, Flir Systems, International Road Dynamics Inc, Kapsch Trafficcom AG, Kistler Group, Leddartech, Q-Free ASA, Raytheon Company, Sensys Networks, Sick AG, Siemens, Swarco AG, TE Connectivity Ltd., and Transcore. |