The global train dispatching market was valued at USD 937.63 million in 2022 and is expected to grow at a CAGR of 7.9% during the forecast period. The railway industry is experiencing rapid growth and modernization due to increasing investment in infrastructure and technology. The global train dispatching market, which includes the systems, tools, and services used to manage train operations and dispatching, is a key beneficiary of this trend.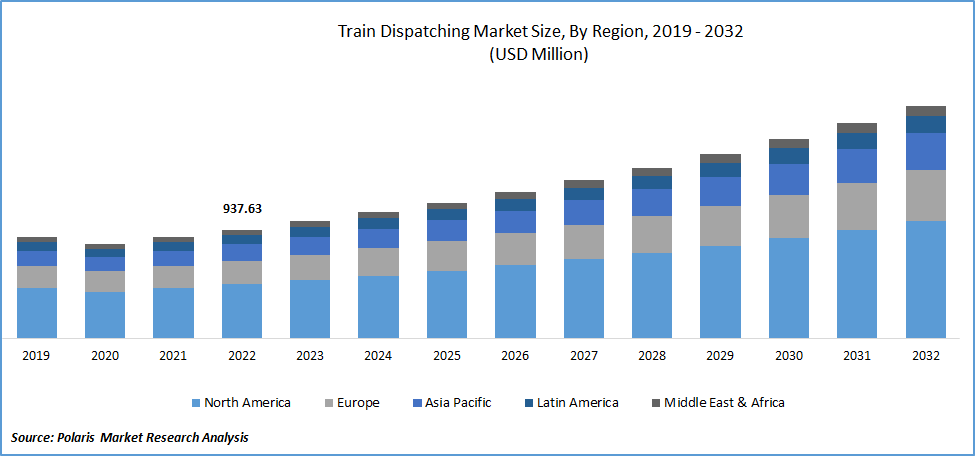 To Understand More About this Research: Request a Free Sample Report
One example of a company benefiting from rising investments in train dispatching technology is Thales Group, a multinational electronics and systems company. Thales Group provides a traffic management system, including its ARAMIS system, which uses AI and ML algorithms to optimize train schedules, traffic management, and dispatching. In 2021, CFL requested Thales to deliver its Connected Driver Advisory System (C-Das) in Luxembourg.
The ARAMIS C-DAS module, by GreenSpeed, is being installed as part of a recent contract CFL given to Thales to modernize the Thales Traffic Management System, "ARAMIS." As per the algorithm-based driving advice, this will improve punctuality, lower energy consumption, and lower maintenance costs. It upgrades the existing system with new technologies designed to improve train operations and enhance passenger safety.
The outbreak of the COVID-19 pandemic has significantly impacted the growth of the train dispatching market. According to the International Union of Railways, the pandemic seriously affected the economy and the railroads. Traffic volume declined by about 67%, while income across all members fell by about 60%. Since the government had to take emergency action to maintain rail services after passenger traffic collapsed to historically low levels, train operator subsidies increased significantly.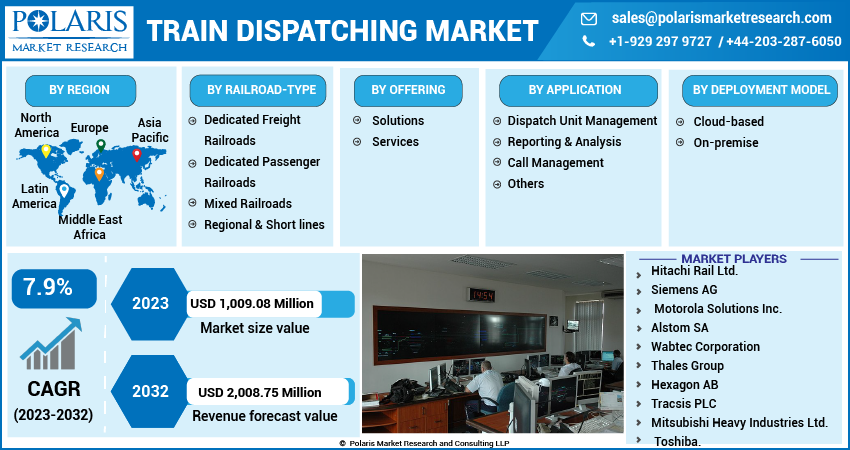 For Specific Research Requirements, Request for a Customized Report
Industry Dynamics
Growth Drivers
The increasing demand for efficient and safe transportation of passengers and goods is one of the key drivers of the train dispatching market. As the global population grows and urbanization increases, the demand for transportation solutions that are safe, reliable, and efficient is rising. Train delivery systems play a critical role in meeting this demand by ensuring that trains are delivered promptly and efficiently, minimizing delays and disruptions, and improving the overall experience for passengers and customers.
Train dispatching systems enable railway operators to manage train movements more effectively, reducing the risk of accidents and improving the utilization of rail infrastructure. They also provide real-time information to train crews and passengers, enabling them to make informed decisions about train schedules and routes. With the growing demand for sustainable transportation solutions, the train dispatching market is expected to continue to grow in the coming years as railway operators and transportation authorities invest in new technologies and services to improve the efficiency and safety of train operations.
Report Segmentation
The market is primarily segmented based on railroad type, offering, application, deployment model, and region.
By Railroad-Type

By Offering

By Application

By Deployment Model

By Region

Dedicated Freight Railroads

Dedicated Passenger Railroads

Mixed Railroads

Regional & Short lines

Dispatch Unit Management

Reporting & Analysis

Call Management

Others

North America (U.S., Canada)

Europe (France, Germany, UK, Italy, Netherlands, Spain, Russia)

Asia Pacific (Japan, China, India, Malaysia, Indonesia. South Korea)

Latin America (Brazil, Mexico, Argentina)

Middle East & Africa (Saudi Arabia, UAE, Israel, South Africa)
To Understand the Scope of this Report: Speak to Analyst
The dedicated freight railroads segment accounted for the largest market share in 2022
Dedicated freight railroads are typically more in demand than passenger transportation, as goods must be moved from one place to another for commerce and trade. Freight train activity has gradually grown during the past 20 years. Minerals, coal, and agricultural products comprise most freight rail operations. Transport services between nations by train developed quickly during the epidemic. On the other hand, dedicated passenger railroads often have more complex procedures due to accommodating different types of passengers, schedules, and routes. Government agencies often own and operate them, which may need more resources and funding for advanced train dispatching systems.
Mixed railroads handle freight and passenger transportation and require more sophisticated train dispatching systems to manage the different operations. Regional and short lines are smaller railroads that operate in specific regions or areas. They are critical in connecting smaller communities to larger cities and transportation hubs. The increasing demand for sustainable transportation options, including rail, has led to the need for more efficient and safe train dispatching systems for regional and short lines.
The solutions segment is expected to grow fastest over the projected period.
Solutions refer to software and hardware solutions that are used for train dispatching. These solutions help real-time monitoring of train movements, resource optimization, and communication between partners. Real-time status with a primary interface, information and modeling tools, mapping and mobile data terminals, location, and GIS services are all included in the solutions category. Several agencies can benefit from training dispatch systems simultaneously, which facilitates responding to numerous situations at a single location. Real-time analysis is aided by the command centers' control over information and ability to combine and analyze the solutions.
With global trade and transportation rising, the demand for efficient and safe train operations has increased. Train dispatching solutions help ensure the timely and secure arrival of trains at their destination, improving customer satisfaction and reducing operational costs.
Dispatch Unit Management sector is expected to hold a significant revenue share over the forecast period.
The dispatch unit management segment is predicted to have the highest share during the projection period. Dispatch unit management involves using train dispatching solutions to manage and monitor dispatch units in real time. Dispatch units refer to the teams responsible for managing and shipping trains. Data-driven train dispatching (DDTD) for managing rail transportation operations is only one example of the many possibilities made possible by recent fast advancements in monitoring and communication systems and data technology.
Reporting & analysis involves using train dispatching solutions to generate reports and analyze data related to train operations. Train posting solutions can provide insights into key performance indicators (KPIs), such as train arrival times, dispatch unit efficiency, and resource utilization. Reporting & analysis for railway dispatching make it possible for dispatch units to improve their operations and identify inefficient regions of train operation.
Call management involves using train dispatching solutions to manage and route incoming calls related to train operations. Train posting solutions can help route calls to the appropriate dispatch unit and track the status of calls. There is a rising demand for effective call management systems to enable prompt problem resolution as the number of calls about railway operations rises. Train drivers, maintenance workers, and other parties engaged in railway operations may communicate more effectively due to train dispatching technologies.
The Cloud-Based segment is expected to witness the fastest growth over the projected period.
Lower costs, faster deployment, greater scalability, easier maintenance, and greater flexibility drive the growing demand for cloud-based train dispatching solutions. Cloud-based solutions eliminate the need for costly hardware and infrastructure, and users can access the software through the Internet, often through a subscription-based pricing model.
Cloud-based solutions can be deployed much faster than on-premise solutions, and they are highly scalable, which is useful for railway operators who may experience sudden spikes in demand. Maintenance is handled by the provider, which means users don't need to worry about software updates, security patches, or hardware upgrades. Cloud-based solutions also offer greater flexibility, allowing users to access the software anywhere with an internet connection. As a result, cloud-based train dispatching solutions are expected to grow faster and gain a larger market share in the upcoming years.
North American demand was projected to expand significantly in 2022
North America is one of the leading regions in the train dispatching market, owing to the presence of many railway companies and the adoption of advanced train dispatching technologies over the forecast period. The adoption of advanced technologies, such as the Internet of Things (IoT), artificial intelligence (AI), and machine learning (ML), is driving the growth of the region. These technologies help to improve the accuracy and efficiency of train dispatching, which leads to improved safety and reliability over the forecast period.
Asia Pacific is expected to be the fastest-growing global train dispatching market over the forecast period. The rapid urbanization and industrialization in the Asia Pacific have led to an increase in demand for transportation, which is driving the adoption of advanced train dispatching solutions. The government in the region is investing in developing railway infrastructure to improve connectivity and promote economic growth.
Competitive Insight
Some major global players operating worldwide include Hitachi Rail, Siemens, Motorola Solutions, Alstom, Wabtec Corporation, Thales Group, Hexagon, Tracsis PLC, Mitsubishi Heavy Industries, and Toshiba.
Recent Developments
In February 2023, Alstom introduces Alstom Innovia, an efficient alternative for urban and airport transportation. Alstom's Innovia product line is the mass transportation solution for airports, quickly expanding cities and crowded metropolitan regions. Automated people movers (APMs) and monorails are products of the Innovia train family, which are entirely automatic, driverless, and have specialized infrastructure.

Furthermore, in November 2022, In the Philippines, Hitachi Rail won a significant contract worth around 114bn JPY*1(around 814m USD) to provide a sustainable digital commuter train. Hitachi Rail will deploy its unique European Train Control System (ETCS) Level 2 signaling for the North-South Commuter Line.
Train Dispatching Market Report Scope
| | |
| --- | --- |
| Report Attributes | Details |
| Market size value in 2023 | USD 1,009.08 million |
| Revenue forecast in 2032 | USD 2,008.75 million |
| CAGR | 7.9% from 2023 - 2032 |
| Base year | 2022 |
| Historical data | 2019 - 2021 |
| Forecast period | 2023 - 2032 |
| Quantitative units | Revenue in USD million and CAGR from 2023 to 2032 |
| Segments covered | By Railroad-Type, By Offering, By Application, By Deployment Model, By Region |
| Regional scope | North America, Europe, Asia Pacific, Latin America; Middle East & Africa |
| Key companies | Hitachi Rail Ltd., Siemens AG, Motorola Solutions Inc., Alstom SA, Wabtec Corporation, Thales Group, Hexagon AB, Tracsis PLC, Mitsubishi Heavy Industries Ltd., and Toshiba. |