The U.S. durable medical equipment market size was valued at USD 49.76 billion in 2019 and is anticipated to grow at a CAGR of 6.3% during the forecast period. Durable medical equipment are the medical devices and equipment that are used by patients at home to aid in a better quality of living. Globally, the market for home healthcare is growing at a rapid pace, as home care offers promising opportunities in order to improve care at a lower cost. As studied by several researchers, large number of patient with chronic physical conditions prefer staying at home then in a hospital or any other healthcare facility. With growing penetration of home care, the development and adoption of durable medical equipment increased to make mobility easy for the patients in need.
Increasing prevalence of chronic diseases requiring long-term care, rapidly growing geriatric population, and increasing penetration of home healthcare services & staff are the key drivers of the market. Increasing prevalence of chronic disorders requiring long-term patient care is anticipated to boost the usage of DME. Diseases such as diabetic foot, pressure ulcers, & cancer, which require long-term patient care and postoperative recovery, are anticipated to contribute toward the growth of U.S. Durable Medical Equipment Market. According to the data published by American Cancer Society the global cancer burden is expected to increase to 21.7 million new cancer cases and 13 million deaths as a result of increase in geriatric population by 2030. Moreover, rapidly growing geriatric population, which forms the key target population for DME, is anticipated to bolster the growth of the market over the forecast period. However, performance failure and durability issues of devices and presence of lower remunerations are some of the factors restraining the growth of the durable medical equipment market in the U.S.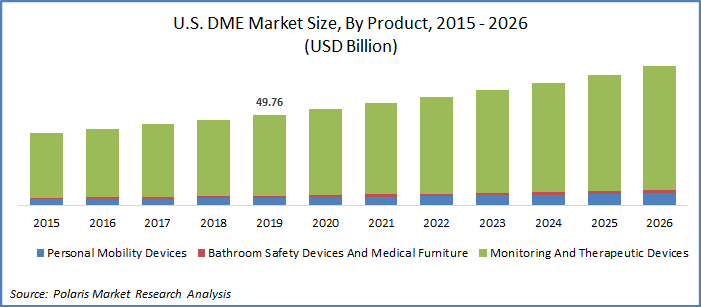 Know more about this report: request for sample pages
Increasing global geriatric population base in both developed and developing nations is expected to propel the medical lifting slings market. Presently, there are over 40 million people in the U.S. alone aged 65 years & above and this number is anticipated to double by 2050. Being the oldest country of the world, Japan provides significant growth opportunities to this market. Furthermore, growing healthcare expenditure level is a key concern and private players along with government constantly strive to curb these costs. With an ever-increasing prevalence of diseases and baby boomer population, healthcare expenditure levels are expected to continue to grow during the forecast period. The growth of home healthcare as a cost-effective alternative over hospital stay is expected to serve this market as a key driver over the forecast period.
Medicare has designed a competitive bidding program known as Durable Medical Equipment, Prosthetics, Orthotics, and Suppliers (DMEPOS). Under this program, suppliers submit bids or tenders to provide certain medical equipment for people with Medicare, visiting or living in the competitive bidding areas. These suppliers are thoroughly checked to ensure that they meet Medicare requirements. The payments for DME can be in form of private health insurance, Medicare, Medicaid and other payment methods. Other payment methods include cash payments, third party payers and other insurance plans such as the Children's Health Insurance Program (CHIP). Personal mobility devices such as canes, crutches, walker, rollators and wheelchairs can be purchased with or without prescription. Purchases without prescription are not eligible for the reimbursement hence, coverage from private insurers is around 13.0% compared to other product segments.
U.S. Durable Medical Equipment Market Report Scope
The market is primarily segmented on the basis of product and end user
By Product

By End User

Personal Mobility Devices

Wheelchairs
Scooters
Walker and Rollators
Cranes and Crutches
Door Openers
Other Devices

Bathroom Safety Devices & Medical Furniture

Commodes and Toilets
Mattress & Bedding Devices

Monitoring & Therapeutic Devices

Blood Sugar Monitors
Continuous Passive Motion (CPM)
Infusion Pumps Market
Nebulizers
Oxygen Equipment
Continuous Positive Airway Pressure (CPAP)
Suction Pumps
Traction Equipment
Other Equipment

Insulin Pumps
Ostomy Bags & Accessories
Others

Hospitals
Specialty Clinics
Ambulatory Surgical Centers
Diagnostic Centers
Home Healthcare
Others
Know more about this report: request for sample pages
Type Outlook
Based on type, the market is segmented into personal mobility devices, bathroom safety devices & medical furniture, and monitoring & therapeutic devices. Monitoring and therapeutic devices held lucrative share in 2019. This segment is inclusive of a wide range of devices used for long-term care for numerous disorders such as cardiovascular & neurological and cancer. Personal mobility devices are anticipated to gain significant market share over the forecast period. Introduction of technological advanced products is likely to help this segment's growth. In the personal mobility devices section the wheelchair segment is expected to dominate the market owing to high usage rate and growing demand for powered wheel chairs. In addition, the walkers & rollators segment is expected to gain revenue over the next eight years due to growing popularity of premium and specialty rollators among users.
Bathroom safety devices and medical furniture include commodes & toilets and mattress & bedding devices. The mattresses and bedding segment is anticipated to hold major market share over the forecast period due to rising prevalence of chronic and other diseases, which leads to hospitalization.
Monitoring and therapeutic devices include blood sugar monitors, Continuous Passive Motion (CPM), infusion pumps, nebulizer, oxygen equipment, Continuous Positive Airway Pressure (CPAP), suction pumps, traction equipment, and others. The others segment including wound care products, cardiology devices, vital sign monitors, and neuromonitors is expected to hold highest market share during the forecast period owing to rising demand for wireless monitoring devices and growing incidence of lifestyle-related diseases that require routine vital statistics analysis.
End User Outlook
On the basis of end user, the U.S. durable medical equipment market is segmented into hospitals, specialty clinics, ambulatory surgery centers, diagnostic centers, home healthcare, and others. Hospitals segment held lucrative share in 2019. Factors such as increasing patient flow, technological advancements, and development of healthcare infrastructure are contributing to the huge market of hospital segment.
Globally, the number of ambulatory surgery centers are increasing significantly. Currently, there are more than 9,280 active ambulatory surgery centers in the U.S. This number increased from 6,100 ASCs in 2016. Increasing number of ambulatory surgery centers are largely driving the demand for necessary equipment and instruments including durable medical equipment. Also, number of companies such as Henry Schein Medical, McKesson, Medline and many more provide durable medical equipment to numerous ambulatory surgery centers.
Competitive Landscape
Companies are expanding their presence across various geographies and entering new markets in developing regions to expand their customer base and strengthen presence in the market. The companies are also introducing new innovative products in the market to cater to the growing consumer demands. The key leading players in the market include Invacare Corporation, Sunrise Medical, ArjoHuntleigh, Hill Rom, Inc, Stryker Corporation, Medline Industries Inc., Drive Medical, GF Health Products Inc., and Carex Health Brands, Inc.
New product developments, collaborations, mergers and acquisitions are the key initiatives undertaken by players in this industry. For instance, in February 2016, ArjoHuntleigh launched a new online sling selector tool to find the most suitable solutions as per patient-specific requirements for the lift system.