The global home healthcare market size is estimated to reach USD 484.13 billion by 2026 growing at a CAGR of 8.33% between 2018 and 2026. Home healthcare is termed as healthcare service that is provided at home for illness or injury. It is usually less expensive, convenient, and is effective in terms of treating the patient. The Bureau of Labor Statistics stated the increase of 1 million jobs in home healthcare industry; this growth is majorly attributed to the increasing awareness and preference for home care providers.
Demand for home healthcare services and home nursing care market is witnessing steady growth across the world. Factors such as high costs of in hospital care, comfort of recovery at home along with affordability of home healthcare are responsible for the rise in popularity of home healthcare and it is increasingly becoming a desired option. Moreover, popularity of these devices is steady across economically developing and developed regions.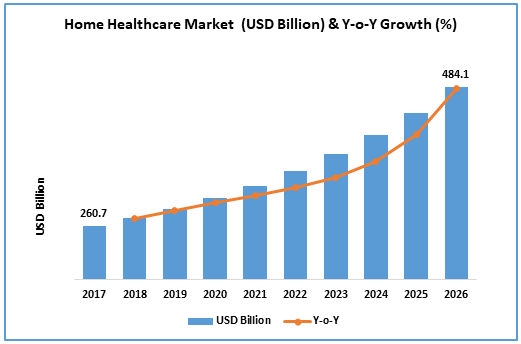 Know more about this report: request for sample pages
The future growth in home healthcare industry is expected to be primarily driven by factors such as rising prevalence of diseases that need regular diagnosis, growth in geriatric population, and rising instances of chronic diseases. Moreover, factors that accelerate the growth of the market are increased preference and demand for the home healthcare services and healthcare delivery systems coupled with its affordability to patients. Additionally, advancements in technology and government initiatives which promote home healthcare are other factors expected to have a positive impact on the growth of this market.
Segment Analysis
The home health care market report is segmented into component type (home healthcare equipment and services), and geography. On the basis of component type, the global home healthcare industry analysis is further segmented into equipment and services. Equipment segment is observed to hold major market share owing to the increasing availability of these equipment globally. Equipment segment further covers sub segments of mobility assist, therapeutic, and diagnostics. Diagnostic equipment sub segment is projected to be a major segment owing to the rising prevalence of diabetes, and cardiopulmonary diseases and is expected to account for more than 30% market share. Additionally, growing need for diagnosis of various blood pressure related disorders, and increasing demand for blood pressure monitoring devices is expected to have positive influence on the market growth of home healthcare during the forecast period.
The service segment covers infusion therapy services, telemetry services, respiratory therapy services, rehabilitation services, and unskilled home care services. Rehabilitation services is observed to be the largest services segment during 2017 in the home healthcare industry with more than half of market share in the services segment. Growth in the rehabilitation services segment is majorly due to the growth of aging population base. While the infusion therapy services segment is expected to witness significant growth and gain traction over the forecast period mainly attributed to enhanced demand for enteral nutrition (tube feeding) and parenteral nutrition.
Home Healthcare Market Scope
By Component Type

By Region

Equipment (Mobility Assist, Therapeutic, Diagnostics)
Service (Infusion Therapy Services, Telemetry, Respiratory Therapy Service, Rehabilitation, Unskilled Home Care)

North America (U.S., Canada)
Europe (Germany, UK, France, Italy, Spain, Belgium, Netherlands, Rest of Europe)
Asia Pacific (China, India, Japan, South Korea, Australia, Rest of APAC)
Latin America (Brazil, Mexico, Argentina, Rest of LATAM)
Middle East & Africa (South Africa, UAE, Saudi Arabia, Rest of MEA)
Know more about this report: request for sample pages
Regional Analysis
Geographically, the market research report covers global home healthcare market outlook for North America, Europe, Asia Pacific, Latin America, and Middle East & Africa regions. North America, is observed to be the dominating region in terms of market share owing to sophisticated healthcare infrastructure available in this region, increasing number of patient awareness for the use of these devices, and higher health expenditure level in this region.
Furthermore, rise in adoption of long terms services offered in the home care segment and higher healthcare awareness level among the population in this region are factors due to which this market is expected to witness growth. Also, as the developed countries in North America including U.S. and Canada are further enhancing its healthcare infrastructure along with favorable health insurance and reimbursement policies, patients are expected to increasingly rely on home healthcare offerings.
Asia Pacific is anticipated to witness lucrative growth over the forecast period. Reforms for developing healthcare infrastructure coupled with growing economies in this region, needs of high population base, and availability of skilled labor are factors expected to govern the market growth in Asia Pacific. For instance, in India factors such as high hospitalization costs, growth in elderly population base, and demand for personalized medical care have rapidly encouraged growth in home healthcare services segment across India and is set for further growth during upcoming years.
Competitive Analysis
Competition in the home healthcare industry is very high and disintegrated due to existence of multiple vendors at the global and regional level. Regional vendors have an emphasis on having home healthcare marketing strategies aimed at specific region and offerings are limited to few products and services as opposed to global vendors having complete portfolio of offerings home healthcare space. As the global vendors are increasingly focusing to gain more share of this market by increasing their presence across emerging regions, vendors operating at the regional level are expected to face challenges competing with large vendors in terms of quality of offerings, financial capability, pricing, and brand reach.
The major companies operating in the home healthcare sector include GE Healthcare, Bayer AG, McKesson Corporation, Roche Holding AG, Linde Corporation, Almost Family, Amedisys, Abbott Laboratories, BAYADA Home Health Care, Omron Healthcare, Philips Healthcare, Portea Medical, A&D Company, Kindred Healthcare, LHC Group, Fresenius, and Kinnser Software.