The global activated carbon market is estimated to grow at a CAGR of 9.2% between 2018 to 2026.
The global demand for activated carbon market has been growing significantly with future prospects for further rapid growth. Outstanding capabilities of the product to absorb numerous impurities from gases and liquids make it a suitable component for its use in various applications of water and air pollution. Moreover other potential areas of product application include food and beverage, automotive, pharmaceutical, medical, etc. In the next few years the industry is expected to experience demand from several stream of end-use segments from various industrial processes employing technologies of adsorption. Regulatory framework in concerns to air and water pollution globally has played a significant role in driving the growth for activated carbon market. Many nations globally that have been facing the challenge of depleting resources for clean water owing to increasing population has been taking the advantages of use of the product. Increasing levels of contaminated groundwater has increased the need for purification for which activated carbon provides the optimum solution.
Regulations such as Disinfectants and Disinfection Byproducts Rule in the U.S. which puts a cap on the permissible concentration of chemicals in water used for human consumption are projected to positively influence product demand. Raw materials supply for the product has been tight. This has forced the manufacturers to increase the prices of virgin activated carbon. This situation has led the increased need for reactivated carbon in end-use segments such as remediation of ground water, for reduction of VOCs in gas phase application and waste water treatment operations.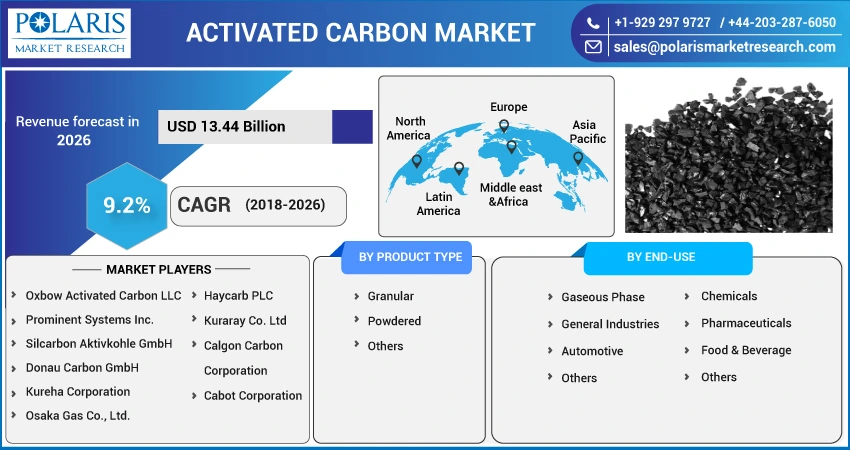 Segment Analysis:
The global activated carbon market is segment based on product type, end-use and region. Based on the types of product, the activated carbon market is further segmented into granular, powdered and others. End-use segment is further bifurcated into gaseous phase (general industries, automotive and others) and liquid phase (chemicals, pharmaceuticals, food & beverage and others). Powdered form is expected to be the largest product segment by the end of the forecast period owing to its significant use in water purifications.
Air treatment applications in industrial processes are one of the potential end-use segments owing to its rising importance in the urban areas as the industrializing nations struggling with significant issues of air pollution. Activated carbon, a potentially active component for removal of heavily regulated pollutants such as NOx and SO2 has been gaining importance in chemical and pharmaceutical industry as well.
Regional Analysis:
Asia Pacific activated carbon market is expected to be the largest regional market in terms of consumption. China was the largest industry in 2017. Product demand in the country and other emerging nations in the region such as India, Malaysia, Indonesia and even Japan, South Korea, is expected to increase owing to a combination of regulatory changes and increase in output from primary manufacturing industries.
North America activated carbon market is yet another potential industry in terms of production and even consumption. Product demand for mercury removal applications in the U.S. is projected to be more than double by the first quarter of 2021 compared to that in 2018. The implementation of the US Environmental Protection Agency's Mercury and Air Toxics Standards has played a significant role in product demand in the country. Product application for removal of mercury from industrial process is expected to be low compared to its use in the developing nation worldwide as these countries newly opt for mercury removal from these processes.
Competitive Analysis:
Some of the leading industry participants in the activated carbon market include Oxbow Activated Carbon LLC, Prominent Systems Inc., Silcarbon Aktivkohle GmbH , Donau Carbon GmbH , Kureha Corporation , Haycarb PLC , Kuraray Co. Ltd , Calgon Carbon Corporation , Cabot Corporation and Osaka Gas Co., Ltd.