The U.S. Telemedicine Market size was valued at USD 6.61 billion in 2019 and is anticipated to grow at a CAGR of 15.8%. Telemedicine can be defined as branch and application of clinical medicine that is witnessing rapid development all across the globe, including in the U.S. In telemedicine information is transferred by using either phone or internet or in some cases some other network, for achieving the purpose of consultation, medical examinations or medical procedures.
The overall simplicity of the process is contributing to a rise in penetration especially in the U.S. The scope of telemedicine and its complexity differs case to case. It may be as simple as a doctor and his patient discussing the health status of the patient over the phone or as complex as two or more health professionals communicating via satellite communication and using advanced technologies to conduct a real-time consultation in two different countries.
The growth of the telemedicine in the U.S. and its rising penetration has resulted in a greater access to quality healthcare. Especially in the rural areas as well as remote locations, where limited resources are available, telemedicine has guaranteed the reach of quality healthcare. Furthermore, affordability, ability to offset unnecessary treatment delay, easy to use and operate systems, swift diagnosis is some of the other factors benefitting the market growth in the country.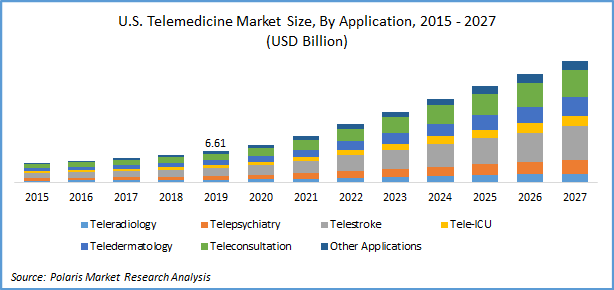 Know more about this report: request for sample pages
Telemedicine enjoys significant advantages over traditional medicine and this factor has propelled the market growth of the former in the U.S. Aspects of telemedicine such as online communication & consultation, software consultation, e-visits, etc. result in considerable cost savings over that of traditional medicine practices. This has resulted in telemedicine to be referred to as low cost medication. The average time of visits is also considerably reduced by the technology.
Companies are focusing on presenting the comparisons of costs, time and other advantages between traditional & telemedicine practices to increase the penetration of the technology in the U.S. In recent pandemic times, hospitals in the U.S., are using telemedicine for improving the access as well as to fill gaps in the overall care administration and to provide services round the clock. Hospitals in the country are using telemedicine solutions for leveraging finite sources of healthcare as the demand for it is increasing due to rising daily new cases in the country.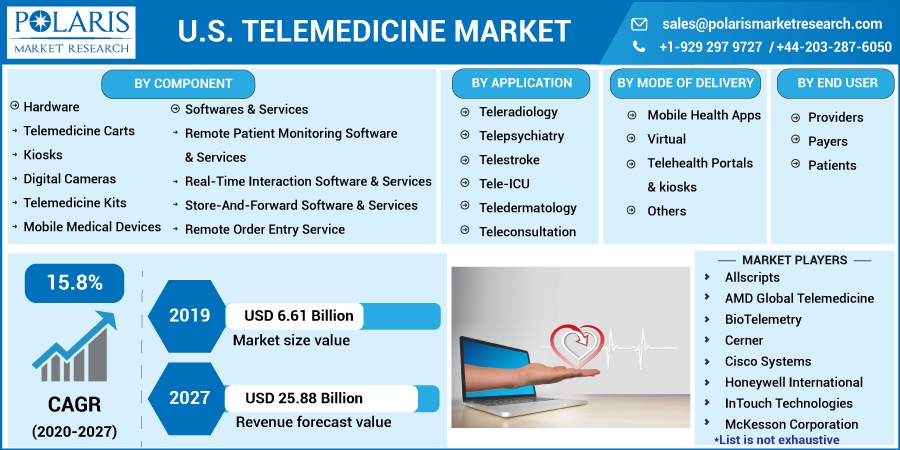 Know more about this report: request for sample pages
U.S. Telemedicine Market Report Scope
The market is primarily segmented on the basis of Component, Application, by Mode of Delivery, and by End-User.
By Component

By Application

By Mode of Delivery

By End User

Hardware

Telemedicine Carts
Kiosks
Digital Cameras
Telemedicine Kits
Mobile Medical Devices
Other Devices

Softwares & Services

Remote Patient Monitoring Software & Services
Real-Time Interaction Software & Services
Store-And-Forward Software & Services
Remote Order Entry Service
Others

Teleradiology
Telepsychiatry
Telestroke
Tele-ICU
Teledermatology
Teleconsultation
Other Applications

Mobile Health Apps
Virtual
Telehealth Portals & kiosks
Others

Providers
Payers
Patients
Know more about this report: request for sample pages
Component Outlook
Based on component the market has been segmented into hardware and software & services. Software & services segment is expected to witness the highest growth in the segment as well as enjoy the highest penetration. The market for the same was valued at USD 4.12 billion in 2019 and is anticipated to grow at a forecasted CAGR of 16.0% from 2020 to 2027. The market for hardware components in telemedicine is expected to grow at an anticipated CAGR of 16.0% over the forecast period.
Development of novel software aimed at offsetting the current disadvantages in the market have contributed to the software segment growth. The market is characterized by continuous research and development process and the introduction of updated software on a timely basis. development of user friendly, completely integrated, robust, and low-cost software has greatly benefitted the segment growth. The inherent advantages provide by software such as reduced operations cost, reduced paperwork, higher efficiency as well as in-built tools to analyze the same has also favored the market growth.
Telemedicine medicines essentially combine usage of telecommunication techniques to deliver health education and support to concerned patients. It is essentially a collection of methods and comprises of various ways of delivery. In the remote patient monitoring method, electronic devices are used to transmit health information of patients to the concerned healthcare professionals.
Application Outlook
In terms of application, Telestroke is expected to witness the highest growth rate over the forecast period. Stroke is one of the major ailments responsible for a majority of deaths in the country as well as the reason for long term disability. Low awareness regarding stroke symptoms, lack of on-site stroke treatment capabilities, lack of treatment facilities especially in rural areas, are some of the factors for this scenario. However, telemedicine can be successfully used to offset these challenges. Telemedicine has showed great efficacy in treating stroke patients, both by improving the overall patient access, and for patient monitoring. Such trends have greatly benefited the Telestroke segment growth.
Teleradiology is a promising Telemedicine market segment that is bound to witness promising growth over the forecast period. The impact of AI is particularly visible in this segment and its effective implementation particularly in the U.S. is a huge market driver for the segment. Advantages such as the need to be at a particular location for imaging purposes is particularly driving the demand in these times of corona virus crisis. In addition, clients can pay per test basis rather than per day basis which enables significant cost savings.
Mode of Delivery Outlook
Among the mode of delivery segments, Cloud-based mode of delivery segment is expected to witness the highest growth rate over the next seven. The segment also witnessed highest penetration in 2019. Some of the advantages associated with cloud-based systems which are driving the segment growth are bandwidth, accessibility, disaster recovery, cost savings among others. All these advantages offer cumulative operational, economic advantages thus leading to cost savings.
Scalability and flexibility are other important factors that are benefitting the clouds segment. Fine grain control of access as well as logging, better data encryption, has resulted in the widespread adaption particularly in the U.S. telemedicine industry. Cloud providers are partnering with healthcare providers and are designing customized solutions by carefully analyzing factors such as consumer behavior, new technologies, etc.
The combination of Telemedicine and cloud mode of delivery offers healthcare service providers to offer their services in a more sustainable and effective manner, particularly in these times of corona pandemic. Some of the restraints faced by the segment include crisis of assurance, security, privacy, adaptability, storage issues, and interoperability issues among others. However, collaboration between various elements across the value chains have resulted in the offsetting of these challenges up to a certain degree. Ongoing R&D activities are also helping in reducing the effects of these restraints.
Competitive Landscape
The U.S. telemedicine industry. is bound to benefit from various strategic partnerships between some of the major U.S telemedicine market players. In January 2018, American Well and Royal Philips, announced that they will collaborate their resources and entered into a strategic partnership for jointly delivering virtual care solutions in the U.S. and across the globe.
The leading players in the U.S. telemedicine market include Allscripts, AMD Global Telemedicine, BioTelemetry, Cerner, Cisco Systems, Honeywell International, InTouch Technologies, McKesson Corporation, OBS Medical, GE Healthcare, Iron Bow Technologies, American Well Corporation, Teladoc Health, Medvivo Group, AMC Health, Medtronic, Siemens Healthcare, Asahi Kasei, Koninklijke DSM. These players are expanding their presence across various geographies and entering new markets in developing regions to expand their customer base and strengthen presence in the market. The companies are also introducing new innovative products in the U.S. telemedicine market to cater to the growing consumer demands.