The global used cooking oil market size was valued at USD 6.49 billion in 2020 and is expected to grow at a CAGR of 5.1% during the forecast period. Used cooking oils are fats used for cooking or frying in restaurants and households. This oil is then collected, cleaned, and transformed into renewable and eco-friendly fuel.
Used cooking oil is converted into biodiesel and utilized in diesel engines to power machines and vehicles while minimizing pollution. It is also being increasingly used as a high-energy feed additive in various livestock feeding products.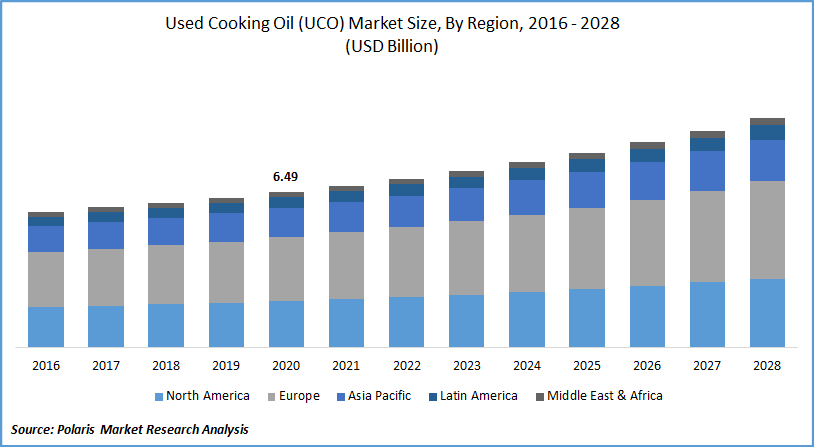 Know more about this report: request for sample pages
The rising use of UCO as a feedstock for the manufacturing of biodiesel boosts the demand of the used cooking oil market. Furthermore, extensive application of UCO in the creation of bio-lubricants, hydrogen gas, grease, animal feed, oleochemicals, has also increased the demand for UCO in numerous industries which in turn is expected to propel the industry growth.
The rising number of restaurants and growth in the food processing industry accelerates the use of used cooking oil. The health benefits associated with the consumption of utilized cooking oils and use as an additive in animal feed have improved the industry's growth.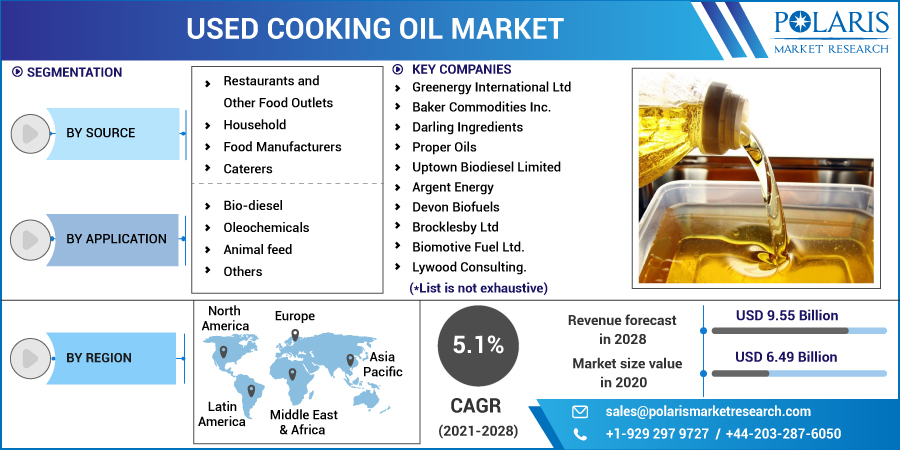 Know more about this report: request for sample pages
Industry Dynamics
Growth Drivers
Rising focus on improving animal health, increasing awareness regarding clean energy applications, and growing demand from emerging economies are expected to provide growth opportunities in this market during the forecast period.
However, collecting used cooking oil and refining it is an expensive procedure for firms, which might impact UCO production which is expected to hamper the market growth. Furthermore, excessive intake of used cooking oil might result in serious health concerns, which could hinder the market's expansion throughout the projected period.
Segment Analysis
The source segment is bifurcated into restaurants and other food outlets, households, food manufacturers, caterers, and others. The food manufacturers accounted for the highest market share in 2020.
Due to the rising trends of trying bizarre cuisines which have boosted the usage of UCO whereas the restaurant and other food outlets are expected to grow at the highest rate during the forecast period owing to the extension of restaurants and cafes around the globe.
The application segment is categorized into biodiesel, oleochemicals, animal feed, and others. The biodiesel segment accounted for the major share in the global used cooking oil industry in 2020 owing to increasing energy demands and rising environmental concerns.
Used Cooking Oil Market Report Scope
By Source

By Application

By Region

Restaurants and Other Food Outlets
Household
Food Manufacturers
Caterers
Others

Bio-diesel
Oleochemicals
Animal feed
Others

North America (U.S., Canada)
Europe (Germany, UK, France, Italy)
Asia Pacific (China, India, Japan)
Latin America (Mexico, Brazil)
Middle East & Africa
Know more about this report: request for sample pages
Regional Analysis
This report comprises a detailed geographic analysis of the market across North America, Europe, Asia Pacific, Latin America, and Middle East & Africa. North America is further segmented into U.S., Canada, and Mexico. Europe is divided into Germany, the UK, Italy, France, and the Rest of Europe. Asia Pacific is bifurcated into China, India, Japan, and the Rest of Asia-Pacific.
Europe is the major region contributing to the UCO market growth due to increasing environmental concerns, and supportive regulations. Moreover, increasing demand for biodiesel and growing awareness regarding animal health have accelerated the growth of the market in this region.
Governments of the numerous countries of this region are introducing policies that encourage the collection and processing of used cooking fats from restaurants, cafes, catering businesses, and hotels which are expected to create a positive impact on the market growth.
Asia Pacific is anticipated to grow at a considerable pace over the forecast period due to the rising number of companies entering into the processing of UCO along with growing awareness among people regarding sustainable energy resources and environmental wellbeing.
Competitive Landscape
The leading players in this industry include Greenergy International Ltd, Baker Commodities Inc., Darling Ingredients, Proper Oils, Uptown Biodiesel Limited, Argent Energy, Devon Biofuels, Brocklesby Ltd, Biomotive Fuel Ltd., and Lywood Consulting.
These leading players are introducing innovative products in the used cooking oil market to cater to the growing demand for consumers. Global players are entering new markets in developing regions to expand their customer base, strengthen industry presence, and increase their industry share in the used cooking oil industry.