The global vacuum shrink bags market was valued at USD 1,321.57 million in 2022 and is expected to grow at a CAGR of 5.2% during the forecast period.
Vacuum shrink bags have emerged as a pivotal packaging solution, experiencing remarkable growth in recent years. In contrast to alternative packaging methods, these bags stand out due to their robustness, high tensile strength, and resistance. As a result of these attributes, vacuum shrink bags find extensive application in packaging various food items, encompassing meat, seafood, poultry, fresh fruits, and vegetables. Notably, their utilization prolongs the shelf life of packaged food products.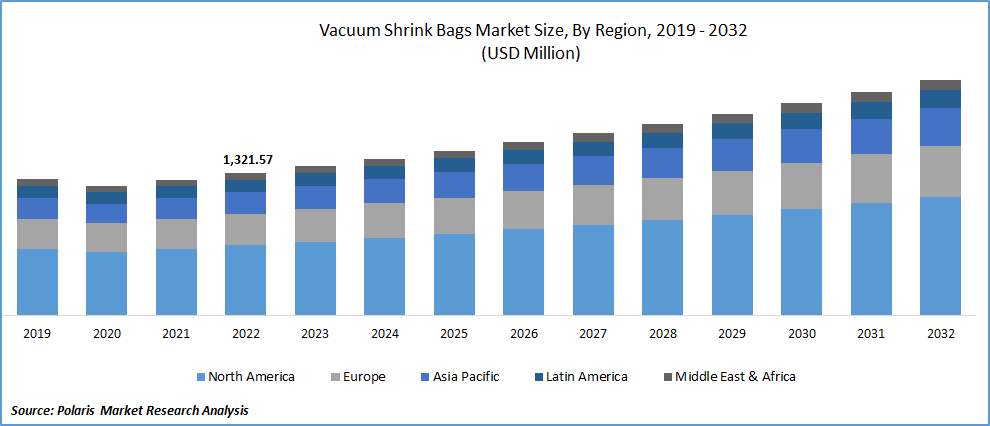 To Understand More About this Research: Request a Free Sample Report
One of the key advantages of vacuum shrink bags lies in their exceptional ability to offer a formidable barrier against oxygen and moisture, thereby enhancing the preservation of food items. These bags are engineered with multiple layers that collectively provide a shield of protection for the contents, bestowing them with a competitive edge over other forms of flexible packaging.
Traditionally, shrink bags used for food packaging posed challenges regarding their environmental impact, particularly their contribution to plastic waste. However, Amcor addresses such concerns by prioritizing recyclability. Unlike conventional shrink bags, this innovative solution has been meticulously engineered to be recycled after its intended use.
For instance, in 2021, Amcor, launched a groundbreaking product named "eco tite R." This product marks a significant advancement as it represents the first-ever shrink bag designed specifically for packaging fresh and processed meat, poultry, and certain types of cheeses with a focus on recyclability.
Vacuum shrink bags keep the food fresh and protect it from contamination. Most food manufacturers use this package because it protects food naturally without using chemicals. According to Superb Packaging Ink, these bags can save food from spoiling by 3 to 5 times more than traditional plastic packaging.
Product packaging with these bags prevents the damage of products during shipping. Freezing food in vacuum shrink bags helps preserve food for longer periods. The process of packaging food with this packaging helps to avoid loss of nutrition and quality. Manufacturers produce and process food in the best way to increase customer satisfaction. Packaging is crucial for the company, as delivering quality food to customers depends on efficient packaging bags like vacuum shrink bags.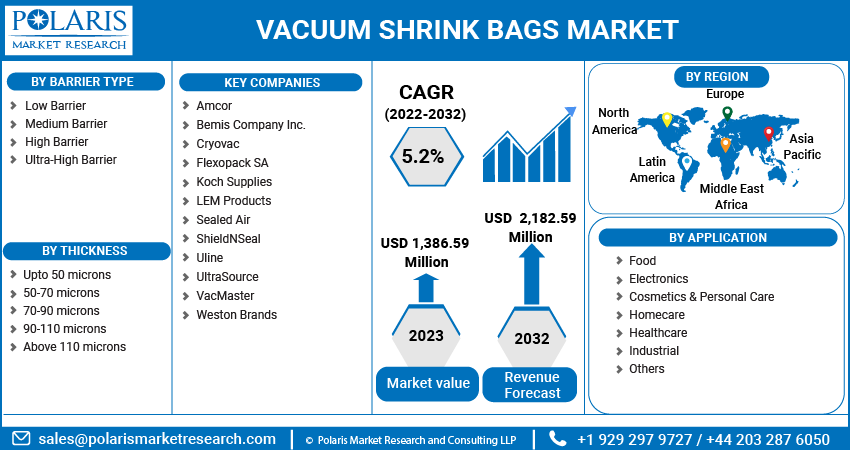 For Specific Research Requirements, Request for a Customized Report
Industry Dynamics
Growth Drivers
Product Preservation and Extended Shelf Life
Vacuum shrink bags play a vital role in the packaging of food products by significantly enhancing product shelf life. This application is particularly relevant for both raw and processed food items. In the case of raw food, these bags prevent moisture loss and the occurrence of freezer burn, maintaining the product's quality. For processed foods, vacuum shrink bags offer protection against physical damage and spoilage during transportation and handling.
According to the Centre for Market Research and Social Development, 35.9% of small and medium-sized manufacturers are interested in upgrading packaging technology. This drive stems from the aim of meeting evolving customer expectations and increasing production capacity. This evolving perspective presents a broad spectrum of opportunities for the vacuum shrink bags market in the foreseeable future, considering their integral role in preserving food items.
A hallmark feature of vacuum shrink bags is their ability to create an airtight seal, effectively removing excess air and minimizing oxygen exposure. This preservation method significantly prolongs the shelf life of diverse perishable products, particularly meat, poultry, seafood, and fresh produce. With consumers increasingly prioritizing fresher and longer-lasting products, the demand for vacuum shrink bags has experienced remarkable growth.
Report Segmentation
The market is primarily segmented based on barrier type, thickness, application and region.
By Barrier Type

By Thickness

By Application

By Region

Low Barrier

Medium Barrier

High Barrier

Ultra-High Barrier

Upto 50 microns

50-70 microns

70-90 microns

90-110 microns

Above 110 microns

Food

Electronics

Cosmetics & Personal Care

Homecare

Healthcare

Industrial

Others

North America (U.S., Canada)

Europe (France, Germany, UK, Italy, Netherlands, Spain, Russia)

Asia Pacific (Japan, China, India, Malaysia, Indonesia. South Korea)

Latin America (Brazil, Mexico, Argentina)

Middle East & Africa (Saudi Arabia, UAE, Israel, South Africa)
To Understand the Scope of this Report: Speak to Analyst
By Barrier Type Analysis
Ultra-High barrier segment held the fastest market share in 2022
In 2022, Ultra-High Barrier segment held the fastest market share, effectively by restricting moisture, air, ultraviolet light, and other contaminants. As it acts as an extreme barrier to the contaminants, it has a higher ability to protect the food from spoiling. Consumers became more conscious of eating habits, food safety, and food intake. This is driving food manufacturers to adopt ultra-high barrier features in their packaging processes. Its ability to integrate food is driving the demand for these packaging bags.
In the pharmaceutical industry, packaging with ultra-high barriers ensures the safety of drugs, medicines, and medical equipment. Medicinal drugs are required to be handled with the utmost care until they reach end customers. If any leakage happens in the packaging, patients are prone to health issues. Medicinal packages within the ultra-high barrier type are fueling the demand for vacuum shrink bags.
By Thickness Analysis
The 90-110 microns segment accounted for the largest market share in 2022
In 2022, the 90-110 segment accounted for the largest market share. This range offers greater protection and durability for the packaged products. Bags with this thickness are used in the packaging of industrial components, machine parts, and equipment due to their ability to protect from humidity. It is used by industrialists to add an additional layer for the storage and shipping of equipment. Artists are using this type of vacuum shrink bag for their artwork to protect it from the risk of damage. The agricultural industry also uses these bags for the supply of quality seeds to farmers. For a better yield from farming, efficient seeds are required. Protection from the damage and humidity can be done by vacuum shrink bags.
Regional Insights
Asia Pacific accounted for the fastest growth rate in forecast period
Asia Pacific accounted for the fastest growth rate in forecast period. This region is witnessing higher growth in the tourism industry due to the presence of developing countries like India. According to the Pacific Asia Travel Association, the estimated range of visitors in 2023 is 705 million under the mild level, 516 million in the medium level, and 390 million in the severe scenario. This rise in tourist visits is creating demand for efficient packaging of food items. Tourists prefer hygienic products in guest countries. These bags ensure the quality of food items by protecting them from air, dust, and spoilage. Manufacturers are using this packaging as it is visually appealing and acts as a signal to consumers' mindsets by seeing itself as safe. In this way, growing tourism is driving the demand for these bags in this region.
North America dominates the largest revenue share of the market. Most poultry products are susceptible to spoilage due to the presence of higher moisture concentrations, such as turkey and chicken. The presence of the largest exporters of poultry products in this region is driving the demand for effective packaging. According to the Volza, the United States is the largest exporter of frozen chicken, with 3,55,859 shipments. Packaging is crucial for the manufacturers specialized in exporting poultry products like frozen chicken, as it has a low shelf life, there is a risk of spoilage, and there is a risk of loss to the manufacturers. This is driving the demand for vacuum shrink bags among producers in the region.
Competitive Insight
Innovation and strategic positioning are paramount in the fiercely competitive landscape of the Vacuum Shrink Bags market. Industry players are engaged in a dynamic race to deliver cutting-edge packaging solutions that address the evolving needs of diverse sectors. As demand for extended product shelf life, enhanced presentation, and eco-friendly packaging rises, companies are vying to differentiate themselves by offering superior materials, advanced manufacturing processes, and responsive customer experiences. This competitive insight sheds light on the strategies, strengths, and market dynamics that shape the endeavors of key contenders in the Vacuum Shrink Bags industry.
Some of the major players operating in the global market include;
Amcor

Bemis Company Inc.

Cryovac

Flexopack SA

Koch Supplies

LEM Products

Sealed Air

ShieldNSeal

Uline

UltraSource

VacMaster

Weston Brands
Recent Developments
In February 2023, Sealed Air, a Charlotte bubble wrap maker, completed the acquisition of Virginia-based Liquibox for USD 1.15 billion to stimulate the company's growth in pliant packaging.

In March 2022, Atlantic-pak Company introduced a new range of manufactured bags offering bigger, wider, and more effective AMIVAK MBP Bags. This enables the producers and distributors to run production with higher efficiency.
Vacuum Shrink Bags Market Report Scope
| | |
| --- | --- |
| Report Attributes | Details |
| Market size value in 2023 | USD 1,386.59 million |
| Revenue forecast in 2032 | USD 2,182.59 million |
| CAGR | 5.2% from 2023 - 2032 |
| Base year | 2022 |
| Historical data | 2019 - 2021 |
| Forecast period | 2023 - 2032 |
| Quantitative units | Revenue in USD million and CAGR from 2023 to 2032 |
| Segments covered | By Barrier Type, By Thickness, By Application, By Region |
| Regional scope | North America, Europe, Asia Pacific, Latin America, Middle East & Africa |
| Customization | Report customization as per your requirements with respect to countries, region and segmentation. |