The global vagus nerve stimulation market was valued at USD 8.59 billion in 2021 and is expected to grow at a CAGR of 10.6% during the forecast period. The goal of vagus nerve stimulation (VNS) therapy is to prevent seizures by delivering regular, gentle electrical pulses to the brain.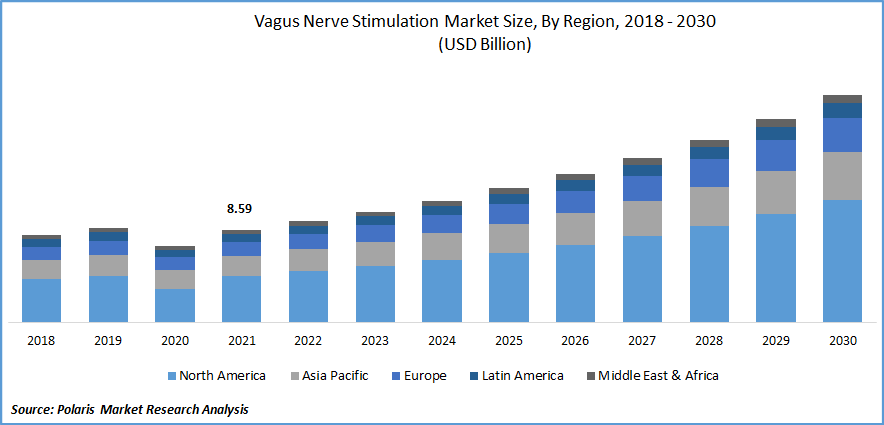 Know more about this report: Request for sample pages
The vagus nerve is a component of the autonomic nervous system, which regulates bodily processes including heart rate. The lower half of the brain is reached after passing through the neck, which is located between the chest and belly. The "pacemaker of the brain," or VNS device, is implanted beneath the skin on the chest wall. It has a cable that connects to the neck's vagus nerve. Vagus nerve stimulators are used to treat depression that has resisted therapy and uncontrollable epilepsy.
The development of novel treatment alternatives for many applications has been greatly aided by the switch from conventional medicine to electrical stimulation of neurons. The VNS approach has mostly been used to treat neurological illnesses, including epilepsy, treatment-resistant depression (TRD), and other neurological conditions. Patients who respond poorly to antidepressants or medicines for epilepsy are excellent candidates for VNS therapy.
The prevalence of depression that is resistant to therapy and the occurrence of neurological problems are driving healthcare practitioners to treat these illnesses using electrical stimulation devices.
Market growth is being fueled by the increased prevalence of neurological conditions including migraine and epilepsy, among individuals of all ages as a result of altering lifestyles as well as strong clinical results for these treatments. The usage of neurostimulators will have more applications due to increased government efforts to expand R&D initiatives and healthcare infrastructure.
Additionally, research into vagus nerve stimulation for treating ailments relating to the functioning of organs and muscles associated to the vagus nerve may have lucrative market potential.
The COVID-19 pandemic outbreak has brought about a number of unexpected changes in the world economy, and its repercussions have been felt across all industries. The new severe acute respiratory syndrome coronavirus 2 (SARS-CoV-2) produces coronavirus illness by excessive end organ inflammation in 2019. (COVID-19). Despite substantial worldwide efforts to discover effective drugs and breakthroughs in our understanding of the etiology and management of COVID-19, patient death rates nevertheless remain unacceptably high, and tragically, effective therapy is still absent.
All across the world, pharmacological strategies for controlling inflammation in COVID-19 are being investigated. Interleukin (IL)-6 inhibitor tocilizumab, corticosteroids, PD-1/PD-L1 checkpoint inhibition, cytokine-adsorption tools, and intravenous immunoglobulin have all been identified as potentially effective and trustworthy methods to control the cytokine storm.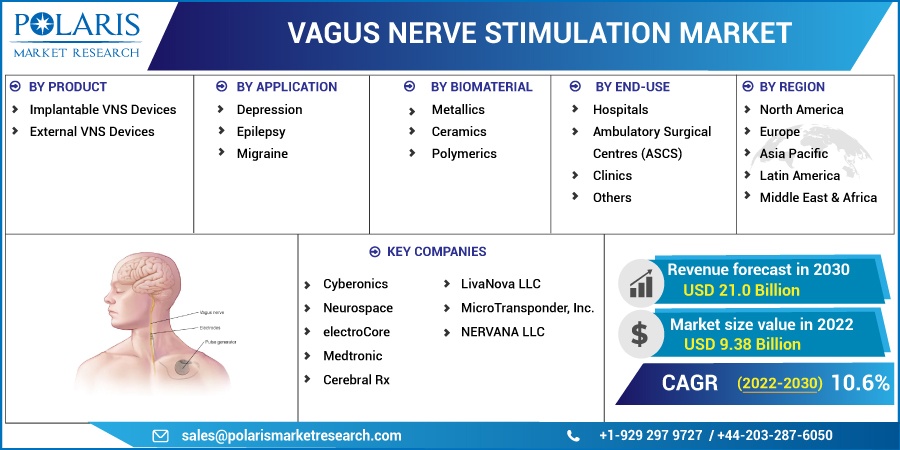 Know more about this report: Request for sample pages
Industry Dynamics
Growth Drivers
The demand for automated vagus nerve stimulation methods among healthcare and medical professionals is expected to expand, leading to growth in the overall VNS market. Government programs and measures to promote the advantages of vagus nerve stimulation in the upcoming years may assist in expanding market.
The primary driving factors for the worldwide vagus nerve stimulation market are the rising prevalence of neurological illnesses, including epilepsy, depression, and migraine as well as the expanding acceptance of minimally invasive neurosurgery treatments. In 2019, the WHO estimated more than 50 million epileptics worldwide.
VNS therapy can be utilized as an additional treatment to reduce seizures, even while epilepsy can be managed with medication. Similarly, according to the American Headache Society, migraine is the third most common condition in the world and one of the main causes of disability in the United States. According to the Migraine Research Foundation, around 39 million Americans and 1 billion individuals globally suffered from migraines in 2019.
Report Segmentation
The market is primarily segmented based on product, application, biomaterial, end-use, and region.
By Product

By Application

By Biomaterial

By End-Use

By Region

Implantable VNS Devices
External VNS Devices

Depression
Epilepsy
Migraine

Metallics
Ceramics
Polymerics

Hospitals
Ambulatory Surgical Centres (ASCS)
Clinics
Others

North America (U.S., Canada)
Europe (France, Germany, UK, Italy, Netherlands, Spain, Russia)
Asia Pacific (Japan, China, India, Malaysia, Indonesia. South Korea)
Latin America (Brazil, Mexico, Argentina)
Middle East & Africa (Saudi Arabia, UAE, Israel, South Africa)
Know more about this report: Request for sample pages
The implantable VNS devices segment dominated the market share in 2021
Implantable VNS devices segment dominated the vagus nerve simulation market in 2021. The growth in this segment can be attributed to technological improvements such as improved product design, robot assisted implantation, and size reduction of implantable VNS devices. On account of such improvements, higher efficacy of the product among patients suffering from depression & epilepsy has bolstered the segment growth.
External VNS devices segment is projected to grow at fastest rate over the forecast period. The growth in this segment can be attributed to high cost-effectiveness of devices, growing number of patients with chronic disorders and rising consumer inclination toward non-invasive therapy. As external VNS devices were introduced in the market to address shortcoming associated with their non-invasive counterparts, rising product demand is further projected to bolster segmental growth in the extended run.
The dominance of epilepsy application in the market share in 2021
The market is divided based on application into epilepsy, treatment-resistant depression, and other categories. Treatment for migraine, obstructive sleep apnea, headache, and sudden heart failure are further therapeutic uses for vagus nerve stimulation. To investigate and broaden the applications of VNS devices, market participants are conducting several clinical trials in collaboration with research institutions.
However, the main factor driving the dominance of epileptic applications in the worldwide vagus nerve stimulation market is the established efficacy of VNS in epilepsy and treatment-resistant depression (TRD), together with the increasing penetration of these devices for treating epilepsy in developed nations.
One of the other important areas for VNS therapy's use is treatment-resistant depression (TRD). During the projected period, the market development of non-invasive devices and rising prevalence of the ailment are likely to fuel segment expansion.
Clinics dominated the market share in 2021
In developing nations, specialized clinics for neurology, cardiology, and other ailments are opening up, drawing in a sizable patient base with acute and chronic illnesses. Patients with diseases that may be treated in outpatient settings do not require inpatient admission and hospital stays make up most of the pool. A rising percentage of epilepsy and TRD patients are treated in these facilities due to a growing number of specialty clinics, as well as the sufficient reimbursement policies offered by these settings.
The demand for vagus nerve stimulation devices on the global market is being further fueled by these reasons as well as the focus of regional and national government agencies on the treatment of patients in outpatient settings. During the anticipated period, the hospital sector is expected to lose market share in the VNS market.
North America is anticipated to dominate the market share in the forecast period
The market in the area is distinguished by greater rates of neurological disease diagnosis and treatment, as well as acceptable reimbursement regulations for VNS devices. These elements, together with a greater patient population's awareness of novel treatment alternatives and the accessibility of cutting-edge VNS devices in the region, account for the region's leading market share worldwide.
The market for VNS devices in Europe is expected to increase between 2019 and 2026 due to an increasing number of non-invasive VNS devices gaining CE mark certifications in 2018 and 2019.
The region's huge and underserved market, along with anticipated regulatory approvals for these non-invasive devices, are anticipated to fuel market expansion in the Asia Pacific over the projection period. The markets in Latin America, the Middle East, and Africa are still in their infancy. However, it is anticipated that the increased frequency of neurological problems in these areas and the improved healthcare infrastructure will drive demand for VNS during the anticipated time frame.
Competitive Insight
Some of the major players operating in the global market include Cyberonics, Neurospace, electroCore, Medtronic, Cerebral Rx, LivaNova LLC,MicroTransponder, Inc., and NERVANA LLC.
Recent Developments
In August 2021, The MicroTransponder Vivistim Paired VNS System, a medication rehabilitation system intended to treat moderate to severe upper extremity motor impairments related to chronic ischemic stroke, received FDA approval.
In March 2020, LivaNova gained CE Mark clearance for their Symmetry VNS Therapy System, which treats difficult-to-treat depression.
Vagus Nerve Stimulation Market Report Scope
| | |
| --- | --- |
| Report Attributes | Details |
| Market size value in 2022 | USD 9.38 billion |
| Revenue forecast in 2030 | USD 21.0 billion |
| CAGR | 10.6% from 2022 - 2030 |
| Base year | 2021 |
| Historical data | 2019 - 2021 |
| Forecast period | 2022 - 2030 |
| Quantitative units | Revenue in USD billion and CAGR from 2022 to 2030 |
| Segments Covered | By Product, By Application, By End Use, By Region |
| Regional scope | North America, Europe, Asia Pacific, Latin America; Middle East & Africa |
| Key Companies | Cyberonics, Neurospace, electroCore, Medtronic, Cerebral Rx, LivaNova LLC,MicroTransponder, Inc., and NERVANA LLC |