The global veterinary artificial insemination market was valued at USD 6.88 billion in 2022 and is expected to grow at a CAGR of 5.97% during the forecast period.
Increasing need to enhance animal efficiency & productivity, along with the rising consumption of meat, & dairy products, has resulted in a growing demand for improved agricultural practices. There is a pressing requirement for the sustainable efficient food production, and industry stakeholders have taken supportive initiatives to address this concern.

To Understand More About this Research: Request a Free Sample Report
Additionally, the adoption of sexed semen technology has further contributed to the veterinary artificial insemination market growth.
For instance, in October 2022, Genus, expanded its partnership with the Tropic to utilize Tropic's Gene Editing induced Gene Silencing (GEiGS) technology in the genetic improvement of bovine & swine, providing innovative solutions to enhance genetic traits in livestock.
The market is being driven by the increasing number of participants entering the industry. This trend is evident through collaborations and partnerships formed between public sector organizations, private companies, academic institutions, and international organizations.
For instance, in August 2020, Cogent & AB Europe joined forces to introduce sexed semen services specifically tailored for ovine farmers in the U.K. These collaborations aim to leverage advanced AI technologies, genetic resources, and technical expertise to enhance the effectiveness and reach of public sector AI initiatives.
The market faced numerous challenges during the COVID-19 pandemic, including limitations in performing on-site AI procedures, reduced demand for AI products and services, and uncertainties stemming from fluctuating consumption patterns in key markets. However, the pandemic, along with the emergence of diseases like African Swine Fever (ASF), emphasized the importance of ensuring high-quality livestock to secure the food supply. To protect employees and farmers from COVID-19, the Animal Husbandry Department of India introduced a program in June 2020. This initiative involved providing telephonic assistance to animal farm owners and offering artificial insemination services directly to the farmers. These supportive measures aimed to mitigate the impact of the pandemic on the market and contribute to its growth.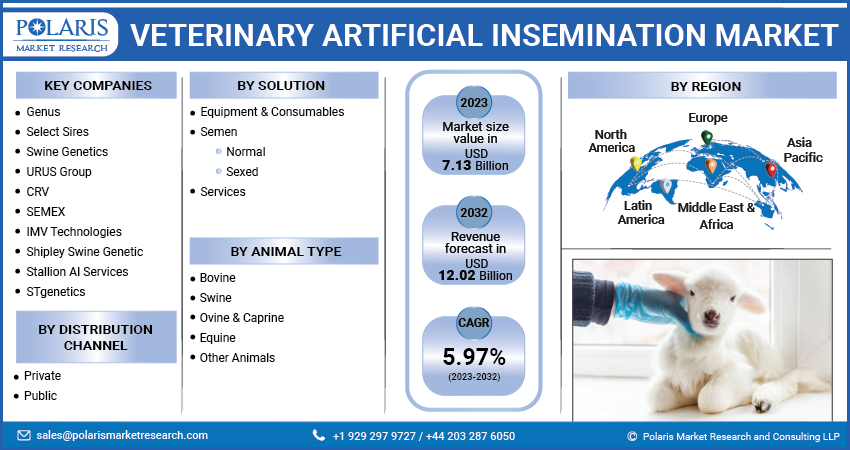 For Specific Research Requirements, Request for a Customized Report
Industry Dynamics
Growth Drivers
Rising adoption of the artificial insemination (AI) services
The market is being driven by the growing adoption of the artificial insemination (AI) services. Service providers play a crucial role by offering their expertise in doing such AI procedures for a wide range of animal species, including cattle, horses, pigs, dogs, & more. These professionals possess the necessary skills and knowledge in semen collection, processing, & insemination techniques. Their aim is to optimize conception rates by ensuring precise timing and accurate placement of semen. Through their services, they contribute to the reproductive success and genetic improvement of animals.
These service providers often provide reproductive programs that consists of the whole breeding process. This includes activities such as estrus synchronization, health assessment, fertility testing, & ultrasound. By offering these services, they assist animal owners and breeders in optimizing reproductive performance, maximizing conception rates, and minimizing the risk of reproductive disorders. Their aim is to enhance breeding outcomes and improve overall reproductive efficiency in animals.
Report Segmentation
The market is primarily segmented based on solution, animal type, distribution channel, and region.
By Solution

By Animal Type

By Distribution Channel

By Region

Equipment & Consumables

Semen

Services

Bovine

Swine

Ovine & Caprine

Equine

Other Animals

North America (U.S., Canada)

Europe (France, Germany, UK, Italy, Netherlands, Spain, Russia)

Asia Pacific (Japan, China, India, Malaysia, Indonesia. South Korea)

Latin America (Brazil, Mexico, Argentina)

Middle East & Africa (Saudi Arabia, UAE, Israel, South Africa)
To Understand the Scope of this Report: Speak to Analyst
By Solution Analysis
Services segment accounted for the largest market share in 2022
Services held the largest share. This can be attributed to the increasing adoption of a wide range of services offered by industry players. These services encompass various aspects such as the execution of AI procedures, comprehensive reproductive management, semen evaluation and analysis, genetic consultations, as well as training and education. The growing uptake of these services highlights their importance in supporting efficient and effective breeding practices, genetic improvement, and overall reproductive success in the animal industry.
Semen segment is likely to grow at fastest growth rate. This growth can be attributed to the rise in adoption of the sexed semen technology and the supportive policies implemented by governments. For instance, in June 2021, the government of India collaborated with the Genus ABS to subsidize the cost of the sexed semen. This initiative significantly reduced the cost of semen from USD 18 to 31, thereby providing valuable support to the dairy farmers in the country. Such efforts aimed at promoting the usage of sexed semen are expected to fuel its market growth in the coming years.
By Animal Type Analysis
Bovine segment held the significant market revenue share in 2022
Bovine segment held the majority market share in terms of revenue. Segment's growth is primarily due to advancements in bovine & swine genetics, advancements in the AI techniques in cattle & pig breeding, and the growing emphasis on sustainable animal production. For instance, DanBred, offers better bovine genetics through their DanBred AI services. Additionally, their GenePro system enables the tracking of semen and genetic progress in the herd, providing better accountability and return on investment (ROI) for farmers and breeders.
The progress achieved in bovine genetics can be measured by evaluating the genetic base change numbers, which provide a quantifiable assessment of the advancements made in each trait within a particular breed. These numbers represent the "Predicted Transmitting Abilities (PTAs)" for trait and for every individual animal in the breed. It is important to note that the base change numbers are reset to 0 to 5 years. This systematic method of quantifying change has played a crucial role in driving significant advancements in bovine genetics.
By Distribution Channel Analysis
Private segment held the significant market revenue share in 2022
Private segment held the majority market share in terms of revenue. Segment's expanding network of private companies and organizations engaged in the distribution and provision of artificial insemination products and services to veterinary clinics, breeders, & livestock owners. These stakeholders play a pivotal role in facilitating the accessibility of AI technology & genetic materials to the end-users, thereby driving the growth of the market.
The segment share is bolstered by the initiatives undertaken by the distribution centers & veterinary facilities. These establishments actively contribute to the segment's growth by providing AI services to the farmers, livestock & pet owners through subsidy or as part of government sponsored health programs. An example of such an initiative is the National Dairy Development Board in India, which operates as a statutory body under the Indian government and offers AI solutions to farmers across the country.
Regional Insights
North America region dominated the global market in 2022
The North America region dominated the global market. With its well-developed animal husbandry industry, increased awareness, and adoption of AI for livestock breeding, and the presence of major players like STgenetics. It is a leading player in the sexed semen market. Their semen provides an impressive average female purity of 93% across multiple cattle & buffalo breeds.
Latin America witnessed the robust growth rate over the study period. Region's growth is due to substantial cattle inventory, favorable government initiatives, & increasing awareness regarding the advantages of using artificial insemination in livestock breeding. Governments of several Latin American nations have implemented programs and initiatives to support animal breeding, genetic improvement, and disease prevention, fostering a conducive environment for the expansion of the market.
Similarly, the Asia Pacific region is expected to witness significant growth. In 2020, the Indian government permitted Milk Producer Companies to deploy multipurpose AI technicians in rural areas after obtaining the necessary approvals, with the aim of enhancing AI coverage across the country. Many milk-producing companies in India have also introduced doorstep AI delivery services to facilitate market growth.
Key Market Players & Competitive Insights
The artificial insemination market is fragmented and is anticipated to witness competition due to several players' presence. Major players in the market are constantly upgrading their technologies to stay ahead of the competition and to ensure efficiency, integrity, and safety. These players focus on partnership, product upgrades, and collaboration to gain a competitive edge over their peers and capture a significant market share.
Key players in the market include:
CRV

Genus

Select Sires

SEMEX, IMV Technologies

Shipley Swine Genetic,

Stallion AI Services

STgenetics

Swine Genetics

URUS Group
Recent Developments
In April 2022, the central government has sanctioned the deployment of more than 400 mobile veterinary units in Madhya Pradesh, India, to cater to the healthcare needs of the region's livestock population, which amounts to over 4.6 crore. Each mobile unit will be staffed with a veterinarian, a paravet, and a vehicle driver-cum-assistant. These units will be equipped with veterinary equipment, facilities for minor surgeries, artificial insemination, and other necessary amenities.

In January 2022, Semex & Nedap have recently enhanced and extended their successful collaboration. The ai24 program by the Semex, incorporating "Nedap technology", is now accessible in additional countries. This expansion provides dairy farmers with the opportunity to enhance their herd's performance and profitability to a significant extent.
Veterinary Artificial Insemination Market Report Scope
| | |
| --- | --- |
| Report Attributes | Details |
| Market size value in 2023 | USD 7.13 billion |
| Revenue forecast in 2032 | USD 12.02 billion |
| CAGR | 5.97% from 2023 – 2032 |
| Base year | 2022 |
| Historical data | 2021 – 2022 |
| Forecast period | 2023 – 2032 |
| Quantitative units | Revenue in USD billion and CAGR from 2023 to 2032 |
| Segments covered | By Solution, By Animal Type, By Distributing Channel, By Region |
| Regional scope | North America, Europe, Asia Pacific, Latin America; Middle East & Africa |
| Key companies | Genus, Select Sires, Swine Genetics, URUS Group, CRV, SEMEX, IMV Technologies, Shipley Swine Genetic, Stallion AI Services, and STgenetics. |