The global virtual clinical trials market was valued at USD 5,374.76 million in 2019 and is expected to grow at a CAGR of 12.6% during the forecast period. The growth of the global market is attributed by the increasing investments by the government and the pharmaceutical companies in the R&D for development of new vaccines and drugs. In regard to this, sudden outbreak of corona virus has led to augmenting demand for drugs and virtual or digital clinical trials as these are needed to be carried out in a digital platform. Thereby, virtual clinical trials limit the risk of transmission of the disease and reduces the overall cost of the entire trial phase, thus fueling the growth for the global market.
Industry Dynamics
Growth Drivers
However, greater amount of collection data, prove and manage reliability to the regulators, technology failure, data accuracy, are some of the challenges that are anticipate to hamper the growth of global virtual clinical trials market. The growth of the global market is substantially driven recently owing to the Covid-19 outbreak across the globe. Biopharma companies and regulatory agencies are aiming for creating digital technologies, virtual trials and telemedicine as they are the potential solutions for limiting trial disruptions. The Food and drug Administration has suggested virtual visits and remote monitoring via telemedicine as an alternative to in-person visits. Therefore, companies on the other hand have aimed on bringing out a change in via technological development to meet rapidly augmenting healthcare digitalization. For instance, in February 2020, Johnson and Johnson initiated a virtual trial design Heartline study to examining whether the Apple Watch and new iPhone app could decrease the possibility of stroke discovering atrial fibrillation.

Know more about this report: request for sample pages
Additionally, advancement in technology in the healthcare industry are further anticipate to fuel the overall growth of the market. Direct shipping of IMPs (Investigational medicinal products) to patients is the aspect of the decentralized (virtual) trials which has gained traction over the past few years, and is expected to enhance the overall market growth across the globe.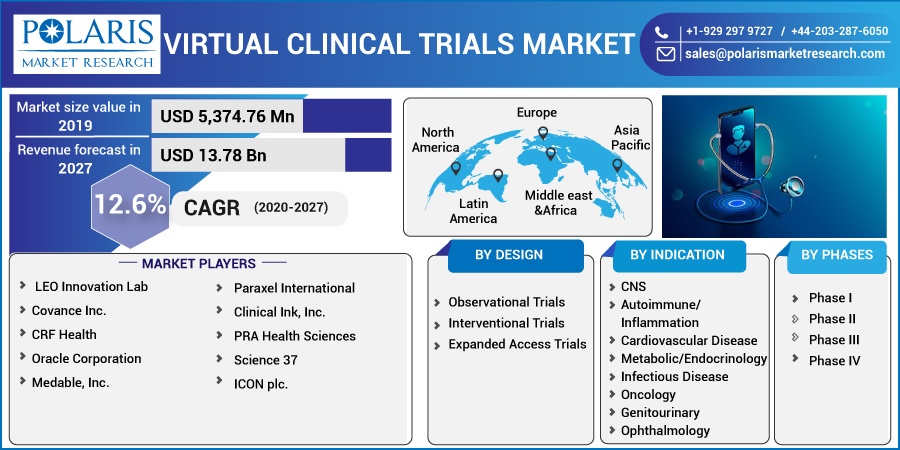 Know more about this report: request for sample pages
Moreover, increasing occurrences of people suffering from chronic diseases, infectious diseases and neurological diseases coupled with rising geriatric population are some of the factors propelling the growth of global market, globally. For instance, according to Center for Disease Control and Prevention, in the United States, on an average 6 out of 10 people are suffering from a chronic disease and 4 out of 10 people are suffering from two or more, resulting in the leading cause of death in the country. This is further anticipated for fuel the technological development in the healthcare industry and thereby, augment the market growth.
Virtual Clinical Trials Market Report Scope
By Design

By Indication

By Phases

By Region

Observational Trials
Interventional Trials
Expanded Access Trials

CNS
Autoimmune/Inflammation
Cardiovascular Disease
Metabolic/Endocrinology
Infectious Disease
Oncology
Genitourinary
Ophthalmology

Phase I
Phase II
Phase III
Phase IV

North America (U.S., Canada)
Europe (France, Germany, UK, Italy, Spain, Netherlands, Austria)
Asia Pacific (Japan, China, India, Malaysia, Indonesia. South Korea)
Latin America (Brazil, Mexico, Argentina)
MEA (Saudi Arabia, UAE, Israel, South Africa)
Know more about this report: request for sample pages
Insight by Design
Based upon design, the global market is categorized into Observational Trials, Interventional Trials, Expanded Access Trials. The intervention segment is projected to hold the highest market share owing to the development of new vaccines and medicines for numerous diseases. The outbreak of corona virus has augmented the demand for testing and trials of new vaccines and drugs to help combat the situation caused by the virus all across the globe, as face-to-face clinical trials comes with huge risk for infection to people, further propelling the growth of intervention design for virtual clinical trials and thereby, the market.
Insight by Implication
On the basis of implication, oncology segment held a prominent market share in the global market in 2019 and is projected to have a remarkable growth rate in terms of CAGR in the forecast period. Virtual clinical trials minimize the cancer patient's risk of exposure to COVID-19 by decreasing time spent on face-to-face trial visits. In this regard, healthcare organizations have witnessed to shift their focus on VCT for high at risk populace.
In October 2019, Georgetown University Medical Center used cloud-based virtual interconnected computing techniques for deducting the time in accessing cancer patients profile. Results showed that from 2014 to 2017, the amount of cases virtually assessed augmented from 46 to 622 as compared to the conventional assessments from 3 to 14 cases.
Geographic Overview
Geographically, North America accounts for one of the largest revenue holders in global virtual clinical trials market due to presence of major companies that manufacture pharmaceuticals coupled with rising government and companies focus on investment in development of new medicines. On November 2019, Janssen pharmaceutical subsidiary of Johnson & Johnson in collaboration with the PRA Health Sciences, launched digital clinical trial set-up CHIEF-HF (Canagliflozin: Impact on Health Status, Quality of Life and Functional Status in Heart Failure), a completely decentralize, indication-seeking, mobile clinical study. The company aims to utilize wearable devices and smart technology to efficiently gather and analyze evidence for assessing effectiveness of Canagliflozin in the populace with heart failure with presence of absence of type 2 diabetes.
Europe witnessed a significant growth in terms of CAGR in the global virtual trials market over the past few years owing to rising R&D in the healthcare sector and for being one of the most adversely affected regions by Covid-19. In July 2020, Synairgen, a pharma company, launched 2 trials of their IFN-beta drug for the patients that are at risk for Covid-19, one at-home and the other severe patients in hospital. The company realized its interferon beta drug, SNG001, which was developed for chronic obstructive pulmonary disease (COPD) and asthma could help against Covid-19. Moreover, in 2018, Novartis's NerveLive, announced that it was utilizing data analytics for blending virtual and traditional trial models and interpret data accurately and more precisely which can lead to scientific and medical breakthroughs.
Competitive Insight
The players operating in the market are operating on different competitive factors such as experience in the pharmaceutical space, experience in clinical trials, drugs in pipeline, investment in technology, particularly in the field of digitizing clinical trials, and decreasing trial timeline to minimize turnaround time to have competitive edge over others.
Some of the major players operating the virtual clinical trials market include LEO Innovation Lab, Covance Inc., CRF Health, Oracle Corporation, Medable, Inc., Paraxel International, Clinical Ink, Inc., PRA Health Sciences, Science 37 and ICON plc.