The global virtual clinical trials market was valued at USD 7,025.02 million in 2022 and is expected to grow at a CAGR of 15.5% during the forecast period.
Several factors primarily drive the market. Firstly, there is a rise in research and development activities, leading to an increased focus on conducting clinical trials using virtual methods. Secondly, healthcare digitization is on the rise, with advancements in technology allowing for the seamless integration of virtual trials into the healthcare system. Additionally, the adoption of telehealth has paved the way for remote participation and monitoring in clinical studies, further fueling the growth of virtual trials. Moreover, collaborations between clinical research organizations, pharmaceutical and biotechnology companies, and supportive government initiatives drive the market forward.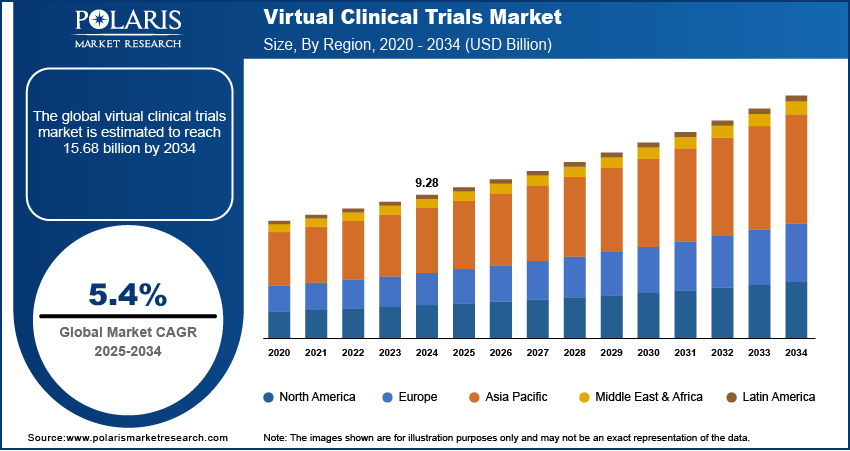 To Understand More About this Research: Request a Free Sample Report
The COVID-19 pandemic has profoundly impacted how clinical trials are conducted, positively affecting the virtual clinical trials industry. According to a report by Continuum Clinical published in April 2020, around 30% of surveyed clinical trial sites are projected to face significant challenges in recruiting and retaining patients for new trial studies. Furthermore, many European and U.S. clinical trial sites reported decreased patient participation. The pandemic has also caused disruptions to ongoing trials, as reported by approximately 30 pharma or biotech companies.
Virtual trials, also known as decentralized trials, emerged as a crucial solution during the COVID-19 crisis and are expected to become the norm in the future of trial and real-world study conduct. The virtual approach allows participants to participate in trials from the comfort of their homes, ensuring that research can continue even when site visits are not feasible.
This innovative approach enables the collecting safety and efficacy data from clinical study participants in a remote setting. Virtual visits and remote patient monitoring provide participants with a choice and peace of mind by minimizing unnecessary risks associated with in-person visits. Additionally, virtual studies enable sponsors to include a larger population in their trials, improving recruitment, engagement, and retention rates. The utilization of digital health technologies allows for continuous real-time data collection.
Furthermore, virtual connectivity, monitoring, and management significantly reduce the burden on participants, clinical research coordinators (CRCs), and investigators, leading to decreased effort and time commitment. This approach benefits the participants and enhances the overall efficiency of trials. By leveraging virtual methods, the clinical trials industry can overcome various challenges, improve patient engagement, and facilitate data collection promptly and effectively.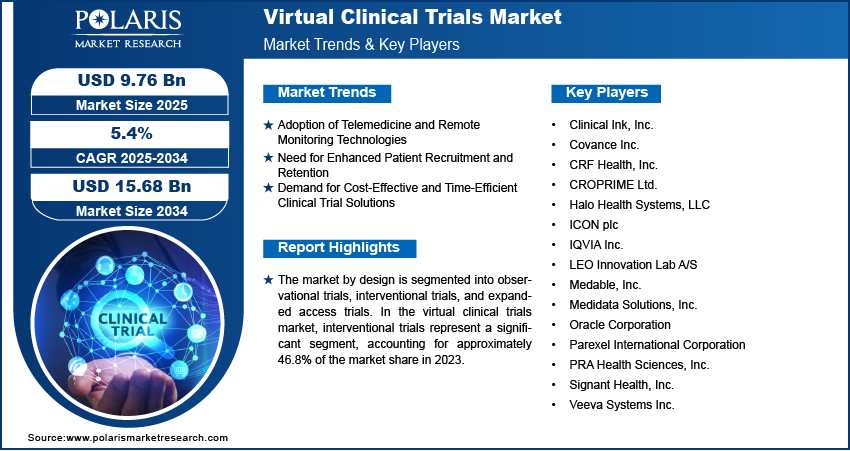 For Specific Research Requirements, Request for a Customized Report
Industry Dynamics
Growth Drivers
The need for digitization in clinical trials has become increasingly evident in recent years. Traditional clinical trials are often time-consuming, resource-intensive, and can pose logistical challenges. Digitization offers significant advantages by streamlining and enhancing various aspects of the trial process.
Firstly, digitization allows for data collection, storage, and analysis more efficiently and securely. Electronic data capture (EDC) systems replace paper-based methods, enabling real-time data entry, reducing errors, and facilitating faster data analysis. This leads to quicker decision-making and enhances overall trial efficiency.
Secondly, digital platforms and tools enable remote monitoring, patient engagement, and data collection. Virtual visits, wearable devices, and mobile applications enable participants to contribute data from their own homes, eliminating the need for frequent site visits. This enhances patient convenience, reduces the burden of travel and site visits, and expands the reach of clinical trials by including participants who may have limited access to trial sites.
The market has emerged as a result of these digitization efforts. Virtual and decentralized trials leverage technology to conduct various trial activities remotely. This includes participant recruitment, informed consent, data collection, and monitoring. The market for virtual clinical trials is driven by the benefits they offer, such as improved patient convenience, increased recruitment rates, enhanced data quality, and cost savings.
The need for digitization in clinical trials arises from the desire to make the process more efficient, patient-centric, and cost-effective. The virtual clinical trials market directly responds to this need, offering innovative solutions leveraging technology to transform trials, benefiting participants and researchers.
Report Segmentation
The market is primarily segmented based on design, indication, phases, and region.
By Design

By Indication

By Phases

By Region

Observational Trials

Interventional Trials

Expanded Access Trials

CNS

Autoimmune/Inflammation

Cardiovascular Disease

Metabolic/Endocrinology

Infectious Disease

Oncology

Genitourinary

Ophthalmology

Phase I

Phase II

Phase III

Phase IV

North America (U.S., Canada)

Europe (France, Germany, UK, Italy, Netherlands, Spain, Russia)

Asia Pacific (Japan, China, India, Malaysia, Indonesia, South Korea)

Latin America (Brazil, Mexico, Argentina)

Middle East & Africa (Saudi Arabia, UAE, Israel, South Africa)
To Understand the Scope of this Report: Speak to Analyst
The interventional design segment accounted for the largest revenue share in 2022
The interventional design segment held the largest revenue share of the market in 2022. This growth can be attributed to the increasing number of experiments to develop innovative medications for various diseases and the digitalization of laboratories.
With the outbreak of the COVID-19 pandemic, there has been a surge in demand for testing and trials of new drugs and vaccines worldwide, as traditional clinical trial methods pose significant infection risks. Consequently, there has been a rising demand for interventional designs to address these challenges.
Virtual trials are particularly well-suited for chronic diseases and less invasive observational studies across various fields such as cardiovascular diseases, immunology, gastrointestinal disorders, dermatology, respiratory conditions, and endocrinology. Companies are pioneering the concept of virtual trials, conducting entire interventional Phase 2b "site-less" clinical trials using proprietary mobile telemedicine-based platforms like "NORA."
Furthermore, the expanded access segment is expected to exhibit the highest compound annual growth rate in the forecast period. Expanded access serves as a potential pathway that allows patients access to new drugs when the potential benefits outweigh the potential risks. As new variants of COVID-19 continue to emerge, the demand for expanded access to new drugs is expected to rise in the short term, further driving its growth in the market.
The oncology segment dominated the market in 2022
In 2022, the oncology segment emerged as the dominant force in the market, capturing the largest revenue share. This trend is expected to continue during the forecast period. The dominance of oncology can be attributed to the increasing global incidence of cancer and the growing number of oncology clinical trials. Since cancer patients are particularly vulnerable during the COVID-19 pandemic, investigators and sponsors have rapidly embraced virtual and remote trials to ensure patient safety and the progression of trials in this critical field.
Additionally, cancer researchers face significant challenges in recruiting patients for clinical trials. As of March 2023, there were approximately 18,428 actively recruiting oncology trials, with low participation rates ranging from 2% to 8% of potential candidates. This challenge is even more pronounced in minority and geriatric populations, limiting the pool of eligible participants. The low recruitment rates pose risks to the success of specific clinical studies and hinder the advancement of treatments and their corresponding benefits to patient outcomes. Consequently, the need for a diverse population in oncology clinical studies and the persistently low recruitment rates are expected to drive the adoption of virtual clinical trials in oncology.
North America dominated the global market in 2022
North America accounts for one of the largest revenue holders in the global virtual clinical trials market due to the presence of major companies that manufacture pharmaceuticals coupled with rising government and companies focusing on investment in developing new medicines. On November 2019, the Janssen pharmaceutical subsidiary of Johnson & Johnson in collaboration with PRA Health Sciences, launched a digital clinical trial set up CHIEF-HF (Canagliflozin: Impact on Health Status, Quality of Life and Functional Status in Heart Failure), a completely decentralized, indication-seeking, mobile clinical study. The company's objective is to leverage wearable devices and smart technology to effectively collect and analyze data to evaluate the effectiveness of Canagliflozin in individuals with heart failure who do not have type 2 diabetes.
Europe witnessed significant growth in terms of CAGR in the global virtual trials market over the past few years owing to rising R&D in the healthcare sector and being one of the most adversely affected regions by Covid-19. In July 2020, Synairgen, a pharma company, launched two trials of their IFN-beta drug for patients at risk for Covid-19, one at home and the other for severe patients in the hospital. The company realized its interferon beta drug, SNG001, developed for chronic obstructive pulmonary disease (COPD) and asthma, could help against Covid-19. Moreover, in 2018, Novartis's NerveLive, announced that it was utilizing data analytics for blending virtual and traditional trial models and interpreting data accurately and more precisely, which can lead to scientific and medical breakthroughs.
Competitive Insight
Major players operating in the global market include LEO Innovation Lab, Covance Inc., CRF Health, Oracle Corporation, Medable, Inc., Paraxel International, Clinical Ink, Inc., PRA Health Sciences, Science 37, and ICON plc.
Recent Developments
In October 2022, Oracle and ObvioHealth formed a strategic partnership to incorporate a variety of data sets into virtual and decentralized clinical trials in the Asia Pacific area. This collaboration aimed to enable the rapid gathering, integration, and analysis of data from various sources, including laboratories, medical devices, patients, and trial sites.

In August 2022, Medable Inc. introduced an innovative software solution to streamline virtual and decentralized clinical vaccine trials. This development was expected to enhance global access to clinical trials while reducing the time required for implementation by 50%.
Virtual Clinical Trials Market Report Scope
| | |
| --- | --- |
| Report Attributes | Details |
| Market size value in 2023 | USD 7,799.18 million |
| Revenue forecast in 2032 | USD 28,544.08 million |
| CAGR | 15.5% from 2023 – 2032 |
| Base year | 2022 |
| Historical data | 2019 – 2021 |
| Forecast period | 2023 – 2032 |
| Quantitative units | Revenue in USD million and CAGR from 2023 to 2032 |
| Segments Covered | By Design, By Indication, By Phases, By Region |
| Regional scope | North America, Europe, Asia Pacific, Latin America; Middle East & Africa |
| Key Companies | LEO Innovation Lab, Covance Inc., CRF Health, Oracle Corporation, Medable, Inc., Paraxel International, Clinical Ink, Inc., PRA Health Sciences, Science 37, and ICON plc. |