The global oncology clinical trials market was valued at USD 11.02 billion in 2020 and is expected to grow at a CAGR of 5.6% during the forecast period. The market is primarily driven by the rising number of cancer cases, the need for customized medicines, and the increase in R&D activities for oncology. In addition, growing progress in the field of oncology and supporting government programs are also driving the demand for oncology clinical trials.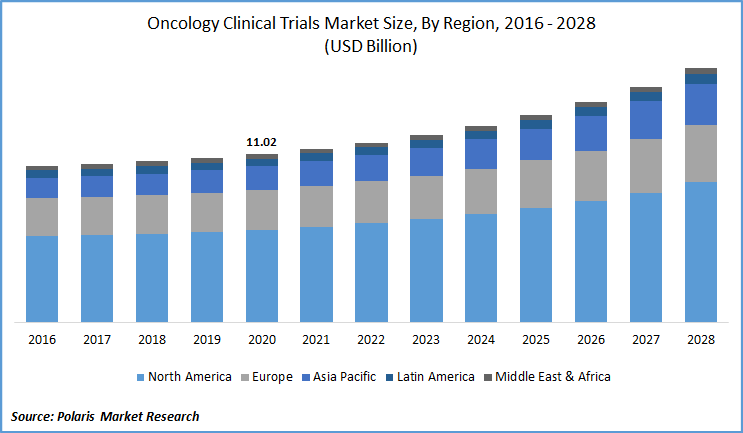 Know more about this report: request for sample pages
The number of people diagnosed with cancer is predicted to multiply in the coming years. While the number of survivors has risen considerably due to oncology studies, the number of cancer patients is projected to rise worldwide. Lung cancer is the leading cause of cancer death, with an estimated 1.8 million people diagnosed each year worldwide.
Industry Dynamics
Growth Drivers
A large number of unmet health needs have also been reported in developing countries due to the high prevalence of cancer in the region. For example, according to figures published by the World Health Organization, Cancer is the world's second leading cause of death in 2018 and is blamed for an estimated 9.6 million deaths in 2018.
The growth of the market for oncology clinical trials is due to favorable government and non-government initiatives that fund cancer research. For example, the National Cancer Institute is running a variety of clinical trials projects and initiatives to promote clinical research. Study on cancer care is now going ahead at a rapid rate.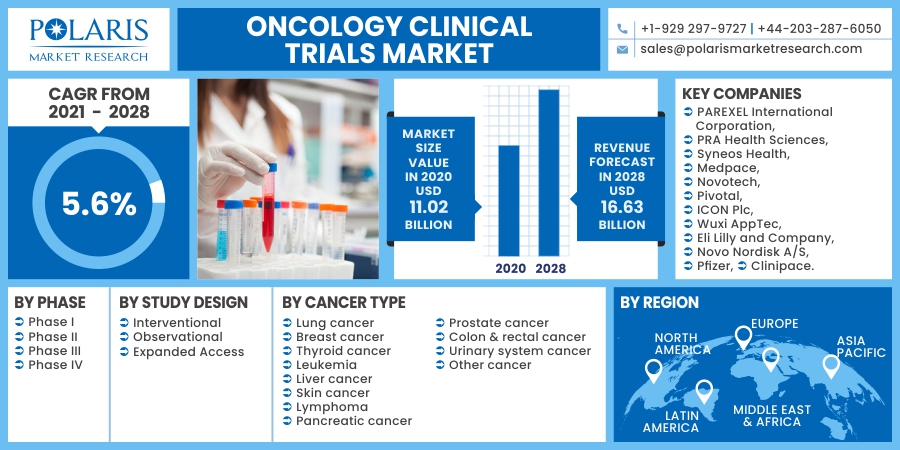 Know more about this report: request for sample pages
Oncology Clinical Trials Market Report Scope
The market is primarily segmented on the basis of phase, study design, cancer type, and region.
By Phase

By Study Design

By Cancer Type

By Region

Phase I
Phase II
Phase III
Phase IV

Interventional
Observational
Expanded Access

Lung cancer
Breast cancer
Thyroid cancer
Leukemia
Liver cancer
Skin cancer
Lymphoma
Pancreatic cancer
Prostate cancer
Colon & rectal cancer
Urinary system cancer
Other cancer

North America (U.S., Canada)
Europe (France, Germany, UK, Italy, Spain, Netherlands, Austria)
Asia Pacific (Japan, China, India, Malaysia, Indonesia, South Korea)
Latin America (Brazil, Mexico, Argentina)
Middle East & Africa (Saudi Arabia, UAE, Israel, South Africa)
Know more about this report: request for sample pages
Insight by Phase
Based upon phase, the global oncology clinical trials market is categorized into Phase I, Phase II, Phase III, and Phase IV. The phase II market segment held the largest share in the global market in 2020. The market segment is also expected to retain its role during the forecast period. This is due to a growing number of phase II studies.
In addition, the overall productivity of oncology clinical trials calculated as success rates compared to the trials effort has increased by 22% since 2010. The application for Phase II and Phase III trials of the Medicines Healthcare Products Regulatory Agency (MHRA) also increased by 5.5% between 2011 and 2016.
In addition, there was a late-stage expansion of the drug pipeline to oncology by 19.0% in 2018 alone. The number of targeted therapies in the pipeline rose to 849 in 2018 from 711 in 2019. In 2018, 91.0% of the late-stage oncology pipeline was biotherapy and targeted small molecules. Approximately 711 companies work on 849 drugs, most of them from emerging biopharmaceutical companies.
Insight by Cancer Type
The leukemia market segment had the largest revenue share of the global oncology clinical trials market in 2020. This is due to the growing number of cancers of the blood across the globe. New cases of blood cancer are estimated to account for 10.0% of the overall cancer cases diagnosed in the U.S. Market statistics show an increasing trend in blood cancer across the U.S., and the trend is similar across the globe.
In 2017, leukemia was prevalent cancer in infants and accounted for around 30 percent of all early-age cancers. According to the American Society of Clinical Oncology (ASCO), multiple myeloma was the common type of blood cancer form in the U.S., just behind non-lymphoma. Hodgkin's ASCO also estimates that about 32,270 people in the U.S. are expected to suffer from multiple myeloma by 2020, predicting the need for treatment.
Geographic Overview
North America dominated the global oncology clinical trials market, accounting for a revenue share of 55.0% in 2019. This can be attributed to an increase in R&D in the area, an increase in the implementation of emerging technologies in clinical science, and government funding.
For example, the FDA has responded to the call by adjusting to the way it reviews and approves new medicines for the unmet needs of severe diseases such as cancer. Various protocols, manuals, and programs have been established to accelerate the production and acceptance of safe and successful cancer drugs.
This covers clinical trials endpoints for the authorization of cancer medications and biologics; clinical trials endpoint imaging standards; FDA accelerated approval program; breakthrough therapy; accelerated approval; priority review; and swift follow-up.
Competitive Insight
Several pharmaceutical companies invest heavily in R&D, especially in developing countries, in order to gain opportunities for market growth of oncology clinical trials in major regions. Strategic collaborations between pharmaceutical companies and CROs are expected to have a major effect on the growth of the sector.
Few other players are expected to enter the market for oncology clinical trials over the coming years. For example, in September 2019, IQVIA announced its partnership with cancer researchers to advance the use of real-world evidence and extend oncology clinical research.
Some of the major players operating in the global market for oncology clinical trials include PAREXEL International Corporation, PRA Health Sciences, Syneos Health, Medpace, Novotech, Pivotal, ICON Plc, Wuxi AppTec, Eli Lilly and Company, Novo Nordisk A/S, Pfizer, and Clinipace.