The global virtual tour market was valued at USD 301.5 million in 2021 and is expected to grow at a CAGR of 14.4% during the forecast period.
The widespread use of virtual reality devices had a significant influence on Virtual Tour Platform, tripling its income. Furthermore, Blockchain technology is transforming the BFSI and logistics management industries, propelling market growth.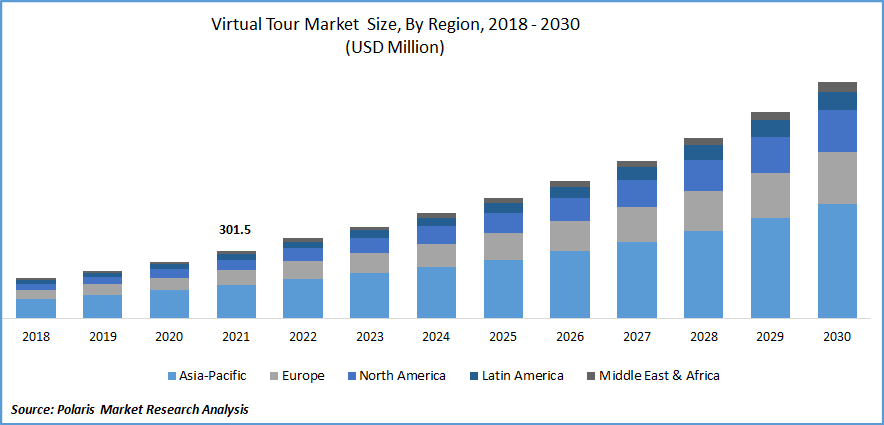 Know more about this report: Request for sample pages
Most crucially, the virtual tour has become a key market influencer by affecting psychological well-being. Furthermore, the escalating level of visual experience because of technological advancements, lower product costs, rising leisure and gaming solutions, potential benefits for virtual tours in health coverage, sophisticated microphones, and display screens, 5G, and other sophisticated networks is expected to favor market growth.
Advertisements and marketing continue to be important business strategies during COVID to raise knowledge about the various firms' products and services. Folks preferred to physically attend activities before the pandemic; but, during the epidemic, individuals are tightly limited to staying at home. As a result, virtual activities and excursions are increasing in popularity throughout the epidemic. As a result, sponsorship gives financial assistance to events or organizations. Furthermore, sponsorship allows them to virtually promote their goods and reach a huge client base, hence increasing demand for such tours.
Industry Dynamics
Growth Drivers
The real estate industry's increased use of virtual tours to exhibit and sell their properties, promote interaction, and enhance the experience, as well as increased use in ads and promotions, fuel the growth of the worldwide virtual tour market. However, the market's growth is hampered by a lack of meaningful design of user experiences and the delayed acceptance of virtual reality technologies. Conversely, increased internet connectivity and technological improvements will open new opportunities in the future years.
Since, the closure of tangible venues and galleries with severe limitations during the Covid-19 epidemic, the usage of virtual tours as a medium of marketing and promotion rose significantly. Furthermore, social distancing norms and the risk of cross-infection made individuals hesitant to go out. As a result, participants in the tourist, art gallery, and real estate industries began to offer virtual tours. Virtual services are becoming more popular as a key communication tool in a variety of industries.
Report Segmentation
The market is primarily segmented based on product type, device type, application and region.
By Product Type

By Device Type

By Application

By Region

Head Mounted
Gesture Tracking

Real Estate Professionals
Tourism Industries
Marketing Professionals

North America (U.S., Canada)
Europe (France, Germany, UK, Italy, Netherlands, Spain, Russia)
Asia Pacific (Japan, China, India, Malaysia, Indonesia. South Korea)
Latin America (Brazil, Mexico, Argentina)
Middle East & Africa (Saudi Arabia, UAE, Israel, South Africa)
Know more about this report: Request for sample pages
The cloud-based virtual tour to capture the largest share
The cloud sector is predicted to have the largest market share during the anticipated period. The increased usage of the sophisticated technology-enabled tour program in property investment, educational establishments, tourism, and hospitality is largely responsible for the expansion since cloud-based tour programs may be accessible from any location in the world. Several market leaders are working on a cloud-based infrastructure for virtual tours of ancient landmarks, hospitality assets, and real estate holdings. Furthermore, growing cloud expenditure among organizations has accelerated the use of virtualized tour applications by end-use sectors. According to the World Economic Forum, cloud services investment in the Asia Pacific would reach more than USD 40 billion in 2021.
Virtual tour powered by the cloud Work from anywhere at any time using only a browser, irrespective of infrastructure. Consumers do not need to work on an elevated Workspace since everything is done on the Cloud.
By avoiding repetitively executing simple procedures, the Cloud-based Virtual Tour application can save 50-60% of the work and time required to create a Virtual Tour. In contrast, one of the benefits of a Cloud-based system is that anything changed and altered is automatically sent up to the Cloud. Many photographers diligently back up their data, which may then be swiftly imported to a Cloud-based system without any work.
Real estate dominated the market by application in 2021
In 2021, the real estate sector is predicted to dominate the market share. Due to increased demand from home purchasers to market household assets on the web via guided reality, it is predicted to expand at a significant CAGR throughout the projection period. According to Matterport, 92% of homeowners conduct internet research before contacting a broker or viewing any residences.
New technology is constantly being launched, altering the face of the industry. Virtual tours and augmented reality represent the most current technology breakthroughs in real estate (or VR). At the present, virtual reality is constructed utilizing 3D designs and a helmet and remote to build this virtual environment. Customers nowadays cannot afford to operate your construction business without guided reality on your website since they allow consumers to see precisely what they want, allowing them to be more determined when purchasing. Furthermore, virtual reality allows purchasers to examine a home without having to relocate.
The demand in North America is expected to witness significant growth
North America is expected to account for the largest share of the worldwide Virtual Tour market, due to the region's significant presence of major participants and their new breakthroughs. The rising demand for Virtual Tours is another element driving the expansion of the Virtual Tour business in North America.
The United States is a developed country that is widely recognized as being at the cutting edge of technology and development developments. Another key factor driving growth in the United States is the entry of new businesses into the virtual world technology industry.
Virtual tours have garnered more than 87% higher hits compared to homes without 360 virtual tours, according to the National Association of Realtors in the United States.
Rising digitalization fueled the development of the virtual tour program market across Europe, and the increasing usage of AI technology in the real estate business plays an important part in boosting the region's software market. Virtual tours play an important part in converting shopper enthusiasm in Europe. Virtual tours are used in 20% of all properties in Liverpool and are widely used in Manchester.
Asia Pacific has the greatest CAGR, owing to the increasing usage of advanced analytics tools in China and India. The widespread use of this software by real estate brokers to connect with consumers via a 360-degree virtual tour of the property supports market growth. For example, an Indian business has created a technological interface that allows purchasers to take a virtual tour of the home and area.
Competitive Insight
Some of the major players operating in the global market include Kuula LLC, Matterport, RTV, Inc., Concept3D, Inc., Klapty, 3DVista Stitcher, Roundme Limited, CloudPano, My360, and Eyespy360.
Recent Developments
In 2022, Concept3D, Inc. has announced a collaboration with Pathify, a higher education engagement center, to provide virtual campus tours.
In 2022, Mass Interact, located in Washington, has partnered with Full Measure Education to provide a virtual tour solution to enhance campus visits. The collaboration intends to promote student enrolment and retention by boosting searchability, providing a more personalized virtual experience, and other initiatives.
In 2022, PlatformQ Education, a software development business, and Concept3D, Inc. have established a strategic agreement to merge Concept3D and PlatformQ solution capabilities. The collaboration is anticipated to boost virtual tourism while also improving virtual experience.
In 2021, Kuula LLC has announced a collaboration with Angola-based real estate company AngoCasa to integrate virtual tours into its properties.
In 2021, EyeSpy360 has announced a partnership with Chime, a real estate sales and marketing firm, to supply virtual tour material. The business linked its software with the Chime website management platform, which provides live tours and virtual walk-ins.
Virtual Tour Market Report Scope
| | |
| --- | --- |
| Report Attributes | Details |
| Market size value in 2022 | USD 358.72 million |
| Revenue forecast in 2030 | USD 1,052 million |
| CAGR | 14.4% from 2022 - 2030 |
| Base year | 2021 |
| Historical data | 2018 - 2020 |
| Forecast period | 2022 - 2030 |
| Quantitative units | Revenue in USD million and CAGR from 2022 to 2030 |
| Segments covered | By Product Type, Device Type, Application, By Region |
| Regional scope | North America, Europe, Asia Pacific, Latin America; Middle East & Africa |
| Key companies | Matterport, Inc. (U.S.), RTV, Inc. (U.S.), Concept3D, Inc. (U.S.), Klapty (Switzerland), 3DVista Stitcher (Spain), Roundme Limited (U.S.), CloudPano (U.S.) |