The global waste to energy market was valued at USD 24.84 billion in 2022 and is expected to grow at a CAGR of 6.9% during the forecast period. Waste to energy processes is a method that turns municipal solid waste, which is produced by the commercial, industrial, & residential sectors, into energy. Energy-from-waste (EfW), sometimes known as waste-to-energy (WtE), is the process of producing electricity and/or heat from the initial treatment of garbage. The majority of waste-to-energy processes either directly generate power and/or heat through combustion. The waste produced by many industries is processed using a variety of technologies to create fuel cells, steam, and power. Every technology has a relatively unique process, and the finished result is employed in businesses, residences, and other industrial settings.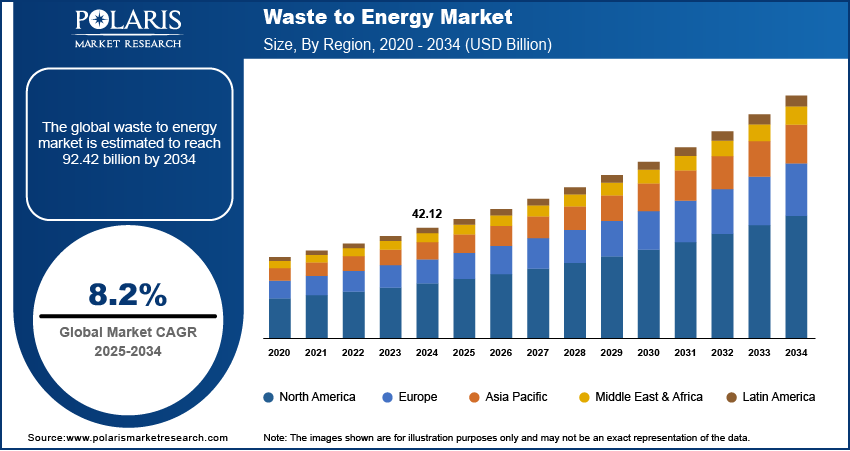 Know more about this report: Request for sample pages
Further, the majority of created waste ends up in land and water bodies without being properly treated, which severely pollutes the water. They contribute to air pollution and release greenhouse gases like methane and carbon dioxide. Any organic waste from cities, towns, and businesses can be used as a resource because it can decay and produce energy. The introduction of environmentally friendly waste-to-energy technologies that enable the treatment and processing of wastes before disposal will considerably reduce the issues brought on by solid and liquid wastes. These actions would drastically minimize environmental pollution, produce a significant amount of energy from waste, and reduce waste generation.
One of the key factors influencing the global market is also the consistently expanding demand for energy worldwide as a result of the growing population, rapid industrialization, and urbanization. For instance, the Asian Development Bank's WtE circular study report estimates that by 2050, urbanization, population expansion, and economic development will cause 3.4 billion tonnes of municipal garbage to be created. In July 2022, Hanoi, the capital of Vietnam, set a goal to turn at least 80% of household solid waste into electricity by 2025. Six project ideas totaling around 10,500 tonnes of waste-handling capacity have been submitted to the city.
Technologies for converting waste into energy are typically made to handle one or a small number of waste kinds, such as plastic and biomass. It can be difficult for businesses to distinguish between different waste categories or to ascertain the precise makeup of a waste source. The effective preparation of garbage before incineration is one of the current concerns. The majority of waste-to-energy devices either have low efficiency or require more time to sort the waste input. Collection and processing of the collected garbage is a time-consuming operation that will likely continue to hinder market expansion in the years to come.
The COVID-19 epidemic greatly complicated efforts to manage garbage in line with sustainable development aspirations. Recently, China introduced several new measures to support the waste-to-energy (WTE) and waste-to-materials (WTM) industries, both of which were negatively hit by the COVID-19 outbreak. Increased attention was paid to improving the sustainability of the waste management system in response to the mounting demand for resource consumption and environmental impact.
As a result, the Sustainable Development Goals (SDGs) have emphasized raising the proportion of renewable energy, paying close attention to the management of MSW, and lowering waste generation by recycling and reusing. A sustainably growing solid waste business, such as the Waste to Energy (WtE), Waste to Material (WTM), and other waste disposal industries, has been essential to achieving those worldwide targets.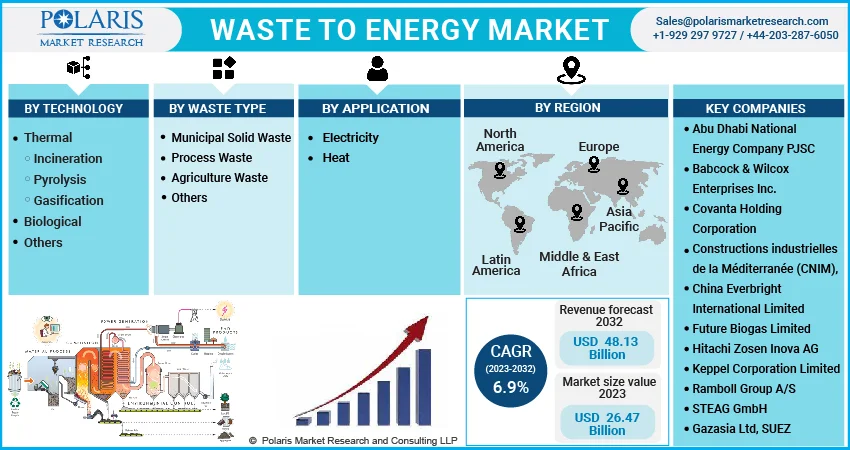 Know more about this report: Request for sample pages
Industry Dynamics
Growth Drivers
Waste-to-energy demand is increasing due to its benefits to the environment and business is the major factor that is driving the waste to energy market growth over the forecast period. The majority of created garbage enters land and water bodies without being appropriately treated, which results in water contamination. By emitting greenhouse gases like carbon dioxide and methane, this waste also contributes to air pollution. By 2025, the World Bank predicts that there will be 6 million tonnes of waste produced per day, nearly doubling its current level. Because of landfilling restrictions, escalating environmental concerns, and fluctuating fuel prices, several nations are turning to alternative energy sources. A method called "waste-to-energy" turns garbage into energy. By reducing the volume of waste, WTE not only addresses environmental problems associated with garbage but also lowers greenhouse gas emissions.
Moreover, both urban and rural organic waste deteriorates as a source of energy production. Through the use of environmentally friendly waste-to-energy technologies that allow for the processing and treatment of waste before disposal, problems brought on by solid and liquid wastes can be significantly avoided. These actions lessen environmental pollution, produce a significant amount of energy, and produce less waste. Waste-to-energy reduces reliance on fossil fuels, which raise GHG emissions by producing clean, dependable electricity from a sustainable fuel source. The market is therefore expected to be driven by a variety of societal and economic benefits of waste-to-energy during the forecast period.
Report Segmentation
The market is primarily segmented based on technology, waste type, application, and region.
By Technology

By Waste Type

By Application

By Region

Thermal

Incineration

Pyrolysis

Gasification

Biological

Others

Municipal Solid Waste

Process Waste

Agriculture Waste

Others

North America (U.S., Canada)

Europe (France, Germany, UK, Italy, Netherlands, Spain, Russia)

Asia Pacific (Japan, China, India, Malaysia, Indonesia, South Korea)

Latin America (Brazil, Mexico, Argentina)

Middle East & Africa (Saudi Arabia, UAE, Israel, South Africa)
Know more about this report: Request for sample pages
The thermal segment is expected to witness the fastest growth during projected period
The market is being driven by the growing development and acceptance of thermochemical waste-to-energy generation technologies like combustion or incineration, gasification, and pyrolysis. The market for waste-to-energy technology is rising as a result of actions being taken by various governmental entities to promote the use of thermochemical waste-to-energy technology. In addition, reusing bottom ash and metal increases the wealthiest advantages this method offers.
The Municipal Solid Waste segment industry accounted for the highest market share in 2022
During the anticipated period, the municipal solid waste segment is anticipated to rule the market. Due to increased industrialization, there is an increase in the production of municipal solid garbage. Globally, municipal solid waste may be extensively utilized for energy production. Due to increasing waste production from homes, workplaces, stores, schools, hospitals, hotels, and other organizations, municipal solid waste represents a disproportionately large percentage of this market. Additionally, process waste production is primarily a result of industrial activity and has increased through time as a result of the expansion of industrial activity.
Agricultural waste also contributes significantly to WtE conversion because it is widely used in the gasification and pyrolysis processes. The rise of waste to the energy industry from agricultural waste is projected to be fueled by an increase in residue waste & agricultural produce during the forecasted period.
The demand in Europe is expected to witness significant growth
Throughout the forecast period, favorable regulatory policies such as landfill levies, carbon taxes, and direct subsidies to waste-to-energy facilities are anticipated to further propel the European market. The market for waste is anticipated to drive the region's energy market forward because of the growing population and increased need for clean, energy-efficient energy. In February 2022, Veolia became the first business to open a synthetic e-fuel manufacturing facility in Europe. The LIPOR Energy Recovery Plant, which is close to Porto, put the manufacturing unit into operation. Its cutting-edge technology configuration and design are anticipated to change the waste-to-energy sector while also reducing carbon emissions in the aviation industry. One of the key elements influencing regional economic growth is the availability of funds in the European Union for energy efficiency and conservation initiatives.
The Asia-Pacific region's growth is anticipated to increase owing to rising government initiatives such as investment in wastewater treatment plants, major players assisting with the treatment of waste, and renewable energy programs. For instance, in April 2022, SUEZ was given a new contract for industrial wastewater treatment to improve the socioeconomic development and quality of the city of Changshu (China). It costs a total of 37 million euros to complete the project, which is situated in Changshu Economic and Technological Development Zone.
Further, India is rapidly urbanizing and developing, resulting in an increase in MSW and the need for better waste management strategies. In January 2022, Ram Charan is investing Rs 15,000 crore to establish two such production plants in Tamil Nadu and Gujarat. Ram Charan has already been developing methods and equipment to transform municipal and industrial garbage into electricity that leaves no waste. The regional market is expected to increase as a result of rising government financing for municipal solid waste management and rising public awareness of waste-to-energy facilities in several economies, including India, Singapore, Indonesia, and Thailand.
Competitive Insight
Some of the major players operating in the global market include Abu Dhabi National Energy, Babcock & Wilcox Enterprises., Covanta Holding Corporation, China Everbright International, Future Biogas, Hitachi Zosen Inova, Keppel Corporation, Ramboll Group, STEAG, Gazasia SUEZ, Veolia, Wheelabrator Technologies, & Xcel Energy.
Recent Developments
In June 2022, Veolia continues to establish itself as a world leader in ecological transformation through the sales of Suez's U.K. waste business unit. The project, which combines Veolia and the majority of Suez's global operations, focuses on ecological reform. Additionally, it will expand Veolia's global reach, expedite the strategic initiative Impact 2023, and boost invocation capacity.

In April 2022, Viridor disclosed that Frank Solutions would purchase its landfill & landfill gas operations. 44 sites around the United Kingdom will be operated and managed as part of the agreement. Viridor will be able to carry out its strategy of expanding its key business sectors of energy recovery & polymer re-processing while moving on with its goals of being net zero by the end of 2040, as part of its agreement.
Waste to Energy Market Report Scope
| | |
| --- | --- |
| Report Attributes | Details |
| Market size value in 2023 | USD 26.47 billion |
| Revenue forecast in 2032 | USD 48.13 billion |
| CAGR | 6.9% from 2023 - 2032 |
| Base year | 2022 |
| Historical data | 2019 - 2021 |
| Forecast period | 2023 - 2032 |
| Quantitative units | Revenue in USD billion and CAGR from 2023 to 2032 |
| Segments Covered | By Technology, By Waste Type, By Application, By Region |
| Regional scope | North America, Europe, Asia Pacific, Latin America; Middle East & Africa |
| Key Companies | Abu Dhabi National Energy Company PJSC, Babcock & Wilcox Enterprises Inc., Covanta Holding Corporation, Constructions industrielles de la Méditerranée (CNIM), China Everbright International Limited, Future Biogas Limited, Hitachi Zosen Inova AG, Keppel Corporation Limited, Ramboll Group A/S, STEAG GmbH, Gazasia Ltd, SUEZ, Veolia, Wheelabrator Technologies Inc., and Xcel Energy Inc. |