The global waste heat recovery system market was valued at USD 71.33 billion in 2022 and is expected to grow at a CAGR of 7.3% during the forecast period. Waste heat recovery is a significant opportunity to improve efficiency and reduce energy bills. Cement manufacturing facilities with waste heat recovery (WHR) power plants installed utilize the heat from the rotary kiln preheating system and the hot gases from the AQC exhaust to produce electricity. These heated gases are used to create steam in a steam generator (boiler), and then the steam turbo generator is used to create electricity. Companies that manufacture cement continue to invest in constructing waste heat recovery systems (WHRS). The sector's total cost for production has increased recently, mostly due to rising fuel prices. WHRS is the option in this situation. It creates energy while capturing the tremendous heat produced during production, providing a supplementary power source. Thus, it aids in lowering energy expenses. This is driving the market growth.
Know more about this report: Request for sample pages
Waste heat recovery systems find applications in marine vessels too. About half of the fuel energy used to power the diesel engines on maritime board boats is lost to the environment. Systems for recovering waste heat from low temperatures efficiently provide high-efficiency mechanical and electrical power. This application is also driving waste heat recovery system market growth. For instance, in January 2023, James Fisher procured the second LNG dual tank marine vessel China Merchant Jinling Shipyard built. The ship uses design and construction technological improvements to improve hydrodynamic performance, increase operating effectiveness, and lower GHG emissions. In addition to reducing GHG emissions, its vast, centralized waste heat recovery system also achieves a 45 percent decrease in carbon emissions, a 93 percent reduction in NOx emissions, and a 45 percent reduction in SOx emissions.
The growth of the petrochemical, iron, and steel industries is also driving demand for waste heat recovery solutions as these industries generate large amounts of waste heat. As existing industrial plants expand their operations, they are looking for ways to utilize waste heat generated in their processes, bolstering demand for waste heat recovery solutions.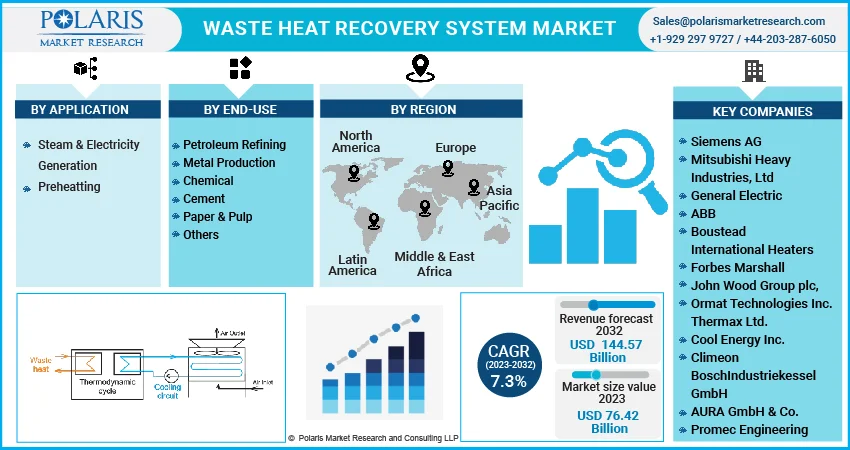 Know more about this report: Request for sample pages
Industry Dynamics
Growth Drivers
Factors such as growing demand for energy, favorable government policies, and increasing focus on sustainability are expected to drive market growth. With the rise of energy prices and the growing emphasis on sustainability, there is increasing interest in improving energy efficiency in industrial processes, and waste heat recovery is a key solution. Also, advances in the design and performance of waste heat recovery systems make them more accessible and cost-effective for businesses. Systems for recovering waste heat are extremely energy-efficient, capable of producing on-site power, and lower total operating expenses. The need for waste heat recovery solutions is growing as already-existing industrial enterprises expand their operations and search for methods to use the waste heat produced in their processes.
Report Segmentation
The market is primarily segmented based on application, end-use and region.
By Application

By End-use

By Region

Steam & Electricity Generation

Preheatting

Petroleum Refining

Metal Production

Chemical

Cement

Paper & Pulp

Others

North America (U.S., Canada)

Europe (France, Germany, UK, Italy, Netherlands, Spain, Russia)

Asia Pacific (Japan, China, India, Malaysia, Indonesia. South Korea)

Latin America (Brazil, Mexico, Argentina)

Middle East & Africa (Saudi Arabia, UAE, Israel, South Africa)
Know more about this report: Request for sample pages
Preheating segment is expected to grow at a high CAGR during the forecast period
The Steam & Electricity generation segment held the largest market share globally in 2022. The market size for waste-heat-to-electricity has increased due to more heating units being installed in utility, industrial, and commercial applications and a greater emphasis on lowering operating and maintenance costs. Along with continued efforts to save energy, strict government requirements to reduce greenhouse gas (GHG) emissions further support market development.
In January 2023, a USD 52 million funding opportunity announcement (FOA) was made by the Office of Energy Efficiency and Renewable Energy (EERE) of the U.S. Department of Energy (DOE). Through this investment, R&D in domestic manufacturing will be expedited. This will increase the country's economic competitiveness and help the country transition to a zero-carbon economy by 2050.
The preheating segment is estimated to grow at a high CAGR during the projected period. In the medium- to high-temperature ovens and furnaces, waste heat recovery is frequently employed to preheat the combustion air. Using preheated air for the burners requires less fuel to maintain the desired process heat. Using waste heat for preheating may drastically save energy costs and boost efficiency in producing many industrial processes that need high temperatures, driving market growth.
Petroleum Refinery segment dominated the market during 2022.
The Petroleum Refinery segment held the dominant position in the market. Numerous heat loss processes in refineries are improved either by introducing design optimization, such as optimizing heat exchange systems or introducing waste heat recovery systems to generate onsite electricity or for preheating the combustion air and reducing the energy requirement of the refineries.
In September 2022, ADNOC Refining announced that the 1st phase of their ground-breaking "Waste Heat Recovery" project had been completed at the General Utilities Plant in Abu Dhabi. The waste heat recovery project will recover waste heat from the plant to create up to an extra 230 MW of electricity each day and 62,400 m3 of distilled water each day for use in the plant. The project will boost the plant's thermal efficiency and electricity generation by almost 30%.
The cement industry is anticipated to grow at the fastest CAGR during the forecast period. Energy is a significant input used in cement production, with energy costs accounting for around 40% of total production costs. Cement manufacturing plants are implementing waste heat recovery systems for power generation to lower production costs. Utilizing the waste heat expelled from the cement factory, waste heat recovery boilers produce steam, which is then delivered to a steam turbine generator to have power. The rising construction activities in emerging economies are driving market growth.
Asia Pacific region is expected to lead the market growth during the forecast period
North America held the largest market share. Factors such as efforts to improve industrial energy efficiency to reduce the energy consumed by the equipment used in manufacturing, rising fuel costs, and government initiatives are augmenting the market growth in this region. Companies seek sustainable energy sources to reduce their carbon footprint and meet sustainability goals. Waste heat recovery is a sustainable energy source. Also, governments in North America are promoting the use of waste heat recovery through tax incentives, subsidies, and regulations.
In December 2022, the Sweetwater West Gypsum plant in Texas completed the exhaust heat recovery installation, which included installing new ducting, two more fans, and a fresh exhaust stack for a four-zone dryer already in use. This system collects the exhaust heat from the first three zones of the plant and injects it into the fourth zone, which reduces this zone's energy requirement. The new system results in high net energy savings and reduced CO2 emissions.
Asia Pacific region is expected to grow at the highest CAGR during the forecast period. China is the major market for waste heat recovery due to its rising construction activities, which is increasing the demand for cement production. Additionally, the increasing awareness of the benefits of waste heat recovery, including cost savings and sustainability, and the expansion of energy-intensive industries, such as steel production, is driving waste heat recovery system adoption in the region.
Competitive Insight
Some of the major players in the global waste heat recovery system market include Siemens, Mitsubishi Heavy Industries, General Electric, ABB, Boustead International, Forbes Marshall, John Wood Group, Ormat Technologies, Thermax, Cool Energy, Climeon AB, AURA GmbH & Promec Engineering.
Recent Developments
In September 2022, the geothermal technology and development firm Transitional Energy and ElectraTherm, Inc. of Georgia announced that they had signed a Letter of Intent to collaborate on converting heat waste into electricity in the oil and gas industry. To produce electricity from the thermal energy produced in the oil and gas sector, Transitional Energy has installed a custom system using ElecraTherm's ORC technology.

In September 2022, Climeon launched a new heat recovery technology. Climeon's latest waste heat recovery technology, HeatPower 300 Maritime, was created by marine engineers and enhances energy efficiency throughout the shipping sector. HeatPower 300 Marine decreases CO2 emissions, lowers fuel consumption, and helps shipowners to abide by ever-stricter environmental laws by converting waste heat generated onboard into clean, carbon-free energy.
Waste Heat Recovery System Market Report Scope
| | |
| --- | --- |
| Report Attributes | Details |
| Market size value in 2023 | USD 76.42 billion |
| Revenue forecast in 2032 | USD 144.57 billion |
| CAGR | 7.3% from 2023– 2032 |
| Base year | 2022 |
| Historical data | 2019- 2021 |
| Forecast period | 2023 - 2032 |
| Quantitative units | Revenue in USD billion and CAGR from 2023 to 2032 |
| Segments covered | By Application, By End-use, By Region |
| Regional scope | North America, Europe, Asia Pacific, Latin America; Middle East & Africa |
| Key companies | Siemens AG, Mitsubishi Heavy Industries, Ltd., General Electric, ABB, Boustead International Heaters, Forbes Marshall, John Wood Group plc, Ormat Technologies Inc., Thermax Ltd., Cool Energy Inc., Climeon AB, AURA GmbH & Co. and Promec Engineering |