The global Wearable Medical Devices Market was valued at USD 14.6 billion in 2019 and is expected to grow at a CAGR of 24.8% during the forecast period. From the demand side, the surge in the population using technology as a health variable, increase in demand for patient-centered care, and current generation's awareness towards health and fitness. The factors such as personalized treatment, use of big data and machine learning, and rising narrative towards preventive care. Global macro-economic factors such as rise in geriatrics, and emerging low-income countries are expected to be next growth disruptors across the globe.
Industry Dynamics
Growth Drivers
Numerous trends happening in healthcare which are driving the Wearable Medical Devices Market leaping forward. Patient-centered approach has become a key enabler in the adoption of medical wearables. This was possible only due to the concentrated effort on a partnership with the patient throughout their treatment cycle. These wearables had placed both knowledge and control onto the patient's hand to track their own health metrics and imparting information to healthcare practitioners in defining guideline for an efficient treatment plan. The continued focus on patient-centered approach will bolster the use of medical wearable in the future.
The growing generation using smartphones, often known as "Generation Hashtag", is naturally inclined towards virtual communication. These digital initiatives are connected via different online environments for entertainment, communication, socializing, and finances. Generation hashtag is open to connected with medical wearable and desired to be the first user in today's environment of flaunting technology gadgets.

Know more about this report: request for sample pages
Big data refers to a large amount of data, here healthcare data means electronic health and medical records (EMR & EHR). These wearable are key tools in devising the large amount of these data to be analyzed with the software systems. Big technology companies like Google and Apple are developing complex algorithms to interpret large sets of healthcare data collected from these device sensors.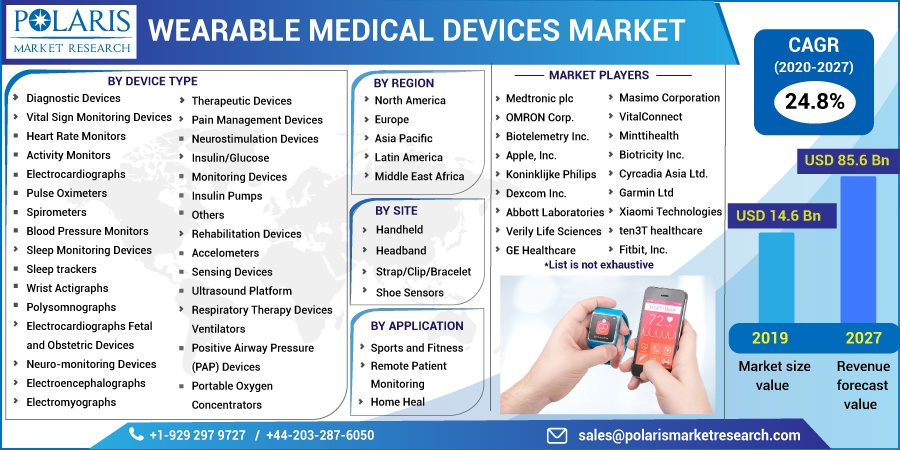 Know more about this report: request for sample pages
Challenges
The growth in the global medical wearable is inhibited or retrained owing to few supply and demand side factors. From the patient's point of view, data privacy concerns, low or negligible reimbursement scenario, and high cost of devices. Moreover, healthcare practitioners are less likely these devices, owing to a lack of clinical evidence and poor data quality. Finally, the slow pace of regulatory authorities also limits innovation in the industry.
The collection of individual's healthcare data is risky and privacy of that should be forefront. Medical wearable users are concerned about the ownership of their data being used by the third party without their consent. Moreover, data collected with medical wearables is often being stored by cloud storage systems, which are vulnerable to cyberattacks.
Wearable Medical Devices Market Report Scope
The market is primarily segmented on the basis of Device Type, By Site, By Application, and by region.
By Device Type

By Site

By Application

By Region

Diagnostic Devices

Vital Sign Monitoring Devices

Heart Rate Monitors
Activity Monitors
Electrocardiographs
Pulse Oximeters
Spirometers
Blood Pressure Monitors
Others

Sleep Monitoring Devices

Sleep trackers
Wrist Actigraphs
Polysomnographs
Others

Electrocardiographs Fetal and Obstetric Devices
Neuro-monitoring Devices

Electroencephalographs
Electromyographs
Others

Therapeutic Devices

Pain Management Devices

Neurostimulation Devices
Others

Insulin/Glucose Monitoring Devices
Rehabilitation Devices

Accelometers
Sensing Devices
Ultrasound Platform
Others

Respiratory Therapy Devices

Ventilators
Positive Airway Pressure (PAP) Devices
Portable Oxygen Concentrators
Others

Handheld
Headband
Strap/Clip/Bracelet
Shoe Sensors
Others

Sports and Fitness
Remote Patient Monitoring
Home Healthcare

North America (U.S., Canada)
Europe (France, Germany, UK, Italy, Spain, Netherlands, Austria)
Asia Pacific (Japan, China, India, Malaysia, Indonesia. South Korea)
Latin America (Brazil, Mexico, Argentina)
MEA (Saudi Arabia, UAE, Israel, South Africa)
Know more about this report: request for sample pages
Device Type Outlook
Based on the device type, the global market is categorized into diagnostic and therapeutic devices. The diagnostic device is segmented into vital sign monitoring, sleep monitoring, electrocardiographs fetal and obstetric, and neuro-monitoring devices. Vital sign monitoring sub-segment is further bifurcated as heart rate monitoring devices, electrocardiographs, activity monitors, blood pressure monitors, pulse oximeters, spirometers, and others. Sleep monitoring sub-segment is further bifurcated into sleep trackers, polysomnographs, wrist actigraphs, and others. Neuro-monitoring devices segment is further bifurcated into electroencephalographs, electro-myographs, and others. Therapeutic devices are segmented into pain management, insulin/glucose monitoring, rehabilitation, and respiratory therapy devices. Rehabilitation devices is further bifurcated as accelerometers sensing, ultrasounds, and others. Respiratory therapy devices are further bifurcated into positive airway pressure (PAP) devices, ventilators, portable oxygen concentrators, and others. The therapeutic segment projected to exhibit highest growth rate over the study time frame.
Future growth is expected due to the strong pipeline of product launches. Recently in June 2020, the US Food and Drug Administration (FDA) granted approval for the wearable NTX100 neuromodulation therapy, developed by the U.S. based privately owned company, Noctrix Health. The therapy is useful for people suffering with restless leg syndrome (RLS). RLS is the common sleep disorder and currently, it is assumed that more than 10% of the U.S. population is suffering with it, and accounts for around 3 million cases annually. Currently, RLS is predominantly treated with dopaminergic drugs, which has few side effects after treatment.
Site Outlook
Based on the site, the global market is bifurcated into a handheld, strap/clip/bracelet, shoe sensors, headband, and others. In 2019, the strap/bracelet segment accounted for the largest share and it is anticipated to retain its dominance over the study period. This high share is attributed to the technological advancements in the worn products with Bluetooth and cloud connectivity exhibiting real-time analysis.
Recently, Huami, a China-based smart wearable technology firm, introduced Amazfit Bip S with improved features and connectivity in January 2020. The upgrade includes 10 sports modes, which tracks cycling, elliptical training, swimming, yoga, running, and walking. It has personal activity intelligence (PAI) system to assess heart activity, which, supports call & message notification, music controls, world clock, weather forecast, and alarm clock.
Application Outlook
On the basis of application, the global market is categorized into sports and fitness, remote patient monitoring, and home healthcare. In 2019, the home healthcare segment accounted for the largest share among all the segments. The factors responsible for its growth include failure of current healthcare systems, which has fewer beds per population particularly in low-income countries, and the rise of geriatrics seeking home-based medical attention. Moreover, the surge in COVID-19 cases, favorable government initiatives, and longer waiting time in hospitals makes the adoption of home-based healthcare delivery more viable.
Remote patient monitoring segment is estimated to grow at the highest rate over the study time frame. The high impact factors favoring this growth are advancements in tele-consultation, and the growing need for continuous monitoring of geriatrics.
Geographic Overview
Geographically, the global wearable medical devices market is bifurcated into North America, Asia Pacific, Europe, Latin America, and MEA. North America is the largest revenue contributor followed by Europe and the Asia Pacific region. In 2019, the North America region accounted for more than 45.0 per cent of the global market.
The factors propelling the growth are rising prevalence of life style related disorders such as diabetes, heart related ailments, and chronic pain. The recent surge in COVID-19 cases also made consumers to focus on real time healthcare monitoring. The presence of technology sound consumers understanding the need for connected technology coupled with high disposable income, positive reimbursement scenario, and well developed insurance coverage increasing the penetration of wearable in the country.
Moreover, many start-ups in the country are focusing on developing wearable to treat unmet needs of diabetes, cardiology, and neurology medical indications. According to the statistics published by the Global Burden of Disease (GBD), in 2016, neurological disorders recorded the second highest mortality rate, after cardiac ailments. In 2017, around one- third of global population suffered with multiple sclerosis, epilepsy, Alzheimer, and migraines. The above population anticipated to increase the penetration of wearable and app development in the next few years.
Asia Pacific region is projected to be the fastest-growing regional market over the study timeframe. The region has many emerging economies which provides a large untapped market to the players operating in the field. With increasing access to technology and large patient pool coupled with booming per capita healthcare expenditure of patient residing in the region. Chinese technology companies are entering in the high potential market to deliver local medical needs, with increased medical attention, fitness-savvy consumers and economic viability of these devices.
Competitive Insight
The global market is highly concentrated with few players holding majority of share. The prominent players operating are Medtronic plc, OMRON Corp., Biotelemetry Inc., Apple, Inc., Koninklijke Philips, Dexcom Inc., Abbott Laboratories, Verily Life Sciences, GE Healthcare, Bio-Beat Technologies, Masimo Corporation, iRhythm Technologies, Inc., Preventice Solutions, Inc., CONTEC Medical Systems Co. Ltd, VitalConnect, Minttihealth, Biotricity Inc., Cyrcadia Asia Limited., Garmin Ltd, Xiaomi Technologies, ten3T healthcare, Fitbit, Inc., and Huawei Corporation.