The global web application firewall market was valued at USD 5.08 billion in 2021 and is expected to grow at a CAGR of 18.7% during the forecast period.
The main driver propelling the global market expansion is the rising significance of online applications. The popularity of WAF solutions is being fueled by the escalating use of IoT and technical advancement. In addition, the market expansion is anticipated to be fueled by increased instances of cybercrime and fraud as well as strict government regulations governing data security and cyber theft.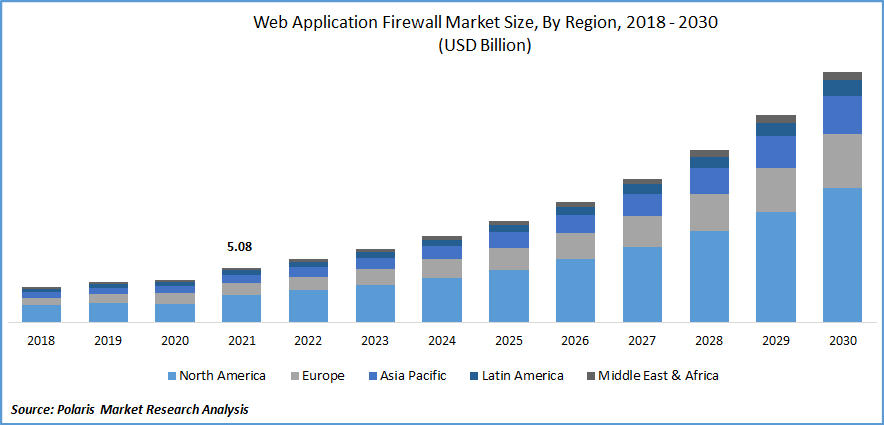 Know more about this report: Request for sample pages
Web-based apps and services have also changed the way information is exchanged and delivered in the governmental, corporate, and educational sectors of today. The global market is being depended upon more frequently for more internal information system integration due to the inexpensive availability of information and the range of web services and web-based services hence, driving the growth of the market.
The term "web application firewall" (WAF) refers to a hardware or software solution created to regulate and keep track of network traffic on web-enabled applications. Web-enabled applications' network traffic is tracked by a web application firewall (WAF). It aids in data packet blocking and creates a secure barrier between the computer and the outside world. It aids in avoiding malware attacks, impersonations, and unapproved cyber vulnerabilities.
Moreover, it protects the open system interconnection model's application layer from a variety of assaults, including structured query language (SQL) injection, cross-site scripting (XSS), and requests for information (RFI).
With the exceptional circumstances, the COVID-19 outbreak has increased demand for web application firewall solutions. For work-from-home systems, many businesses are refocusing their security efforts on endpoint security. Additionally, the lack of resources available to enterprise security teams to solve various online application security challenges has increased the need for efficient WAF solutions.
On the other hand, cloud computing, data center services, and other online support industries greatly benefited from market shifts.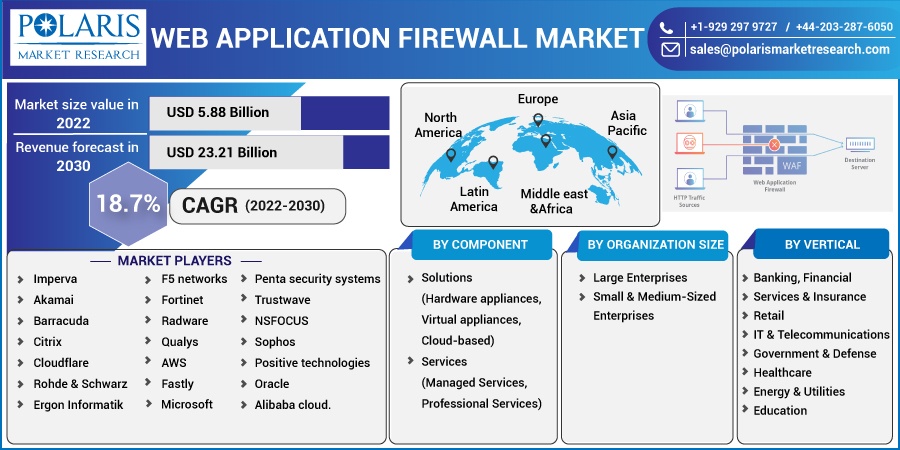 Know more about this report: Request for sample pages
Industry Dynamics
Growth Drivers
The adoption of technologies like the Internet of Things (IoT) across various end-user applications is growing as the world becomes more interconnected. To run the business as efficiently as possible, organizations are adopting such connected devices more frequently in their procedures. Different hacks and security flaws are being added to the threat landscape as there are more devices and related applications.
The majority of IoT technology and developer companies are deploying and advising advanced security solutions, such as web application firewalls (WAF), for securing their business infrastructure in order to handle such situations, which is fueling the demand for the global market.
The market is also driven by the growing use of firewalls in the healthcare sector to prevent unwanted access to vital healthcare networks and electronic patient information via Wi-Fi-enabled equipment. For instance, a healthcare provider named Mount Sinai decided to adopt the Barracuda CloudGen WAF after receiving a strong recommendation from Microsoft that stressed ease of use and user-friendliness without compromising the feature set.
Internet fraud and the increasing frequency of cyberattacks in the healthcare sector on a global scale are the major drivers of market growth. For instance, Verizon examined 849 cases from 2021, of which 571 had proven data exposure, and found that online applications were the most frequent vector. Web application assaults aimed at healthcare companies may impact the integrity, confidentiality, and accessibility of healthcare applications, data, systems, and resources.
Report Segmentation
The market is primarily segmented based on component, organization size, vertical, and region.
By Component

By Organization Size

By Vertical

By Region

Solutions (Hardware appliances, Virtual appliances, Cloud-based)
Services (Managed Services, Professional Services)

Large Enterprises
Small & Medium-Sized Enterprises

Banking, Financial Services & Insurance
Retail
IT & Telecommunications
Government & Defense
Healthcare
Energy & Utilities
Education
Other Verticals

North America (U.S., Canada)
Europe (France, Germany, UK, Italy, Netherlands, Spain, Russia)
Asia Pacific (Japan, China, India, Malaysia, Indonesia, South Korea)
Latin America (Brazil, Mexico, Argentina)
Middle East & Africa (Saudi Arabia, UAE, Israel, South Africa)
Know more about this report: Request for sample pages
Solution segment is expected to witness the fastest growth
The solution category dominated the market in 2021. Web application attack protection, deployment flexibility, virtual patching, protocol validation, active and passive authentication, content routing, URL rewriting, cookie signing and encryption, data leak mitigation, DDoS mitigation, and web server and application signature security are just a few of the features that WAF solutions offer.
The solutions section is divided into cloud-based, virtual, and hardware appliances. Furthermore, the cloud-enabled WAF solutions provide security and defense in the virtual private network (VPN). It is less expensive and offers a better user experience due to scalability options to protect the data.
The services segment is anticipated to increase more quickly over the projected period. Vendors offer businesses a comprehensive array of services that assist with carrying out various tasks required for the efficient management of such solutions. They also offer a centralized point of contact for all necessary aid and support. The demand for deployment services, appropriate pre-, and post-consulting, and general administration of the solutions is driven by the increasing adoption of WAF solutions. Professional and managed services make up the second part of the services market.
Large Enterprises accounted for the largest market share in 2021
In 2021, the large organizations market segment dominated the global market. The network and WAF security are required for the implementation of overall security for IT assets. The necessity to protect data and growing public awareness of security incidents drive market expansion among large corporations. The acceptance of WAF firewalls among large companies is boosted by crucial elements, including the availability of sandboxing technologies, simplicity in implementation, and enhanced detection capabilities.
The small & medium-sized enterprises segment is anticipated to increase rapidly over the projected period. In SMEs, web applications are protected from vulnerabilities like cross-site scripting, SQL injection, and session hijacking by Web Application Firewall (WAF) software. Before reaching the web server, WAF can additionally identify and stop malicious traffic.
Government & defense sector is expected to hold the significant revenue share
In 2021, the global market was dominated by the government & defence sector. The usage of WAF solutions in the government and defense sector has expanded due to the implementation of eGovernance by government agencies in numerous nations across the world. Data about people, procedures, departments, and agencies are handled by government and defense organizations in a very secure and secret manner. Therefore, one of the most crucial elements of the government vertical is cybersecurity.
The Banking, Financial Services, and Insurance (BFSI) sector are expected to grow significantly over the forecast period. The strict cybersecurity laws in prestigious nations intended to provide security in BFSI are anticipated to open up a sizable number of opportunities in the global market. BFSI organizations must put WAF security solutions first with services like smart banking, internet banking, and mobile banking.
The healthcare category is expected to grow at a significant rate. Protected health information (PHI) and Electronic Health Records (EHRs) are shielded from malware and other online threats by firewalls, which are the first line of protection for every hospital network.
More devices beyond PCs and cell phones can access the network in healthcare businesses. Wi-Fi-enabled connected medical devices use networks to gather patient data and track health. Therefore, they are more prone to cyberattacks by hackers. Since EHRs and clinical data are valuable and there are multiple methods for hackers to enter the network, healthcare firewalls need to be more comprehensive than those in other sectors.
The demand in North America is expected to witness significant growth
In 2021, North America accounted for a key share of the global market and was presumed to witness significant growth in the coming years because of government rules on IT security and a surge in security breaches. Additionally, businesses and government agencies are enhancing their data security infrastructure, which will further fuel the expansion of the market in the region throughout the course of the projection year. The increase in R&D investments by developed economies, which have fueled advancements in security technologies, is another factor contributing to the growth.
However, organizations are being drawn to employ web application firewall solutions and propelling the market forward as a result of the expanding IoT trend and rising internal and external risks. Services like security information and cloud apps are anticipated to dominate the market. Additionally, it is anticipated that during the projection period, the entry of new industry players will accelerate market expansion in this region.
The Asia Pacific is expected to be the fastest-growing global market over the forecast period because of the region's strong economic growth, globalization, digitization, and increased internet usage; the market is quite profitable there. It is difficult to identify complex and advanced threats in the countries of this region because a vast majority of SMEs use conventional defense systems. Due to this, security providers concentrate on developing new products. SMEs in the region are anticipated to be compelled to use advanced WAF services and solutions by growing business complexity, rising consumer knowledge of the advantages of WAF products, and increased internet usage.
Competitive Insight
Some of the major players operating in the global market include Imperva, Akamai, Citrix, Cloudflare, Rohde & Schwarz, Barracuda, Ergon Informatik, Radware, Penta security systems, Trustwave, NSFOCUS, Sophos, F5 networks, Fortinet, Positive technologies, Oracle, Qualys, AWS, Fastly, Microsoft and Alibaba cloud.
Recent Developments
In May 2022, Barracuda "Networks' Barracuda Cloud Application Protection" now offers API Discovery and GraphQL capabilities to help reduce downtime and easy usage of online firewalls. A combination of the "Venafi Trust Protection Platform" and the "Barracuda Web Application Firewall" is destined to offer automated machine identity for the TLS certificates.
Furthermore, in May 2021, CloudVector, a supplier of better API security, was acquired by Imperva, Inc. Customers can use CloudVector to detect, monitor, and defend all API traffic in any environment against threats and breaches. This acquisition contributes to the company's goal of securing online applications and APIs.
Web Application Firewall Market Report Scope
| | |
| --- | --- |
| Report Attributes | Details |
| Market size value in 2022 | USD 5.88 billion |
| Revenue forecast in 2030 | USD 23.21 billion |
| CAGR | 18.7% from 2022 - 2030 |
| Base year | 2021 |
| Historical data | 2018 - 2020 |
| Forecast period | 2022 - 2030 |
| Quantitative units | Revenue in USD billion and CAGR from 2022 to 2030 |
| Segments Covered | By Component, By Organization Size, By Vertical, By Region |
| Regional scope | North America, Europe, Asia Pacific, Latin America; Middle East & Africa |
| Key Companies | Imperva, Akamai, Barracuda, Citrix, Cloudflare, Rohde & Schwarz, Ergon Informatik, F5 networks, Fortinet, Radware, Penta security systems, Trustwave, NSFOCUS, Sophos, Positive technologies, Oracle, Qualys, AWS, Fastly, Microsoft and Alibaba cloud. |