The global xerostomia (dry mouth) therapeutics market size was estimated at USD 625.3 million in 2018 and is expected to grow at a CAGR of 3.6% between 2019 to 2026. Xerostomia is a condition which occurs because of the lack or minimized saliva production. This condition might also rise due to change in the quality of saliva which holds the mouth damp. Typically, xerostomia is a result of a variety of reasons such as, adverse effects of radiation specifically to the areas of head as well as neck, medicine side-effects, dehydration, mouth bleeding, cigarette smoking, or surgical procedure completed with the use of radiation treatments.
Furthermore, one of the most usual factors triggering it is Sjogren's disorder, HIV and also cancer cells therapies. Radiation treatment and chemotherapy can harm the salivary glands which can result to completely dry mouth. Chemotherapy treatment triggers completely dry mouth by making saliva thicker. However, this is normally a short-term symptom the patient can become normal within 2 to 8 weeks after the therapy ends. On the other hand, radiation treatment can trigger dry mouth and it can take more than six months for the patients' saliva glands to produce saliva again.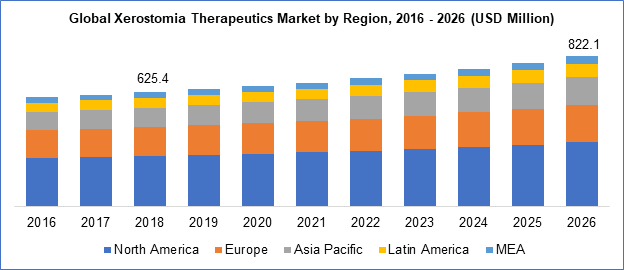 Xerostomia reveals the signs of a number of problems and health conditions, although it is not considered as a disease. This condition is majorly observed in the elderly population. As per The Oral Cancer Foundation (OCF), Xerostomia issue usually affects the geriatric population and it is estimated that about 20% of the senior citizen globally are affected by it. However, OCF also states that this condition is not connected to any particular age group but is caused as a side effect of the intake of medication by the elderly population. This condition is mainly combined with the various other problems consisting of aching throat, hoarseness, spoken troubles, burning sensation, as well as gulping. This problem might end as a result in decline in dental pH and also rise to create tooth decays or plaque if neglected. Synthetic saliva consumption can overcome this problem. Carboxymethyl or mucopolysaccharides solutions which are saliva alternatives can also help the patients to overcome this problem. Some of the most commonly used medicines to deal with xerostomia consists of saliva energizers such as cevimeline or pilocarpine.
It is anticipated that the xerostomia therapeutics market is growing globally majorly due to the increase in associated diseases. Increasing occurrences of HIV and Sjogren's syndrome are pushing the market growth. It is anticipated that approximately 3.1 million people are dealing with Sjogren's disorder in the United States according to the American College of Rheumatology. Additionally, increasing adoption and usage of cancer treatment therapies such as chemotherapy and radiotherapy are increasing the incidences of xerostomia, thus pushing the market further. Absence of understanding concerning the therapy in lower and middle-income areas such as developing and under- developed countries and lack of reliable therapy in these regions is expected to impede the overall market growth.
Xerostomia Therapeutics Market Report Scope
Product Outlook

Distribution Channel Outlook

Regional Outlook

Artificial Saliva
Dentifrices
Salivary Stimulants
Saliva Substitutes
Drugs
Salivary Pen

Hospital Pharmacies
Retail Pharmacies
Online Pharmacies

North America (U.S., Canada)
Europe (Germany, UK, France, Italy, Spain, Belgium, Russia, Netherlands)
Asia-Pacific (China, Japan, India, Australia, Korea, Singapore, Malaysia, Indonesia, Thailand, Philippines)
Latin America (Brazil, Mexico, Argentina)
Middle East and Africa (UAE, Saudi Arabia, South Africa)
Product Outlook
Based upon products, the dry mouth therapeutics market is further segmented into dentifrices, artificial saliva, saliva substitutes, salivary pen, drugs, and salivary stimulants. The dentifrices market segment was one of the largest in 2018 owing to its efficiency, cost, and increased rate of adoption amongst end customers.
Salivary stimulants are anticipated to grow at a faster rate between 2018 to 2026. These stimulants are readily available in numerous types such as mints, sugar-free eating gums, sprays, as well as lozenges. A variety of replacement for each item is available and also easily accessible to people. Due to these above-mentioned factors, it is estimated that this segment would have the fastest growth among all the products available in the market.
Distribution Channel Outlook
In terms of distribution channel, the xerostomia therapeutics market is further segmented into hospital pharmacies, retail pharmacies, online pharmacies. In 2018, hospital pharmacies dominated the market as a result of the accessibility of branded medications and medications, safety and security & reduced prices of items. This segment is estimated to grow over the forecast period. The online pharmacy segment is estimated to grow at a higher rate during the forecast period due to growing internet penetration in developing countries and changing trends of ordering medicine online. This trend can be seen in developing countries such as India where many companies have started selling drugs online despite of strict government regulations. These factors would help the overall market to grow in these regions.
Regional Outlook
On the basis of region, North America is anticipated to dominate the overall market in 2018 and it is estimated that Europe would follow the path. Significant factors supporting the growth of this market in these regions is the prominent growth of cases in xerostomia as well as various other diseases associated with dry mouths such as rheumatoid arthritis, HIV, and Sjogren's syndrome. Sjogren Syndrome Foundation frequently carries out awareness camps regarding the therapies and remedies for the people with xerostomia across U.S. and Canada. Furthermore, expanding medical and healthcare infrastructure, ease of availability of treatments, and beneficial compensation scenario are some of the important factors which are helping the market to grow in the North American region.
Asia Pacific is expected to gain traction and is expected to grow at a faster rate during the forecast period. Increased spending towards healthcare, growing understanding and awareness and raising event of conditions such as Parkinson's disease, cancer, diabetes mellitus and HIV which cause problems of dry mouth, are anticipated to strengthen the xerostomia therapies market in the Asia Pacific.
Competitive Landscape
Significant companies are concentrating on small organizations with a functioning approach in this market to safeguard their goal of maintaining position in the market, and are associated with mergers and acquisitions, collaborations, and innovations. Some major players operating in this market includes Colgate-Palmolive Company, EUSA Pharma, GlaxoSmithKline plc, Forward Science, Mission Pharmacal Company, Eisai Inc., OraHealth Inc., OraPharma, Inc., Parnell Pharmaceuticals, Inc., Saliwell Ltd., Dentaid, and Sun Pharmaceutical Industries Limited.