The global zeolite market was valued at USD 30.57 billion in 2019 and is expected to grow at a CAGR of 2.5% during the forecast period. Synthetic zeolites are rapidly replacing phosphates as a raw material for manufacturing detergents and are also used as catalysts in the petrochemical industry. They are widely used in fluid catalytic cracking and hydrocracking of petroleum. Synthetic zeolite is also used as an additive in the production of asphalt concrete. Synthetic zeolites are available in various pore sizes and each has different adsorption capabilities.
Zeolite adsorbents are used in the automotive and industrial sectors as emission control agents. It is also used to adsorb odor. Zeolite adsorbents are also used in petroleum refineries. Zeolites are used as raw materials and additives in various industries as it is non-hazardous and non-toxic to the environment. Thus, compliance with several stringent environmental regulations would lead to rising in the demand for synthetic zeolite from various application industries. Synthetic zeolites are costly compared to natural zeolites. The threat from natural zeolites to synthetic zeolites is lower since the latter requires consistent material quality. Natural zeolites have different minerals and uneven pore sizes, making it difficult to achieve consistent material quality.

Know more about this report: request for sample pages
Industry Dynamics
Growth Drivers
Silver zeolites are capable of prolonged controlled release of silver ions. Silver-zinc zeolites have high potential applications in the medical and healthcare industry, owing to their highly effective antimicrobial properties. Silver is a known natural anti-microbial agent and is used against a variety of pathogens in various environmental conditions. However, the majority of silver compounds are either too soluble or too insoluble or are unable to withstand the high temperatures under which plastics are manufactured. Zeolites, which exhibit high heat resistance and can withstand the grind of most industrial processes, serve as engineered silver ion delivery agents in the preparation and application of surface coatings as well as in the extrusion of plastics.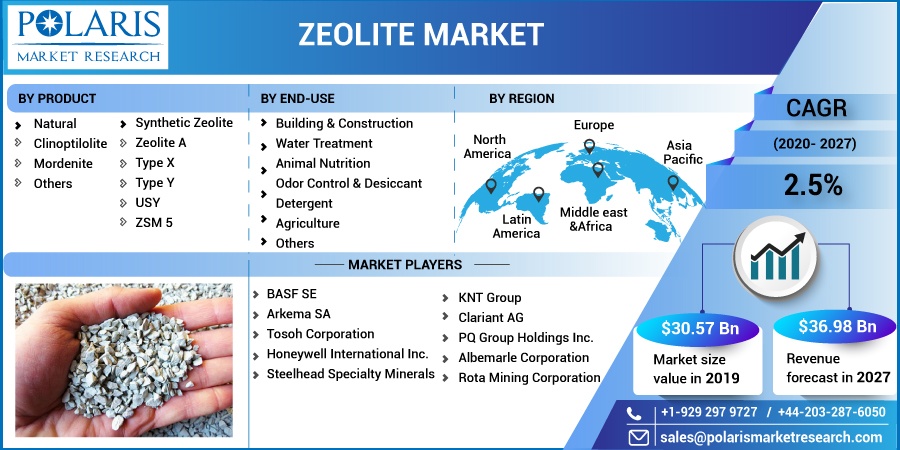 Know more about this report: request for sample pages
Silver zeolite has potential applications in the food packaging industry. Acceptance of silver zeolites is growing in the food packaging application in the U.S. and Europe. This application provides a lucrative opportunity for silver zeolites in the future as the food packaging technology is expected to evolve and provide a longer shelf life to perishable food products. Hence, all such factors create opportunities for the global zeolite market over 2019-2029.
Zeolite Market Report Scope
The market is primarily segmented on the basis of product, end-use, and region.
By Product

By End-Use

By Region

Natural

Clinoptilolite
Mordenite
Others

Synthetic Zeolite

Zeolite A
Type X
Type Y
USY
ZSM 5

Building & Construction
Water Treatment
Animal Nutrition
Odor Control & Desiccant
Detergent
Agriculture
Others

North America (U.S., Canada)
Europe (France, Germany, UK, Italy, Spain, Netherlands, Austria)
Asia Pacific (Japan, China, India, Malaysia, Indonesia, South Korea)
Latin America (Brazil, Mexico, Argentina)
Middle East & Africa (Saudi Arabia, UAE, Israel, South Africa)
Know more about this report: request for sample pages
Insight by Product
Based on the product type, the global market is categorized into natural and synthetic. In 2019, the synthetic zeolites segment accounted for a larger share as compared to natural zeolites. This high share is due to the fact that raw materials silica and alumina for synthetic zeolites are available in abundance. Moreover, manufacturer across the globe is focusing on efficient zeolite production to have a low cost of production and to achieve economies of scale. Moreover, these products are mostly used as adsorbent owing to their pore-like structure.
Insight by End-Use
Based on end-use, the global market is bifurcated into building & construction, water treatment, animal nutrition, odor control & desiccant, detergent, agriculture, and other end-uses. In 2019, the detergent segment accounted for the majority of the share. Zeolites are the hydrated crystalline form of aluminum silicates, functioning as an ion exchanger used in water softening. Different types of zeolites use for this are type X, A, P, and AX, and are superior to phosphate ones.
Geographic Overview
Europe accounted for the largest revenue share and Asia Pacific accounted for the second-largest share. Several regulations pertaining to greenhouse gas emissions and high production of detergents and refrigerants is expected to drive the demand for zeolites in the region. Furthermore, the increasing demand for synthetic zeolites in application industries owing to rising production in China and India is expected to propel market growth.
The increasing petroleum production and consumption in China and the rest of the economies in Asia Pacific is expected to drive the demand for synthetic zeolites. Furthermore, the growing use of zeolites in water treatment and animal nutrition owing to the need for improved water treatment infrastructure and rising demand for pet food is likely to propel market growth. Furthermore, the use of zeolites in dietary supplements is expected to propel growth in Asia Pacific.
Competitive Insight
Key players in the market include BASF SE, Honeywell International Inc., Steelhead Specialty Minerals, Arkema SA, Tosoh Corporation, KNT Group, Clariant AG, PQ Group Holdings Inc., Albemarle Corporation, and Rota Mining Corporation. Arkema SA in March 2019, announced the acquisition of ArrMaz, the U.S.-based manufacturer of specialty surfactants, mining, and infrastructure involving zeolite as a component.