The global Zinc-ion battery market was valued at USD 9.13 billion in 2021 and is expected to grow at a CAGR of 3.6% during the forecast period. Zinc-ion batteries, usually referred to as the Zn-ion battery (ZIB), include zinc ions. Zinc is utilized as an anode, whereas Zn-intercalating compounds as cathodes. An electrolyte solution is a medium that contains zinc.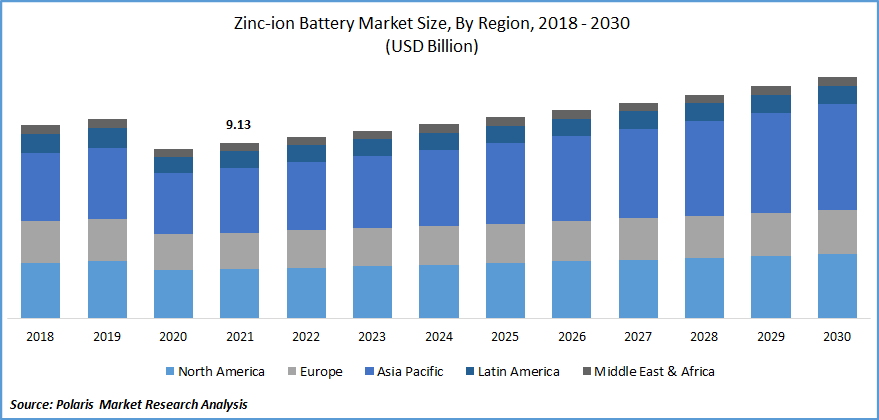 Know more about this report: Request for sample pages
Rechargeable Zinc-ion batteries are frequently compared to rechargeable metallic batteries (RMB). It is well-liked by a variety of sectors due to these qualities. Zincate is created when hydroxyl ions from the cathode's reaction with oxygen in the air combine with the zinc paste. The end result of this process is electricity.
Compared to lithium-ion batteries, zinc-air batteries are substantially less expensive and do not pose any burning concerns. In regards to energy density, zinc-air batteries can be on par with or better than lithium-ion batteries. The necessary raw ingredients for zinc-ion batteries are likewise affordable and readily accessible.
Zinc-air batteries are increasingly in demand across a variety of industries. Many traffic-signaling systems, including LED traffic signals, traffic signs, and countless traffic signals, employ zinc-air batteries. Traffic signal malfunctions brought on by short shelf lives might result in accidents, which has raised the demand for the zinc-ion battery market because of their extended shelf lives.
Due to their resilience to significant vibrations, zinc-air batteries are also very important in the railway sector. Because they provide power at a variety of temperatures, zinc-air batteries are employed in the medical sector, particularly in hearing aids, to ensure the best possible performance of the device. Sales have been further helped by the rise in hearing impairments, notably in the Us and Europe.
Rechargeable zinc-air batteries will have the quickest type of growth throughout the projected period because of potential unexplored markets for its use in consumer electronics, light automobiles, and uninterrupted power supply. New possibilities will arise as a result of government activities and legislation to substitute mercury-based batteries with zinc-air batteries.
Mercury traces are a problem again for the zinc-air battery industry because they seep through the zinc-ion batteries' shells and endanger human health. Because of the expansion of the automobile and electronics industries, Asia Pacific presents the region with the greatest potential for growth globally.
Due to stringent rules and regulations controlling carbon emissions and a growing emphasis on lightweight automobiles to increase fuel efficiency, the demand for zinc-air batteries is also rising in Europe and North America.
Zinc-ion battery production has been negatively influenced by COVID-19, which has restricted the industry's growth. During the recent epidemic years, the market suffered as a result of the supply chain deficit. According to recent studies, zinc-ion batteries should be used in place of lithium-ion batteries for electric cars. However, the commercial, automotive industry is affected globally by the limited supply of batteries & raw materials, which has a negative impact on global economies.
The industry rebound in a previous couple of quarters was caused by strong government regulations, developing energy storage, and a repaired supply chain. Additionally, the tenacity of the scientific community and the emphasis on R&D development will lessen the long-term consequences of COVID-19.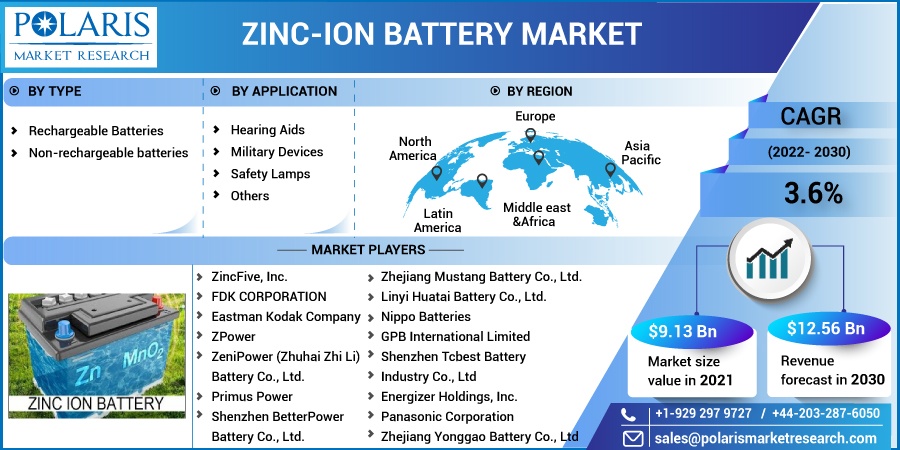 Know more about this report: Request for sample pages
Industry Dynamics
Growth Drivers
The worldwide zinc-ion battery market is anticipated to grow considerably due to the rising demand for consumer devices, including computers, cameras, gadgets, game players, and others. Future industry growth is also influenced by the expanding market for electric cars. The cheap cost of zinc-based batteries in comparison to other batteries, such as lithium-ion and nickel-cadmium batteries, is another significant factor fueling industry expansion.
However, restrictions include the market's accessibility to substitutes, as well as the limited shelf life of zinc-based batteries, which restrain industry expansion. Numerous zinc-ion battery kinds (made up of different chemical components) may be found in the industry and are used interchangeably. These batteries are utilized in several products for a wide range of functions.
Despite the fact that there are several alternatives to zinc batteries, such as sodium-ion battery cells, Zinc-ion batteries, & other alkaline batteries, zinc-ion batteries are rapidly employed in a number of applications because of their benefits and benefits. These batteries are extensively offered in the industry and used in a number of different applications. Therefore, it is anticipated that the availability of substitute & alternative goods would limit the industry's potential to grow.
Report Segmentation
The market is primarily segmented based on type, application, and region.
By Type

By Applications

By Region

Rechargeable Batteries
Non-rechargeable batteries

Hearing Aids
Military Devices
Safety Lamps
Others

North America (U.S., Canada)
Europe (France, Germany, UK, Italy, Netherlands, Spain, Russia)
Asia Pacific (Japan, China, India, Malaysia, Indonesia. South Korea)
Latin America (Brazil, Mexico, Argentina)
Middle East & Africa (Saudi Arabia, UAE, Israel, South Africa)
Know more about this report: Request for sample pages
Rechargeable batteries accounted for the largest market share in 2021
The market share is divided into rechargeable and non-rechargeable batteries according to type. Non-rechargeable batteries may be thrown away, are more affordable, and require less upkeep. Because of their long shelf lives and durability, rechargeable batteries will become more and more popular.
There are many different uses for rechargeable zinc-air batteries, ranging from small gadgets to big vehicles. It is also renowned for its longevity, dependability, and capacity for producing output. It will be a superior option to the non-rechargeable variety due to these features. It is thus projected that it would expand quickly and take up more market share throughout the projection period.
Hearing Aids is expected to witness fastest growth
The market is divided between hearing aids, military equipment, safety lighting, and other products based on application. Due to the widespread use of these batteries in compact devices, hearing aids lead the industry. Additionally, the use of zinc-ion batteries is encouraged by the increasing need for energy-storage devices due to their qualities like high energy density.
Additionally, more electric cars are anticipated to use these batteries. These batteries are superior to lithium-ion batteries in a number of ways, including energy density, environmental friendliness, and cost-effectiveness.
The demand in Asia pacific is expected to witness significant growth
Geographically, there are three major regions that make up the market: North America, Europe, Asia Pacific, & the rest of the globe. According to a study, Asia Pacific will hold the majority of the zinc-ion battery market throughout the project. The largest markets for electric vehicles globally are Japan and China.
A potential possibility is presented by the use of these batteries in electric vehicles, notably electric automobiles. These batters are safe and decrease risks while having a high-volume energy density and large specific energy. A considerable amount of the world's electronics is produced in the Asia Pacific, making it a key market.
With the United States dominating the regional market, North America is expected to have steady expansion. The regional market in Europe will be driven by the government organizations' increasing attention to greenhouse gas emissions. A number of nations, including France, Argentina, Germany, & others, have set a goal to have zero carbon dioxide emissions by 2050, which has encouraged the testing of zinc-ion batteries in those nations.
Additionally, a number of initiatives, including NECOBAUT, have been started to create the next generation of vehicle batteries. The Middle East, Africa, and Latin America all have expanding building activity; thus the remainder of the world is set to have a significant increase. Additionally, as cities grow in size, the widespread use of safety lighting is encouraged, which will drive this market.
Competitive Insight
Some of the major players operating in the global market include ZincFive, Inc., FDK CORPORATION, Eastman Kodak Company, ZPower, ZeniPower (Zhuhai Zhi Li) Battery Co., Ltd., Primus Power, Shenzhen BetterPower Battery Co., Ltd., Zhejiang Mustang Battery Co., Ltd., Linyi Huatai Battery Co., Ltd., Nippo Batteries, GPB International Limited, Shenzhen Tcbest Battery Industry Co., Ltd., Energizer Holdings, Inc., Panasonic Corporation, Zhejiang Yonggao Battery Co., Ltd.
Recent Developments
Feb 2020: ZPower, the only manufacturer of recharged zinc-silver microbatteries in the world, today disclosed a partnership with American Equus. ZPower batteries were chosen by American Equus, a company renowned for its regular equestrian innovative products, for a new line of smart devices
As the only manufacturer of zinc-silver micro-batteries in the world, ZPower has partnered with Energous Corporation to develop WattUp®, a game-changing wi - fi charging 2.0 technology, to allow its rechargeable micro-batteries
Zinc-ion Battery Market Report Scope
| | |
| --- | --- |
| Report Attributes | Details |
| Market size value in 2021 | USD 9.13 billion |
| Revenue forecast in 2030 | USD 12.56 billion |
| CAGR | 3.6 % from 2022 - 2030 |
| Base year | 2021 |
| Historical data | 2018 - 2021 |
| Forecast period | 2022 - 2030 |
| Quantitative units | Revenue in USD million/billion and CAGR from 2022 to 2030 |
| Segments covered | By Type; By Applications; By Region |
| Regional scope | North America, Europe, Asia Pacific, Latin America; Middle East & Africa |
| Key companies | ZincFive, Inc., FDK CORPORATION,Eastman Kodak Company, ZPower, ZeniPower (Zhuhai Zhi Li) Battery Co., Ltd., Primus Power, Shenzhen BetterPower Battery Co., Ltd., Zhejiang Mustang Battery Co., Ltd., Linyi Huatai Battery Co., Ltd., Nippo Batteries, GPB International Limited, Shenzhen Tcbest Battery Industry Co., Ltd, Energizer Holdings, Inc., Panasonic Corporation, Zhejiang Yonggao Battery Co., Ltd |