The global zinc oxide market was valued at USD 4,623.21 million in 2022 and is expected to grow at a CAGR of 5.6% during the forecast period.
Increasing adoption of automobiles worldwide, particularly in developing economies, is likely to drive the demand for zinc oxide in the rubber industry, thereby contributing to market growth. Zinc oxide is extensively used in the rubber industry, particularly during vulcanization. Vulcanization is a chemical process that strengthens and improves the properties of rubber, making it more durable and suitable for various applications. The automotive industry is a major rubber consumer, with tires being one of the primary products. The growth of the automotive industry has a direct impact on the tire industry since a significant portion of the rubber produced worldwide is utilized in tire manufacturing. Approximately 75% of rubber production is dedicated to tire production, indicating a strong correlation between the two sectors.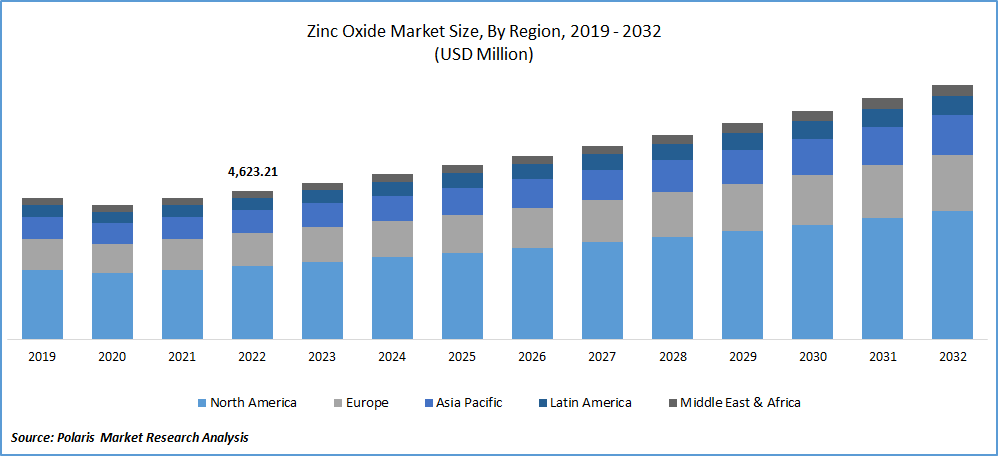 To Understand More About this Research: Request a Free Sample Report
Besides tires, rubber is used to manufacture other automotive components like wiper blades and engine mounts. These components require rubber's elasticity, durability, and resistance to environmental factors. Zinc oxide plays a crucial role in enhancing the performance and longevity of rubber products, making it an essential ingredient in their production.
Zinc oxide is utilized in ceramics to lower the melting temperature of the materials and reduce energy and equipment requirements during the manufacturing process. Comp ceramic manufacturers can achieve a lower firing temperature by adding zinc oxide, leading to energy savings and more efficient production.
In the construction industry, glass and ceramics are extensively used to manufacture structural components. Ceramic materials like porcelain, brick, and cement are commonly employed in the construction of buildings due to their durability, strength, and aesthetic appeal. These materials provide the necessary structural integrity and can withstand environmental conditions. Moreover, there has been a growing trend in the construction industry to incorporate nanomaterials into modern construction materials. Nanomaterials, including zinc oxide nanoparticles, are utilized to enhance the performance and properties of construction materials. These nanomaterials can improve the strength, durability, and resistance to environmental factors of ceramic-based construction materials, making them more reliable and efficient.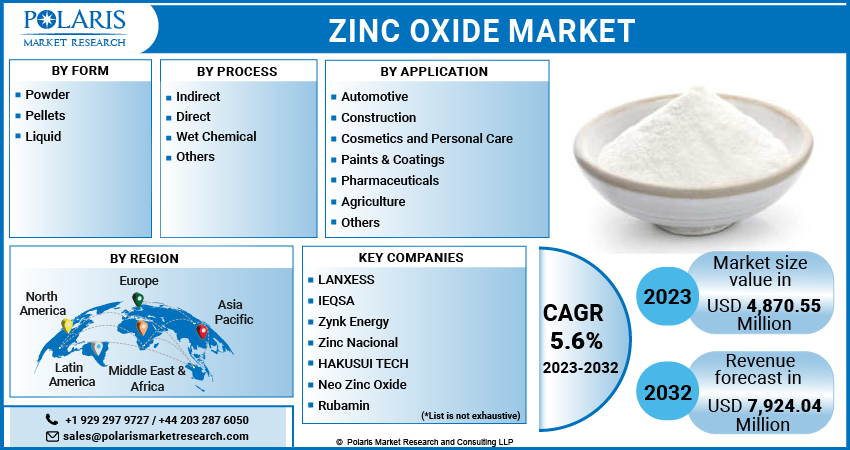 For Specific Research Requirements, Request for a Customized Report
Industry Dynamics
Growth Drivers
The construction industry in emerging economies like India and China is experiencing a surge in mega infrastructure projects. This development is expected to positively impact the growth of the construction industry, consequently driving the demand for zinc oxide.
There is a growing focus on research and development efforts to develop production technologies that prioritize sustainability, such as low-carbon and high-output muffle furnaces. These advancements present growth opportunities, particularly from a sustainability perspective. Zochem, for example, is leveraging its expertise to implement an advanced French process technology that boasts high output capabilities while minimizing its carbon footprint. In addition to sustainable production technologies, key manufacturers are proactively expanding their production capacities to meet the rising demand from various end-use industries. This proactive approach by manufacturers is driven by the need to fulfill the increasing market requirements and ensure a steady supply of products.
Report Segmentation
The market is primarily segmented based on form, process, application, and region.
By Form

By Process

By Application

By Region

Indirect

Direct

Wet Chemical

Others

Automotive

Construction

Cosmetics and Personal Care

Paints & Coatings

Pharmaceuticals

Agriculture

Others

North America (U.S., Canada)

Europe (France, Germany, UK, Italy, Netherlands, Spain, Russia)

Asia Pacific (Japan, China, India, Malaysia, Indonesia. South Korea)

Latin America (Brazil, Mexico, Argentina)

Middle East & Africa (Saudi Arabia, UAE, Israel, South Africa)
To Understand the Scope of this Report: Speak to Analyst
Powder segment accounted for the largest market share in 2022
The powder segment accounted for the largest market share in 2022. This dominance can be attributed to the increasing utilization of zinc oxide powder in various applications. These applications include batteries, lubricants, and gold and silver extraction. It plays a crucial role in providing UV protection and corrosion resistance in paints, making it widely used in the paint industry. Additionally, it catalyzes chemical processes. Fine zinc oxide powder, consisting of irregular particles ranging from 4 to 10 microns in size, is commonly employed in these applications.
Furthermore, zinc oxide powder is utilized in the manufacturing of zinc-rich paint & other chemicals like sodium hydrosulfite and zinc phosphide. The powdered form of zinc oxide finds extensive usage across diverse industries due to its versatility and wide-ranging properties. Zinc oxide (ZnO) pellets are manufactured using super high-grade zinc with a purity level exceeding 99.995%. They can be used in various applications, including immersion in alkaline caustic potash or caustic soda baths with or without external dissolution tanks.
Liquid zinc oxide is also utilized in sun care, mineral make-up, & anti-aging products. It can block wavelengths ranging from 280 to 400 nm, protecting against UVB and UVA rays. The liquid form of zinc oxide enables formulators to manufacture color cosmetics. This liquid product form offers flexibility and ease of use for formulators, contributing to developing effective and desirable skincare and cosmetic formulations.
Automotive

segment accounted for the largest market share in 2022
The automotive segment accounted for the largest market share in 2022. This can be attributed to the significant growth of the tire industry, which extensively utilizes rubber in the manufacturing of tires. Zinc oxide plays a crucial role in the vulcanization process of rubber, contributing to its durability and performance. Besides its role in rubber vulcanization, zinc oxide is also used as a cross-linking or curing agent for elastomers containing halogens, such as polysulfides and neoprene. These elastomers are widely used in various automotive applications, including gaskets, seals, and other components requiring chemical resistance and harsh environments.
Zinc oxide finds wide applications in the personal care and cosmetics industry, primarily as a UV absorber. It is incorporated into various cosmetic products, such as foundations, moisturizers, face powders, lotions, & ointments. The use of zinc oxide in these products allows for effective attenuation of UV radiation in both the UVA (320-400 nm) and UVB (290-320 nm) ranges, providing sun protection benefits. Zinc oxide nanoparticles also find application in various other personal care and cosmetics products. For instance, they are incorporated into nappy rash creams to soothe and protect infants' delicate skin. Zinc oxide nanoparticles are also used in anti-dandruff shampoos for their antimicrobial properties and ability to calm and nourish the scalp.
APAC region dominated the global market in 2022
APAC region dominated the global market with considerable revenue share in 2022. This can be attributed to the rapid advancements and growth of various industries, including automobile, construction, and personal care & cosmetics, in countries such as India, China, Japan, and South Korea. The automobile industry in the region has been flourishing, contributing to the increased demand for zinc oxide. Zinc oxide is extensively used in manufacturing automobile tires and rubber components, driving the zinc oxide market growth. The construction industry in countries like India and China has been experiencing significant development, leading to a higher demand for zinc oxide. Using zinc oxide in ceramics, paints, and coatings for construction applications contributes to its regional market dominance.
Competitive Insight
Some of the major players operating in the global market include LANXESS, IEQSA, Zynk Energy, Zinc Nacional, HAKUSUI TECH, Neo Zinc Oxide, Rubamin, Tata Chemicals, TOHO ZINC, TP Polymer, Zinc Oxide Australia, and Zochem.
Zinc Oxide Market Report Scope
| | |
| --- | --- |
| Report Attributes | Details |
| Market size value in 2023 | USD 4,870.55 million |
| Revenue forecast in 2032 | USD 7,924.04 million |
| CAGR | 5.6% from 2023 – 2032 |
| Base year | 2022 |
| Historical data | 2019 – 2021 |
| Forecast period | 2023 – 2032 |
| Quantitative units | Revenue in USD million/billion and CAGR from 2023 to 2032 |
| Segments covered | By Form, By Process, Application, By Region |
| Regional scope | North America, Europe, Asia Pacific, Latin America; Middle East & Africa |
| Key companies | LANXESS, IEQSA, Zynk Energy, Zinc Nacional, HAKUSUI TECH, Neo Zinc Oxide, Rubamin, Tata Chemicals, TOHO ZINC, TP Polymer, Zinc Oxide Australia, and Zochem. |