The global almond butter market was valued at USD 684 million in 2022 and is expected to grow at a CAGR of 6.12% during the forecast period. Key factors responsible for the market growth include high nutritious value of almonds, high demand in countries where it is not grown, increasing globalization, surge in demand of young population residing in the emerging countries seeking balanced nutrition from their daily busy life routine. Moreover, corporatization of food spreads category, and rise in demand of nuts and butter among health savvy people for their daily protein intake also expected to bolster the market growth. According to the Food and Agriculture Organization (FAO) of the United Nations, the global production of the almonds, in 2021, was approximately 1.9 MMT. The United States is the largest producer of almonds, accounting for more than 70% of global production. Other major almond-producing countries include Spain, Australia, Iran, and Italy.

To Understand More About this Research: Request a Free Sample Report
Almond butter is a convenient and versatile food that can be used in a variety of ways. It can be spread on toast or used as a dip for fruit or vegetables, and it can also be used in baking and cooking. Industry has seen a lot of product innovation in recent years, with new flavors, textures, and packaging options becoming available. This has helped to keep the product fresh and exciting for consumers, and has contributed to the industry's growth. Companies have also invested heavily in marketing and promotion to raise awareness of the product and its health benefits. This has helped to create a buzz around almond butter and has contributed to its growing popularity.
Almond butter is created from pulverized, roasted almonds, which are Prunes delis tree seeds. The trees bloom in pink or white and yield fruit. The stone-like pits in the middle of the fruits are known as almonds. Almonds have a long history as a nutritious snack, and they are referenced in ancient literature such as the Bible. The trees may be found in a variety of nations, including Spain, Portugal, Italy, and the United States. California is the only state in the United States that grows almonds.
The adoption of health-conscious food, especially in developed economies increased the consumption of the plant-based product. The growing popularity of plant-based diets and the wider acceptance of healthy eating are contributing to market growth. According to the 2022 Food & Health Survey conducted by the International Food Information Council (IFIC) in the United States, 30% of respondents said they benefited from sticking to a healthy eating pattern. Almond butter is rich in calories, vitamins, minerals, and antioxidants that are vital for our health, it also helps in prevention of heart disease, improve bone health, control blood sugar level, according to article published by WebMD accredited by URAC (Utilization Review Accreditation Commission).
COVID pandemic has impacted the market growth. Emergence of the virus has stimulated the consumer's desire to enquire about the additives being used in the final product. Increased health awareness among consumers has positively influenced the demand for Almond Butter over other type of butter. As almond butter is a good source of riboflavin, vitamin E also it has significantly more calcium and potassium as compared to other butter, according to the USDA Beltsville Human Nutrition Research Center.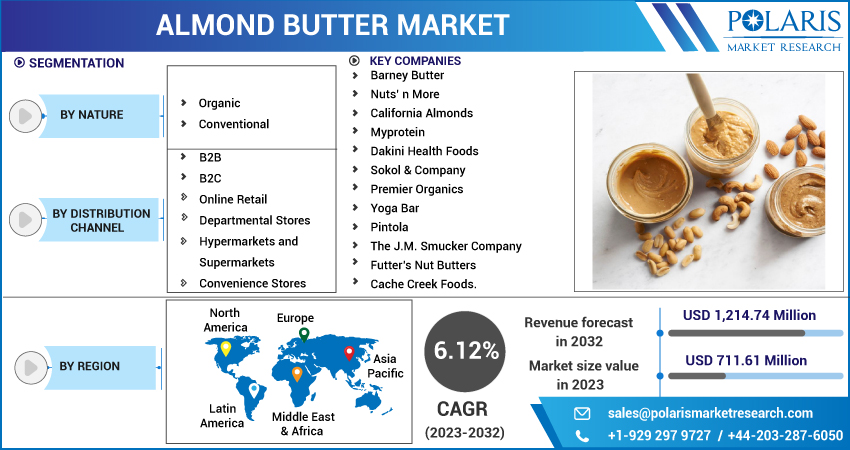 For Specific Research Requirements, Request for a Customized Report
Industry Dynamics
Growth Drivers
The health benefits associated with Almond Butter is expected to have a positive impact on the almond butter market growth. Almond butter's excellent nutritional content and other health advantages are some of the factors driving the worldwide market in the food sector. Moreover, increasing demand for plant-based protein. According to the Almond Board of California, we are eating nearly twice the animal protein we need which is resulting in poor health of our heart. The presence of vitamins in almond butter, including as vitamins A, B, & E, required to produce lotions & creams, thereby driving the expansion of the target market, by incorporating more almond butter into body care products. Sales climbed by 22% in 2020 compared to the previous year, according to a study provided by Land O'Lakes, a renowned dairy firm. Growing demand from food manufacturing and processing firms is projected to boost market expansion in the coming years.
Report Segmentation
The market is primarily segmented based on nature, distribution channel, and region.
By Nature

By Distribution Channel

By Region

B2B

B2C

Online Retail

Departmental Stores

Hypermarkets and Supermarkets

Convenience Stores

North America (U.S., Canada)

Europe (France, Germany, UK, Italy, Netherlands, Spain, Russia)

Asia Pacific (Japan, China, India, Malaysia, Indonesia. South Korea)

Latin America (Brazil, Mexico, Argentina)

Middle East & Africa (Saudi Arabia, UAE, Israel, South Africa)
For Specific Research Requirements: Request for Customized Report
Organic segment is expected to witness fastest growth during forecast period
In 2022, conventional segment accounted for a largest market share. Since, this method of farming practice is followed from many years and it also require relatively less time and effort as compare to organic manner. Conventional segment includes raw ingredients derived from almond grown using conventional farming practices. They are grown under normal conditions without additional support. While demand for organic almond butter has been growing significantly, the bulk of the demand for almond butter is met through the conventional segment.
Ease in mass production and affordability of conventional almond butter has been the driving factor for the growth of conventional almond butter. However, the segment is expected to exhibit a slower growth rate during the forecast period owing to the shifting consumer preference toward organic food. The negative impact of the chemical residues in conventionally grown agricultural produce is expected to affect the growth of the segment.
Organic segment registered the highest growth rate over the study period owing to shifting consumer preference toward organic food & beverages. Organic segment includes almond butter obtained from ingredients grown in an organic environment without the use of pesticides and other harmful synthetic chemicals. These components are chemical-free because they are grown under strict rules and oversight to ensure purity and low-to-zero chemical content. Market participants are seeing many potential prospects as a result of rising demand for health and wellness goods and a preference for organic products.
B2B accounted for the largest market share in 2022
B2B garnered largest market share in 2022 due to the growing demand of the product across the food and beverage processing industry. Manufacturers' rising investment in developing and innovating innovative confection goods has eventually raised demand for almond butter across the market because to its numerous applications. Because of their increased distribution capabilities, B2C channels are rapidly growing. These channels provide as a solid foundation for the sale of packaged goods. Hence, B2C is expected to grow with the highest CAGR due to well-analyzed hypermarket and supermarket consumer engagements. As per the statistics published by the Plant Based Foods Association & Good Food Institute, SPINS data shows that U.S. retail sale of plant based diet is bound to rise, growing 6.2% in 2021 over past year.
Asia Pacific is expected to witness significant growth during forthcoming years
Europe remains the primary market shareholder owing to consequent growth of the vegan population in this area. Manufacturer in this region are aiming on developing new and innovative forms hence, almond butter companies are making hasty development concerning sprouting innovative spreads choice.
Asia Pacific is expected to be the fastest-growing in the global market over the prediction period. Huge population residing in the region which accounts for almost 56% of world's population. Increasing almond butter consumption and growing cosmetics industry usage in countries such as India and China are likely to fuel region's growth. Additionally, greater investment in the food sector by some of the key companies is likely to fuel development in this region's target market. Furthermore, rising demand for organic and non-Genetically Modified Organism (GMO) butter is likely to drive market expansion in the future years.
Competitive Insight
Some of the major players operating in the global almond butter market include Barney Butter, Nuts' n More, California Almonds, Myprotein, Dakini Health Foods, Sokol & Company, Premier Organics, Yoga Bar, Pintola, The J.M. Smucker Company, Futter's Nut Butters and Cache Creek Foods.
Recent Developments
In October 2022, Pintola collaborated with sports personalities, to endorse the company's exclusive range of nut butter & rice cakes across its platforms. This will help to further strengthen to connect with dynamic Indian young consumer. It is also committed to being present in around 100 Mn households in the coming 2 years.
Almond Butter Market Report Scope
| | |
| --- | --- |
| Report Attributes | Details |
| Market size value in 2023 | USD 711.61 million |
| Revenue forecast in 2032 | USD 1,214.74 million |
| CAGR | 6.12% from 2023 - 2032 |
| Base year | 2022 |
| Historical data | 2019 – 2021 |
| Forecast period | 2023 - 2032 |
| Quantitative units | Revenue in USD million and CAGR from 2023 to 2032 |
| Segments covered | By Nature, By Distribution Channel, By Region |
| Regional scope | North America, Europe, Asia Pacific, Latin America; Middle East & Africa |
| Key companies | Barney Butter, Nuts' n More, California Almonds, Myprotein, Dakini Health Foods, Sokol & Company, Premier Organics, Yoga Bar, Pintola, The J.M. Smucker Company, Futter's Nut Butters and Cache Creek Foods. |