The global carbon fiber market was valued at USD 6.65 billion in 2022 and is expected to grow at a CAGR of 12.8% during the forecast period. Carbon fiber is used in a wide range of products, including high-end automobiles, sports equipment like snowboards, and aerospace and medical products. The material carbon fiber is incredibly adaptable. This sleek composite is renowned for its exceptional strength and stiffness compared to its weight and is employed in a variety of high-performance applications. Professionals anticipate a huge increase in carbon fiber composite products across various industries as current technology advances and carbon fiber manufacturing costs decline.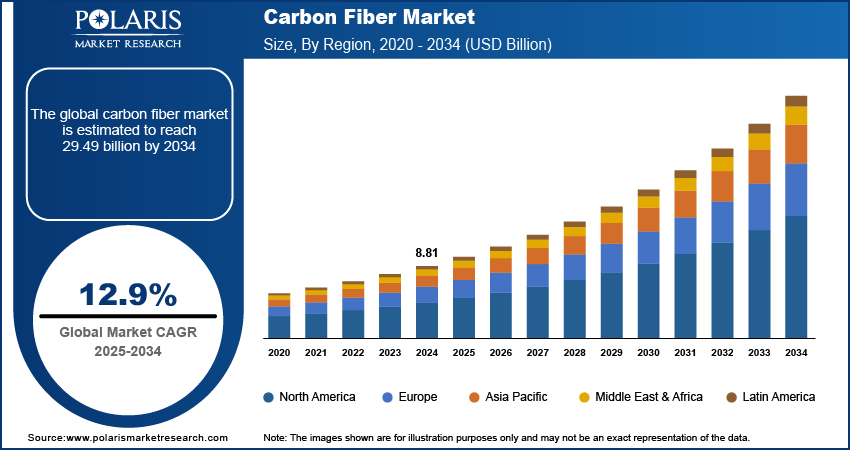 Know more about this report: Request for sample pages
Some of the first sectors to use carbon fibre were aerospace and space. Because of its high modulus, carbon fiber may replace alloys like titanium and aluminium in structural applications. The aerospace industry has mostly adopted carbon fibre because of the weight savings it brings.
To make composite parts, this material can be broken down into several "raw" building pieces, such as yarns, uni-directional braids & weaves and many more. Carbon fiber component has characteristics like those of the steel & weighs about the same as plastic. Therefore, a carbon fiber object has a far higher strength to the weight ratio as compared to steel or the plastic. Carbon fiber is incredibly robust. In engineering, it is common practice to evaluate a material's merits in terms of its strength to weight ratio and stiffness to weight ratio, especially in structural design, where an increase in weight may result in higher lifespan costs or subpar performance.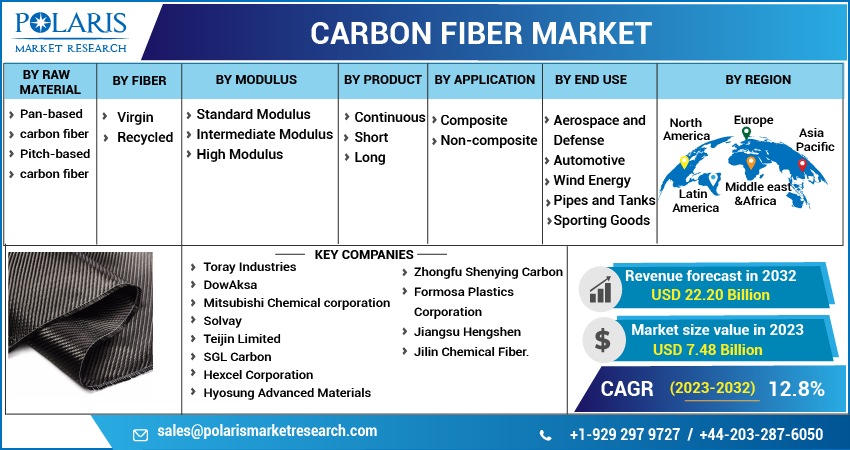 For Specific Research Requirements, Request for a Customized Report
Industry Dynamics
Growth Drivers
Carbon fibers' outstanding chemical resistance, temperature tolerance, high tensile strength, low weight, and distinctive thermal expansion are attributed with the market's expansion. These characteristics of the fiber are predicted to increase demand for it soon, which will subsequently be expected to accelerate carbon fiber market expansion.
In addition, it is anticipated that the market will have significant growth prospects in the years to come owing to the strict environmental rules that are being implemented in both developed and emerging countries. Several automakers, including Audi, BMW, Honda, Polestar, and General Motors, are focusing on collaborating with manufacturers of carbon composite materials for mass manufacturing and investing in their processes to support accessible composite materials.
Increased acceptance of more environmentally friendly building materials is a result of the widespread implementation of strict environmental rules in both developed and developing nations. Carbon fibers and similar composites can reduce weight and improve fuel efficiency. As a result, the market for premium and sports cars is driving up demand for activated carbon fiber. To produce 3D car parts, it is widely used in the automotive sector.
Since, carbon fiber is so powerful, it makes the filament stronger and more rigid. Additionally, fiber will assist prevent the object from shrinking as it cools, making the 3D-printed parts much lighter & are comparative more stable.
Report Segmentation
The market is primarily segmented based on raw material, fiber, modulus, product, application, end use, and region.
By Raw Material

By Fiber

By Modulus

By Product

By Application

By End Use

By Region

Pan-based carbon fiber

Pitch-based carbon fiber

Standard Modulus

Intermediate Modulus

High Modulus

Aerospace and Defense

Automotive

Wind Energy

Pipes and Tanks

Sporting Goods

North America (U.S., Canada)

Europe (France, Germany, UK, Italy, Netherlands, Spain, Russia)

Asia Pacific (Japan, China, India, Malaysia, Indonesia. South Korea)

Latin America (Brazil, Mexico, Argentina)

Middle East & Africa (Saudi Arabia, UAE, Israel, South Africa)
Know more about this report: Request for sample pages
Pan based carbon Fiber is expected to witness fastest growth over the forecast period
PAN fibers are projected to experience higher growth rate due to its benefits. they mixed with resins to provide more strength and the capacity to withstand corrosive and hot situations. These characteristics make them appropriate for a variety of industries, including aerospace, general industrial parts, and sporting goods. Carbon fiber reinforced composites made from PAN-based carbon fiber are utilized as prepregs, textiles, pultrusion, and windings.
PAN-based carbon fibers are widely used in composite materials in the production of aircraft and automobiles. Furthermore, PAN-based carbon is applied compositely. Due to the rising number of hydrogen tanks in FCEVs and wind capacity installations worldwide, fiber would see substantial growth in the pipes & tanks and wind energy industries.
Continuous Carbon Fiber is accounted for the largest market share in 2022
The tensile strength of continuous carbon fiber is higher than that of other kinds of carbon fiber products. It can be utilized in the layup, prepreg, weaving, braiding, filament winding, and pultrusion processes to create composite parts for a variety of industries, including aerospace & military, automotive, wind energy, sporting goods, and others.
Composite applications is expected to witness fastest growth
The composite market is predicted to dominate the market. This progress can be traced to the extensive use of composite carbon fiber by industries like aerospace & defense, automobile, and wind energy. In coming years this market is projected to witness higher growth rate as the usage of carbon fiber applications in composition form.
Wind energy segment will have a higher growth rate in coming years
Wind energy segment will have a higher growth rate in coming years due its wide functions in different sectors. The essential elements of wind power generation systems are wind turbine blades. According to industry experts only carbon fibers based on PAN are used in wind energy applications. They are frequently used in the structural spar caps of the turbine blades. In order to lengthen the length of the turbine blade and enhance the amount of electricity produced, carbon fiber & its composites are utilized in the manufacture of wind turbine blades.
The best stiffness, strength, and weight ratio is provided by carbon fibers, enabling the producers to produce larger blades with more energy output. Carbon fibers have facilitated the growth of the wind energy sector by enabling wind turbines to operate in the most challenging settings because of their corrosion resistant capabilities.
The demand in Europe is expected to witness significant growth over the forecast timeline
In 2022, Europe will have the largest carbon fiber market. A substantial number of manufacturers are actively engaged in development operations, particularly in expansions and the introduction of new products. There are significant carbon fiber producers in the area. Numerous end-use sectors, including aerospace & military, automotive, sporting goods, wind energy, pipe & tank, and sporting goods, employ carbon fiber extensively.
Due to the significant aerospace industries in France and the UK, the aerospace industry holds the largest share of the European carbon fiber market. In the upcoming years, the industry is expected to rise significantly due to Europe's expanding manufacturing infrastructure.
Competitive Insight
Some of the major players operating in the global market include Toray Industries, DowAksa, Mitsubishi Chemical, Solvay, Teijin Limited, Hyosung Advanced Materials, Zhongfu Shenying Carbon, Formosa Plastics, SGL Carbon, Hexcel Corporation, Jiangsu Hengshen, & Jilin Chemical Fiber.
Recent Developments
In December 2022, Toray Industries, disclosed that it had created a polyethylene terephthalate (PET) film with good water-based and solvent-free coating adhesion and application as well as the ability to completely remove carbon dioxide emissions from solvent use. To promote environmentally friendly film goods for which decarbonization during manufacture is desirable, the business aims to create the film at a domestic plant by the end of March 2024. These products include printing, packing, adhesive, release, and automobile films.

In November 2022, Teijin Limited revealed that it will collaborate with European experts in carbon management GreenDelta, Makersite, Minviro, and PRe-Sustainability to launch a new group by the Teijin to hasten the decrease of GHG emissions during product life cycle. The collaboration is anticipated to advance Teijin's ongoing life cycle assessment initiatives to reduce GHG emissions in the production of carbon, aramid fibers, both upstream and downstream (Scope 3), as per GHG protocol.
Carbon Fiber Market Report Scope
| | |
| --- | --- |
| Report Attributes | Details |
| Market size value in 2023 | USD 7.48 billion |
| Revenue forecast in 2032 | USD 22.20 billion |
| CAGR | 12.8% from 2023 – 2032 |
| Base year | 2022 |
| Historical data | 2019 – 2021 |
| Forecast period | 2023 – 2032 |
| Quantitative units | Revenue in USD billion and CAGR from 2023 to 2032 |
| Segments covered | By Raw Material, By Fiber, By Modulus, By Product, By Application, By End Use, By Region |
| Regional scope | North America, Europe, Asia Pacific, Latin America; Middle East & Africa |
| Key companies | Toray Industries, DowAksa, Mitsubishi Chemical corporation, Solvay, Teijin Limited, SGL Carbon, Hexcel Corporation, Hyosung Advanced Materials, Zhongfu Shenying Carbon, Formosa Plastics Corporation, Jiangsu Hengshen, and Jilin Chemical Fiber. |