The global agricultural robots market was valued at USD 2,882 million in 2017 and is anticipated to grow at a CAGR of 23.8% during the forecast period. Agricultural robots are used on farms and agricultural lands to save labor costs, and maximize quality, productivity, sustainability, and profitability. Agricultural robots include milking robots, UAVs, driverless tractors, and harvesting robots among others. These robots are used for activities such as fruit picking, sheep shearing, castrating, spraying, cultivation, pruning, weeding, dairy production, and livestock applications. These robots enable farmers to automate farm activities, and enhance crop yield while reducing labor costs.
The increasing demand for food crops owing to population increase primarily drives the Agricultural Robots market growth. There has been growing automation of farm operations to increase food production and improve crop quality. Growing adoption of advanced technologies to maximize crop production boosts the adoption of agricultural robotics. Increasing labor costs coupled with shortage of labor on farms has increased the demand for agricultural robots. Other factors driving the growth of the Agricultural Robots market include growth in the global agricultural industry, growing environmental concerns, shifting focus towards organic food, and concerns regarding scarcity of natural resources. Integration of technologies and subsidies from governments further supplement the growth of this market. However, high initial investment restricts the growth of the agricultural robotics market. Growing demand from emerging economies, and technological advancements are factors expected to provide numerous growth opportunities during the forecast period.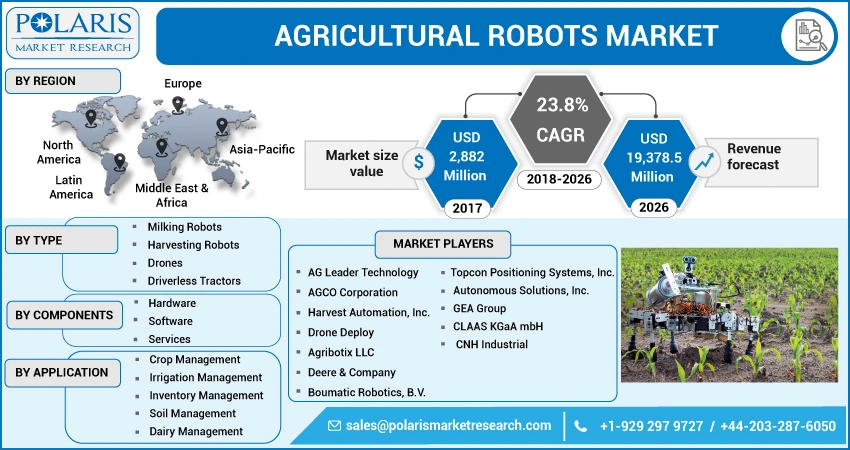 Segment Analysis
The global agricultural robots market is segmented on the basis of component, type, application, and region. On the basis of component, the market is segmented into hardware, software, and services. Based on the type, the market is segmented into milking robots, harvesting robots, drones, driverless tractors, and others. The application segment is segmented into crop management, irrigation management, inventory management, soil management, dairy management, and others.
Regional Analysis
The agricultural robots market report comprises a detailed geographic distribution of the market across North America, Europe, APAC, Latin America, and MEA. North America is further segmented into U.S., Canada, and Mexico. Europe is divided into Germany, UK, France, and Italy. Asia-Pacific is bifurcated into China, India, Japan. North America accounted for the largest share in the global Agricultural Robots market in 2017 owing to growing need to improve agricultural productivity.
Competitive Analysis
The leading players in the Agricultural robots market include AG Leader Technology, AGCO Corporation, Harvest Automation, Inc., Drone Deploy, Agribotix LLC, Deere & Company, Boumatic Robotics, B.V., Topcon Positioning Systems, Inc., Autonomous Solutions, Inc., GEA Group, CLAAS KGaA mbH, and CNH Industrial among others. The leading players in the market are introducing new innovative products in the market to cater to the growing consumer demands. Global players are entering new markets in developing regions to expand their customer base and strengthen market presence.