The global 5G chipset market was valued at USD 1.32 billion in 2019 and is expected to grow at a CAGR of 47.6% during the forecast period. The demand for 5G Chipset is anticipated to increase significantly during the forecast period owing to increasing need for high-speed internet connectivity along with emergence of technologically evolving, and fast-growing markets such as healthcare, automotive, energy, and defense. Increasing data generation, growing penetration of smartphones and other mobile devices, and emergence of social media has encouraged market players to launch new products in the market. These chipsets are essential component for 5G based devices such as laptops, smart-phones, routers, and tele-communications base stations, thereby helping users to connect and experience next-generation networks. Currently, various telecom industry across the globe doing a seismic shift from 4G to 5G network which set the tone for the growth in the global market.
Globally, in 2019, 5G era will be commence full and will create tremendous opportunities for customers, companies, providers, vendors and all interested parties. The rapid adoption of 5G technology in the developing economies set the tone for the growth in the 5G chipset market and will continue over the forecast period. Meanwhile, the Internet of Things (IoT) begins to proliferate globally as a number of smart cities, smart grids and smart grid initiatives are ongoing in various parts of the world. Moreover, many manufacturing firms have started introducing IoT systems to track system output in real time to reduce total downtime and increase operating productivity. The resulting growth in demand for IoT products is projected to fuel demand for the market over the forecast period.
The increased emphasis on designing modern and creative chipset modules for telecommunications base stations to minimize total size and power usage is projected to open up new business prospects for 5G chipset. In this direction, Samsung Electronics launched two new 5G chip-set modules for tele-communications base stations, called Radio Frequency Integrated Circuits (RFIC) and Application Specific Integrated Circuit (ASIC) chipsets, in February 2019.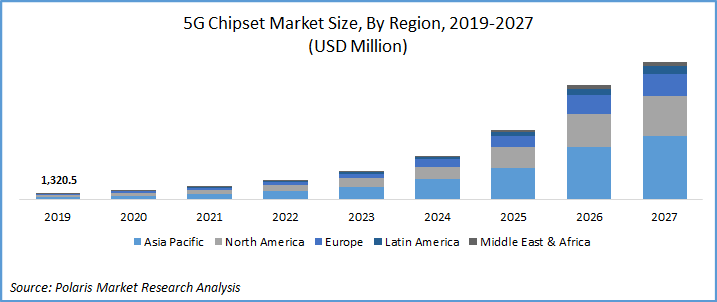 Know more about this report: request for sample pages
Industry Dynamics
The demand for 5G chipsets is expected to increase during the forecast period owing to greater demand for high speed internet, data storage, and growth in M2M connections. The growing trend of IoT, artificial intelligence, blockchain, and machine learning tools are being developed by market players to increase business performance, supplementing the growth of 5G chipsets market. In the coming years, 5G chipsets are expected to transform the way businesses function through integration of technologies such as automation, cloud computing, mobility and big-data. Increasing adoption of 5G chipsets results in enhanced productivity, automation of tasks, real time access, remote device management, reduced costs, decreased risks of fraud, remote monitoring, and enable implementation of new business models.
The continuous growth of the cellular network has allowed users to experience low-latency data transfer rates. Surge in mobile data services is driven mainly by growing usage of technology and software in both consumers based devices and B2B communication systems currently using data based applications, including virtual ones, and increasing demand for mobile data services. In order to accommodate growing data traffic, more bandwidth is required. It is estimated that 5G would have 1,000 times more spectrum than its predecessor 4G and 3G cell broadband generations. As a result, growing mobile data traffic will push network providers to deliver more bandwidth to consumers; this aspect is expected to fuel demand for 5 G chipset technology in the future.
COVID-19 Outbreak Impact on 5G Chipset Market
Globally, the increasing COVID-19 cases has had a negative effect on the manufacturing facilities in Asia Pacific, leading to a major slowdown in production of concerned ancillary components. The virus results in a variety of supply chain participants shifting their manufacturing facilities outside of China. For example, according to data released by China's customs department, China's exports decreased rapidly by almost 17.0% in the first two months of 2020 compared to the previous year. In addition, it was also analyzed that the overall manufacturing sector in Asia-Pacific is currently severely affected by outbreak of COVID-19, which also hinders the market for 5G chipset in the region.
5G Chipsets Market Report Scope
The global 5G chipset market is primarily segmented based on frequency type, processing node type, IC type, deployment type, vertical, and geographic region.
By Frequency Type

By Processing Node Type

By IC Type

By Deployment Type

By Vertical

By Region

sub-6GHz
mmWave
sub-6GHz + mmWave

Application-Specific Integrated Circuits (ASIC)
Radio Frequency Integrated Circuit (RFIC)
Millimeter Wave Technology Chips (mmWave IC)
Cellular Integrated Circuit (Cellular IC)
Others

Telecom Base Station Equipment
Smartphones/Tablets
Connected Vehicles
Connected Devices
Broadband Access Gateway Devices
Others

Healthcare
Manufacturing
IT and Telecom
Retail
Automotive and Transportation
Consumer Electronics
Energy and Utilities
Others

North America (U.S., Canada)
Europe (France, Germany, UK, Italy, Spain, Netherlands, Finland)
Asia Pacific (Japan, China, South Korea, Malaysia, Indonesia. Taiwan)
Latin America
MEA
Know more about this report: request for sample pages
Frequency Type Outlook
Based upon frequency type, the global market is segregated into sub-6GHz, mmWave, and sub-6GHz. To provide broad coverage for multiple use cases, the devices operating in the frequency of sub-6 GHz spectrum band accounted for the majority of share in 2019. Sub 1 GHz segment can support 5G networks in metropolitan, suburban and rural areas and can play a role in IoT services. The continued roll-out of the Industrial Internet of Things (IIoT) and the increasing popularity of autonomous cars have contributed to the need for higher bandwidth and faster data networks. As a result, the demand for mmWave is foreseen to witness rapid growth over the forecast period.
IC Type Outlook
The IC Type segment has been divided into application-specific integrated circuits, radio frequency integrated circuit, millimeter wave technology chips, cellular integrated circuit, and others. In 2019, the application-specific integrated circuits segment accounted for the highest market share owing to greater used in specialized applications and tasks. Organizations are integrating 5G technology with IoT to gain valuable customer and market insights and make data-driven decisions, while enhancing customer experience and offering customized services, supporting the growth of application-specific integrated circuits.
Vertical Outlook
The 5G services are being utilized by different industry verticals including IT and telecom, Manufacturing Energy & Utility Media & Entertainment Transportation & Logistics Healthcare and among others. Among these, the IT & Telecom segment captured significant market share, in 2019. This large share is due to substantial investments made by key players in creating 5G chipset modules for telecommunications base stations, broadband gateway systems and other networking tools. The consumer electronics segment also accounted for a major share in 2019. The increasing sale of electronics such as smartphones, tablets, digital cameras, and televisions among others drives the growth of this segment
Moreover, demand for next-generation chipsets has been seen across a range of vertical industries, such as manufacturing, energy and infrastructure, media and entertainment, IT and telecommunications, transport and logistics, healthcare, and others. The rising demand for high-speed data connectivity for virtual meetings and other business applications is expected to drive the growth of the IT and telecommunications segment over the forecast period.
Geographic Overview
Asia-Pacific dominated the global 5G Chipset market in 2019. This is attributed to the substantial growth in investment in the production of 5G-enabled smartphones and base stations enabling 5G Digital Radio (NR) frequencies. However, the global market for 5G chipset is projected to experience highest growth rate between 2020 and 2027. Moreover, the growing demand for smart manufacturing across developing economies, such as China and India, is projected to accelerate the acceptance of 5G chipset components over the forecast period. In the U.S., the market is projected to have a relatively high market share. The U.S. is seeing substantial innovation in smart houses, smart manufacturing, and smart communities. At the same time, the demand for high-graphics video gaming is increasing among customers in the United States.
Competitive Insight
Key players are pursuing numerous approaches, including new product development and strategic partnerships, to improve their presence in the concerned market. At the same time, leading handset vendors, such as Apple Inc., are focused on vertical convergence to expand their product offerings of 5G-enabled smartphones. Market-holders are actively focused on producing creative products, expanding broader product offerings and capturing substantial market share. For instance, Qualcomm Incorporated launched the Snapdragon X55 5 G modem in February 2019. The new modem supports all sub-6GHz and mmWave channels. Big companies are now involved in research and development to create new 5G chipset multimode modules.
In May 2019, Analog Devices, Inc. launched a new millimeter wave 5G chipset equipped with beamformer IC, up/down frequency conversion, and additional mixed signal circuitry. The chipset is designed to include ADMV1017 mmWave UDC, 16-channel ADMV4801 single-polarization beamformer IC, and 16-channel ADMV4821 dual/single polarization beamformer IC. This chipset is developed to be used across multiple use cases owing to greater system flexibility, reconfigurability, high channel density, and capability to support single- and dual-polarization deployments.
The leading players in the market include Texas Instruments Inc., Cavium Inc., Anokiwave Inc., Samsung Electronics Co., Ltd., IBM Corporation, Infineon Technologies AG, Nokia Corporation, Huawei Technologies Co. Ltd., MediaTek Inc., Xilinx Inc., Broadcom Inc., Qualcomm Incorporated, Qorvo, Inc., Unisoc Communications, Inc., Integrated Device Technology, Intel Corporation, Renesas Electronics Corporation, NXP Semiconductors NV, and Analog Devices Inc. These companies are taking initiatives to strengthen their market presence by introducing advanced solutions for its customers. These players are also collaborating with other market leaders to expand their offerings and acquire new customers.