The global 5G IoT market was valued at USD 809.3 million in 2020 and is expected to grow at a CAGR of 45.8% during the forecast period. The growth boosting the market is attributed towards the innovations in the 5G technologies that is not limited only to smartphones but also across several verticals such as automotive, medical/healthcare, security, industry, construction, insurance, distribution, farming/ fisheries, tourism, public transport (rail and bus), entertainment, retail/services, public infrastructure (road and bridge monitoring), etc., in order to develop & implement an effective transformation strategy for their existing businesses. Moreover, rapid explosion of mobile traffic continues globally is accelerating the demand for 5G IoT that has led to increased need for a faster network with higher capacity for connectivity across the business operations.
5G Internet of Things (IoT) technology provides advanced developments of existing mobile communication, with massive changes in digitalization, society, and economies globally. In addition, the technology is aiming at expanding the infrastructural conditions of conventional networks in order to ensure instant availability of networks for mobile devices. Recently, Nokia expands Worldwide IoT Network Grid (WING) supporting service providers to offer full range of services with ultra-low latency, enhanced throughput and high security. Moreover, as IoT is on the rise with exponential developments, the growing needs of the networked society are expected to continue its dominance during the forecast period.
Furthermore, the upcoming launch of the fifth-generation of cellular mobile communications which is aiming to improve the performance & reliability of device connections is becoming one of the major growth factors in the market. In addition, due to the increased speed, these advanced networks will operate more reliably by creating highly stable connections in the market. Connected devices such as security cameras, locks, and other monitoring systems which largely depend on real-time updates, require reliable and stable network conditions. Thus, this technology is anticipated to grow exponentially in the coming years.
For instance, Telefonica and Idrica has been collaborated that will offer an 5G IoT solution for the management of the water cycle which allows monitoring real time information on several infrastructures and processes at individual place with the development of IoT technologies such as LTE-M, NB-IoT, and 5G Massive IoT. For instance, Verizon and Neptune Technology Group is working together to roll-out of LTE-M solutions to enable agile deployment.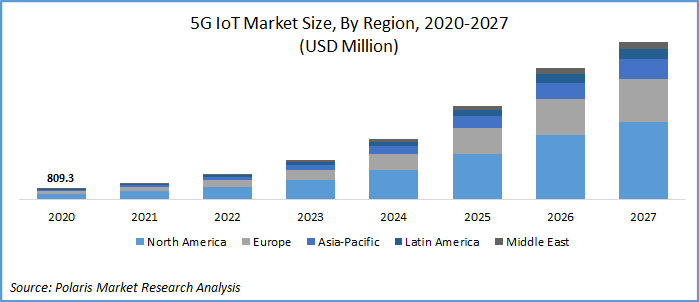 Know more about this report: request for sample pages
Industry Dynamics
Growth Drivers
The sudden eruption of COVID-19 is the key factor driving the growth of global market. The damage due to COVID-19 is impacting individuals globally as a result to which demand for advance & digitalized technologies with strong network are rapidly increasing. WHO has urged all the industrial sectors to address the impact of social distancing and managing consumers demand during the pandemic situation. However, the global market is gaining exponential growth and expected to regain tremendously in the post-pandemic world.
Furthermore, with increased deployments of 5G, the mobile ecosystem has expanded tremendously, as the service providers are heavily expanding their 5G plans by even larger and extensive features in the market. For instance, Telefonaktiebolaget LM Ericsson, which is a multinational networking & telecommunications company has projected that by 2024, 5G connectivity will be expanded by almost one third population coverage and with 1.5 billion subscriptions a global scale. This, therefore becoming another factors propelling the market growth with new and innovative solutions existing infrastructure and available industrial spectrum.
Challenges
However, high capital expenditure for infrastructural establishment of 5G IoT and massive cost intensive are some of the key factor that acts as a hurdle for the growth of the global market.
5G IoT Market Report Scope
The market is primarily segmented on the basis of radio technology, range, vertical, and geographic region.
By Radio Technology

By Range

By Vertical

By Region

5G NR Standalone Architecture
5G NR Non- Standalone Architecture

Short Range IoT Devices
Wide Range IoT Devices

Manufacturing
Energy & Utilities
Government
Healthcare
Transportation & Logistics
Mining
Others

North America (U.S., Canada)
Europe (France, Germany, UK, Italy, Spain, Netherlands, Austria)
Asia Pacific (Japan, China, India, Malaysia, Indonesia. South Korea)
Latin America (Brazil, Mexico, Argentina)
MEA (Saudi Arabia, UAE, Israel, South Africa)
Know more about this report: request for sample pages
Insight by Radio Technology
Based upon radio technology, the global market is bifurcated into 5G NR standalone architecture and 5G NR non-standalone architecture. Of all, the stand-alone architecture segment is expected to hold the largest share in the global market in 2020, owing to advance features and wide range of functionalities provided by this segment. In addition, it provides several built-in capabilities such as ultra-low latency, network slicing, multi-Gbps support, virtualization, and control & user plane separation (CUPS).
Insight by Range
On the basis of range, the global market is categorized into short range IoT devices and wide range IoT devices. The short-range IoT device segment will be expected to register highest CAGR during the forecast period over the study period. As short-range IoT devices need different types of connectivity solutions due to emerging new application sectors such as in healthcare, energy, and manufacturing, among others. Moreover, in order to meet the ever-growing demand for high-speed connectivity by global consumers, the same segment is expected to contribute the largest revenue by 2027. In 2019, Samsung introduced new Internet of Things (IoT) solution, Exynos T100 for short-range communications is based on a 28-nanometer (nm) process technology that automate and control environments for individuals and businesses.
Geographic Overview
Geographically, North America held the majority of share in the global market. Demand for this new technology has been exceeded by growth of connected devices & wireless connectivity and rising use of IoT-enabled devices in the region. In addition, developed countries like the U.S. & Canada with large digitalized services providers, such as Rogers, Verizon, Telus, and Sprint are continuously accelerating the development in concerned market.
In Europe, countries such as Spain, Italy, Germany, France, and United Kingdom (UK) are growing exceptionally in adoption & implementation of 5G IoT technology and are expected to maintain these trends during the forecast period. The growth is attributed to a surge in deployment & penetration of 5G-enabled devices with strong support and initiatives by the European government.
Furthermore, Asia Pacific is expected to witness substantial growth in the 5G IoT market over the forecast period. Due to increased adoption of digitalized offerings, awareness towards growing technologies, and surge in penetration of smartphones in the region. Moreover, with massive diversity & a large population in the region, economies such as India, China, and Japan are also anticipated to drive the growth in the region. In addition, several government initiatives, the rising number of internet users, and connected devices are some of the major factors driving the regional market.
Latin America is expected to witness a substantial share in the upcoming years. Due to increased development in the telecommunication sector and implementation of several strategies such as digitalization, innovation, and deployment of advanced infrastructure & security devices. Moreover, developing economies such as Brazil, Argentina are expected to provide lucrative opportunities to the key players in the upcoming years.
Competitive Insight
Key players operating in the global market emphasis on strategic acquisitions in order to strengthen research and development with capabilities that support them in providing users with innovative solutions and thus gain competitive advantage.
Some of the major players operating the 5G IoT market include Anritsu, AT&T, Bell Canada, BT Group, Ericsson, Etisalat, Huawei, Juniper Networks, Inc., Nokia, Palo Alto Networks, Inc., Qualcomm Technologies, Inc., Rogers, Sierra Wireless, Singtel, Sprint, Syniverse Technologies LLC, Telefónica, Telenor Group, Telstra, Telus, Verizon, Vodafone