The global actigraphy sensors and PSG devices market was valued at USD 1.15 billion in 2019 and is expected to grow at a CAGR of 5.1% during the forecast period. The market drivers include increased prevalence of insomnia, increased incidence of sleep disturbances due to stressed lifestyle, increased awareness about importance of sleep for maintaining daily routine.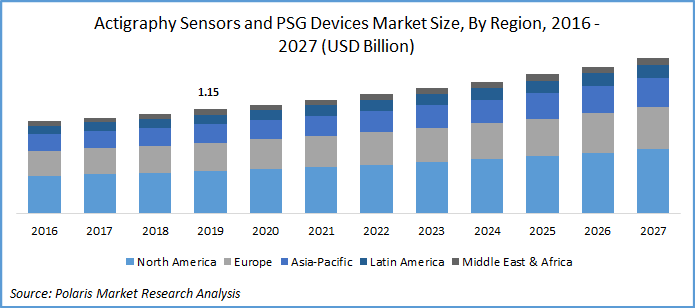 Know more about this report: request for sample pages
Moreover, as majority of the developed country's population starts aging and has co-morbid conditions, the demand for insomnia treatment is increasing, which has positively impacted on the demand of these devices over the historic period. As a result, most of the treatment plans now include actigraphy sensors and PSG devices in their clinical treatment plans. The diagnosis of insomnia and other sleep deprivation disorders are carried out by these devices which gives the benefits of accurate diagnostics, ability to track treatment results over a period of time and real-time results.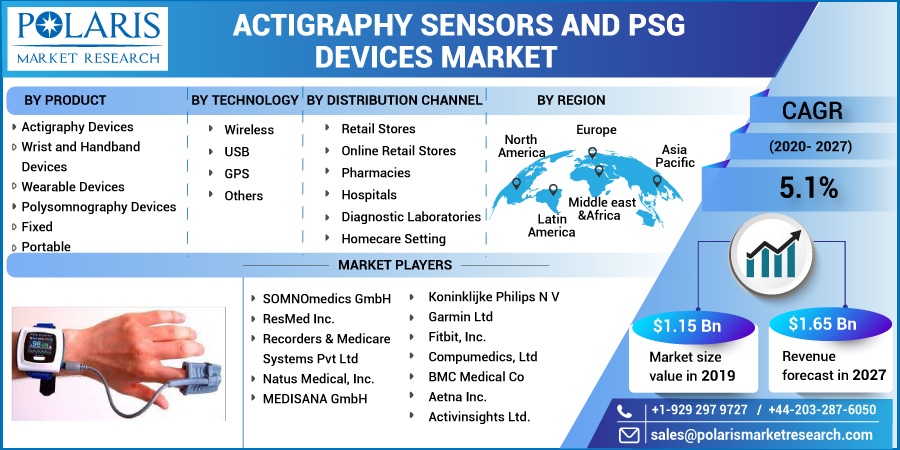 Know more about this report: request for sample pages
Industry Dynamics
Growth Drivers
Increasing prevalence of insomnia, increased awareness regarding various treatment options available for sleep deprived patients, and wide availability of the concerned devices are the key drivers for the market growth. Geriatric population are most vulnerable to insomnia and are currently the highest in developed economies which is likely to complement the demand for diagnostic devices.
Actigraphy Sensors and PSG Devices Market Report Scope
The market is primarily segmented on the basis of product, technology, distribution channel and region,
By Product

By Technology

By Distribution Channel

By Region

Actigraphy Devices

Wrist and Handband Devices
Wearable Devices

Polysomnography Devices

Retail Stores
Online Retail Stores
Pharmacies
Hospitals
Diagnostic Laboratories
Homecare Setting

North America (U.S., Canada)
Europe (France, Germany, UK, Italy, Spain, Netherlands, Austria)
Asia Pacific (Japan, China, India, Malaysia, Indonesia, South Korea)
Latin America (Brazil, Mexico, Argentina)
Middle East & Africa (Saudi Arabia, UAE, Israel, South Africa)
Know more about this report: request for sample pages
Insight by Product
Based on product, the global actigraphy sensors and PSG devices market is categorized into actigraphy and polysomnography devices. Actigraphy devices accounted for the largest revenue share in 2019 owing to increasing incidence of Covid-19 infections, increased awareness about infection, and relaxation of restrictions in most of the industrialized countries are paving the way for increased demand amidst this pandemic.
Increasing awareness of available treatment options for sleep deprivation disorders, product availability across distribution channel, and advanced public sector healthcare facilities and non-profit healthcare organization is expected to drive the demand for actigraphy sensors and PSG devices. Additionally, technological advancements in the field of these devices is expected to drive market growth over the coming years.
Insight by Technology
On the basis of technology, the actigraphy sensors and PSG devices market is segmented into wireless, USB, GPS, and others. The wireless technology segment is expected to dominate the market. As most of the new products are technologically enabled, user-friendly, provide real-time results, and they have ability to perform highly sensitive tests which are useful in diagnosis of diseases is expected to drive demand.
Geographic Overview
North America accounted for the highest revenue share owing to availability of largest customer pool in this region. The demand for these devices has been increasing owing to Covid-19 to support geriatric patients suffering from sleep disturbances. In addition, as the life expectancy continues to rise and about 20% U.S. population accounts for geriatric population, there exists a large group of patients who have still not used these devices for their treatment.
Additionally, the key manufacturers of the devices have started strengthening their supply chain and distribution in the U.S. as availability of product plays an important role in product uptake, there by leading to higher market share. Furthermore, massive investment in manufacturing of these devices by ResMed, and other top industry participants are expected to contribute positively for product availability in the U.S.
Moreover, Asia-Pacific is estimated to witness significant growth opportunity, owing to the increasing public spending on wellness. As people have started recognizing diseases like sleep deprivation and insomnia, the demand for such products is expected to witness high demand in countries such as South Korea, India, and Japan.
Competitive Insight
Key market participants are currently focusing on capturing additional market share by organic and inorganic growth. For instance, ResMed Inc., the U.S.-based medical devices company acquired MatrixCare, a EHR solution company to strengthen their business segment. With this portfolio expansion, the company is looking forward to strengthening its out-of-hospital software services in the near future.
Additionally, ActiGraph has expanded its portfolio to include new activity monitoring device, the CentrePoint, which captures data from accelerometer and provides actionable insights through real-time data transfer mechanism. Some of the major players operating the market include SOMNOmedics GmbH, ResMed Inc., Recorders & Medicare Systems Pvt Ltd, Natus Medical, Inc., MEDISANA GmbH, Koninklijke Philips N V, Garmin Ltd, Fitbit, Inc., Compumedics, Ltd, BMC Medical Co, Aetna Inc., and Activinsights Ltd.