The global active pharmaceutical Ingredient (API) market was valued at USD 177.4 billion in 2019 and is expected to grow at a CAGR of 7.1% during the forecast period. The growth of the global active pharmaceutical Ingredient market is attributed to the rising diseased population, surge in infectious diseases, and increasing prevalence of infectious diseases. Moreover, rising prevalence of chronic diseases such as cancer, diabetes, asthma and others are further anticipated to increase the demand for drugs and medication and thereby is fueling the overall market.
Industry Dynamics
Growth Drivers
The growth of the global active pharmaceutical Ingredient market is progressively driven by the sudden outbreak of corona virus all over the world. According to the World Health Organization, over 2074529 people around the world were infected by the corona virus in April 2020, this number rose to 17,396,943 by the end of July 2020.
The rise of this highly infectious disease has led to various companies to invest in captive production of API to focus on the production of the critical vaccine. For instance, on July 2020, Avra Laboratories Pvt. Ltd, announced that they have received the approval of the regulatory from Central Drugs Standard Control Organization (CDSCO), for the manufacture of Favipiravir API for the treatment of COVID-19.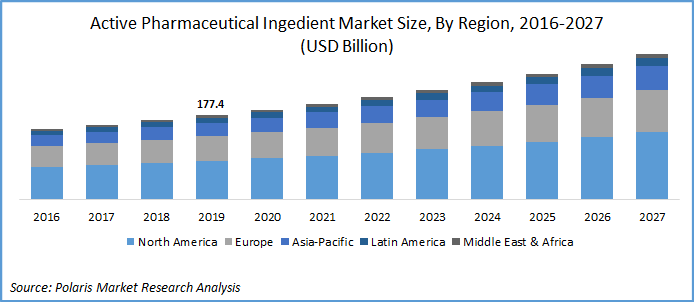 Know more about this report: request for sample pages
Moreover, the increasing aging population globally leads to increase in health issues which there-by augments the demand for drugs and medicines and therefore rise in demand for active pharmaceutical Ingredient. Moreover, infectious and chronic diseases such as joint & bone infections, cancer, diabetes, pneumonia, arthritis, streptococcal pharyngitis, urinary tract infections, otitis, cellulites and others. In regards to this, according to the World Health Report of 2013: promoting healthy life, reducing risks, shows that the morbidity, mortality, and disability contributed to major chronic diseases and accounted for 60 per cent of the overall deaths and 43 per cent of the global diseases. By 2020, this contribution is expected to increase up to 73 per cent of the overall deaths and 60 per cent of the global diseases.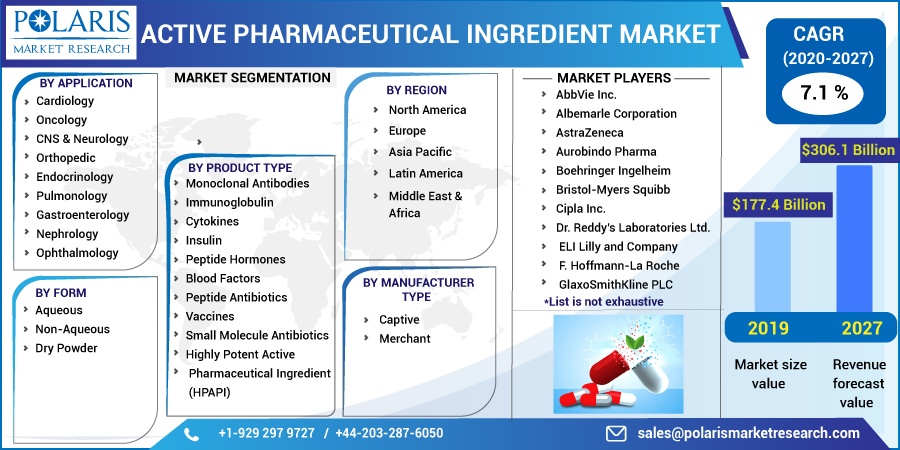 Know more about this report: request for sample pages
Challenges
However, high capital investment for the production of active pharmaceutical Ingredient is projected to hamper the growth of this market. In addition to this, stringent government reforms and policies across the globe is additionally causing hindrance in the growth of global market.
Global Active Pharmaceutical Ingredient Market Report Scope
The market is primarily segmented on the basis of product type, by form, by manufacturer, by application, and by geographic region.
By Product Type

By Form

By Manufacturer Type

By Application

By Region

Monoclonal Antibodies
Immunoglobulin
Cytokines
Insulin
Peptide Hormones
Blood Factors
Peptide Antibiotics
Vaccines
Small Molecule Antibiotics
Highly Potent Active Pharmaceutical Ingredient (HPAPI)
Others

Aqueous
Non-Aqueous
Dry Powder

Cardiology
Oncology
CNS & Neurology
Orthopedic
Endocrinology
Pulmonology
Gastroenterology
Nephrology
Ophthalmology
Others

North America (U.S., Canada)
Europe (France, Germany, UK, Italy, Spain, Netherlands, Austria)
Asia Pacific (Japan, China, India, Malaysia, Indonesia. South Korea)
Latin America (Brazil, Mexico, Argentina)
MEA (Saudi Arabia, UAE, Israel, South Africa)
Know more about this report: request for sample pages
Insight by Product Type
Based upon product type, the global market is categorized into monoclonal antibodies, insulin, peptide hormones, blood factors, immune-globulin, cytokines, peptide antibiotics, vaccines, small molecule antibiotics, HPAPI, and others. In 2019, high potent active pharmaceutical ingredient is held a significant market share, owing to its intensity and specificity of drug action. This action will be high even in low concentration such as micrograms. Monoclonal antibodies and vaccines and also anticipated to account for a prominent market share in the global market by the end of the forecast period.
Insight by Application
Based upon application type, the global market is categorized into Cardiology, Oncology, CNS & Neurology, Orthopedic, Endocrinology, Pulmonology, Gastroenterology, Nephrology, Ophthalmology, and Others. Cardiology acquired the largest market share in 2019, owing to the increasing prevalence of cardio-vascular diseases across the globe. According to WHO, globally, CVDs were ranked first in the death cause, with an around 17.9 million annual mortality rate.
Insight by Manufacture Type
On the basis of manufacturer type, the global market is segmented into captive and merchant. The captive is expected to have a fast growth rate owing to increasing capitalization by the major players and government authorities for the development of manufacturing facilities. On July 2020, Eastman Kodak Co., US based pharmaceutical and technology company, planned to enter into drug manufacturing has sanctioned a loan of USD 765 million from the U.S. International Development Finance Corporation. The company aimed to scale the production of active pharmaceutical Ingredient for generic medicines in the United States.
Geographic Overview
Geographically, North America accounts for one of the largest revenue holder in global market due to rising investment in R&D, innovation of drugs owing to augmenting indices of diseases coupled with being the most prominent regions affected by COVID-19. According to the United States Congressional Research Service (USCRS), COVID-19 is capturing attention in the areas where US economy depend upon supply and manufacturing chains from China. Moreover, according to the U.S. Food and Drug Administration (FDA), only 28 per cent of active pharmaceutical Ingredient for the country is manufactured within the U.S. Therefore, the U.S. government is focusing on developing in-house manufacture and supply of APIs to reduce the dependence on other countries, and is further expected to boost the overall domestic market capabilities in the region.
European market for API is expected to witness a significant growth in terms of CAGR owing to the presence of the world's highest API producers and their increasing strategies to enhance their market place. For instance, on February 2020, Sanofi S.A., France based pharmaceutical company, announced to create one of the leading European companies aimed for the marketing and production of active pharmaceutical Ingredient. The project involves creating of a standalone company and would combine Sanofi's development and commercial activities with its six existing API manufacturing sites. This new company is expected to rank as the second largest API producers behind Lonza Group, thereby enhancing the overall European API market.
Asia-Pacific is expected to have the one of the fastest growth in terms of CAGR in the global market owing to the rising government initiatives towards the production of critical drugs, substantial rise in R&D and increasing elderly population in countries like Japan, China, India and others in this region. China provides 75 per cent of the APIs used in making of drugs in NLEM (National List of Essential Medicines), and can increase the prices of the drugs in this list. Therefore, India is aiming for production of APIs to reduce the dependence on China for the needed raw materials.
On March 2020, the government of India set aside USD 1.2 billion, for pharmaceutical industry for shifting the country's reliance on active pharmaceutical Ingredient produced in China. On 2020, the government of India further notified that it will provide USD 926.1 million incentive to each domestic company, which are setting up facilities to manufacture more than 53 crucial APIs which are highly dependent on Chinese imports.
Competitive Insight
Major players operating in the global active pharmaceutical Ingredient market are focusing on strategic development in order to strengthen capabilities and enhance their research & development that supports them in providing innovative solutions to the consumers and thereby establish their market position. Major players operating the market include AbbVie Inc., Albemarle Corporation, AstraZeneca, Aurobindo Pharma, Boehringer Ingelheim, Bristol-Myers Squibb, Cipla Inc., Dr. Reddy's Laboratories Ltd., ELI Lilly and Company, F. Hoffmann-La Roche, GlaxoSmithKline PLC, Lonza Group, Merck & Co., Inc., Mylan N.V., Novartis AG, Pfizer, Inc., Sanofi, Sun Pharmaceutical Industries Ltd, and Teva Pharmaceutical Industries Ltd. among others.