The global adiponitrile market size was valued at USD 9.29 billion in 2020 and is expected to grow at a CAGR of 5.3% during the forecast period. Adiponitrile is increasingly being used in textile, plastic, and fiber industries as an intermediate for the chemical synthesis of hexamethylenediamine. Hexamethylenediamine is used for the production of Nylon 66. Adiponitrile is also widely used for the production of adipoguanamine to make amino resins. The demand for Adiponitrile has increased owing to its biodegradable and environment-friendly properties.
Adiponitrile is widely used for the manufacturing of nylon 66 fibers and resins. The demand for nylon 66 has increased significantly owing to its dimensional stability, superior melting point, and compact molecular structure. Nylon 66 offers greater tensile strength, excellent abrasion resistance, high machinability, and a high melting point.
Nylon 66 is used in a wide range of applications such as textile, automotive, furniture, and packaging among others. The automotive sector uses nylon 66 for the manufacturing of heavy-duty tires and reinforced belts capable of withstanding high temperatures and fast curing cycles. The use of nylon 66 in tire cords of aircraft and off-road vehicle tires offers higher durability, longer life, and high fatigue resistance. Some other applications of nylon 66 include sleeve and slide bearings, wear pads, support and guide wheels, gear wheels, seal rings, and track plates among others.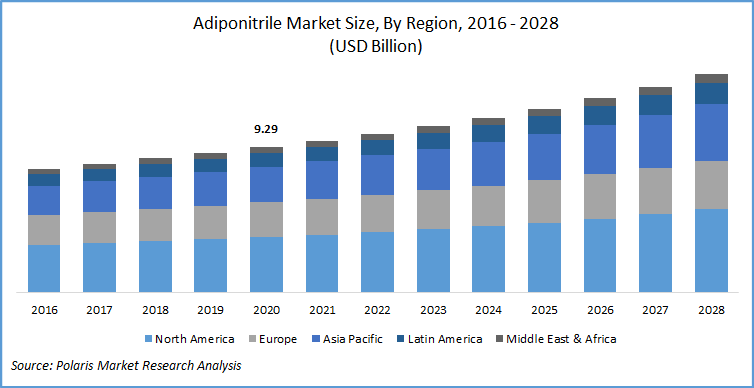 Know more about this report: request for sample pages
Industry Dynamics
Growth Factors
In August 2018, INVISTA announced an investment of 1 billion in adiponitrile plant in China to cater to the increasing demand for nylon 6,6 intermediate chemical. The plant is expected to begin production by 2023 and is aimed at the development of advanced, energy-efficient technologies for butadiene-based adiponitrile. The company's expansion strategy is directed at meeting China's local needs of adiponitrile for the manufacturing of nylon polymer, fibers, and other specialty materials such as hexamethylene diisocyanate (HDI) for coatings.
In January 2020, BASF acquired Solvay's polyamide business. The acquisition is aimed at enhancing the company's offerings of engineering plastics solutions for autonomous driving and e-mobility solutions. Through this acquisition, BASF plans to strengthen its presence in Asia, North and South America. The new business offers backward integration into adiponitrile, enabling BASF to improve its supply reliability.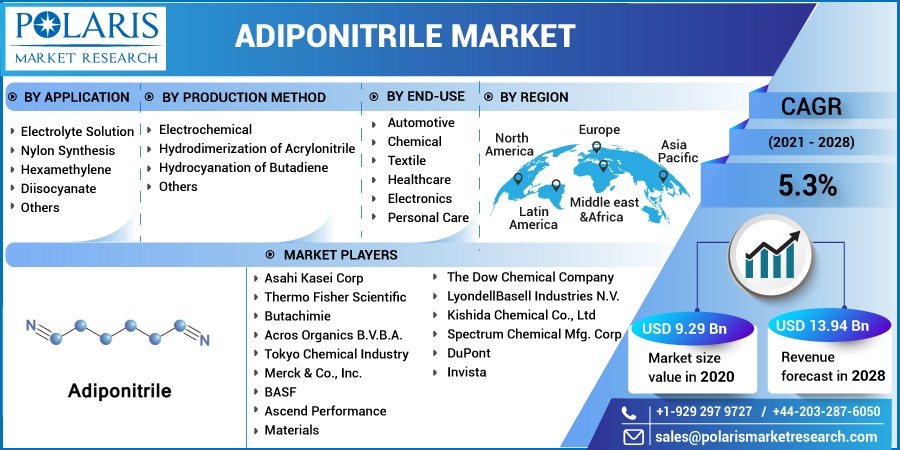 Know more about this report: request for sample pages
Rising industrialization, growing urbanization, and increasing demand from the automotive sector drive the growth of the market for adiponitrile. Modernization of vehicles to improve performance and efficiency coupled with increased adoption of electric and hybrid vehicles owing to rising environmental concerns have fueled the growth of the market for adiponitrile across the globe.
Increasing application in the textile and healthcare industry further fuels the demand for adiponitrile. Rising use in the development of personal care products, growing disposable income, and increasing shift towards beauty and wellness trends have increased the demand for adiponitrile, especially in the emerging economies.
Adiponitrile Market Report Scope
The market is primarily segmented on the basis of application, production method, end-use, and region.
By Application

By Production Method

By End-Use

By Region

Electrolyte Solution
Nylon Synthesis
Hexamethylene Diisocyanate
Others

Electrochemical Hydrodimerization of Acrylonitrile
Hydrocyanation of Butadiene
Others

Automotive
Chemical
Textile
Healthcare
Electronics
Personal Care
Others

North America (U.S., Canada)
Europe (Germany, UK, France, Italy, Spain, Netherlands, Austria)
Asia Pacific (China, India, Japan, South Korea, Indonesia, Malaysia)
Latin America (Brazil, Mexico, Argentina)
Middle East & Africa (Saudi Arabia, South Africa, Israel, UAE)
Know more about this report: request for sample pages
Application Outlook
The application market segment has been divided into is electrolyte solution, nylon synthesis, hexamethylene diisocyanate, and others. The nylon synthesis segment dominated the global adiponitrile market in 2020. Nylon synthesis finds application in diverse industries such as textile and automotive. Increasing demand for nylon for the manufacturing of apparel, furniture, packaging solutions, and vehicles coupled with growth in industrialization and automation across the globe drives the market growth.
Production Method Outlook
On the basis of production method, the market is segmented into electrochemical hydrodimerization of acrylonitrile, hydrocyanation of butadiene, and others. The demand for the production of adiponitrile through hydrocyanation of butadiene is high. This method is widely used for the mass production of adiponitrile. It is increasingly being adopted by market players to increase efficiency and save costs.
End-Use Outlook
On the basis of end-use, the market is segmented into automotive, chemical, textile, healthcare, electronics, personal care, and others. The automotive market segment dominated the global adiponitrile market in 2019. The automotive industry makes use of adiponitrile for the manufacturing of different interior and exterior automotive components, resulting in reduced weight and higher fuel efficiency. It is also used for the production of truck parts, passenger & commercial vehicle parts, cars, heavy & light duty vehicle parts, and others. The growing adoption of electric vehicles and the rising use of adiponitrile in lithium-ion batteries is expected to further boost the market growth of this segment.
Geographic Overview
North America dominated the global market for adiponitrile in 2019. Rising industrialization, high consumer spending, the presence of leading players, and technological advancements are some factors attributed to the market growth of this region. The rising automotive penetration, increasing modernization of vehicles, and initiatives to promote the use of electric vehicles support the market growth in the region. Increasing application in textile, construction, chemical, and personal care sectors further drive the market growth in this region.
Competitive Landscape
The leading players in the market for adiponitrile include Asahi Kasei Corp, Thermo Fisher Scientific, Butachimie, Acros Organics B.V.B.A., Tokyo Chemical Industry, Merck & Co., Inc., BASF, Ascend Performance Materials, The Dow Chemical Company, LyondellBasell Industries N.V., Kishida Chemical Co., Ltd, Spectrum Chemical Mfg. Corp, DuPont, Invista, and Shandong Runxing Chemical Technology Co. Ltd.