The global aesthetic lasers market was valued at USD 1,163.00 million in 2022 and is expected to grow at a CAGR of 16.6% during the forecast period. The growing interest in laser therapies can be attributed in part to the increasing emphasis placed by consumers on personal aesthetics. Traditional at-home remedies were often time-consuming and inconvenient, leading customers to appreciate the permanent solutions offered by procedures like laser hair removal. Furthermore, advancements in laser technologies have expanded the treatment options available to dermatologists, plastic surgeons, and laser experts, providing patients with a wider range of choices.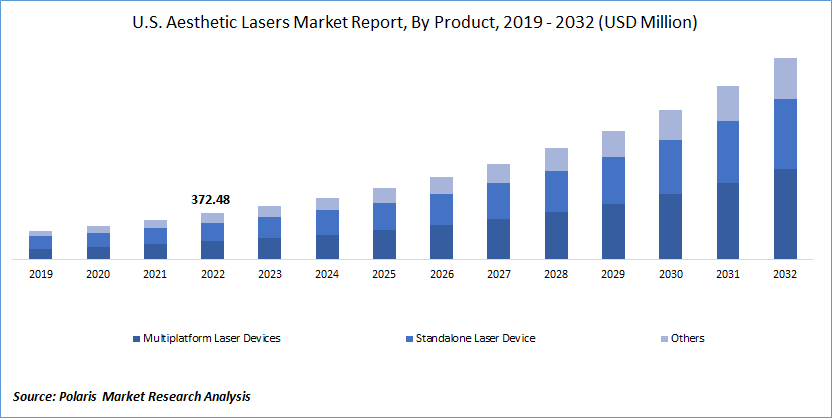 Know more about this report: Request for sample pages
The acceptance of radiofrequency-based treatments is also contributing to the growth of the aesthetic lasers market. Radiofrequency devices, such as Candela Medical's PicoWay, utilize a picosecond laser platform to generate short, high-peak-power pulses that have a photoacoustic impact. These devices are non-invasive and can be used for various applications, including the treatment of pigmented lesions, tattoo removal, and skin rejuvenation.
In recent years, there has been a notable increase in the demand for minimally invasive procedures. Compared to invasive surgeries, these procedures offer several benefits, such as smaller incisions, faster wound healing, fewer surgical wounds, reduced pain, and a lower risk of complications. Importantly, the effectiveness and outcomes of minimally invasive procedures are comparable to those of traditional surgical methods. According to the International Society of Aesthetic Plastic Surgery (ISAPS), a significant number of hair removal treatments and photo rejuvenation procedures were performed, indicating the popularity of these minimally invasive approaches.
However, the market for aesthetic lasers and energy devices has been impacted by the COVID-19 pandemic. As patients with COVID-19-related illnesses have taken precedence in medical care, many aesthetic services have been suspended, including laser, light-based, and powerful pulsed light treatments. With the decline in the rate of COVID-19 infections, governments have gradually eased lockdown measures, allowing for the safe resumption of energy-based services such as lasers and lights in several countries.
Industry Dynamics
Growth Drivers
The growing prevalence of obesity and sedentary lifestyles in advanced and emerging economies has increased interest in body restructuring and reshaping treatments. Aesthetic lasers have gained popularity due to their rapid and minimally invasive procedures, attracting individuals seeking aesthetic enhancements. This surge in demand for aesthetic lasers is expected to be a key driver in the market.
Another contributing factor to the growing use of aesthetic lasers is the rising incidence of skin conditions such as rosacea and other skin ailments. This has increased the demand for energy-based aesthetic lasers that offer minimally invasive treatments. Research published in the British Journal of Dermatology estimates that 2.39% of dermatology patients worldwide and 5.46% of the general population have rosacea. The prevalence of obesity and the increase in skin diseases are among the factors expected to drive the demand for aesthetic lasers and propel market expansion.
Combining the desire for body restructuring treatments and the rising prevalence of skin conditions fuel the demand for aesthetic lasers. These lasers offer effective and minimally invasive solutions, appealing to individuals seeking aesthetic enhancements and treatment for various skin concerns.
Report Segmentation
The market is primarily segmented based on product, application, end-use, and region.
By Product

By Application

By End-Use

By Region

Multiplatform Laser Devices

Standalone Laser Device

Other

IPL Laser Treatment

Laser Skin Resurfacing

Non-invasive Tightening

Laser-Assisted Lipo-plasty

Laser Hair Removal

Hospitals

Ambulatory Surgery Centres

Dermatology Clinics

North America (U.S., Canada)

Europe (France, Germany, UK, Italy, Netherlands, Spain, Russia)

Asia Pacific (Japan, China, India, Malaysia, Indonesia, South Korea)

Latin America (Brazil, Mexico, Argentina)

Middle East & Africa (Saudi Arabia, UAE, Israel, South Africa)
Know more about this report: Request for sample pages
Multiplatform lasers segment will dominate the market over the forecasted period.
Multiplatform lasers have captured the largest market share and are expected to maintain their dominance in the foreseeable future. This can be attributed to several factors, including the availability of treatments that can address multiple indications, the flexibility and diversity offered by combining various standalone systems into a single package, and the scalability and upgradability of hybrid systems.
One example of a multiplatform laser is the Q-switching KTP/YAG, commonly used for tattoo pigmentation and removal. Aesthetic lasers are also effective in hair removal treatments, as they can cater to the diverse responses of individuals' skin and provide long-lasting results across various body parts. Additionally, non-surgical skin therapy, focusing primarily on skin tightening, offers solutions for skin laxity, wrinkles, and hyperpigmentation.
The advantage of multiplatform lasers lies in their ability to address a wide range of aesthetic concerns, providing versatility and efficiency to practitioners and patients. By combining multiple treatment options into a single system, these lasers offer convenience, cost-effectiveness, and the potential for future upgrades. As a result, multiplatform lasers are expected to continue leading the market as the demand for comprehensive and customizable aesthetic treatments grows.
Non-invasive tightening segment emerged as the largest market share holder in 2022.
The non-invasive tightening segment emerged as the largest market share holder in 2022. The market growth can be attributed to factors such as the increasing population of baby boomers and the strong influence of social media on both older and younger individuals. The aging population seeks procedures like skin tightening and resurfacing for rejuvenation purposes.
Laser skin resurfacing will exhibit the highest CAGR during the forecast period. This procedure is widely performed for skin rejuvenation and addresses common conditions such as acne scars, wrinkles, vascular conditions, facial pigmentation, and dull skin.
The laser hair removal segment is also expected to grow significantly in the coming years. Laser hair removal procedures have gained popularity, with around 757,808 treatments performed in the United States, according to the 2020 Plastic Surgery Statistics Report. The availability of compact and portable laser systems, along with upgradable system components and advanced user interfaces, contributes to the growth of this segment.
North America dominated the global market in 2022
North America held a significant market share in 2022 due to its abundance of skilled specialists and widespread public awareness of aesthetic procedures. The market is driven by the introduction of advanced technologies and substantial investments in research and development to improve safety and efficiency.
Factors such as the growing number of surgeons, increased consumer purchasing power, and heightened research efforts further contribute to market expansion. Additionally, promoting non-invasive procedures and the increasing utilization of existing technology is expected to drive market growth in the region.
Competitive Insight
Some of the major players operating in the global aesthetic lasers market include Lumenis, Candela Corporation, Cynosure, Ellex Aesthetic Lasers, Cutera, Alma Lasers, Aerolase, Solta Medical, Lutronic Lynton Lasers, Viora, and Sciton Inc.
Recent Developments
In December 2021, Allergan Aesthetics completed the acquisition of Soliton, Inc. Additionally, the product RESONICTM received 510(k) clearance from the US Food and Drug Administration (FDA) for long-term improvement.

In October 2020, Alma Lasers introduced the Alma Hybrid, the first and only device to combine three powerful energy sources, delivering unparalleled results.
Aesthetic Lasers Market Report Scope
| | |
| --- | --- |
| Report Attributes | Details |
| Market size value in 2023 | USD 1,351.74 million |
| Revenue forecast in 2032 | USD 5,392.09 million |
| CAGR | 16.6% from 2023 – 2032 |
| Base year | 2022 |
| Historical data | 2019 – 2021 |
| Forecast period | 2023 – 2032 |
| Quantitative units | Revenue in USD million and CAGR from 2023 to 2032 |
| Segments Covered | By Product, By Application, By End-Use, By Region |
| Regional scope | North America, Europe, Asia Pacific, Latin America; Middle East & Africa |
| Key Companies | Lumenis, Candela Corporation, Cynosure, Ellex Aesthetic Lasers, Cutera, Alma Lasers, Aerolase, Solta Medical, Lutronic Lynton Lasers, Viora, and Sciton. |